18-Watt Power Delivery
Fast Charging
Dual Output
Power in Your Pocket
With credit-card-sized dimensions, ASUS ZenPower 10000 PD power bank slips easily into your pocket. It utilizes a tidy internal design and an electric vehicle (EV)-class power cell to keep weight down to just 186 grams.
Learn more
---
ASUS ZenPower Duo
100 x 59.6mm
---
ASUS ZenPower 10000 PD
78.8 x 55.8mm
EV-Class Power Cell
The EV-class power cell in ASUS ZenPower 10000 PD leverages technology used in the world's top three EV-cell brands. It offers higher capacity and a longer life cycle than power cells used in competitor products.
ASUS ZenPower 10000 PD
Cell:2 x 21700 lithium-ion
Capacity: 10000 mAh
=
Other 10000 mAh power banks
Cell:3 x 18650 lithium-ion
Capacity: 10000 mAh
18-Watt PD Fast Charging
ASUS ZenPower 10000 PD supports 18-watt fast charging via USB-C or USB-A.1
A blue LED indicates when fast charging is processing.
iPhone 11 pro
10

mins
Fast-Charge to 26%
in just 10 Minutes
ZenPower 10000 PD
3

hours
Fast-Charge to Full Capacity
in just 3 Hours
Wide Compatibility & Simultaneous Charging
ASUS ZenPower 10000 PD is compatible with a wide range of devices, including earphones, smart watches, game console controllers and laptops.2 Two devices can be charged simultaneously using its USB-C and USB Type-A ports.3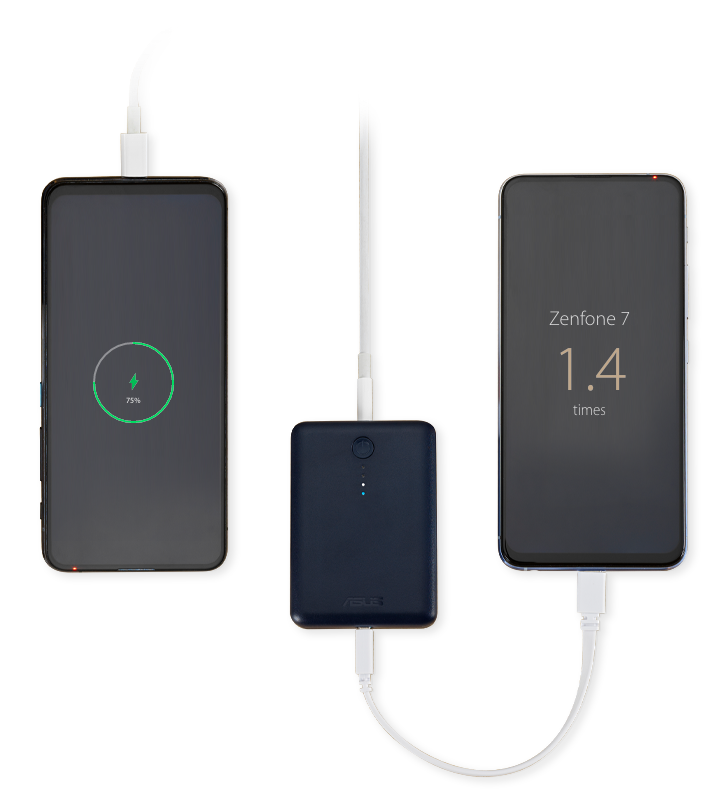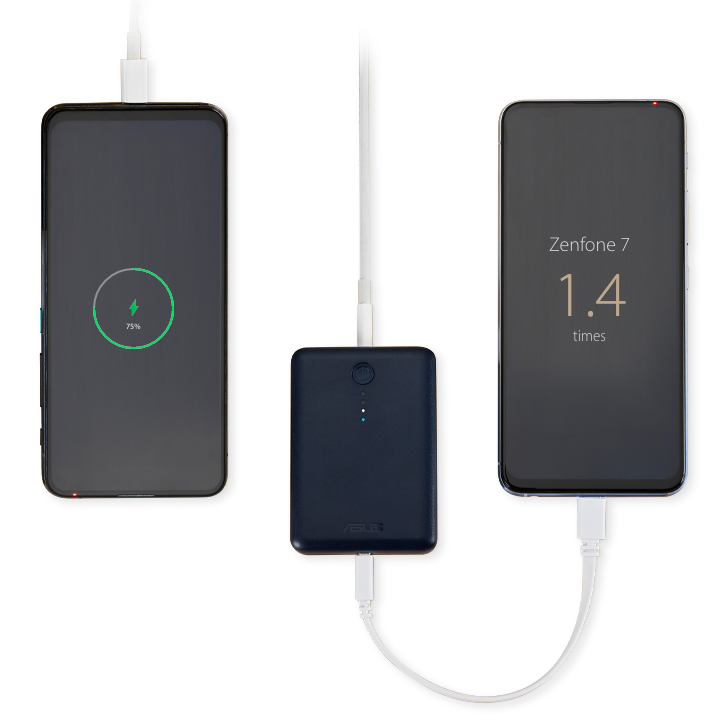 Samsung Galaxy S20
1.8
times
ASUS Chromebook
Flip
0.7
times
Pass-Through Charging
ASUS ZenPower 10000 PD supports pass-through charging which allows you charge your device and power bank at the same time.4
ASUS Power Safe
Exclusive ASUS technology provides 11 integrated features to help ensure safe device charging. PowerSafe monitors temperature, smooths both input and output voltages, and guards against short-circuits. ASUS ZenPower 10000 PD has been certified for safety, electromagnetic-interference (EMI) levels, and charging performance by 7 leading international testing organizations. It also conforms to International Electrotechnical Commission (IEC) standards, so you can carry it anywhere in total confidence!
Learn more
Input Over voltage
Protection
Output Over voltage
Protection
Output Over
current Protection
Over Charge/Over
Discharge Protection
Input Overcurrent
Protection
JEITA Protection
(Temperature Protection)
NRCan Energy Efficiency
Regulations
Federal
Communications
Commission
Code of Federal Regulations
battery chargers
Bureau of Standards,
Metrology and
Inspection
IECEE
Certification Body
Scheme
Adapter Protection
Built-in Auto input Current Limit (AICL) technology assesses key specifications of a connected adapter in order to prevent overcurrent or overvoltage, helping to keep your adapter at the ideal temperature to ensure safe charging.
ASUS ZenPower 10000 PD
Other Brand's Power Bank
Adapter
Temperature

63.1

˚c
JEITA Protection
ASUS ZenPower 10000 PD surpasses the JEITA safety standard, utilizing intelligent technology that monitors ambient temperatures and adjusts charging current accordingly, so you can charge devices safely even in extreme temperatures.
JEITA Protection
(Temperature Protection)
Charge
Current
Upper-Limit Charge Current
Charge
Voltage
Upper-Limit Voltage
T1
(0˚c)
T2
(25˚c)
T3
(45˚c)
Produtos Relacionados
Compare (0)