ASUS TUF Gaming GeForce® GTX 1660 Ti com 6GB de GDDR6 permite velocidades de atualização elevadas sem transpirar, para lhe dar vantagem nos FPS.
A GeForce® GTX 1660 Ti foi construída com a performance gráfica de topo da arquitetura NVIDIA Turing™. Com performance que rivaliza a GeForce GTX 1070, é rápida e está preparada para os jogos mais populares de hoje em dia.
Transmita os seus jogos: Obtenha uma performance e qualidade de imagem fantásticas enquanto transmite para o Twitch ou YouTube. O codificador de hardware dedicado da GTX 1660 Ti proporciona uma melhoria de eficiência de 15% sobre as placas gráficas da geração anterior e está otimizada para o Open Broadcaster Software (OBS).
GeForce Experience: Capte e partilhe com amigos vídeos, screenshots e transmissões ao vivo. Mantenha os seus controladores atualizados e otimize as definições dos seus jogos. O software GeForce Experience permite-lhe fazer tudo, tornando-o no companheiro essencial da sua placa gráfica GeForce.
Design das ventoinhas com rolamento duplo permite o dobro da duração dos designs com rolamento singular.
A resistência ao pó IP5X oferece proteção contra a entrada de partículas de pó, aumentando a durabilidade.
A Tecnologia Auto-Extreme usa automação para melhorar a fiabilidade.
O programa de validação de 144 horas coloca a placa sob um conjunto de testes exigentes para garantir a compatibilidade com os jogos mais recentes.
Os Testes de Compatibilidade TUF Gaming consistem num conjunto de testes exigentes para garantir que as motherboards, chassis e outros componentes da TUF Gaming Alliance funcionam em conjunto, sem falhas.
O GPU Tweak II proporciona uma afinação de performance intuitiva e controlos térmicos.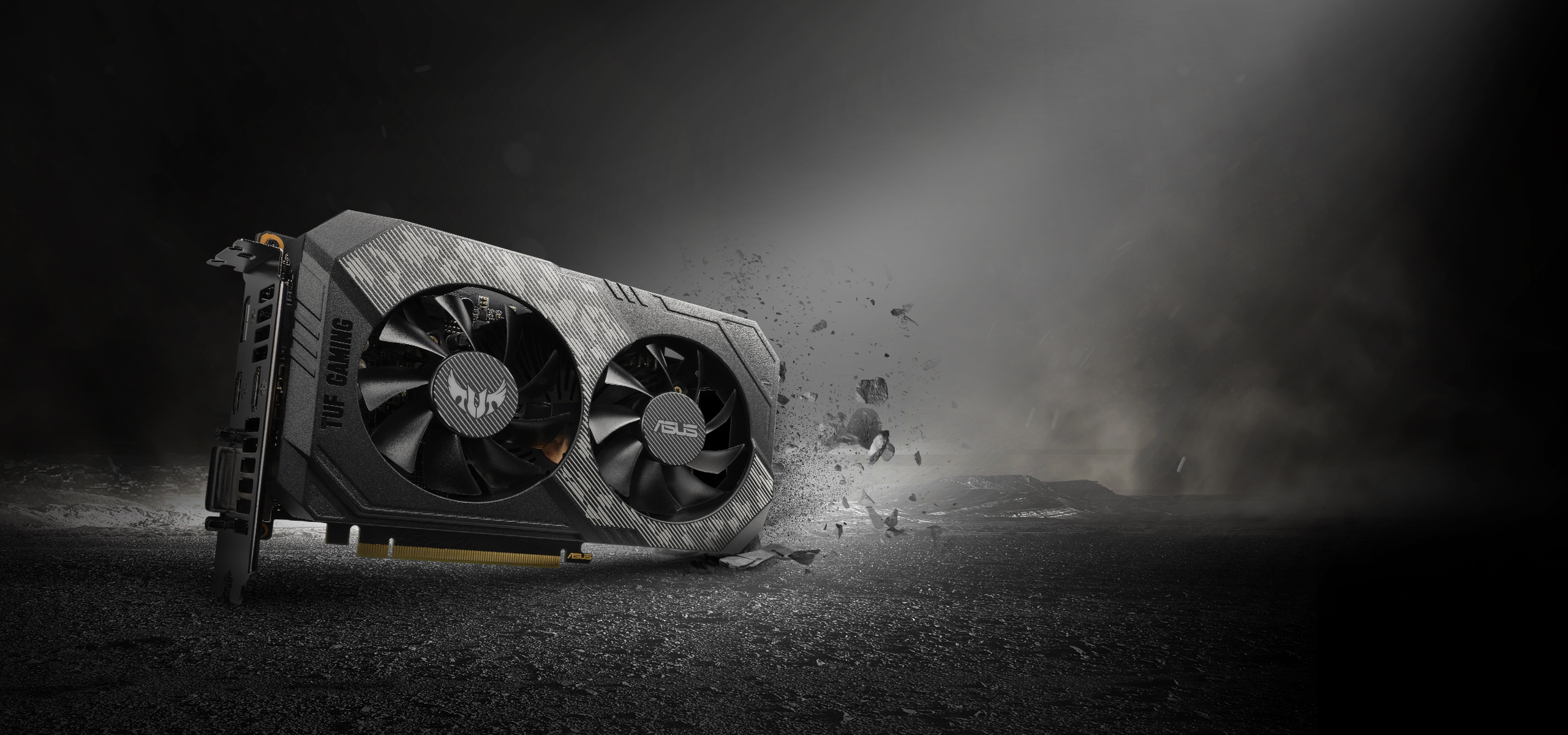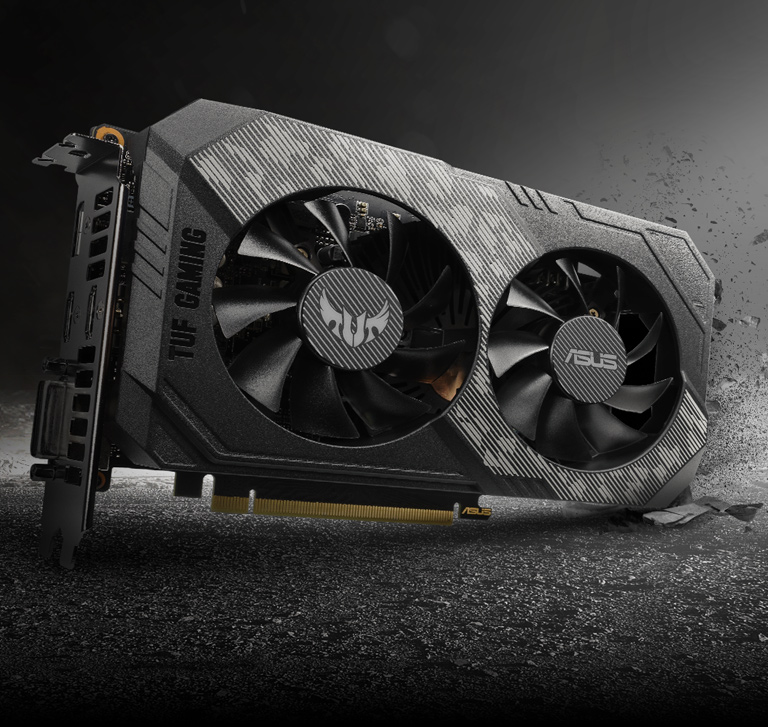 The ASUS TUF Gaming GeForce® GTX 1660 Ti stacks durability, compatibility, and performance to bring reliable 3D horsepower to the TUF ecosystem. Stand-out features include Auto-Extreme Technology, TUF compatibility testing, and two fans with Dual-ball bearings and IP5X dust resistance.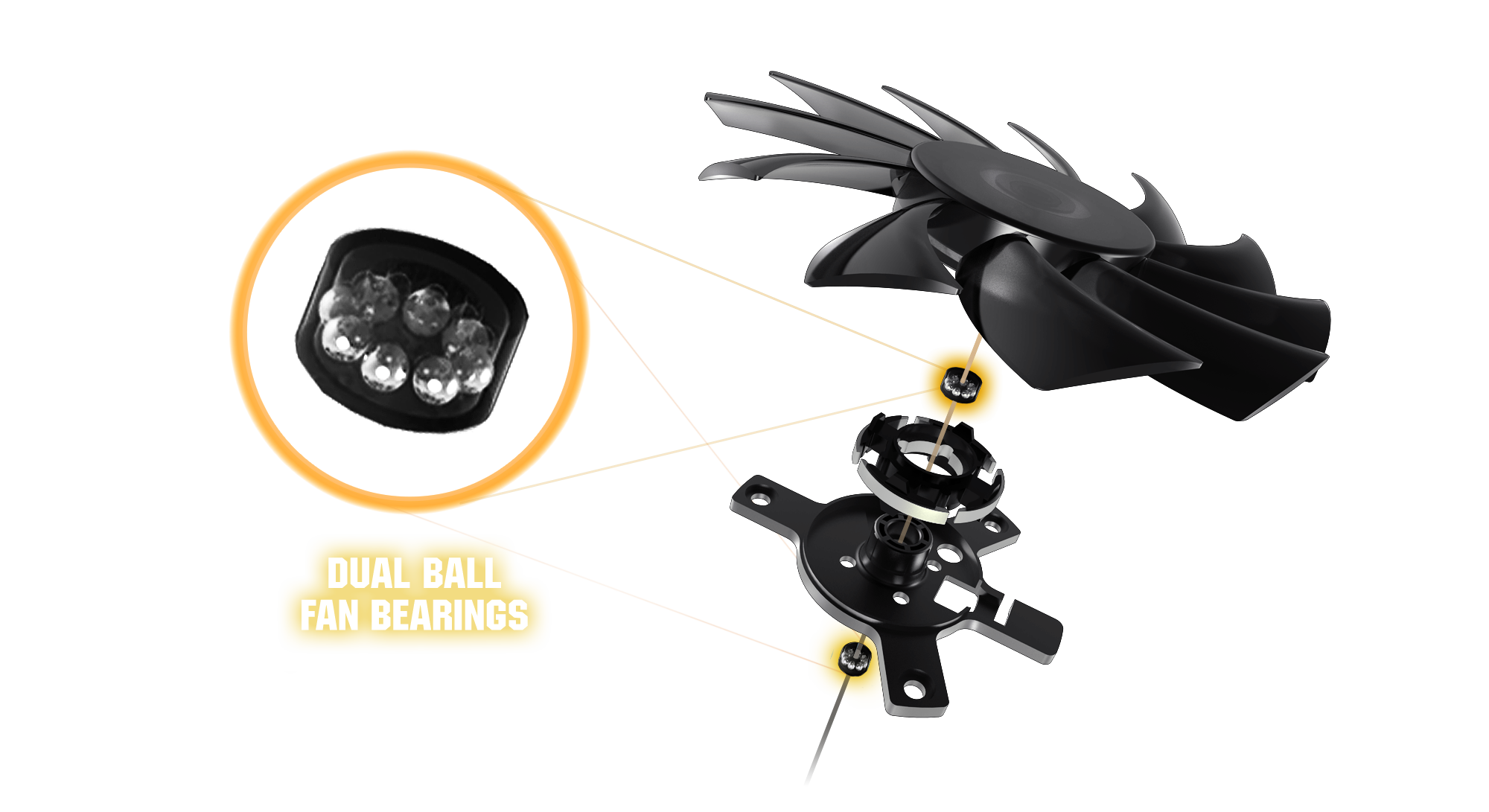 2x longer lifespan
Different bearing types have unique pros and cons. Dual-ball bearings excel at durability and can last up to twice as long as sleeve-bearing designs.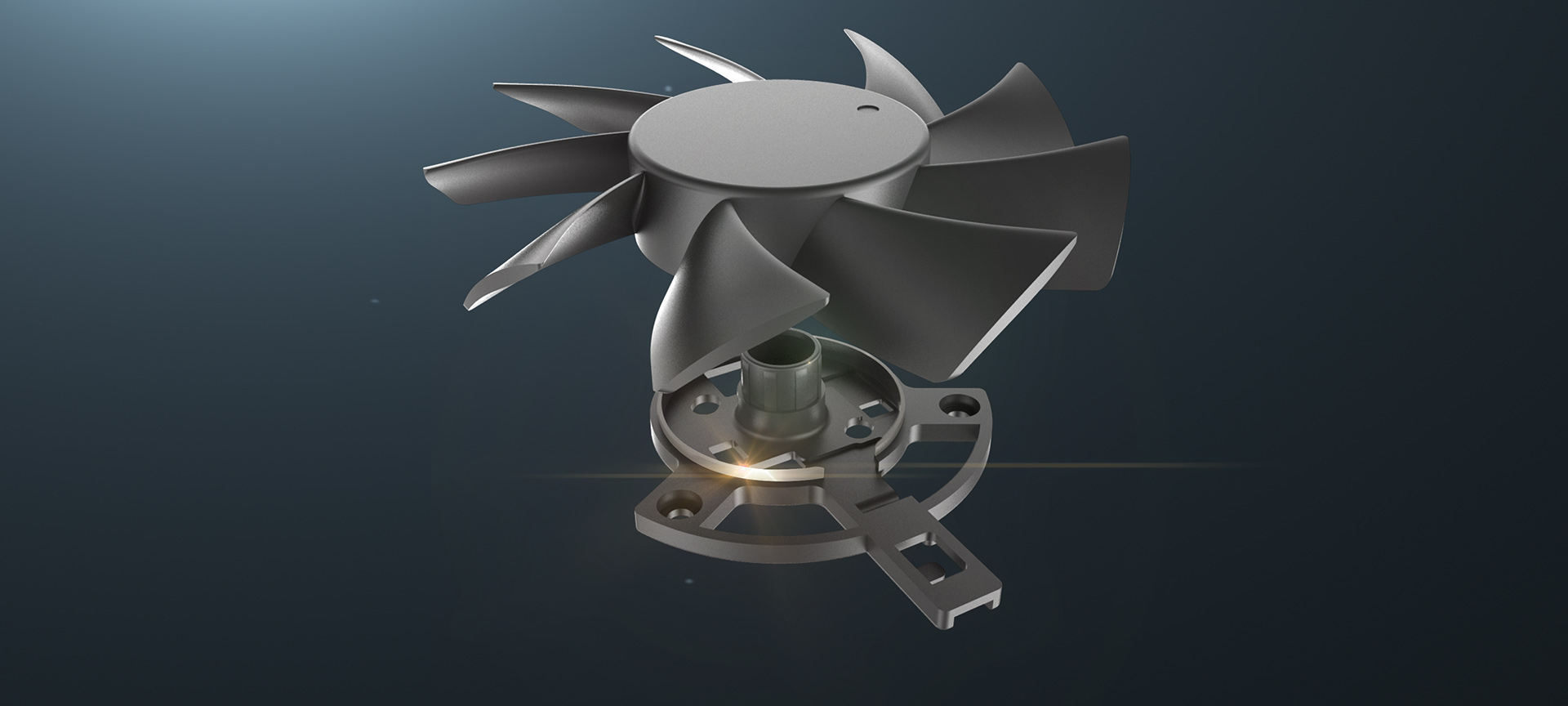 Keep it clean
Dust is enemy number one for fans. It's easy to clean the blades, but taking the housing apart to remove dust that has made its way inside is not a simple task. The TUF Gaming 1660 Ti comes with high-quality IP5X certified dust resistant fans, so you don't need to worry about performance degradation over time.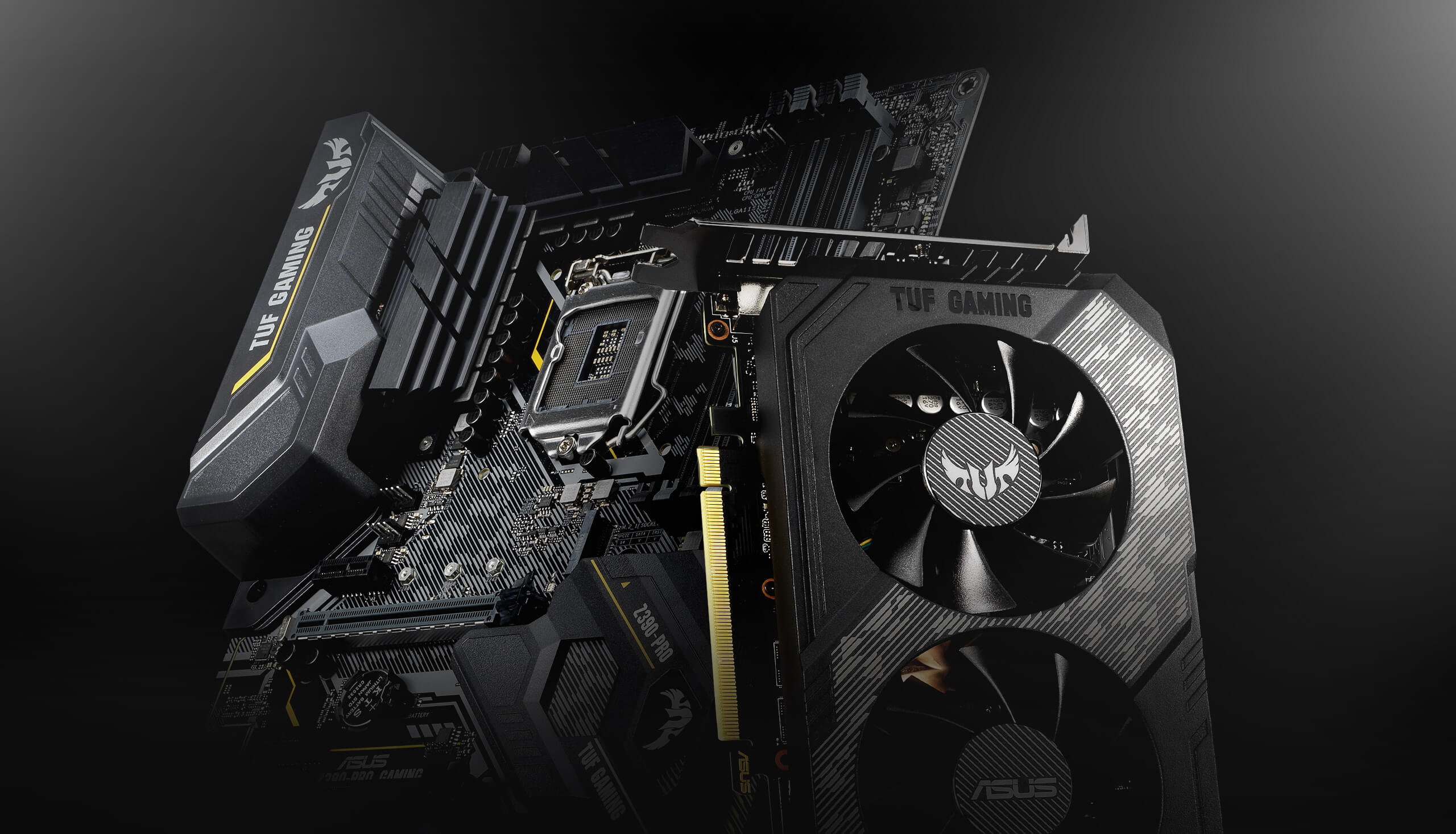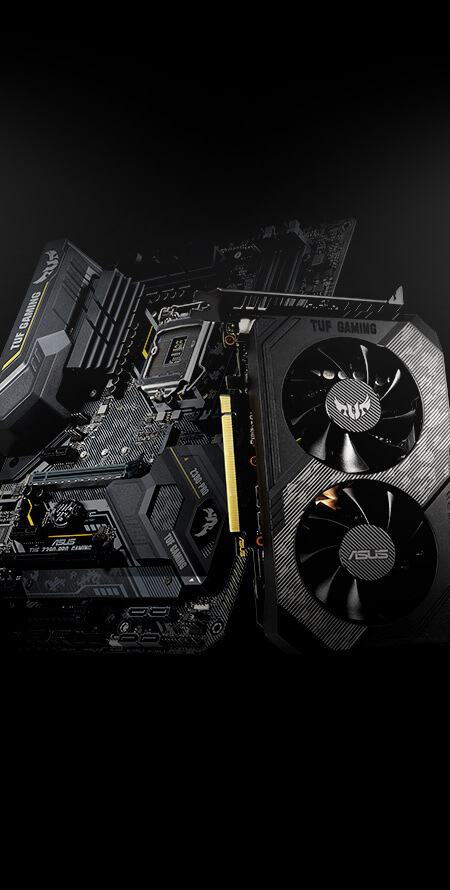 Precision automated manufacturing
Auto-Extreme Technology is an automated manufacturing process that sets new standards in the industry by allowing all soldering to be completed in a single pass. This reduces thermal strain on components and avoids the use of harsh cleaning chemicals, resulting in less environmental impact, lower manufacturing power consumption, and a more reliable product overall.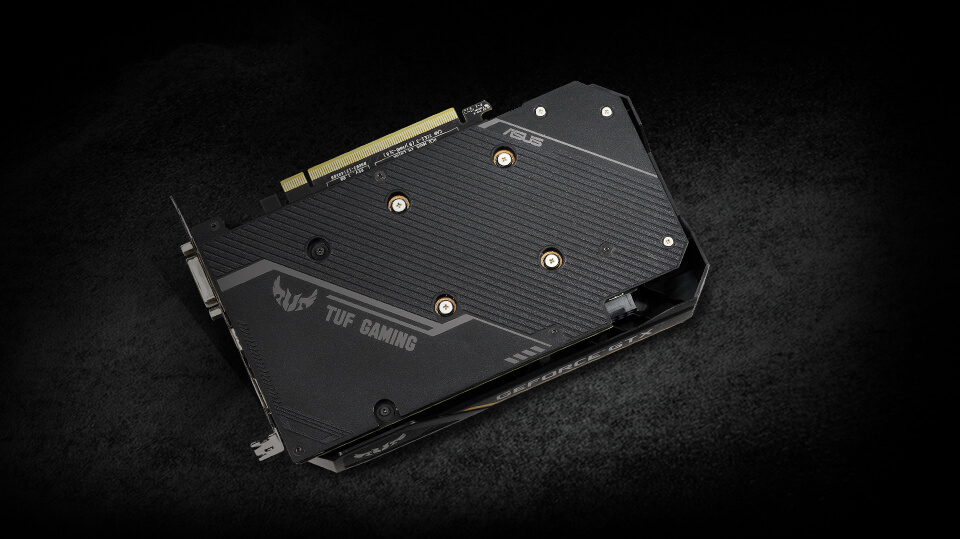 Testudo style
In order to be genuinely tough, the TUF Gaming 1660 Ti comes equipped with a solid backplate that protects the PCB. Our engineers added supports that connect the backplate directly to the shroud, creating a rigid frame that protects the card's components during transportation and installation.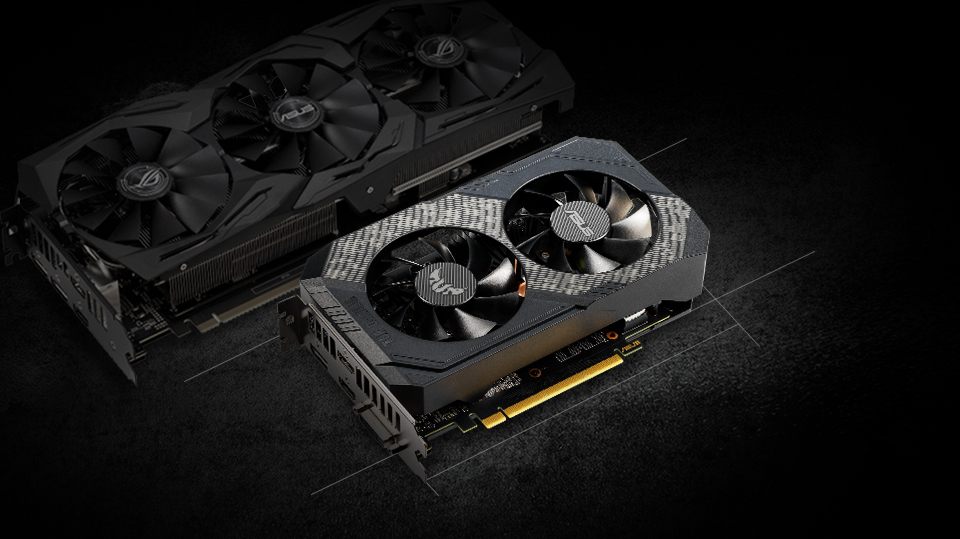 The pieces fit
The TUF Gaming 1660 Ti packs potent rendering power into a compact frame that maximizes compatibility with the latest chassis.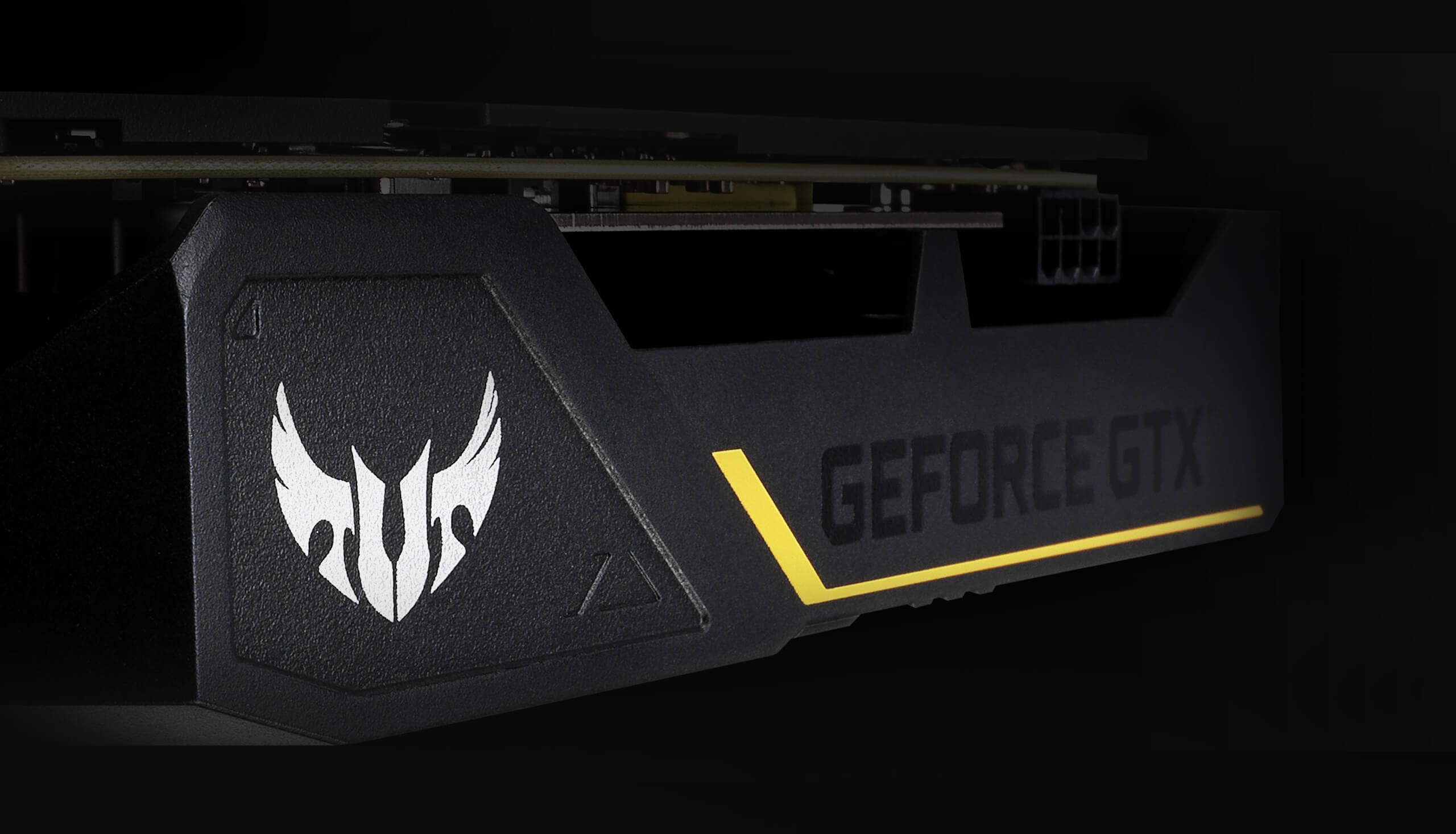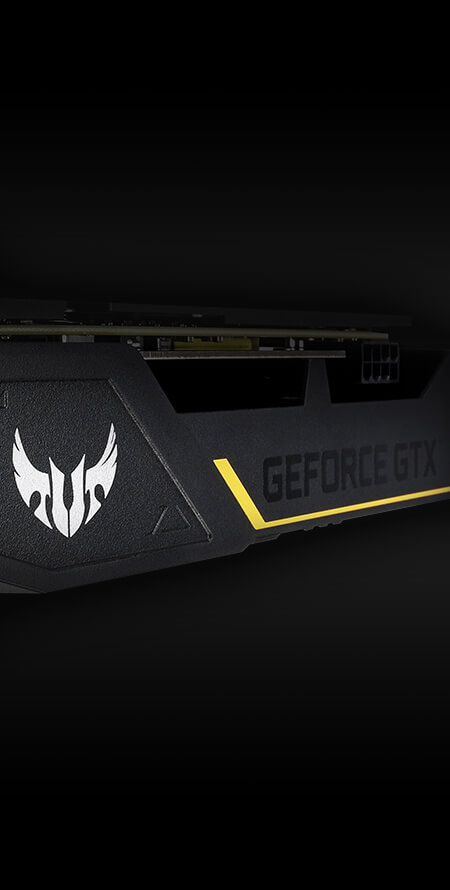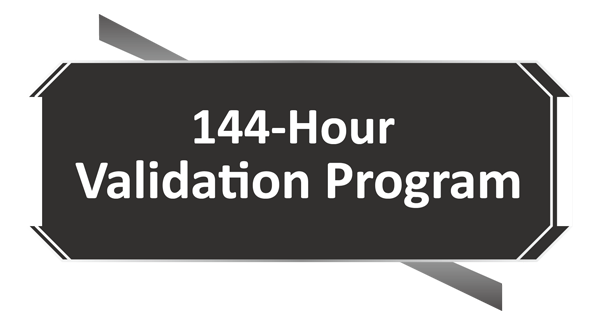 144−Hour Validation Program
"Extensive" may be an understatement
Each card must meet rigorous performance and reliability standards before it ships. Performance and stress tests are run with the latest chart-topping titles like Fortnite, League of Legends, Overwatch, and PlayerUnknown's Battlegrounds. We also carry out reliability trials that include a 144-hour stability test and a series of 3DMark benchmarking runs to ensure the card performs well when pushed to the limits.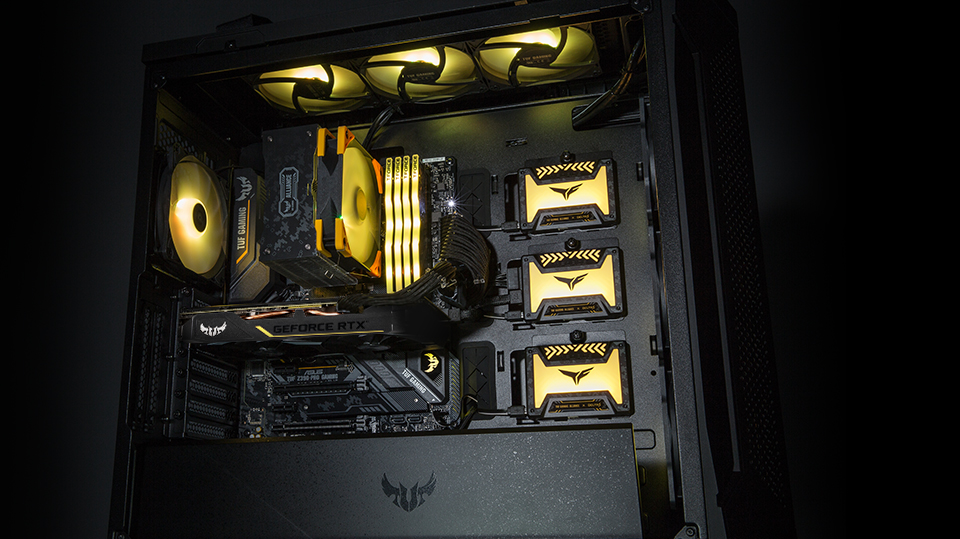 TUF Compatibility Testing
Better together
ASUS TUF Gaming products and TUF Gaming Alliance products from our partners are subjected to extra tests to ensure compatibility. The TUF Gaming 1660 Ti has been thoroughly tested with TUF Gaming motherboards to ensure a seamless plug-and-play experience. In addition to streamlining the building process, aesthetic harmony is a serious benefit for those who value a uniform style.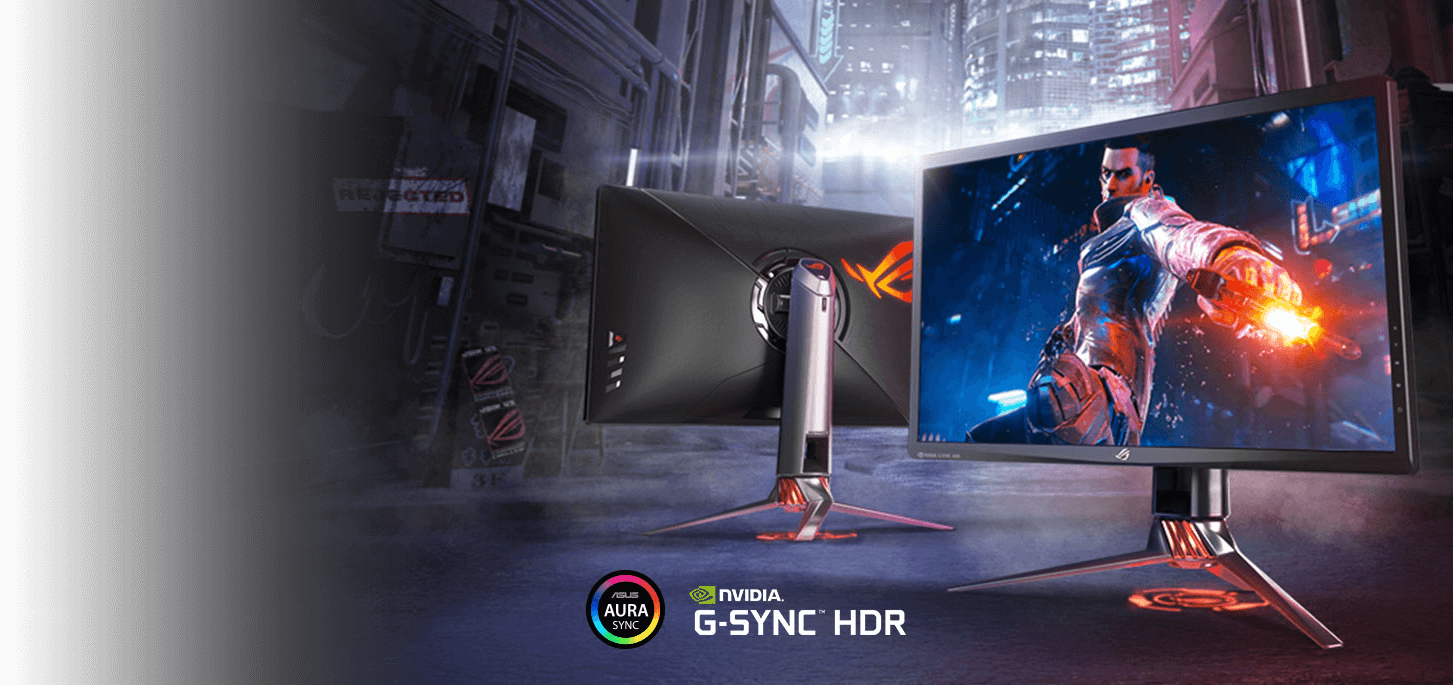 NVIDIA

®

G−SYNC

™

Technology
Smooth operator
This graphics card supports NVIDIA® G-SYNC™ display technology for a super-smooth variable refresh rate experience. Enjoy AAA games without the nuisance of screen tearing or stuttering.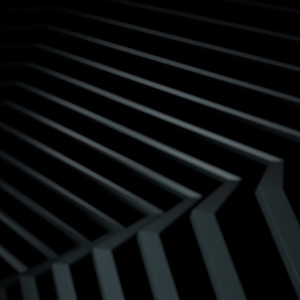 Turing Shaders
Featuring concurrent execution of floating point and integer operations, adaptive shading technology, and a new unified memory architecture with twice the cache of its predecessor, NVIDIA Turing™ shaders enable awesome performance increases on today's games.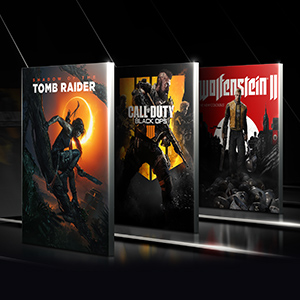 Awesome Performance
Get ready for AAA gaming with performance that rivals the GeForce GTX 1070.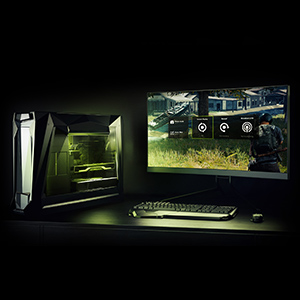 GeForce Experience
Capture and share videos, screenshots, and livestreams with friends. Keep your GeForce drivers up to date, and optimize in-game settings. GeForce Experience™ is the essential companion to your GeForce graphics card.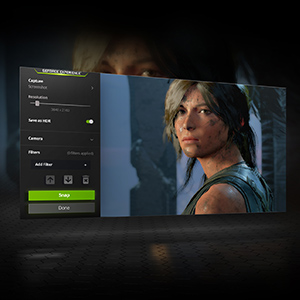 NVIDIA Ansel
This powerful photo mode lets you take professional-grade photographs of your games. Capture and share your most brilliant gaming experiences with super-resolution, 360-degree, HDR, and stereo photographs.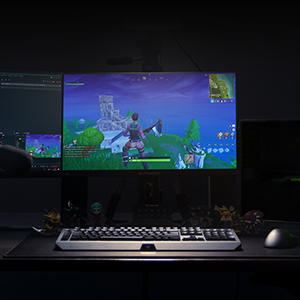 Broadcast Like a Pro
Get amazing performance and image quality while livestreaming to Twitch or YouTube. The GeForce GTX 1660's dedicated hardware encoders deliver 15% improved efficiency over prior-generation graphics cards and are optimized for Open Broadcaster Software (OBS).
0%
Compare (0)