Wireless-AC1750 Dual-Band Repeater
Extend concurrent 802.11ac dual-band Wi-Fi coverage with speed up to 1750 Mbps.
Two external antennas enhance Wi-Fi signal coverage and boost your Wi-Fi everywhere.
Quick and secure setup with just a press of the WPS button.
Smart LED Signal Indicator discovered the optimum Wi-Fi location.
Rotating mains plug for flexible positioning in any power socket.
ASUS ExpressWay uses full-speed device connections to boost performance.
Roaming Assist helps you to get a stable connection every corner in the home or office.
ASUS RP-AC66 is a dual-band AC1750 wireless repeater that's compatible with your existing 2.4GHz and 5GHz router and devices. It includes easy one-click WPS setup with a built-in LED signal indicator to find the best location in your home or office, plus Roaming Assist to ensure that you're always locked on to the strongest signal1. Exclusive ExpressWay technology provides automatic optimization for the maximum dual-band throughput.
Faster Wi-Fi that Goes Further
The RP-AC66 wireless repeater has two powerful external MIMO antennas that help to eliminate signal dead zones and improve the coverage of any existing wireless router. It works as a repeater, which means it can extend wireless networking to every corner of the home — even to those difficult, hard-to-reach spots. With blindingly-fast 802.11ac speeds up to 1750 Mbps, it's ideal for extending your existing 802.11ac Wi-Fi network. This ensures reliable high-speed internet coverage everywhere for devices such as notebooks, tablets, smartphones, game consoles and smart TVs.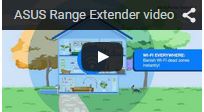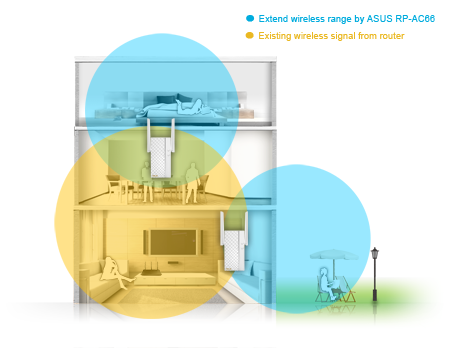 Experience ultra-fast wireless speeds
Powered by the new 802.11ac chipset, RP-AC66 delivers ultra-fast wireless-AC speeds up to 1300 Mbps on the 5GHz band and 450 Mbps on the 2.4 GHz band. This high-performance Wi-Fi lets you enjoy ultra-smooth online gaming, snappier web surfing and other bandwidth-hungry tasks without a wired connection.

Extra-long-range external antennas
Much longer range and stronger transmissions make RP-AC66 perfect for larger homes and offices, delivered by the two external antennas and an enhanced power amplifier. As well as improved coverage, you get all the speed benefits of fast 802.11ac Wi-Fi.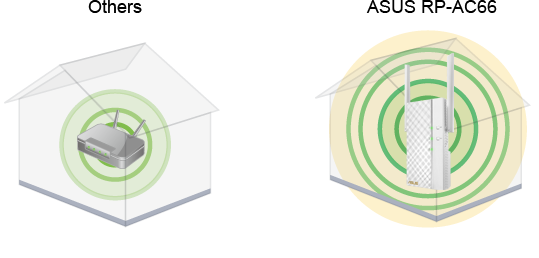 One-press setup and worry-free connectivity
Installing your RP-AC66 wireless repeater doesn't requiremessing with discs, or even a mouse and keyboard. Simply press the WPS button and setup is complete. Optimized performance is assured for a seamless and smooth internet experience. For advanced settings, you can connect RP-AC66 to a PC via an Ethernet cable and access the web-based configuration menu directly, with no disc or app needed. You can even set it up wirelessly from a tablet or smartphone.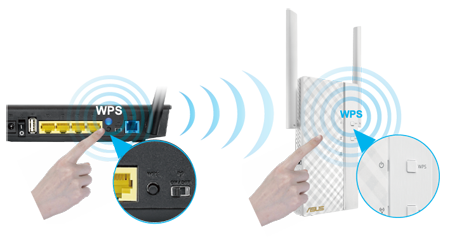 Find the best location for RP-AC66 with the signal indicator
For best results, RP-AC66 needs to be within range of a stable router signal, and should be placed between the router and the location where you need better wireless coverage. RP-AC66 works best when it is receiving a strong wireless signal from the router — you can check this by using the signal strength indicator on the front panel.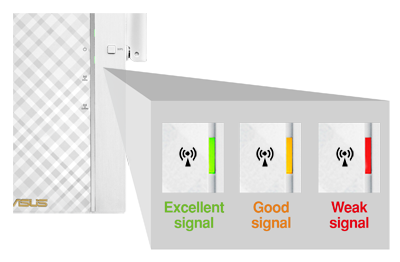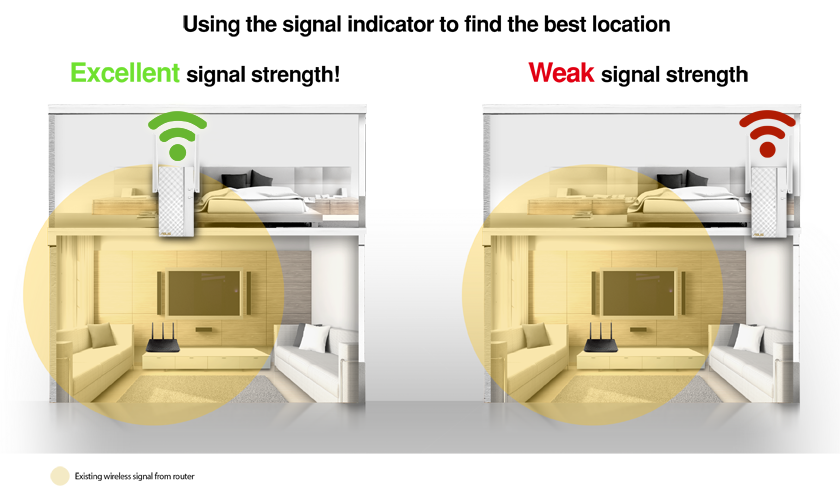 Super-convenient rotating mains plug
With the ingenious rotating mains plug2, RP-AC66 can be positioned upright for optimum performance no matter what the orientation of the power socket.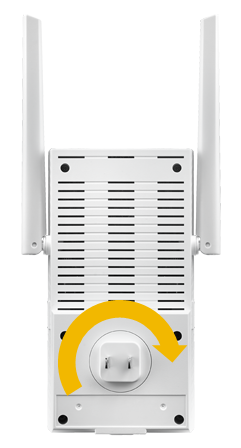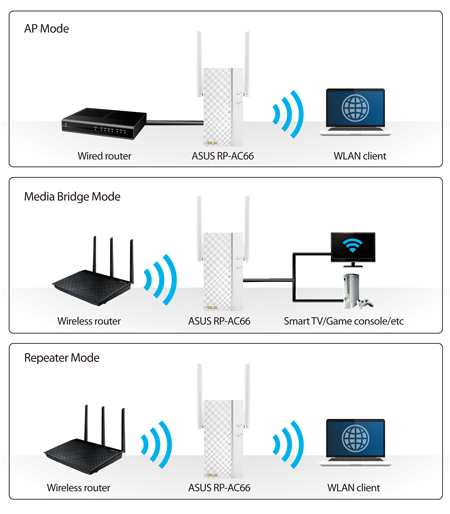 3-in-1 repeater, access point and media bridge modes
RP-AC66 has two more convenient modes to make it even more flexible. As well as a repeater, it can also work as a wireless access point (AP) or as a media bridge. In AP mode, it'll connect to any wired LAN — for example, a hotel's internet connection — to create a personal Wi-Fi hotspot, allowing the internet connection to be accessed from laptops, phones or other Wi-Fi devices. In media bridge mode, connect it to any Ethernet-compatible device — such as a smart TV, multimedia player, game console or PC — to add instant Wi-Fi connectivity. A great way to reduce cable mess!
ASUS ExpressWay boosts performance
ASUS ExpressWay uses the dual-band capability of RP-AC66 to create a super-efficient connection with improved performance and reliability. In normal mode, RP-AC66 uses the 2.4GHz and 5GHz bands simultaneously for connecting to devices, giving the widest compatibility with devices and routers. As long as at least one device — or your router — supports 5GHz operation, ExpressWay can dedicate one band for connecting to the router and the other band for connecting to the device. This gives you a great performance boost for data-intensive tasks such as HD video streaming or online gaming, and also reduces the chance of losing the connection due to interference.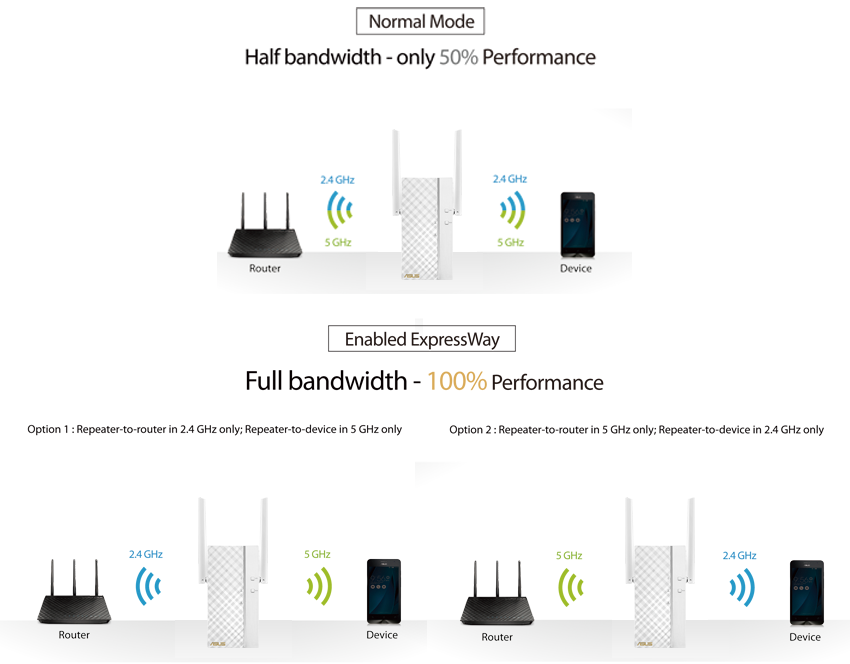 Roaming Assist for stable connections, everywhere!
With our hassle-free Roaming Assist technology, you never have to switch connections manually between RP-AC66 and your ASUS router as you move around the home. Once you enable this function, your device will connect automatically to the strongest Wi-Fi signal, whether it's from the router or the repeater. This ensures that you always get the most reliable connection wherever you are in the house1.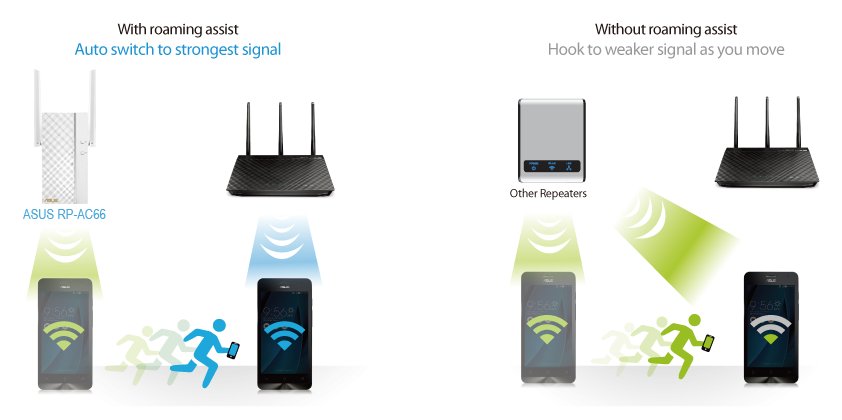 Keep Up to Date!
Remember to always keep your device's firmware up to date so you can benefit from the very latest service and security enhancements — and get exciting new features! Learn more about updating new firmware.
Disclaimer:
1.The effectiveness of the Roaming Assist function varies according to environmental factors. This ASUS-exclusive function works only with ASUS routers.
2. Only available for units equipped with American or EU specification plugs.
Compare (0)