FM2+ Socketed motherboard with proven quality, high-clarity audio and the new UEFI BIOS on the A68H Chipset
Proven quality - 1000+ compatible devices. 7000+ validation hours
Audio Features - Audio that roars on the battlefield
New UEFI BIOS - The Smoothest and Slickest Mouse-controlled Graphical BIOS
USB 3.0 Boost (UASP Support) - 170% faster transfer speeds than traditional USB 3.0
Proven Quality
Gaming & Multimedia
Best UEFI BIOS
Ultimate Cooling
Easy PC DIY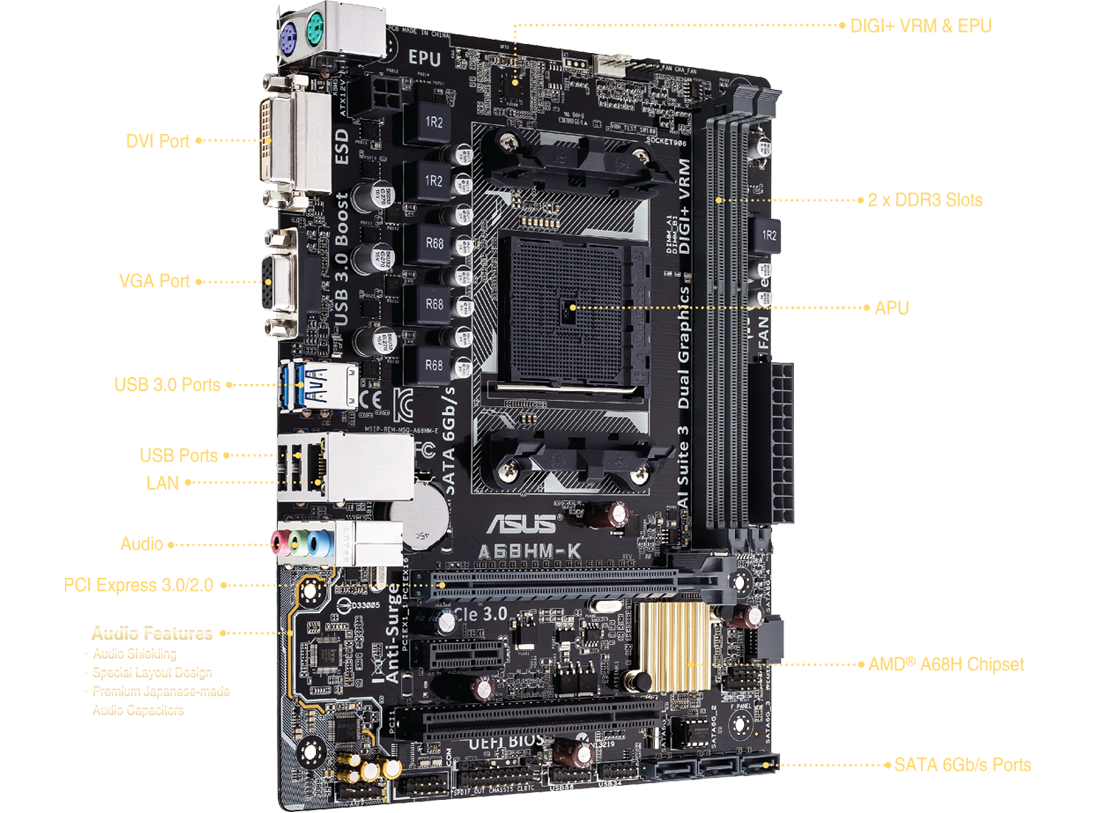 Proven quality. Enduring trust.
Strict compatibility and validation
Compatible Devices
Including CPUs, memory modules,
graphics cards and more.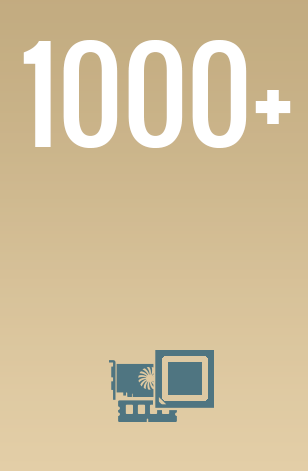 Validation Hours
Extensive testing for extreme reliability, compatibility and safety.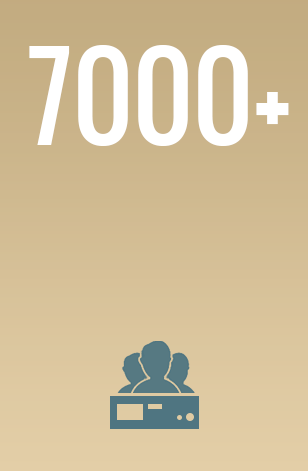 We are the world's biggest motherboard manufacturer, and renowned our design thinking that revolves around users – just like you. Our engineers employ exacting standards to guarantee quality throughout the product's life, choosing the finest components for real-world protection. Our motherboards are proven to be compatible with more than 1,000 components and devices, and undergo a minimum of 7,000 hours of strict validation. That gives you the peace of mind of knowing that ASUS motherboards are fit for all environments and applications. To build your PC with the best foundations, build it with an ASUS motherboard.
Hardware safeguards to ensure long-term durability
Our be-the-best ethos underscores the choice of every single component that goes into your ASUS motherboard. We focus relentlessly on quality to ensure long-term system reliability and performance.
Precise digital power control with ASUS DIGI+ VRM

Voltage regulator modules (VRMs) are among the most essential motherboard components. A good VRM intelligently delivers CPU power based on actual needs at any given time. ASUS was first with digital power design featuring faster sensing and response to deliver precise CPU power on demand. This great accuracy reduces energy waste and of course improves system stability thanks to more consistent delivery.

Enhanced DRAM overcurrent protection

Onboard resettable fuses prevent overcurrent and short-circuit damage. This extends beyond I/O ports to DRAM to safeguard the lifespan of both your system and connected device.

Stainless-steel back I/O that lasts 3X longer

ASUS motherboard back I/O panels are made from strong and corrosion-resistant stainless steel, which is bonded with a thin layer of chromium oxide to enhance anti-corrosive properties. Passing 72-hour spray salt endurance tests, ASUS stainless steel back I/O panels have a lifespan that's three times (3X) longer compared to ordinary panels.

ESD Guards for protection from electrostatic discharge

Electrostatic discharge (ESD) can happen suddenly, and its damaging effects are easily underestimated. ASUS ESD Guards are tested to very high standards, capable of up to +/- 10kV for air discharge and +/-6kV for contact discharge. We employ an active protective circuit design to guard your system against electrostatic interference and damage, providing greater component longevity.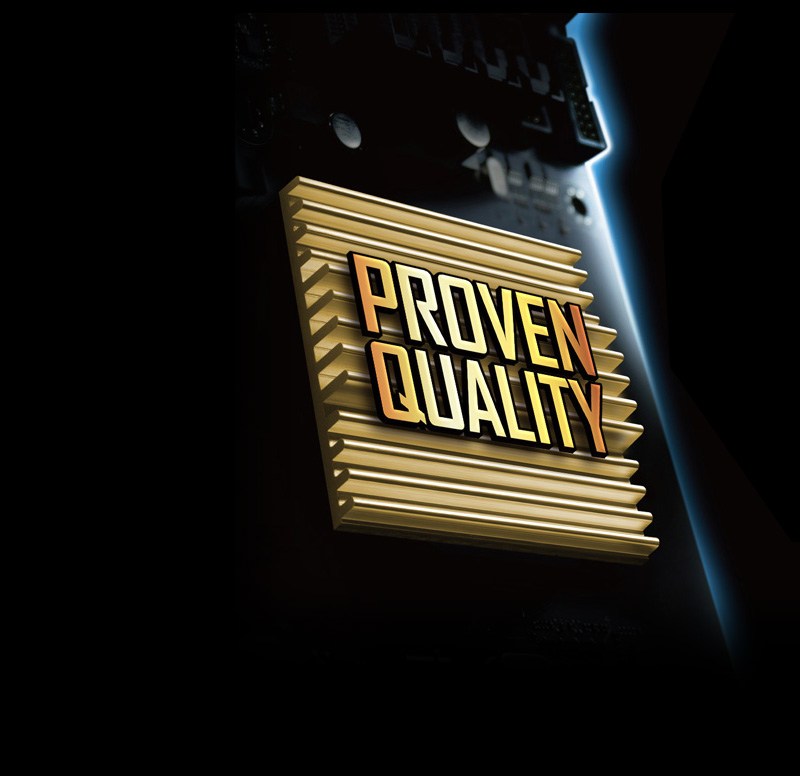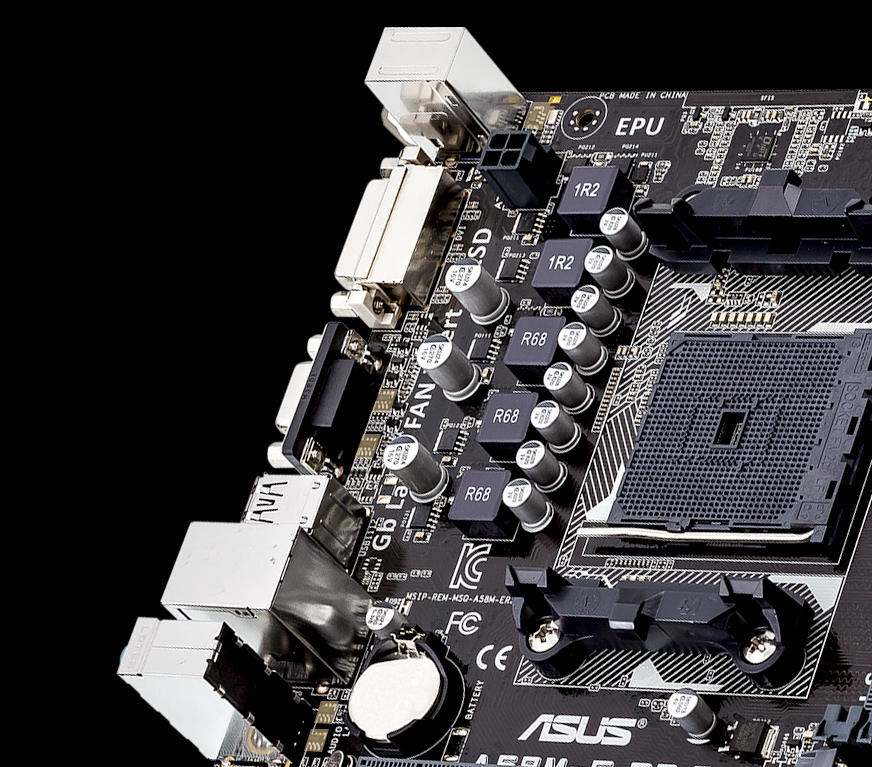 Proven compatibility
Having the freedom to pick and choose the parts that go into your machine is at the heart of PC DIY. Our extensive certification program focuses on providing the very best compatibility with the widest range of components and devices, giving you the freedom to build and upgrade without frustration. Compatible today and compatible far into the future – that's the ASUS way.
Tested - 1,000+ compatible CPUs, memory modules, graphics cards and more
Every ASUS motherboard is compatible with thousands of devices. Our engineers fit and assess both server and consumer CPUs, hundreds of memory modules, dozens of graphics cards, loads of storage devices, power supplies, network devices, displays, optical drives, peripherals and many more. We do this to give you complete confidence in our products and their superb compatibility.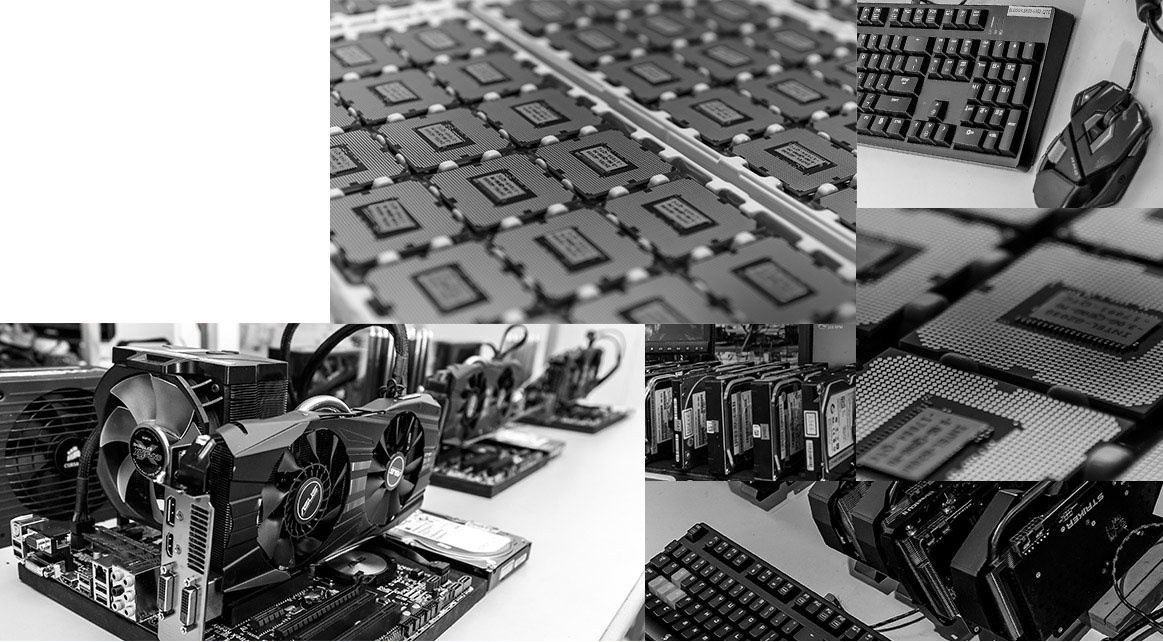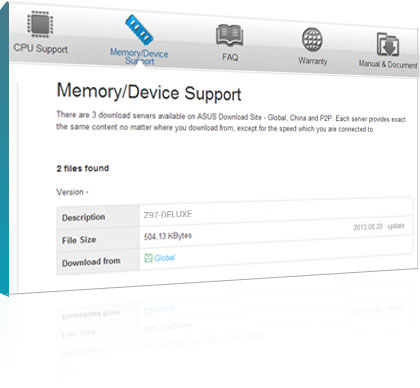 Complete &
Public QVL
View our Qualified Vendor List (QVL) online
We're so confident in our motherboards' superior compatibility that we publish our entire QVL for all to see — delivering you more choices for worry-free PC-building experiences. There are no gaps in our QVL: every compatible component is on the list for all to see. To check that a particular component or device is compatible with your motherboard, just reference the QVL for instant reassurance.
Designed — Great compatibility with ASUS products
When you choose an ASUS motherboard, it's likely you'll also go with ASUS for other components. ASUS designs products from the ground up so that graphics cards, sound cards and optical drives work flawlessly with your motherboard.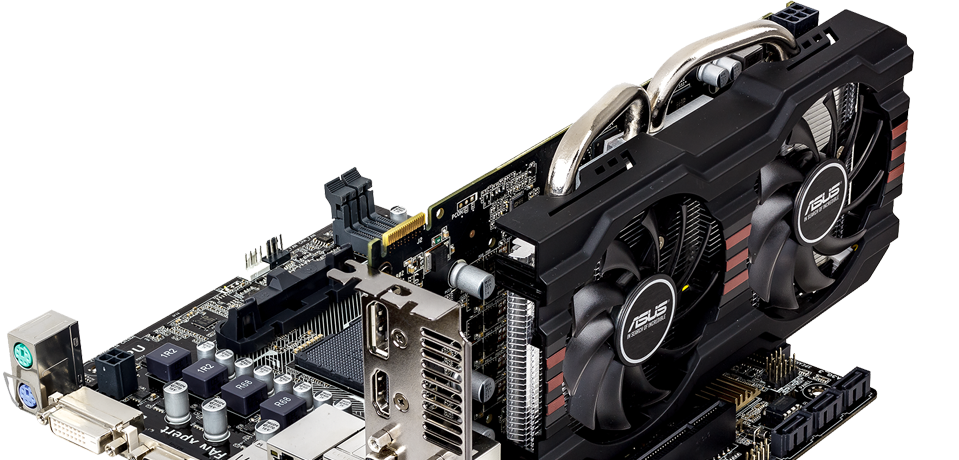 Top-to-bottom reliability
Our motherboards have superb endurance. We verify this by subjecting every board to over 7,000 hours of stringent tests. A barrage of burn-in, environmental, compatibility, software and safety tests confirm that our motherboards are exceptionally robust — with reliability that surpasses industry standards.
Extensive testing for extreme reliability, compatibility and safety
Each motherboard is subjected to extended reliability testing under heavy load conditions, from the transportation to daily operations, to make sure they are delivered to you in perfect condition. Trials include temperature and humidity, burn-in, power on/off, power consumption, insertion and thermal-shock testing among many others. Every certified-compatible component puts through an up to 24-hour aging test to ensure trouble-free operation every day – no matter what you fit or attach and no matter what you do!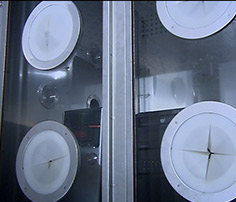 Games or multimedia — it's always ready!
Flawless audio that
makes you part of the game
ASUS audio features get you always ready for gaming, chatting, watching movies or relaxing to your favorite music. Discover a whole new dimension of superior audio and get ready to rule!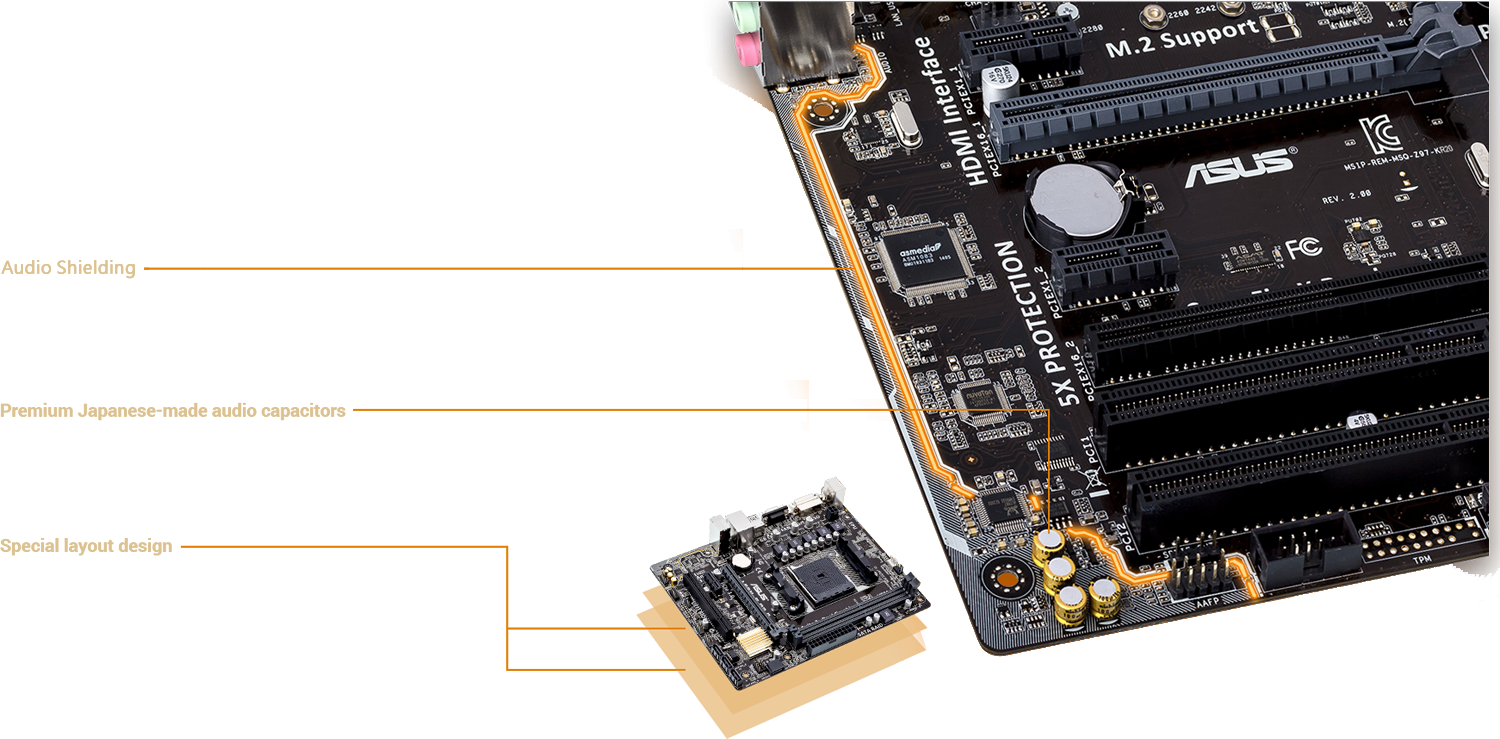 Media-acclaimed UEFI BIOS
The smoothest, slickest mouse-controlled graphical BIOS has been improved to make it even more appealing. Whether you're a PC novice or a seasoned overclocker, the EZ and Advanced Modes help you find your way, quickly and easily.

EZ Mode
Fan Profile:

Detailed CPU and case fan information for instant cooling!

SATA Information:

Displays SATA port details for you to easily recognize devices!

Fast Clock Adjustment:

Use mouse controls to change the time and date!

EZ D.O.C.P :

Improve your DRAM performance with a click!
Advanced Mode
Shortcut:

Press Enter to create shortcuts to favorite settings, or select an existing shortcut and press F4 to go straight there!

Quick Notes:

Make notes and capture BIOS-related ideas, quickly and conveniently!

Last Modified Log:

Track last change and save preferred profiles onto a USB drive!

SATA Port Renaming:

Rename SATA ports for easy identification!

Ultimate cooling and quietness with Fan Xpert
ASUS Fan Xpert intelligently allows you to adjust CPU and case fan speeds according to different ambient temperatures in diverse climate conditions and locations, as well as actual PC loading. Various preset fan performance profiles offer flexible fan speed controls to achieve a quiet and cool environment.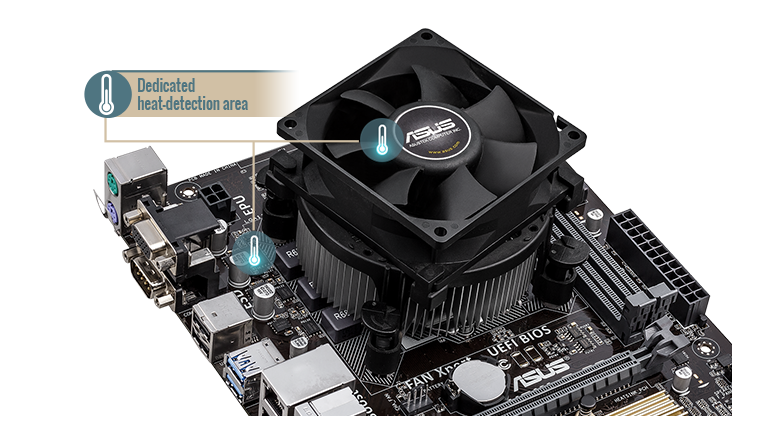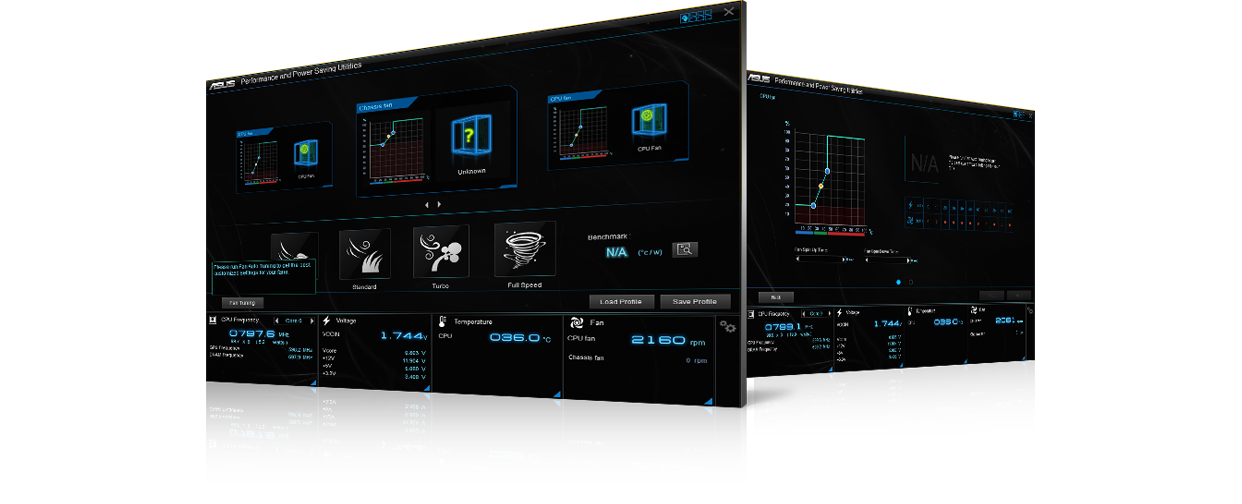 RPM Fixed Mode

Designed for users who wish to reduce noise levels to near 0dB with highly specific fan speed control. It reacts to system loads for greater response.

Auto Tuning Mode

Scans fan parameters through exclusive automatic speed detection to provide custom settings for each fan with a single click. This achieves the best cooling for your components beyond just the mere number of fans in your case.

Informative fan controls

Delivers complete information that allows you to take advanced control over each fan.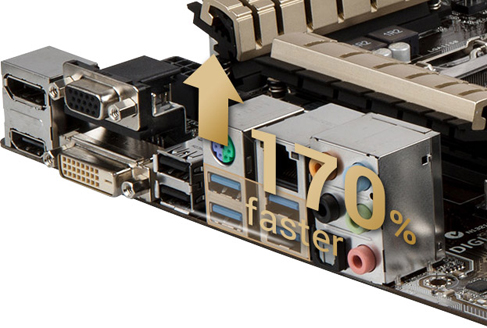 170% faster transfer speeds with
USB 3.0 Boost
ASUS USB 3.0 Boost technology supports UASP (USB Attached SCSI Protocol) USB 3.0 in Windows 8. With USB 3.0 Boost technology, a USB device's transmission speed is significantly increased up to 170%, adding to already fast USB 3.0 performance. ASUS software automatically accelerates data rates for compatible USB 3.0 peripherals without any user interaction.
PC DIY has never been this easy
We understand how you use your PC. From assembly, system setting and monitoring, and to firmware and hardware updates — we're all about making your life easier. That's why we never stop developing new and exciting DIY opportunities to make PC DIY easy, fun and free from hassle!
Learn More
ASUS Q-Design
Easy PC DIY starts today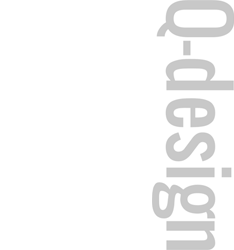 Q-Slot - Effortless PCI Express component removal

The large winged clip is easy to reach and easy to operate. Just press the Q-Slot clip lightly, and graphics card just pop out. Installing or removing even the biggest graphics cards is no sweat!
AI Suite 3
One-stop access to innovative ASUS features
ASUS AI Suite 3 offers a brand-new user experience through a clearer and more attractive interface with support for larger monitors. It consolidates all exclusive ASUS features into one simple-to-use package, allowing you to supervise overclocking, energy consumption, fan speeds, voltages and more. This all-in-one app offers diverse and easy to use functionality, with no need to switch back and forth between different utilities.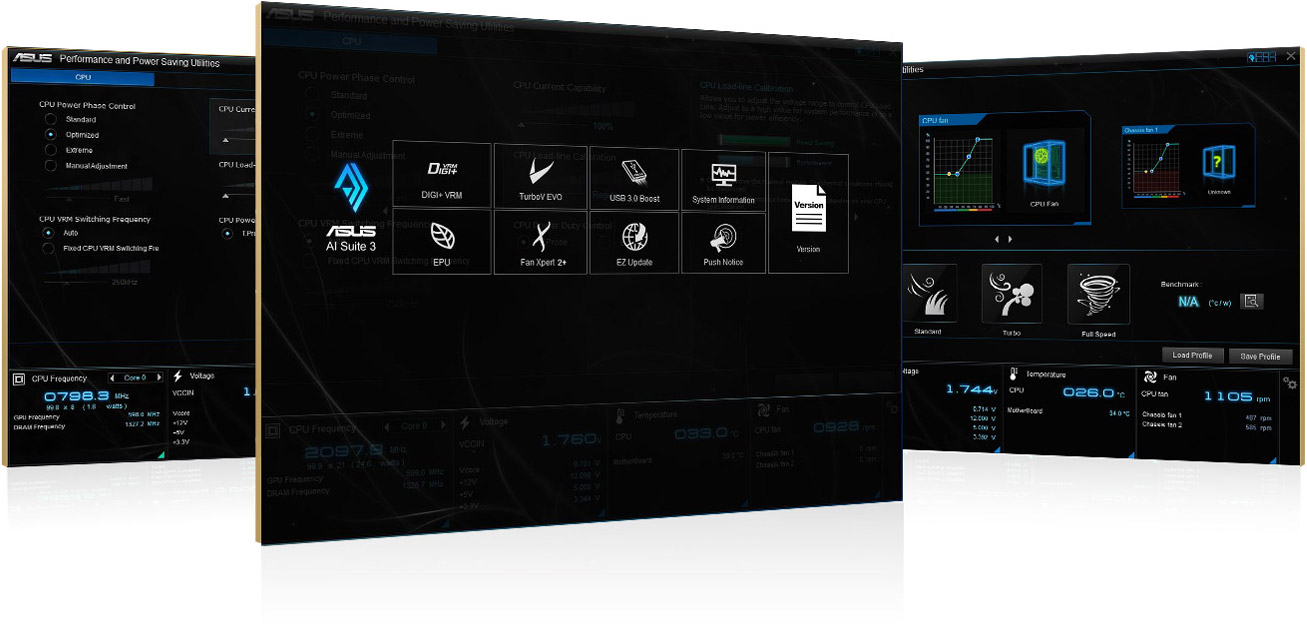 Push Notice
Monitor your PC status on the go.
If you've ever wondering how your PC is faring when you're not around, Push Notice will keep you informed – in real time! When your PC's status changes, Push Note instantly sends an alert to your tablet or smartphone. You can also throw the webpage you are browsing or memo to your smart device. Everything is under control, no matter where you are.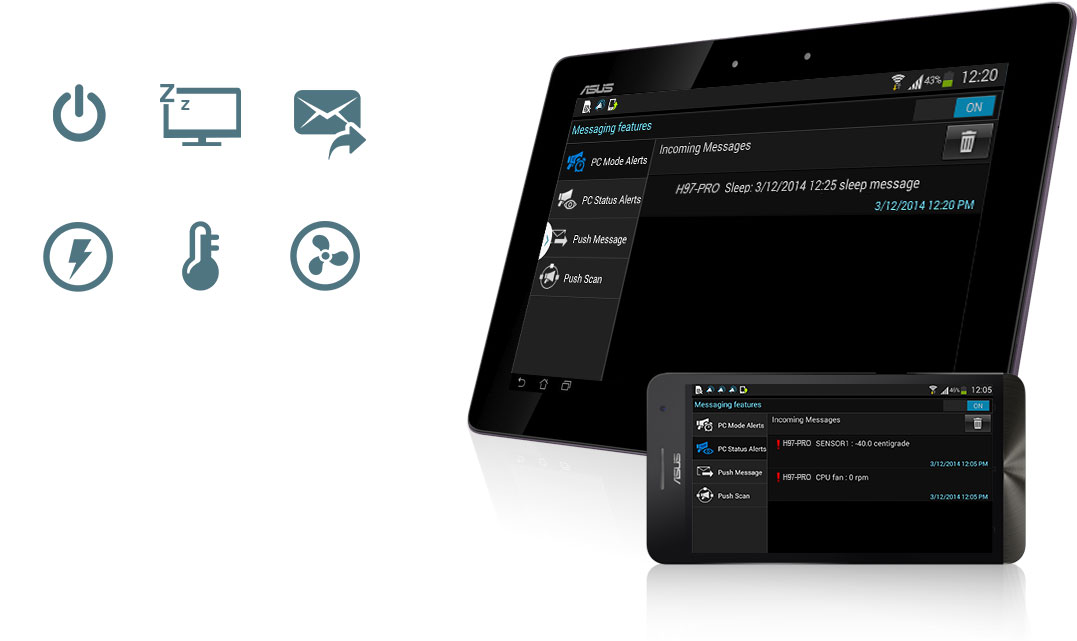 EZ Flash 2
Easy BIOS updates from USB outside the operating system
Quickly update your BIOS from a USB flash drive before entering the OS. It only takes a few clicks, with no floppy disk or an OS-based flash utility.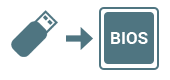 Close
APU and Chipset Features
AMD® A-Series Accelerated Processor with AMD Radeon™ R Series Graphics

This motherboard fully supports the latest AMD Socket FM2+ Kaveri APUs with AMD Radeon R series graphics and retains compatibility with AMD Socket FM2 (Richland and Trinity) APUs. AMD Socket FM2+ APUs support Microsoft® DirectX 11.1 for incredibly fast and smooth graphics, native PCI Express 3.0 for full-speed expansion and 4K resolutions via HDMI and DisplayPort connections.

AMD® A68HFCH(Bolton D2H)

AMD® A68HFCH(Bolton D2H) is designed to support up to 5GT/s interface speed and PCI Express™ 2.0 graphics.It supports 4X SATA 6 Gb/s ports and 2X USB3.0 ports.
Compare (0)