Great-value Expedition H110 micro-ATX motherboard for non-stop action with anti-moisture coating, USBGuard and extensive compatibility for absolute durability and gaming performance
Non-stop action: The best choice for iCafés, built-to-order gaming systems and quality-driven businesses.
Non-stop durability: Unbeatable features including anti-moisture coating, gold-plated Gb LAN design, USBGuard, plus 5X ProtectionII.
Non-stop gaming: Epic audio experiences with Audio features.
Non-stop challenger: ASUS iCafe LAB-certified reboot- and compatibility-tested for diskless-system use, top games and 100+ peripherals, 1000+ CPUs, memory modules, graphics cards, and more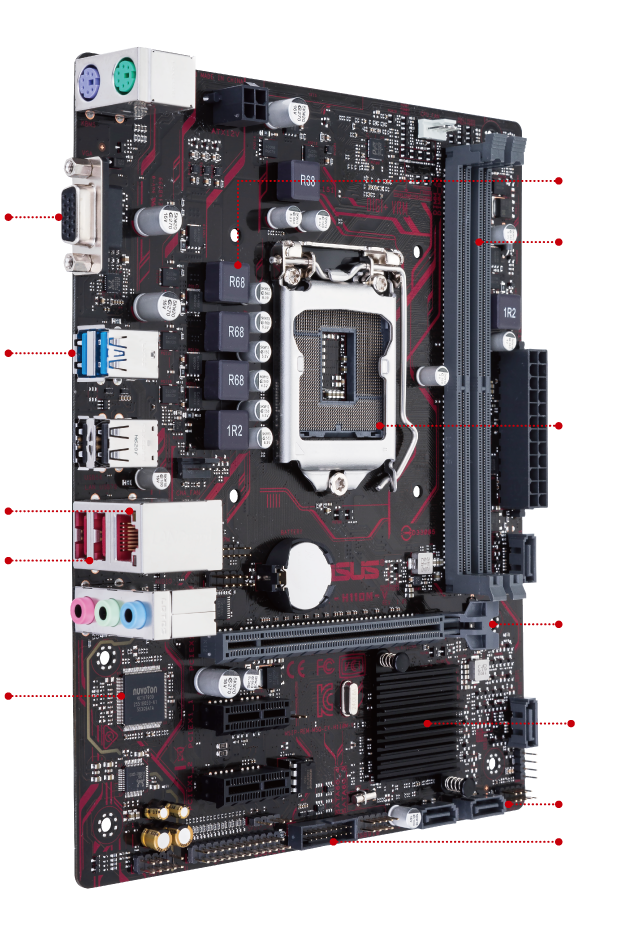 BUILT FOR NON STOP ACTION
ASUS Expedition: Ready for non-stop battle
ASUS Expedition motherboards are made for non-stop action, engineered with non-stop durability to prevent damage from moisture, corrosion and overvoltages — for immense longevity. We even test them to the limits, with 144 hour of diskless-system tests and extensive checks for compatibility with top games and over 100 gaming peripherals. And for the ultimate audio, Expedition motherboards have audio features to provide exhilarating non-stop gaming performance — and the best stability, reliability, and value for you!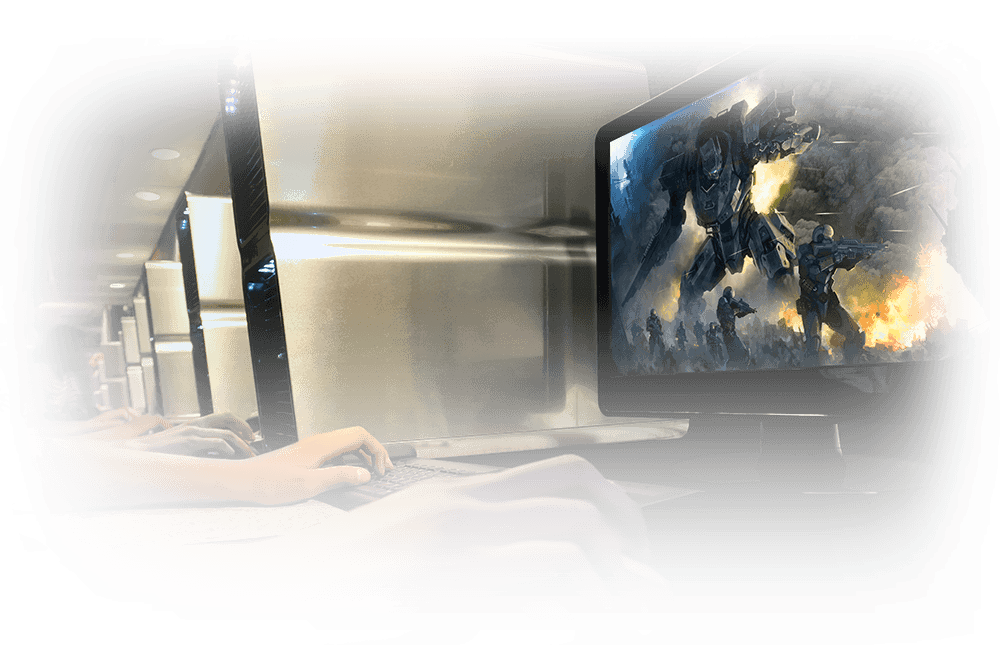 NON STOP DURABILITY
Exceptional stability and protection
ASUS Expedition motherboards offer an exclusive package of unbeatable hardware and features to ensure non-stop durability, including an anti-moisture coating, gold-plated Gb LAN design, USBGuard, and exclusive 5X Protection II for absolute reliability.

Anti-moisture coating
100% protection against moisture and corrosion
This innovative moisture-resistant coating provides 100% motherboard protection, and combats the higher levels of humidity that build up in densely-populated environments, such as internet cafes, libraries and data centers. It even minimises internal corrosion by preventing the adhesion and migration of moisture — prolonging the life of your Expedition motherboard.

Gold-plated Gb LAN design
6X-stronger durability
ASUS Expedition motherboards are equipped with a premium 30-micron-thick gold-plated LAN connector design to protect your investment against corrosion, and improving durability and reliability.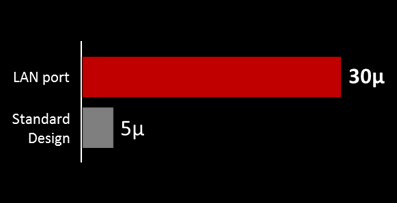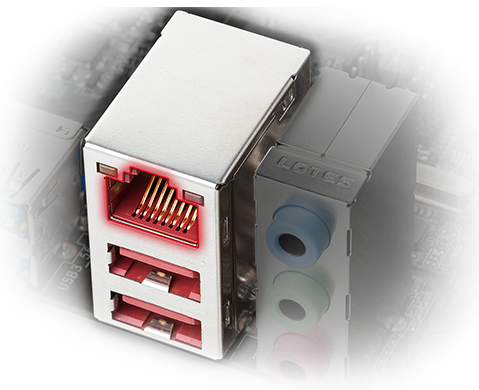 5X Protection II
Advanced hardware safeguards
Industry-leading 5X Protection II employs the finest components, excellent circuit design, and exacting standards to guarantee quality and long-term durability of your motherboard with all-round protection. For you, that means exceptional protection and stability for your build — the result of decades of engineering experience from the world's leading motherboard brand.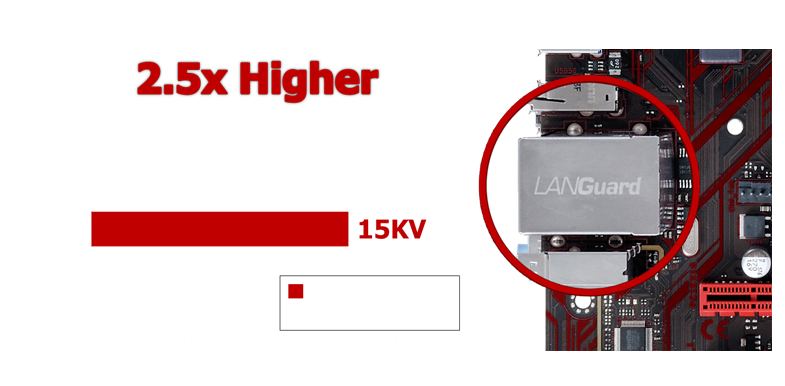 LANGuard
ASUS LANGuard is hardware-level networking protection that employs signal-coupling technology and premium anti-EMI surface-mounted capacitors ensuring a more reliable connection and better throughput, plus electrostatically-guarded and surge-protected components for greater tolerance to static electricity and improved protection against surges.
Overvoltage Protection

An exclusive circuit design with built-in voltage regulators to protect your chipset, connectivity ports, and audio codecs from damage caused by unexpected high-level voltages from unstable or inferior power supplies.

DIGI+ Voltage-Regulator Module

The ASUS-exclusive Digi+ VRM intelligently delivers power to the processor based on real-time demands, reducing energy waste and improving system stability.

DRAM Overcurrent Protection

Onboard resettable fuses prevent overcurrent and short-circuit damage. This extends beyond I/O ports to DRAM to safeguard the lifespan of both your system and connected devices.

Stainless-Steel Back I/O

Corrosion-resistant stainless steel back I/O panels bonded with chromium oxide have a lifespan that's three times (3X) longer than ordinary panels.
Acclaimed UEFI BIOS
The smoothest, slickest mouse-controlled graphical BIOS has been improved to make it even more appealing. Whether you're a PC novice or a seasoned overclocker, the EZ and Advanced Modes help you find your way, quickly and easily.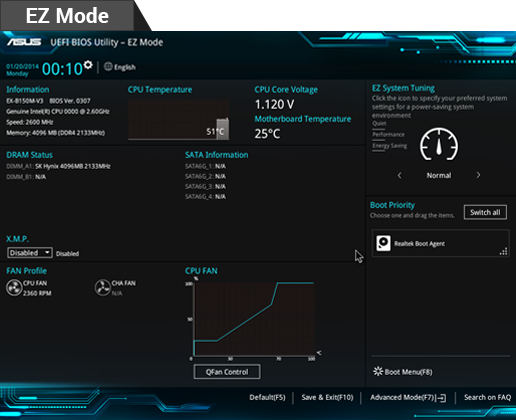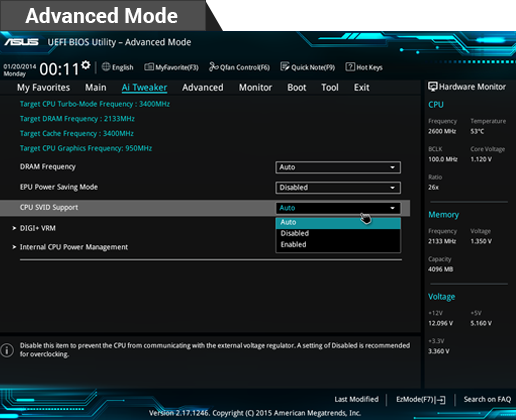 NON STOP CHALLENGER

144-hr diskless solution compatibility
ASUS operates the iCafé Labs to certify Expedition motherboards for use as diskless systems, subjecting them to 144 hours of dedicated tests, including a 24-hour reboot test and 12-hour 3D Mark test with heavy loading. A total of 1,200 validation hours ensure that Expedition motherboards are ready to run non-stop — with the smooth performance you demand.
Top games and 100+ peripherals tested
ASUS iCafé Labs engineers also subject Expedition boards to lengthy stability tests in an environment that simulates a real-world internet café. We test with the top games, and with over 100 of the most popular hardware combinations, so both you and your customers are assured of the very best gaming experiences!
144-HOUR

DISKLESS TEST

24-hour reboot and 12-hour 3D Mark tests to ensure the best internet and graphics performance.

TOP GAMES

COMPATIBILITY

Certified for best gaming experience.

100+

GAMING PHERIPHELS

Certified for best gaming device compatibility.

1000+

COMPATIBLE DEVICES

Including CPUs, memory modules, graphics cards and more.

DDR4

COMPATIBILITY

More flexibility, more compatibility - support for DDR4.

7000+

VALIDATION HOURS

Extensive testing for extreme reliability, compatibility and safety.
NON STOP GAMING
Epic gaming audio with audio features
Discover a whole new dimension of superior audio and get ready to rule!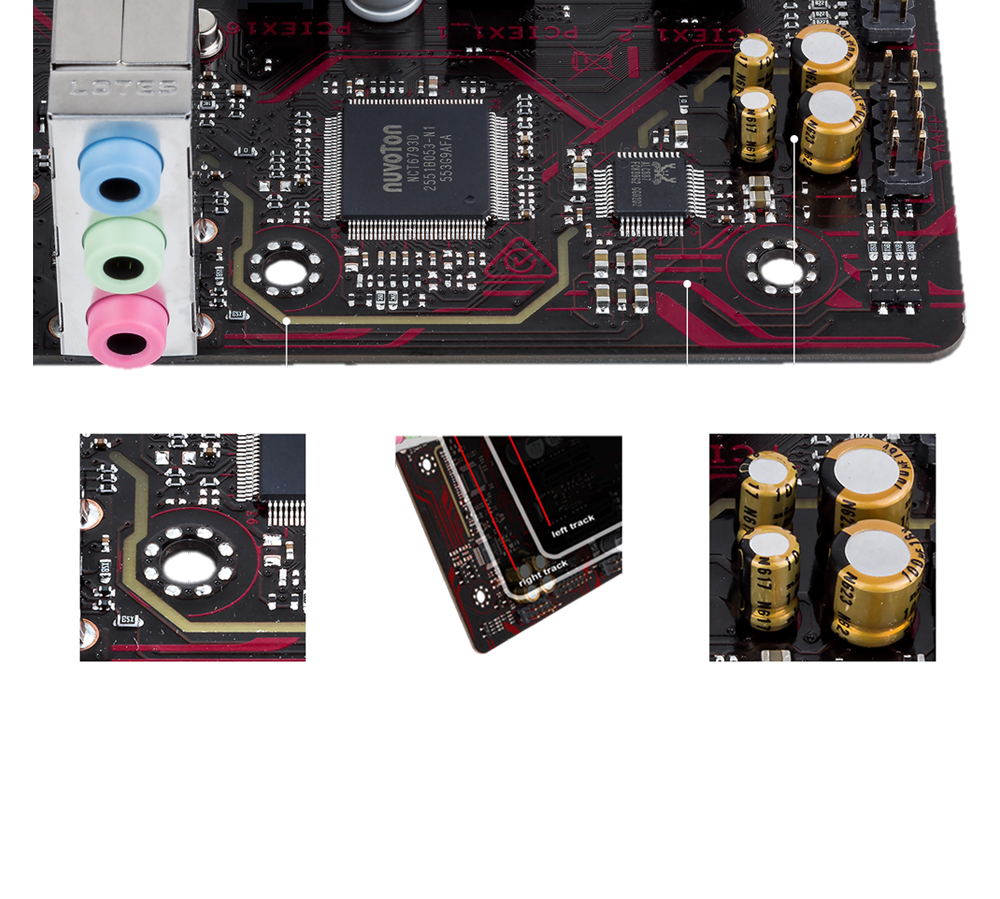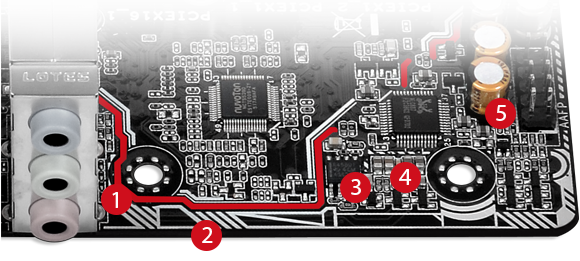 1

Audio shielding
Ensures precision analog/digital separation and greatly reduced multi-lateral interference.

2

Separate layers for left and right tracks
To deliver consistent, equal quality on both channels.

5

Premium Japanese-made audio capacitors
Provides warm, natural, and immersive sound with exceptional clarity and fidelity.
NON STOP EASE
PC assembly and upgrades made easy
We understand how you use your PC. From assembly, hardware upgrades and system updates — we're all about making your life easier. That's why we never stop developing new and exciting DIY opportunities to make PC DIY easy, fun and free from hassle!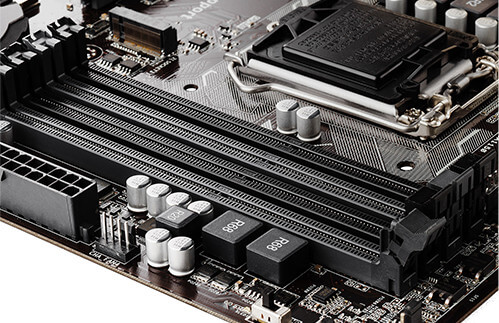 MORE
Q-DIMM
Easy memory removal
Even if you work with a smaller case, just push down on the one-sided clip and push or pull RAM modules in or out – couldn't be simpler!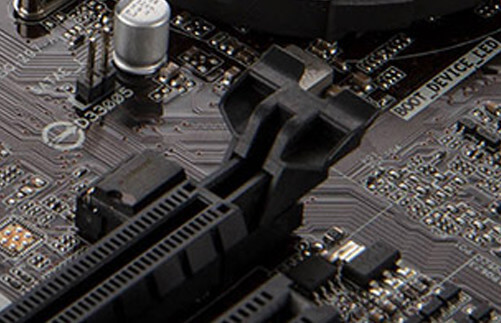 MORE
Q-Slot
Effortless PCI Express-component removal
Just press the large-winged, easy-to-operate Q-Slot clip lightly, and graphics card just pop out. Installing or removing even the biggest graphics cards is no sweat!
Compare (0)
Laptops & 2-in-1 PCs

Software

Technology / Innovations

Windows 11

Mobile

Wearables

Displays / Desktops
Workstations

Warranty

Motherboards / Components

Single Board Computer

Software
Networking

Range Extenders

Modem Routers

Wireless & Wired Adapters

AIoT & Industrial Solution

Accessories

Stylus

Controller

Cases and Protection