High Expandable EEB Power with Dual CPU
Quad Strength Graphic Power – 4-Way PCI-E Gen3 x16 link supporting NVidia GeForce SLI and AMD CrossFireX on demand
Supreme Power Solution – Premium components deliver industry-leading power efficiency
Unique BIOS for Dual CPU O.C. –Boost CPU's overclocking performance up to 10%
Superb storage flexibility– onboard M.2 x4 and support for ASUS PIKE II cards
Easy maintenance–ASUS Q-Code Logger, an easy-maintenance button and Dr. Power LED displays unusual power statuses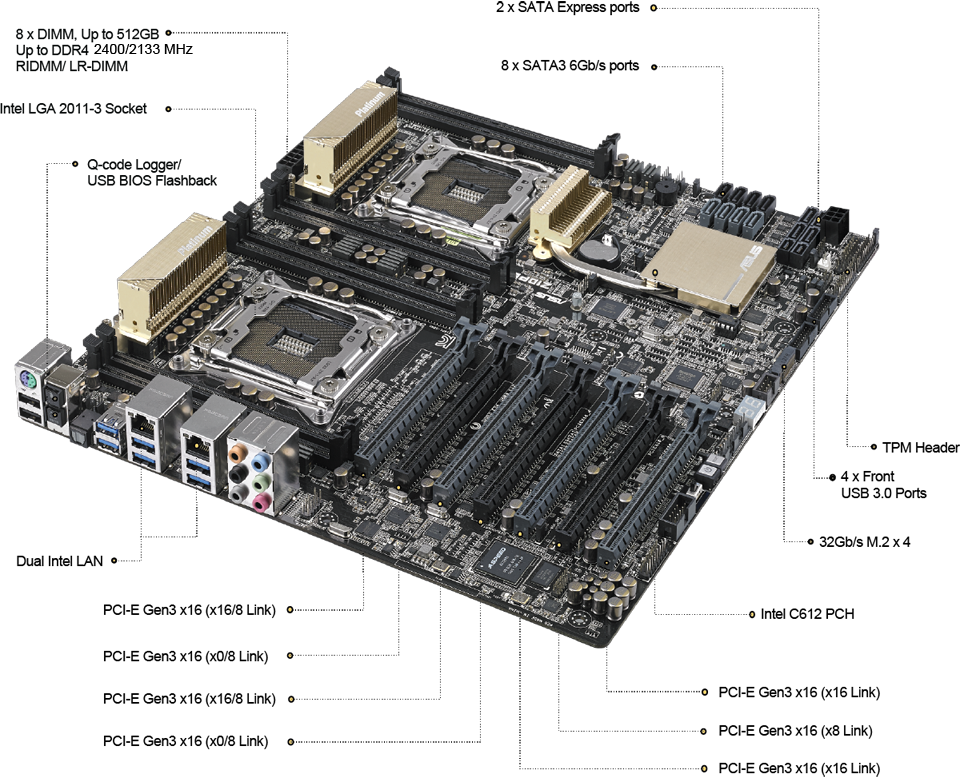 ASUS Workstation Exclusive Features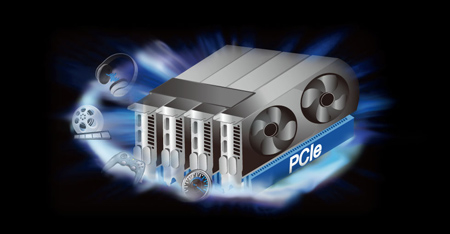 Quad-Strength Graphic Power
Seven native PCI Express 3.0 x16 slots mean Z10PE-D8 WS is equipped for immense graphics-processing power, so it's perfect for use in professional fields such as mechanical, architectural, interior design, aeronautics, audio and video design. The ample graphics potential also opens Z10PE-D8 WS to run even the most demanding PC games in full detail — so it's great for work or play.
Supreme Power Solutions
ASUS Z10PE-D8 WS couples innovative thinking with premium components to deliver industry-leading power efficiency. Carefully engineered with Beat Thermal Chokes II made of highly conductive and efficient design for minimal-loss power delivery and integrated Dr. MOS MOSFET that both saves space and reduces operating temperatures. For the latest workstation motherboard, ASUS introduce the industry's most durable 12K solid capacitors, and exclusive ASUS ProCool power connectors. Z10PE-D8 WS is built to stay cool under pressure — and boosts performance, power efficiency and product longevity into extreme levels!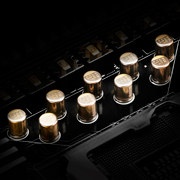 12K Solid Capacitors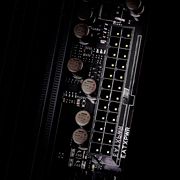 ProCool Power Connector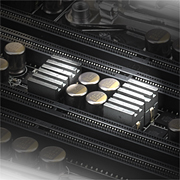 Beat Thermal Choke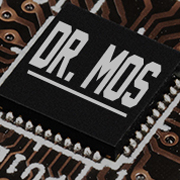 Dr. MOS
Dual CPU overclocking for incredible performance
Z10PE-D8 WS breaks performance barriers by giving you the capability to overclock dual CPUs. Ai Overclock Tuner and Xeon Turbo Charger in the BIOS are dedicated to boosting the CPU's overclocking performance by up to 10% to reach incredible CPU High Performance Linpack (HPL) scores and improves SPEC CPU™ 2006 benchmark results by up to 6.77%.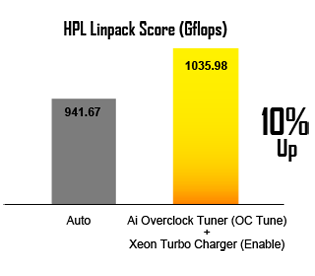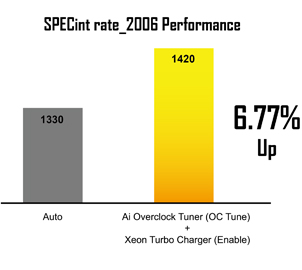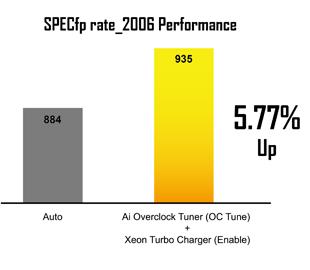 HPL Linkpack Test Configuration:
MB:Z10PE-D8 WS / CPU : Intel Xeon E5-2699 V3/DRAM: Samsung 16GB DDR4-2133 RDIMM*8 /O.S: Windows 8.1_64

SPEC CPU™ 2006 Test Configuration:
MB:Z10PE-D8 WS / CPU : Intel Xeon E5-2699 V3/DRAM: Samsung 16GB DDR4-2133 RDIMM*8 /O.S:REHL64-bit 6.5 Kernel
Q-Code Logger – one-touch checker
Q-Code logger is your one-touch checker that lets users easily check system status at any time. Plug a flash drive into adjacent USB port, press the motherboard's dedicated Q-Code logger button and all ASUS Q-Code event logs for the current live session will be copied to the drive even with the system off.
Dr. Power for intelligent PSU detection
As the Z10PE-D8 WS is meant for professional users who rely on non-stop operation, stable power delivery is critical. Real time power supply health detection helps prevent sudden system shutdown and provides hassle-free notifications should power delivery be insufficient. Additionally, LED messages on the board clearly indicate any relevant power issues in the event your system fails to boot.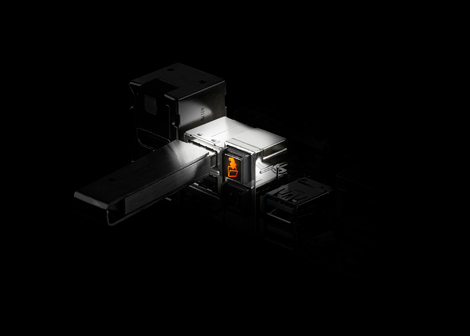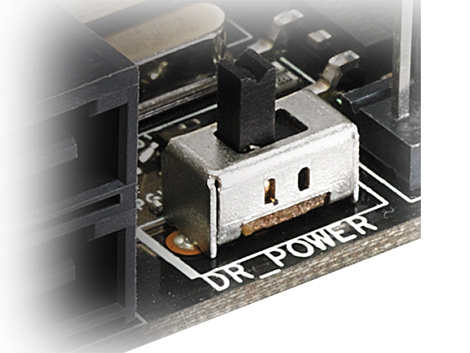 Ultra-fast transfer speed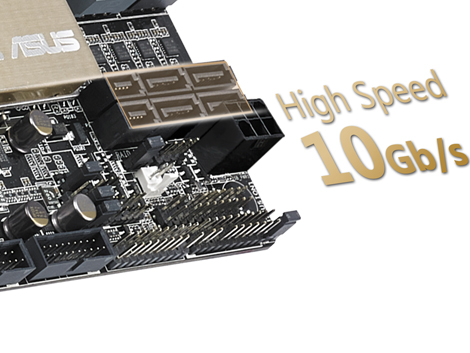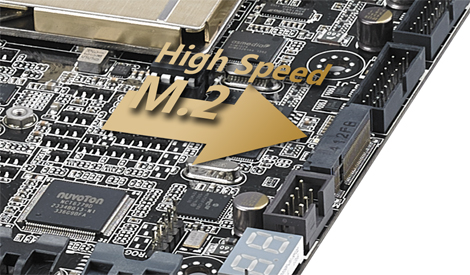 Evolve your storage speed with SATA Express
SATA Express provides up to 10Gbit/s data-transfer speeds from two PCIE 2.0 lanes, resolving the higher bandwidth request in the near future. The current SSDs consume up to 550MB/s, which is close to saturation point for SATA 6Gbit/s connections. Backwardly compatible with up to two SATA drives, SATA Express is the next-generation connectivity standard — and ensures that you and your system won't get left behind.
Speed up your system with M.2
With four native PCI Express 3.0 bandwidth, M.2 supports up to 32Gbit/s data-transfer speeds and up to 22110 NGFF. It is the perfect choice for an operating system drive, making your whole PC work that much faster.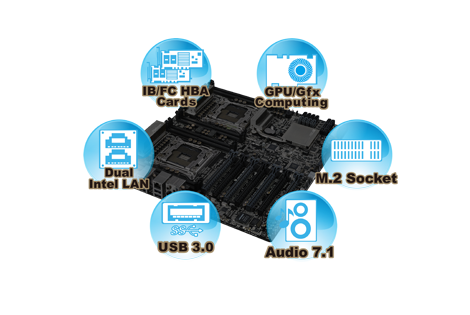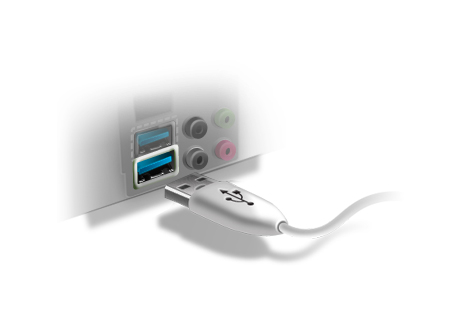 Total Feature Enhancement with Complete I/O
Z10PE-D8 WS packs advanced features onto a standard Enterprise Electronics Bay (EEB) form factor to deliver superior flexibility and performance, with dual Intel® Xeon® E5-2600 v3 sockets, eight DDR4 DIMM slots, and seven PCI Express 3.0 x16 slots. Z10PE-D8 WS also has ten USB 3.0 ports, eight SATA 6Gbit/s and two of the latest SATA Express connectors — so you'll benefit from data transfers of up to 16Gbit/s! It also offers superb multimedia, with 7.1-channel DTS-HD® Master Audio output.
Faster charging with USB Charger+
USB Charger+ charges USB devices up to three times (3X) faster than traditional USB sockets. Use it to juice up your smart devices even when the PC is asleep, hibernating or powered off — a brilliant convenience! * Charging speed may vary by product.
CPU, Chipset and Graphics features
Intel® Xeon® E5-2600 V3/V4 processor family for the LGA 2011 socket
The motherboard supports the latest Intel® Xeon® E5-2600 v3/v4 processor family with dual LGA 2011-3 sockets. Memory and PCI Express controllers are integrated alongside quad-channel 8-DIMM DDR4 memory and 80 PCI Express 3.0 lanes. This provides great graphics performance with superior energy efficiency.
Intel® C612 Express Chipset
The Intel® C612 Chipset is the latest single-chipset design that supports Intel® Xeon® E5-2600 v3/v4 processors for dual LGA 2011-3 sockets. It improves performance by utilizing serial point-to-point links, allowing for increased bandwidth and stability. Additionally, the C612 comes with 8 x SATA 6Gbit/s ports and 2 x SATA Express ports for faster data retrieval, doubling the bandwidth of current bus systems.
4-Way SLI™ and Quad-GPU CrossFireX™ Support
Both SLI™ and CrossfireX™ architectures work flawlessly on the new Z10PE-D8 WS motherboard, with PCI Express slots designed to accommodate the power of up to four graphics cards. Whether for professional graphics work, heavy duty multimedia or dedicated gaming, more than ample graphics power can be applied whenever needed.