ASUS ExpertCenter E1 AiO (E1600)
ASUS ExpertCenter E1 AiO (E1600)
ASUS ExpertCenter E1 AiO
Unwavering versatility. Always ready.
Windows 11 Pro for business
Unique integrated UPS design to protect your data from unstable power currents
Fanless design for a quiet operation
Compact productivity with expansive 15.6" multi-touch screen
Standard VESA mount compatible
Convenient IO selections for versatile business applications
Download datasheet
360˚ View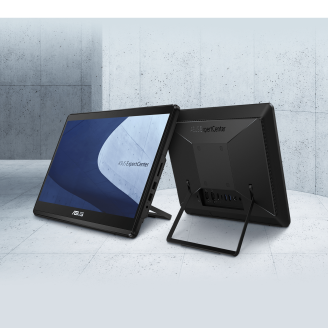 Unwavering versatility. Always ready.
ASUS ExpertCenter E1 AiO is built to be your versatile and productive business partner. Featuring a 15.6-inch multitouch panel, a quiet fanless design and convenient connectivity, ExpertCenter E1 AiO is ready for every need. It also elevates expectations with an uninterruptable power supply (UPS)
1
to safeguard your tasks and data — making ExpertCenter E1 AiO as dependable as it is productive.
Integrated UPS
ExpertCenter E1 AiO's built-in uninterruptable power supply (UPS)
1
protects data from unexpected power interruptions — providing precious time to ensure important information is saved.
Convenient connectivity
Business-grade connectivity ensures that ExpertCenter E1 AiO is primed and ready to deal with a diverse range of commercial devices, from point-of-sale (PoS) machines to barcode readers and more.
15.6" touch display
With ExpertCenter E1 AiO's 15.6-inch, 10-point, capacitive touchscreen, you'll enjoy fast, responsive and smooth interaction — and a screen that's large enough to navigate with ease while being small enough to fit neatly on any counter.
Fanless design
ExpertCenter E1 AiO has been cleverly engineered to eliminate the need for a cooling fan, so it delivers whisper-quiet operation that's great for the local environment and bolsters long-term durability.
Unwavering operation for business reliability
We know how important data is to your business. That's why, unlike many competing AiO models, we've built ExpertCenter E1 AiO with an uninterruptable power supply (UPS)
1
to protect your data and tasks when mishaps cause power outages. This integrated UPS kicks in the instant that E1 AiO detects mains power is disconnected and displays a warning, providing up to 167 minutes of usable time to finish tasks and save your data — followed by up to 352 minutes of data protection in hibernation mode
3
. That's peace of mind you simply won't get with other AiOs.
Quieter, cleaner, and more cost-effective
ExpertCenter E1 AiO features a fanless design for silent operation with superb energy efficiency. Through its conductive-cooling system, E1 AiO eliminates fan noise and rapidly dissipates heat — making it a perfect fit for many specialist applications, such as healthcare, retail and more. This design also reduces dust circulation, assuring cost-efficiency and investment longevity.
Reliably versatile
ExpertCenter E1 AiO is designed to be versatile. Its 15.6-inch multitouch screen enables smooth, responsive interactive experiences, while its compact size means it'll fit neatly on a retail counter or hospital check-in desk — or even hung on a wall, courtesy of its standard VESA mount
2
. In short, E1 AiO is ready to do business where you need, and how you need business done.
Connect your business
Great connectivity is vital in business settings. That's why ExpertCenter E1 AiO comes with a rich selection of ports to fit diverse business scenarios. Whether you need serial ports, HDMI, USB ports, Ethernet or an SD card reader, or need to connect a barcode scanner, receipt printer or a payment terminal, ExpertCenter E1 AiO is primed to oblige. It also has an integrated Kensington lock slot to provide quick and simple physical security, wherever the application requires.
2-in-1 card reader
USB 3.2 Gen 1
Audio combo jack
Kensington lock slot
Serial ports
HDMI-out
USB-C®
USB 3.2 Gen 1
RJ45
DC-in
The uninterruptible power supply (UPS) is an optional feature. Availability varies by country and region.
VESA mount compatible. Wall-mount screws are optional accessories.
Unless otherwise stated, all performance claims are based on theoretical performance. UPS performance tested under system default brightness of 110 nits and volume at 67%, with both WiFi and Bluetooth enabled, but not connected, and playing an offline HD video. The data-protection period calculation is based on ExpertCenter A1 AiO entering hibernation mode after the initial usable period, providing an extended opportunity for power to be restored. Actual figures may vary in real-world situations.
ASUS Control Center is optional and its availability varies according to country. Please check with your local ASUS retailer for details.
ASUS management solutions include ASUS Control Center and ASUS Business Manager platform.
Trusted Platform Module (TPM) is optional.
ASUS Service Package options include: 24x7 support; MyASUS app; Three-year international warranty; Pick up & return service; Onsite service; Next business day onsite response; Accidental damage protection; Defective HDD retention. Service and warranty coverage may vary depending on country and territory. Service may not be available in all markets. We recommend that you check with your local retailers to confirm the options available.
Certifications such as EPEAT may vary from models and countries
Compare (0)