Micro-ATX A520 business motherboard with enhanced security, reliability and manageability
AMD AM4 socket: Ready for Ryzen™ 5000 Series/ 4000 G-Series/ 3000 Series Desktop Processors
ASUS-exclusive self-recovering BIOS technology for automatic system BIOS recovery from a verified backup
ASUS LPC debug header for more efficient troubleshooting
Supports SMBUS header that connects to a DASH LAN for remote IT management
Innovative moisture-resistant coating to protect the motherboard from harsh environments
Event log for capturing and managing detailed system information
Commercial BIOS kit to make customization faster and more efficient
ASUS Control Center Express(ACCE) to make IT endpoint management easier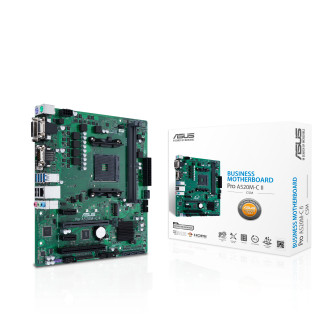 ASUS Pro business motherboards provide enhanced features to smooth your IT operations, including comprehensive system protection, 24/7 stability and reliability and an improved management suite for easier customization. Known as the world's biggest and best-known motherboard brand, ASUS provides world-class after-sales service and guaranteed long-term availability to maximize your investment over the product life cycle and offers a high-quality, TCO-optimized solution for your business computing-needs.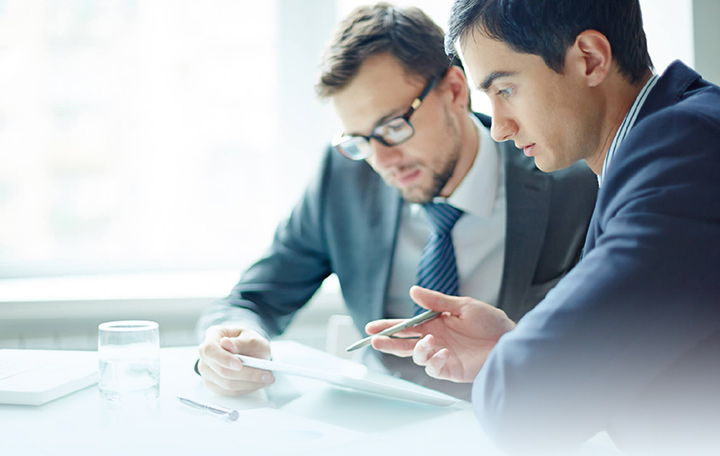 ASUS Corporate Stable Model
ASUS Corporate Stable Model (CSM) is a commercial program designed to provide stable and reliable motherboards. Offering up to 36-month product lifecycle support and 6-month end-of-life notice to allow sufficient lead times for your organization to get ready for product transitions. Each purchase of an ASUS CSM motherboard comes with ASUS Control Center Express - server-grade IT management software.
Learn more about ASUS Corporate Stable Model >
ASUS Control Center Express
ASUS Control Center Express is an integrated IT monitoring and management software designed to deploy faster, simplify IT operations and improve productivity with comprehensive control and user-friendly functions. ASUS Control Center Express is compatible with over 100 ASUS motherboards to provide a high-quality, TCO-optimized solution for your business needs.


Learn more about ASUS Control Center Express >
Optimize IT endpoint management

Designed to assist IT staff in monitoring and controlling devices within their corporate networks, and facilitate inventory checking in multiple locations remotely

Automate IT maintenance

Allows IT staff to schedule automatic updates of the latest BIOS, software and utilities to specific or all devices at off-peak times, enhancing system stability and IT operational flexibility

Securely manage all of endpoints

Securely manage endpoint configuration, portable storage access and PC software applications by enabling them to create grouping rules on individual devices
* ASUS Control Center Express is only available for CSM motherboards. Please consult your local sales representative for more information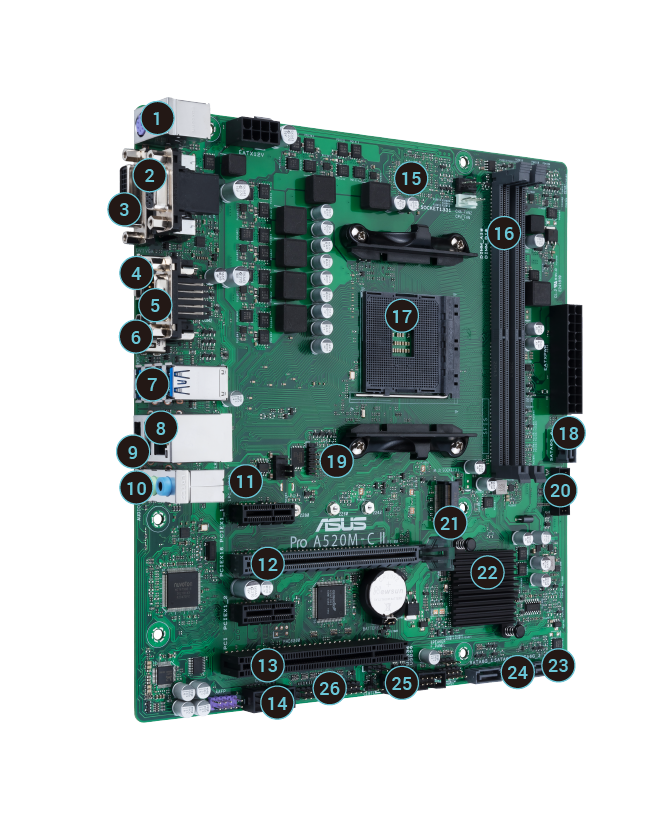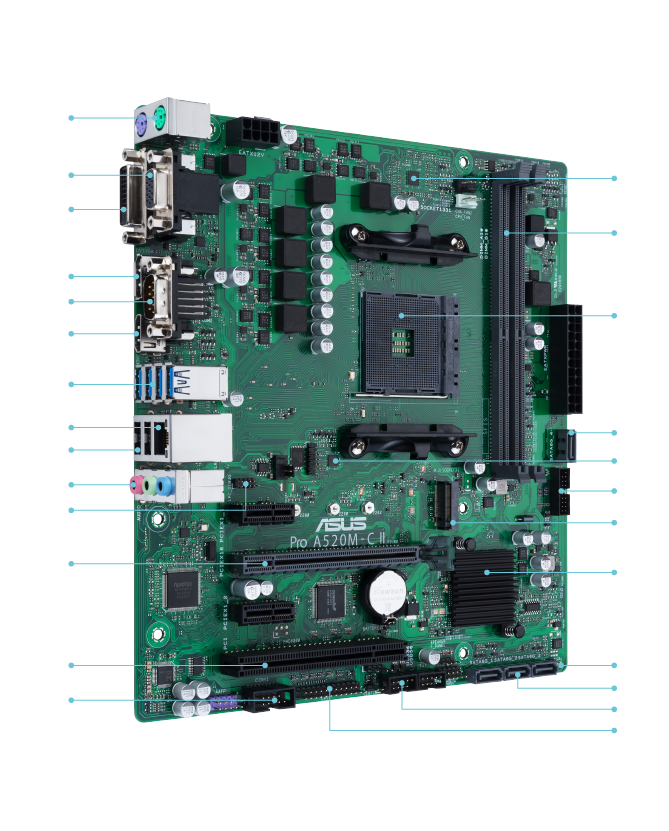 12 PCIe 3.0 x16 slot
• ASUS SafeSlot Core
20
2 x Front USB 3.2 Gen 1
21 32Gb/s M.2 support
PCIe 3.0 x4 & SATA mode
Internationally Certified Business Motherboard
ASUS business motherboards are enterprise proven with leading quality that exceeds industry standards. Certified by multiple international safety and environmental organizations, ASUS business motherboards provide a safe, secure and sustainable solution, making them the ideal choice for your business.


ASUS Shield
Enhances system security from bottom to top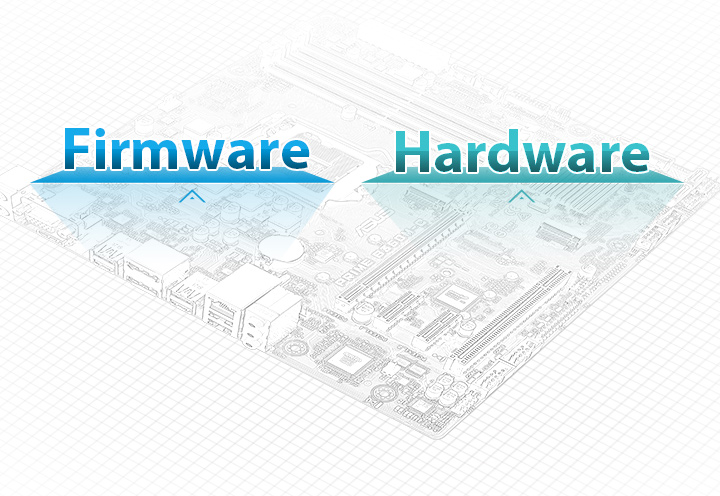 ASUS Self-recovering BIOS
ASUS-exclusive BIOS protection technology automatically recovers the system BIOS with a verified backup in the event of an update failure, preventing the need to replace or reinstall hardware.
LEARN MORE
ASUS business motherboard is set to check the firmware and signature of each piece of boot software.
Trusted Platform Module (TPM)
Hardware-based security offers better data protection, enhances network security, protects digital identities and ensures platform integrity.
Certified NIST SP 800-147
ASUS business motherboard is certified by the national computer security standards.
ASUS Self-recovering BIOS
With ASUS Self-recovering BIOS
The user simply needs one step to restore the latest BIOS update.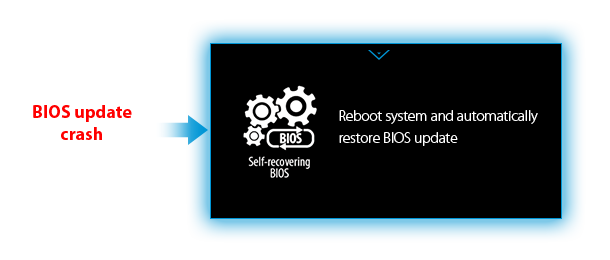 Benefits

Ensures safe BIOS updates

Reduces maintenance frequency and costs

Requires no extra software

Provides automatic update failure detection and recovery
Standard process for BIOS update crash recovery
The user needs four steps to reinstall the BIOS update:

CLOSE
ASUS Reliant
Ensures consistent performance with the finest components and rigorous reliability testing
ASUS Trouble Shooting Solution
ASUS Debug header is a 10-1 pin low pin count (LPC) header for connecting to debug cards for faster, more efficient motherboard troubleshooting. When connected to an ASUS Debug Card, administrators can view error and debugging codes on the integrated LCD display, and get better idea of initialization and recovery processes. ASUS business motherboards provide a complete troubleshooting solution, making mass production faster and more cost effective.


* LPC debug card sold separately.
* Specifications and features vary by model, and all images are illustrative. Please refer to specification and gallery pages for full details.
Optimized for twenty-four seven operations, the motherboard is tested under temperature up to 45°C and relative humidity up to 80% to ensure it can handle diverse temperature and humidity range of different location.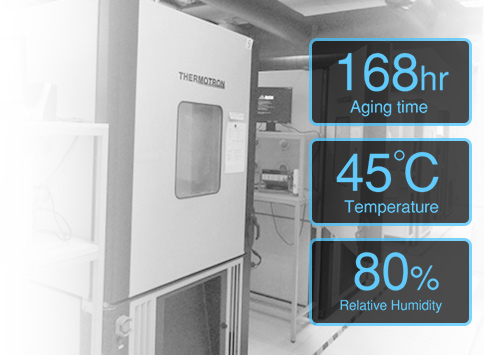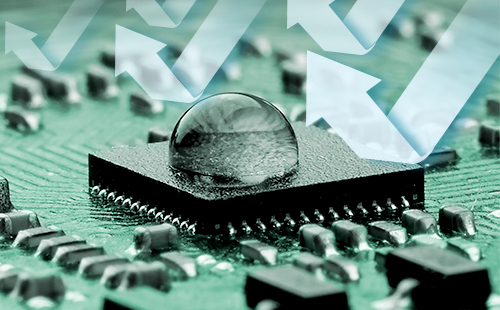 Protection against moisture and corrosion
An innovative moisture-resistant coating protects the motherboard in humid environments, such as factories, libraries, data centers and internet cafes. It also minimizes internal corrosion by preventing adhesion and migration of moisture, prolonging the life of the motherboard.


Consider long-term reliability of commercial product, ASUS business motherboard is equipped with anti-sulfur resistors. The resistors provide excellent resistance to sulfuration by constructed in a high grade ceramic body (aluminum oxide). With anti-sulfur resistors, ASUS business motherboard can be operated under the harsh environments.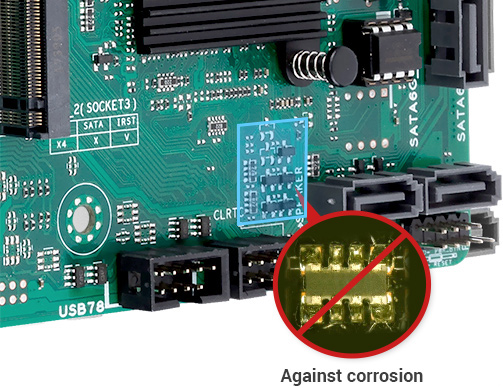 Pumped-up throughput. 2.5X higher surge tolerance.
ASUS LANGuard is hardware-level networking protection that employs signal-coupling technology and premium anti-EMI surface-mounted capacitors ensuring a more reliable connection and better throughput, plus electrostatically guarded and surge-protected components for greater tolerance to static electricity and improved protection against surges.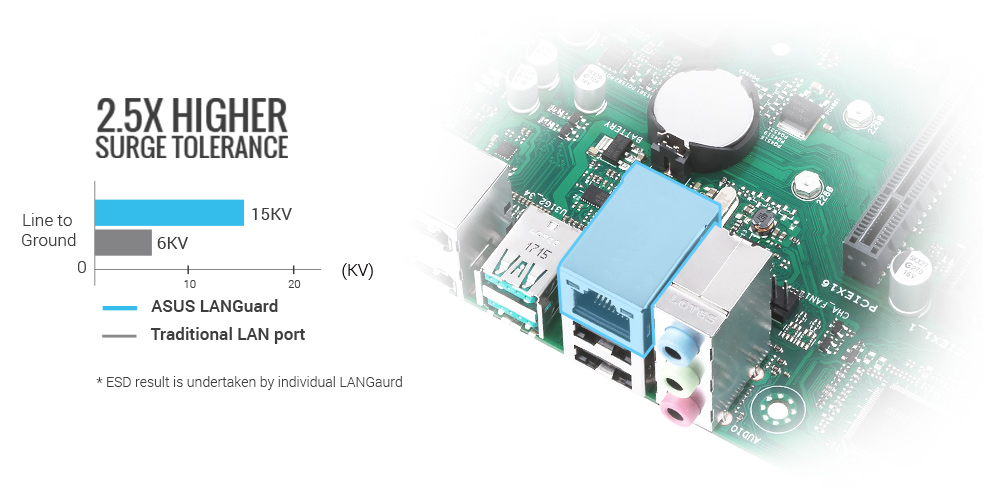 World-class circuit-protecting power design
An exclusive circuit design with built-in voltage regulators to protect your chipset, connectivity ports, and audio codecs from damage caused by unexpected high-level voltages from unstable or inferior power supplies.


* Specifications and features vary by model, and all images are illustrative. Please refer to specification and gallery pages for full details.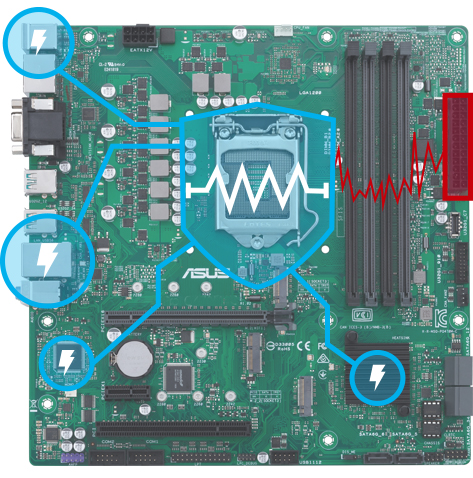 3X corrosion-resistance for greater durability
Corrosion-resistant stainless steel back I/O panels bonded with chromium oxide have a lifespan that's three times longer than ordinary panels.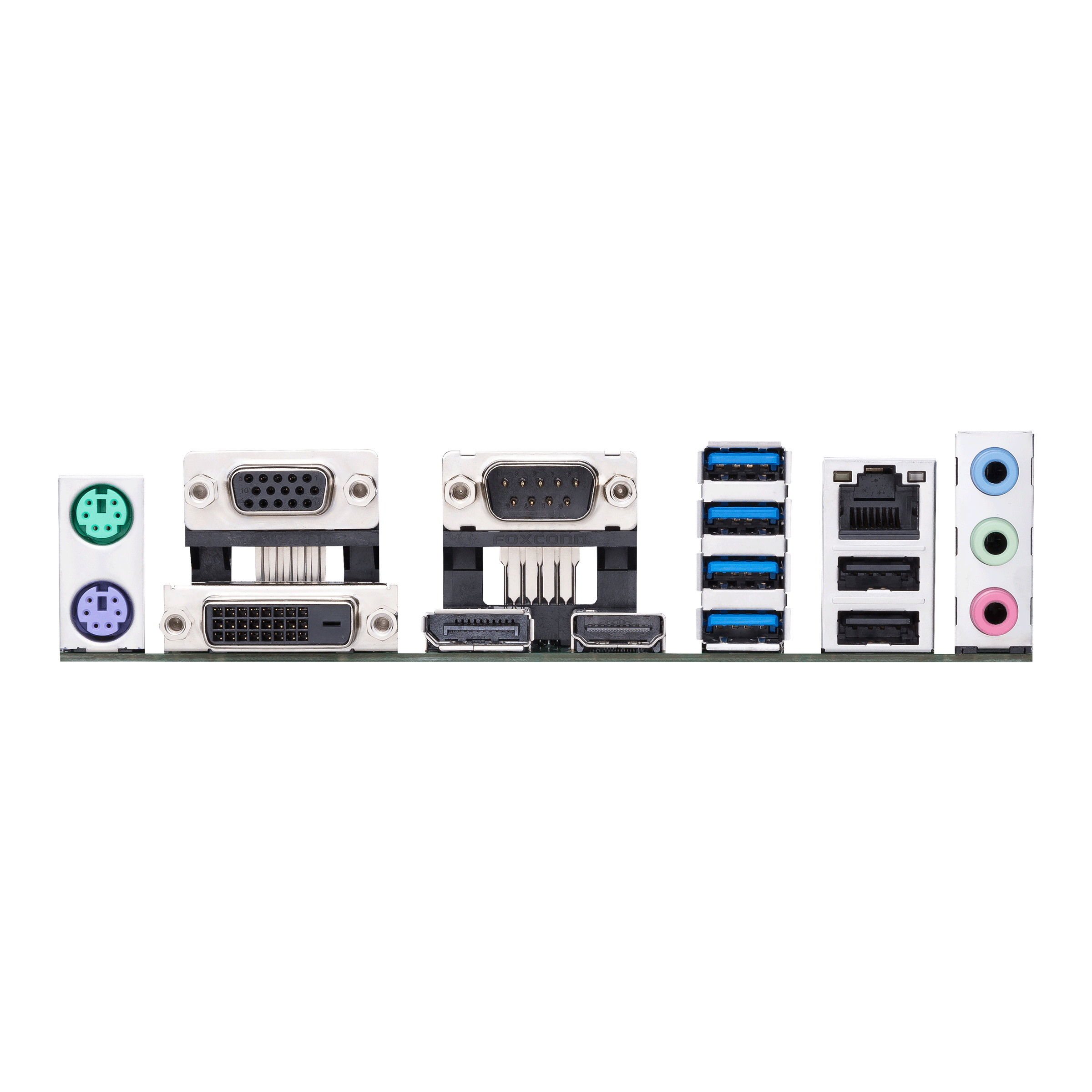 Electrostatic discharge protection
ASUS ESD Guards prevent damage from electrostatic discharge, up to +/- 10kV for air discharge and +/-15kV for contact discharge, arranged in an active-protective-circuit design that prolongs the life of components.
ASUS Management Suite
Makes customization and management more efficient
A built-in event log enables easier troubleshooting by capturing useful system information
BIOS updates

Update status, latest version and update time

AC power loss

Abnormal power loss events

RTC reset

Time of real-time-clock (RTC) reset

Chassis intrusion

Record of when chassis is opened

Hardware changes

Modifications to CPU, memory or HDDs

Hardware status

USB over current, CPU over temperature, and CPU over voltage events
The onboard SMBUS header* connects to a DASH LAN card for remote IT management. DASH is a desktop and mobile architecture system hardware that allows the motherboard to be managed via the network.


* ASUS DASH LAN card sold separately. For more information, please contact your local ASUS sales representative.
ASUS understands how important a customized product impacts users' mind share, experience the brand new Commercial BIOS Kit for partial BIOS update solution!
BIOS Value Edit Tool

Customize the BIOS options

BIOS Boot Logo Tool

Brand your builds with a customized boot logo

OEM Activation (OA) Tools

Add or remove the OEM Activation key

Desktop Management Interface (DMI)

Easily add customer information, such as company name, to the BIOS
Easy Assembly
Box Headers
All USB headers are box style, enabling fast connector installation and preventing pin damage.
Fixed-position Connectors
Connector positions on ASUS business motherboards remain consistent across product generations, protecting training, manufacturing and investments in supporting hardware.
* Specifications and features vary by model, and all images are illustrative. Please refer to specification and gallery pages for full details.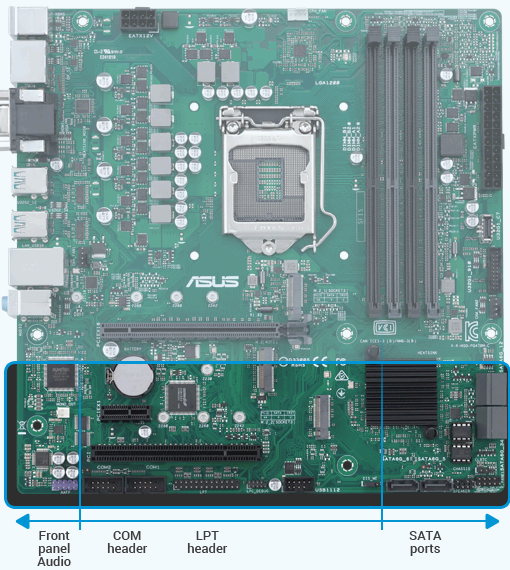 Compare (0)