ExpertCenter E5 AiO (E5402)
ExpertCenter E5 AiO (E5402)
ASUS ExpertCenter E5 AiO
Smart, secure, set for business
Windows 11 Pro for business
Up to 13th Gen Intel® Core™ i7 processor
Height-adjustable stand for personalized viewing angle
Enterprise-grade security features with ASUS AdaptiveLock and TPM 2.0
Clear and powerful online meetings with AI Camera and AI Noise-Canceling technology
Triple storage support with HDD and dual SSDs
Easy-upgrade design with removable back cover and modular internal construction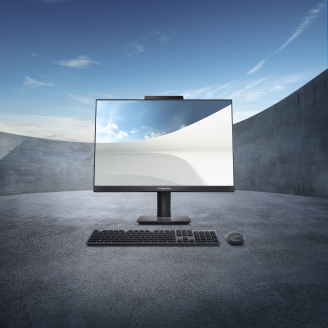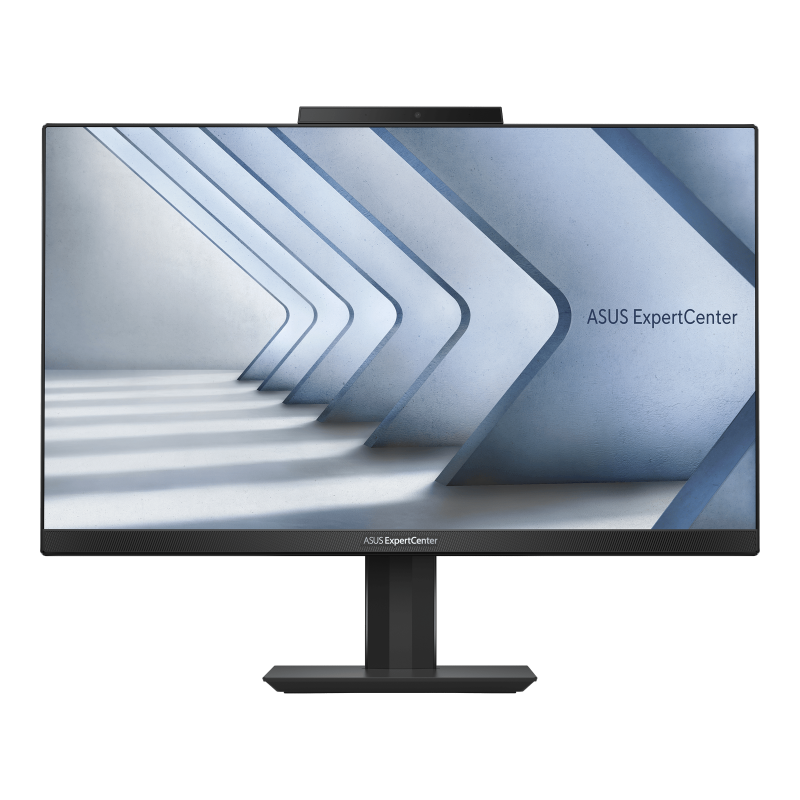 Smart, secure and set for business
The ASUS ExpertCenter E5 AiO 24 is designed with versatility and security in mind, making it perfect for any type of productivity. It features the latest 13th Gen Intel
®
Core
™
i7 processor, high-speed connectivity, and upgradeable storage for top performance. Additionally, the height-adjustable stand
1
, VESA compatibility, built-in camera, and enterprise-grade security features make ASUS ExpertCenter E5 AiO 24 the ideal solution for forward-thinking businesses.
Versatility
The height-adjustable, dual orientation stand
1
and VESA-compatible panel allow you to find the perfect viewing angle whether you are standing or seated, working on presentations, or reading articles.
Security
To keep your business and your data safe, ASUS ExpertCenter E5 AiO 24 is equipped with first-class security, including ASUS AdaptiveLock, a TPM 2.0 chip
1
, and a Kensington
®
​ lock slot for all-round security.
Easy-upgrade design
A simple screwdriver is all you need to upgrade and maintain the ASUS ExpertCenter E5 AiO 24, thanks to its removable back cover and modular internal construction.
Video conferencing camera
The built-in FHD camera
2
provides the high-quality visuals demanded by modern video-conferencing.
Class-leading performance
Built to perform and easy to manage for enterprises, ASUS ExpertCenter E5 AiO 24 powers through any task — saving time and minimizing admin. Powered by an Intel
®
Core
™
processor, generous 32 GB DDR4 memory, and a comprehensive connectivity suite, ASUS ExpertCenter E5 AiO 24 delivers serious business power. Its sleek, ultracompact form also supports triple storage with dual-SSD RAID
3
and high-speed WiFi 6E
4
connectivity, so it's ready to serve your business today and long into the future.
The ergonomic stand on ASUS ExpertCenter E5 AiO 24 enables tilt, swivel, and height adjustments for perfect viewing positions
1
. It gives you the freedom to use your display at any angle, so whether sitting at a desk or standing to serve customers, you'll always have the best view. You can also rotate the display vertically for viewing reports, or use it horizontally for a wider workspace.
For the ultimate positioning flexibility, ASUS ExpertCenter E5 AiO 24 supports a 100x100 mm VESA-compatible mount to save even more space. On the wall or off the ground, it's ready to use anywhere.
The 23.8-inch ASUS ExpertCenter E5 AiO 24 NanoEdge display serves up IPS-level visual brilliance, delivering 100% of the sRGB color gamut. With ASUS Splendid technology included, it's easy to fine-tune the display for image perfection. The display also features an anti-glare coating and is certified by TÜV Rheinland for eye comfort and low blue-light emissions — so your eyes stay fresh during long viewing sessions.
Meetings come to life on ASUS ExpertCenter E5 AiO 24, transforming your workspace into a rich video-conferencing solution — with a high-resolution camera built right in. The 2 MP FHD camera captures detailed images, with well-balanced lighting that enhances the visual clarity and quality for superior video conferencing.
ASUS AdaptiveLock
ASUS AdaptiveLock
1
secures your AiO and data by automatically locking it when you are away, and automatically unlocking it if your presence is detected, providing a seamless log-in experience.
IR Camera
The IR camera option allows secure biometric log-in that's fast and easy; login with just a glance — even in the dark
1
.
TPM 2.0
The Trusted Platform Module (TPM) 2.0 chip
1
securely stores authentication information, so your details remain encrypted.
Webcam shield
A physical cover obscures ASUS ExpertCenter E5 AiO 24's webcam for an assurance of instant privacy when it's not in use.
Versatile connectivity
Business requires powerful, enterprise-level performance, and ASUS ExpertCenter E5 AiO 24 boosts productivity with an array of ports for connecting a wide range of peripherals. With HDMI
®
-out, Thunderbolt
™
4 and an optional DisplayPort
™
, you can enjoy high-performance multitasking on up to four displays, simultaneously — at up to 4K resolution via Thunderbolt 4. There's also WiFi 6E
4
for fast, reliable wireless connectivity, and a 2-in-1 card reader for easy file transfers or storage.
2-in-1 card reader
USB 3.2 Gen 1
Thunderbolt™ 4 USB-C®
USB 3.2 Gen 2 Type-C
Audio jack
Kensington®​ lock slot
DC-in
DisplayPort™ or RS232​
RJ45
USB 2.0
USB 3.2 Gen 1
HDMI 2.0a​
Maintenance made simpler
The base can be quickly and easily removed to allow fast access to the RAM, hard drive and storage, enabling these components to be upgraded or replaced without dismantling the entire machine.
The ASUS Service Package
5
offers a wider range of solutions that go beyond the standard warranty to meet the needs of business-critical IT environments. The extended offerings protect your business — not just the hardware — allowing you to customize a service solution that best meets your needs.
Height-adjustable stand, TPM 2.0, IR camera, AdaptiveLock, and Windows Hello features may vary by specification and region.
FHD camera is optional.​
The same device will offer differing levels of available storage depending on the chosen RAID level. If RAID 0 is used, the system combines the capacity of all SSDs in order to enhance data-transfer speeds. The available storage will equal the combined physical capacity of all the SSDs on the device. However, if the device is configured with RAID 1, two copies of the data are saved simultaneously in order to protect your data if one SSD fails. As a result, the available storage capacity will be half of the combined physical storage capacity, as half the storage is used for backup copies. For example, a device with two 512 GB SSDs in a RAID 0 configuration will have 1 TB of available storage capacity, but with RAID 1 the available storage capacity will be 512 GB.
WiFi 6E network card is available on selected models. The connectivity of WiFi 6E band may vary according to the regulation and certification of each country/region.
ASUS Service Package options include: 24x7 support; MyASUS app; Three-year international warranty; Pick up & return service; Onsite service; Next business day onsite response; Accidental damage protection; Defective HDD retention. Service and warranty coverage may vary depending on country and territory. Service may not be available in all markets. We recommend that you check with your local retailers to confirm the options available.
Recommend for you
Compare (0)