ASUS P3E Portable LED Projector, 800 Lumens, WXGA (1280*800), Short Throw, Auto Keystone, Instant On/Off
800-lumens long-life LED light source for best-in-class HD visuals
Quick setup with instant on/off capability and auto keystone correction
Ultra-short-throw lens for projected images measuring 25-inch (0.45m) to 200-inch (3.4m)
Built-in HDMI/MHL, VGA, earphone, plus ASUS SonicMaster speaker
Compact and mobile design fits easily into any briefcase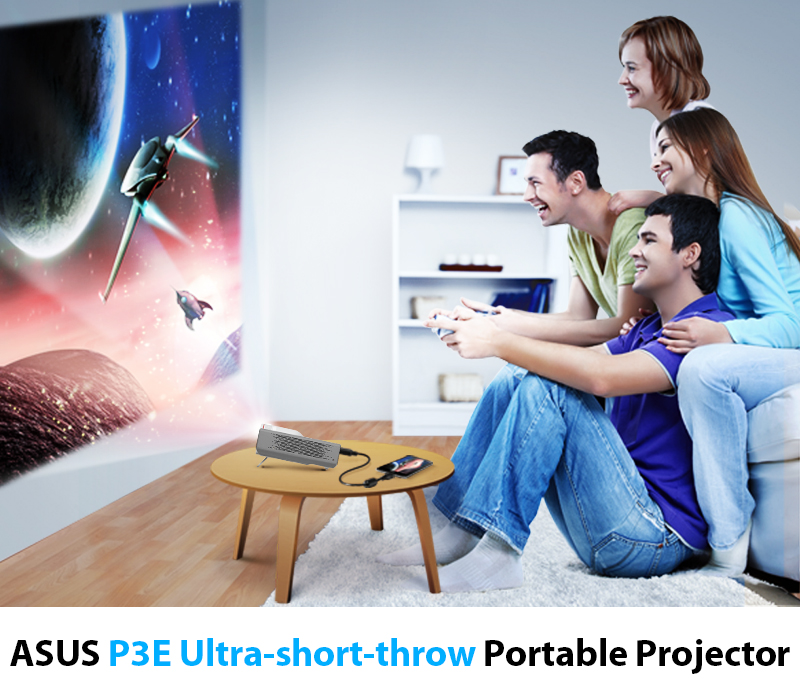 ASUS P3E Ultra-Short-Throw LED Projector is a lightweight and compact projector with a footprint about the size of a CD case, so it fits easily into a briefcase or bag. P3E provides crisp WXGA 1280 x 800 resolution images with a maximum brightness of 800 lumens. it features auto keystone correction and instant on/off function for the fast and convenient experence.

A ultra-short-throw lens lets the P3E project images measuring from 25 inches (0.45m) to 200 inches (3.4m) at very close range. The P3E is designed to be used anywhere – outdoors while camping, in a home theater, or in small meeting rooms.






Bright, Crisp Projections
800 Lumens LED Light Source
ASUS P3E LED Projector features an 800 lumens light output and 100% NTSC color gamut to deliver sharp and vivid WXGA 1280 x 800 visuals. The mercury-free Eco-LED light source has a 30,000-hour lifespan to cut down on bulb-replacement costs.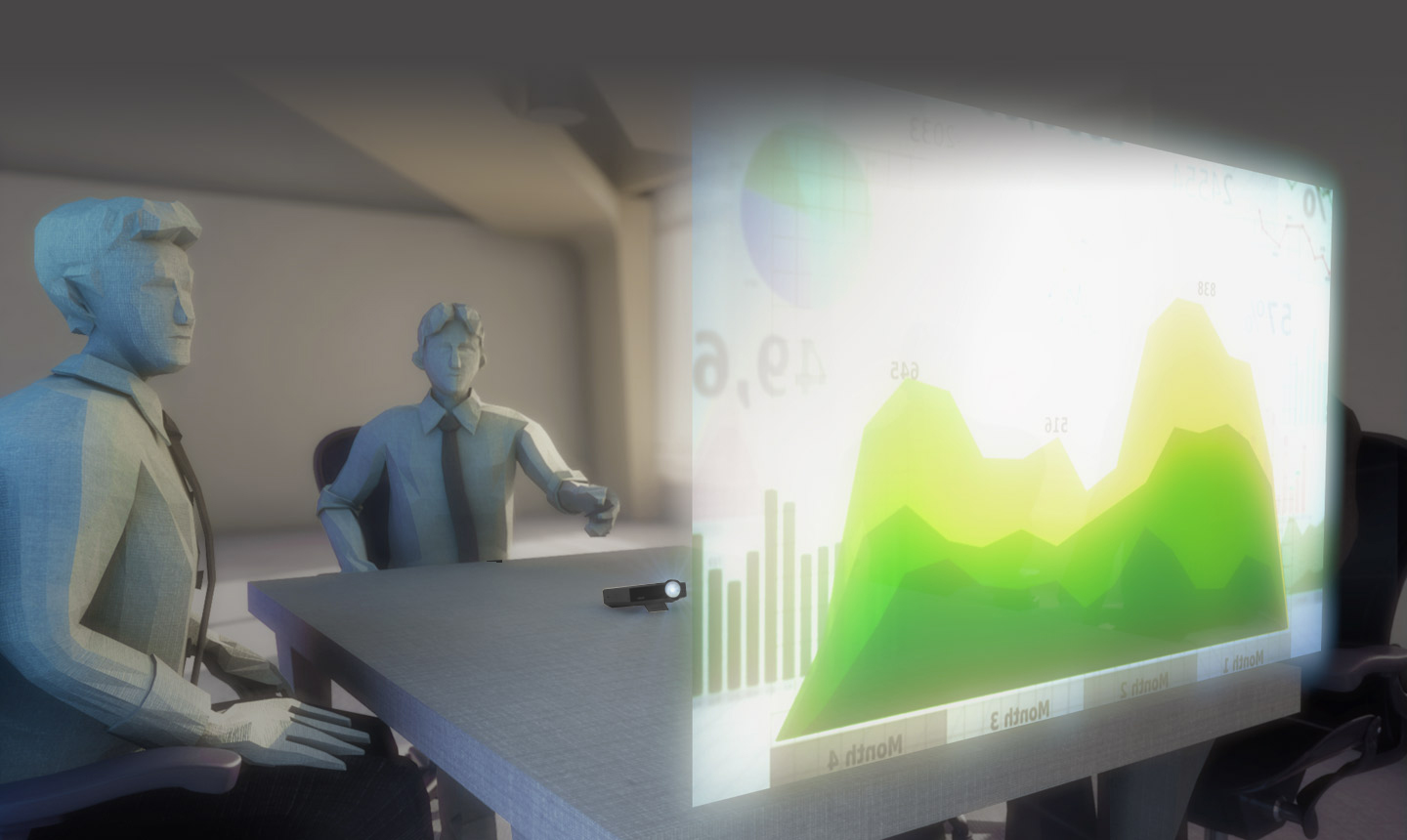 Ultimate Mobility
Compact CD Case-Sized Design
The ultra-slim and compact ASUS P3E tips the scales at just 550g, and has a desktop footprint similar to a CD case (153.5 x 43 x 131.2mm). So it's totally portable and fits perfectly in your bag!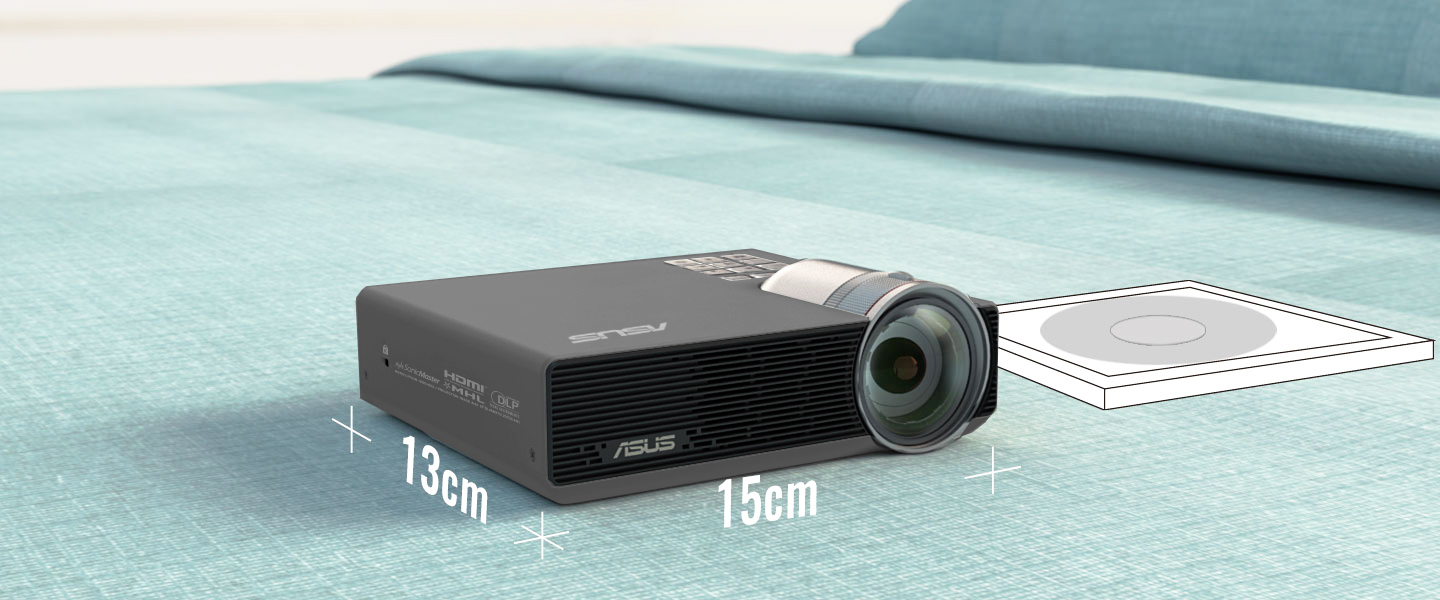 Quick, Convenient Setup
Ultra-Short-Throw for Images up to 200 inches
With its ultra-short-throw lens, the ASUS P3E provides projected images measuring from 25 inches to 200 inches at very close distances. This lets you turn any large flat vertical surface into a display, and makes it perfect for presentations in confined spaces
| | | | | | | | |
| --- | --- | --- | --- | --- | --- | --- | --- |
| Screen Size (inches) | 30 | 40 | 58 | 80 | 100 | 120 | 200 |
| Projection Distance (meters) | 0.51 | 0.7 | 1 | 1.4 | 1.7 | 2 | 3.4 |
Try Now
Projection Distance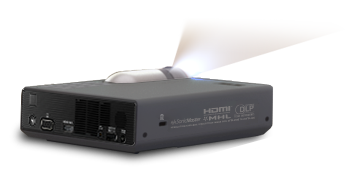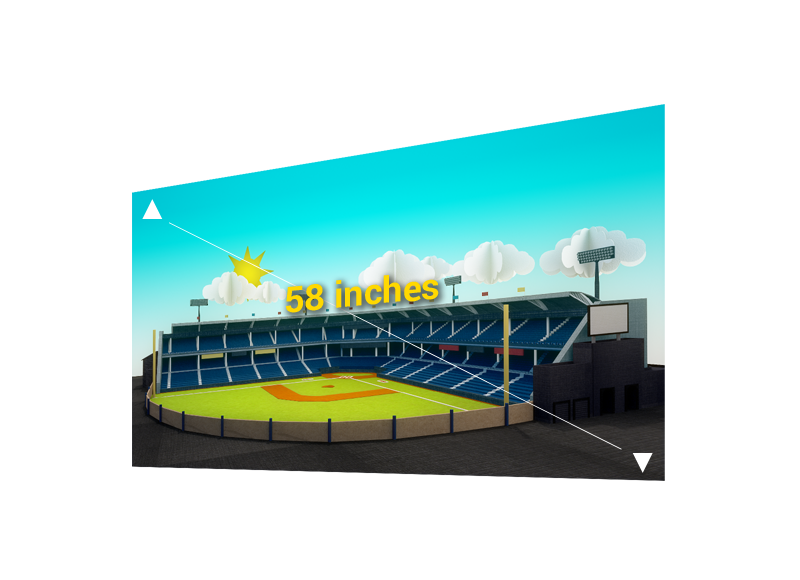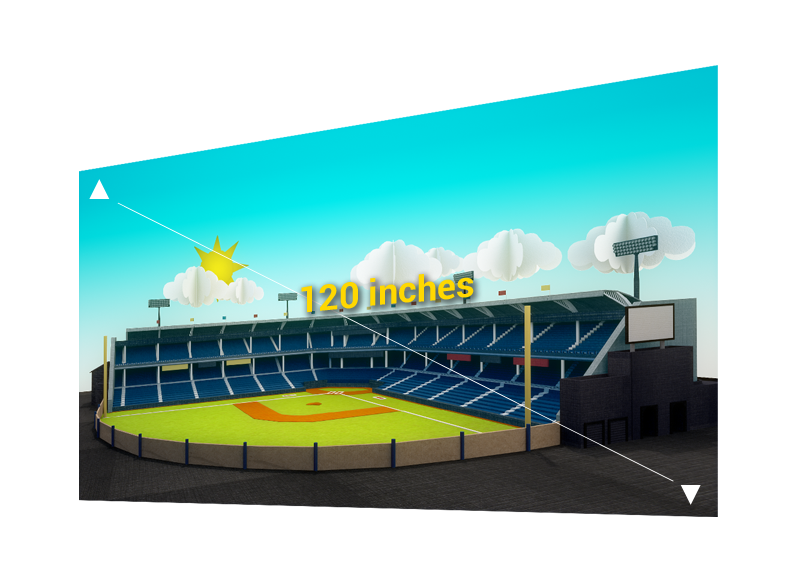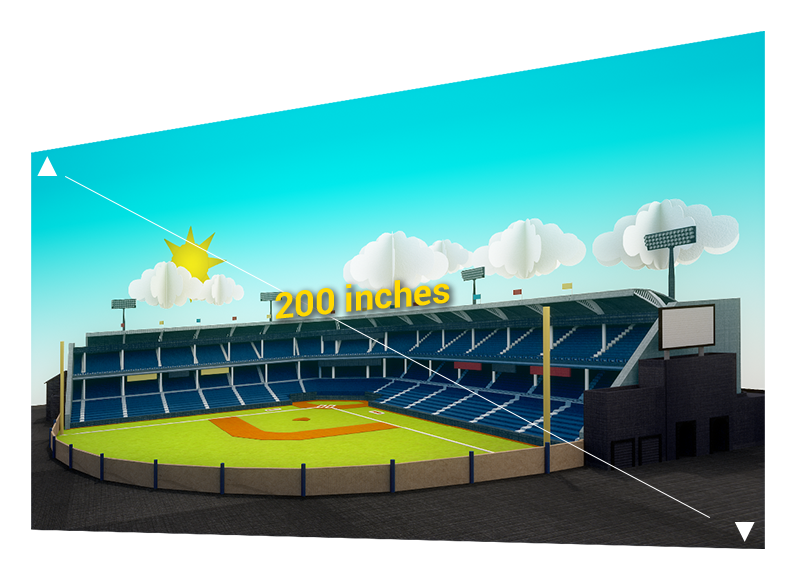 Instant Height Adjustment
ASUS P3E features instant height adjustment thanks to a two-level flip-down stand that can be quickly adjusted to suit the task at hand; this saves you lots of time compared to messing around with fiddly traditional adjustable screw-stands.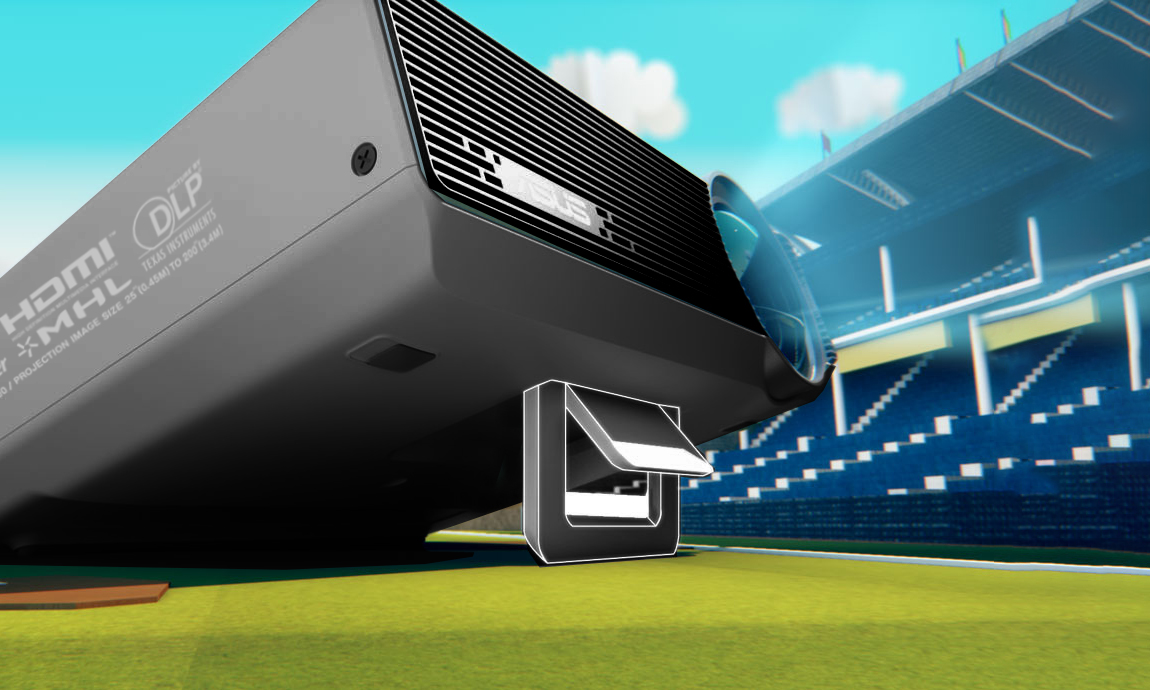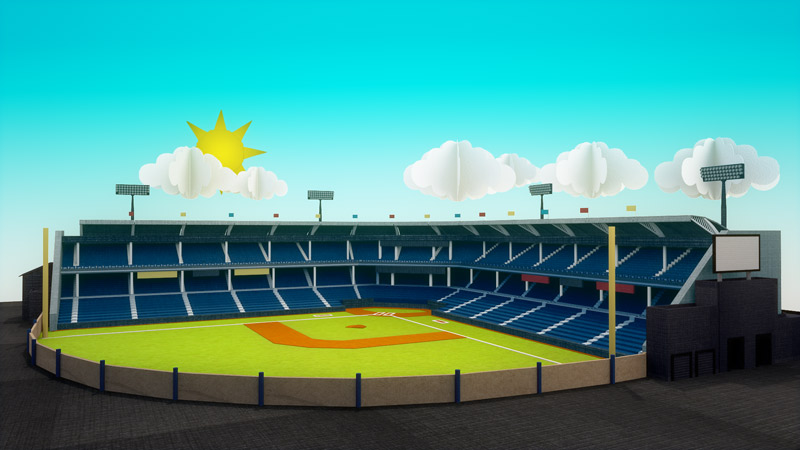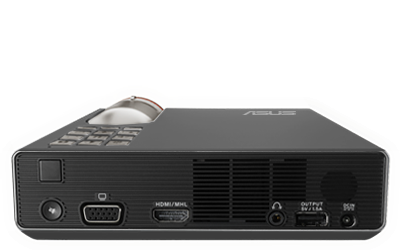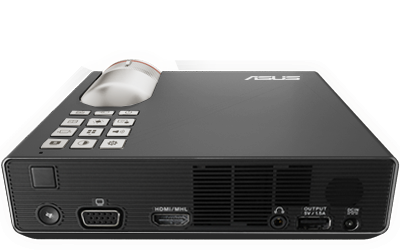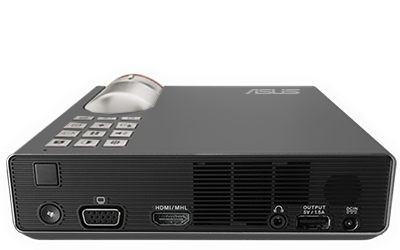 Auto Keystone Correction
An Auto Keystone Correction feature ensures you get perfect projections by detecting the ASUS P3E's orientation and automatically correcting distorted images from angled projections.
Remote control with laser pointer
ASUS P3E with the exclusive card-type remote with laser pointer lets you easily hightlight your presention.
Instant On/Off
ASUS P3E has an instant On/Off capability as there is no need for the LED light source to warm up or cool down. This means your ideas, your videos, or your pictures can be shared in a jiffy.
Extensive Connectivity
ASUS P3E features HDMI/MHL and VGA ports to provide maximum compatibility with various devices. Users can easily connect the P3E to PCs, notebooks, mobile devices, and other multimedia sources.

It can charge MHL-enabled devices while simultaneously projecting their content. Users need not worry about their mobile device running out of charge while in the middle of a presentation.

* For a full MHL-enabled product list, please see www.mhlconsortium.org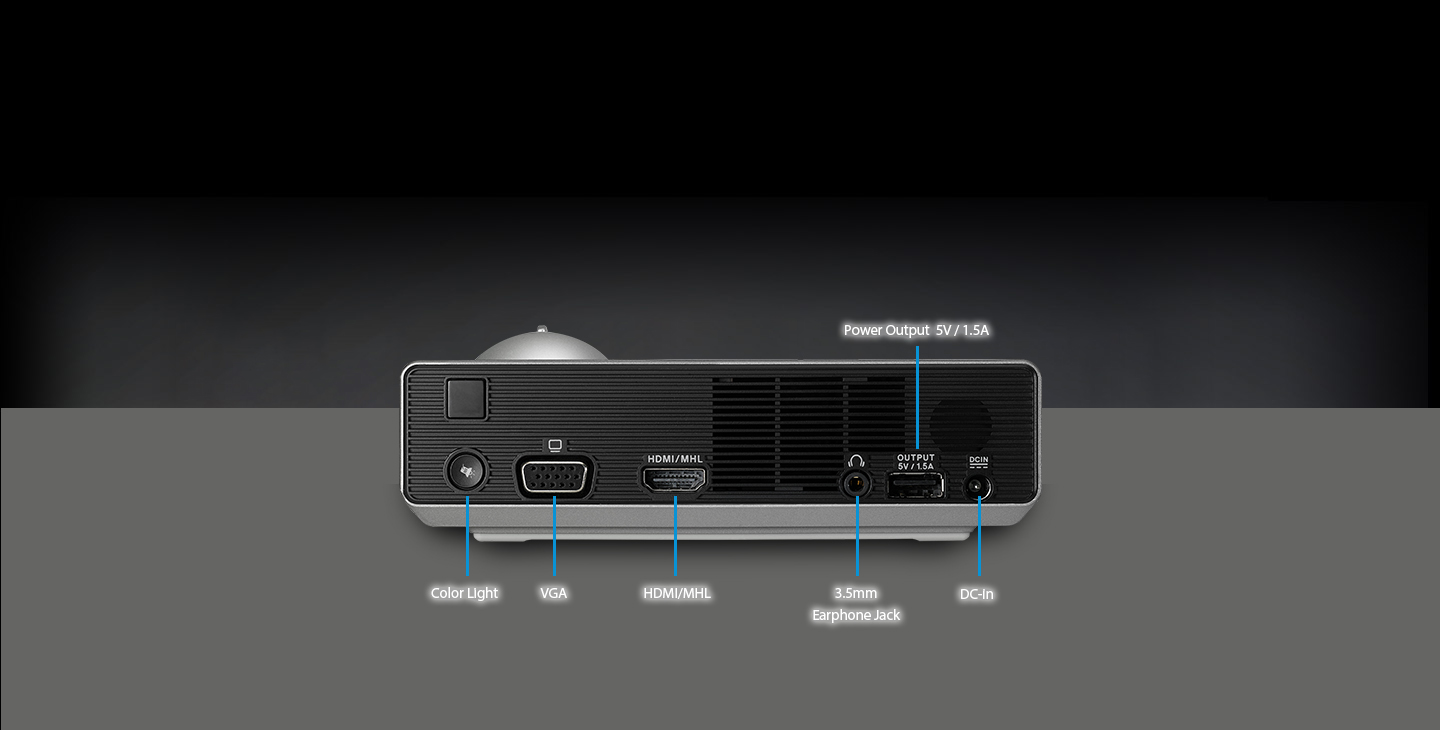 Immersive Audio
ASUS Technology with Built-in Speaker
ASUS P3E provides exceptional sound through its exclusive ASUS SonicMaster-enhanced speaker. This gives it high fidelity sound for a truly cinematic audio-visual experience.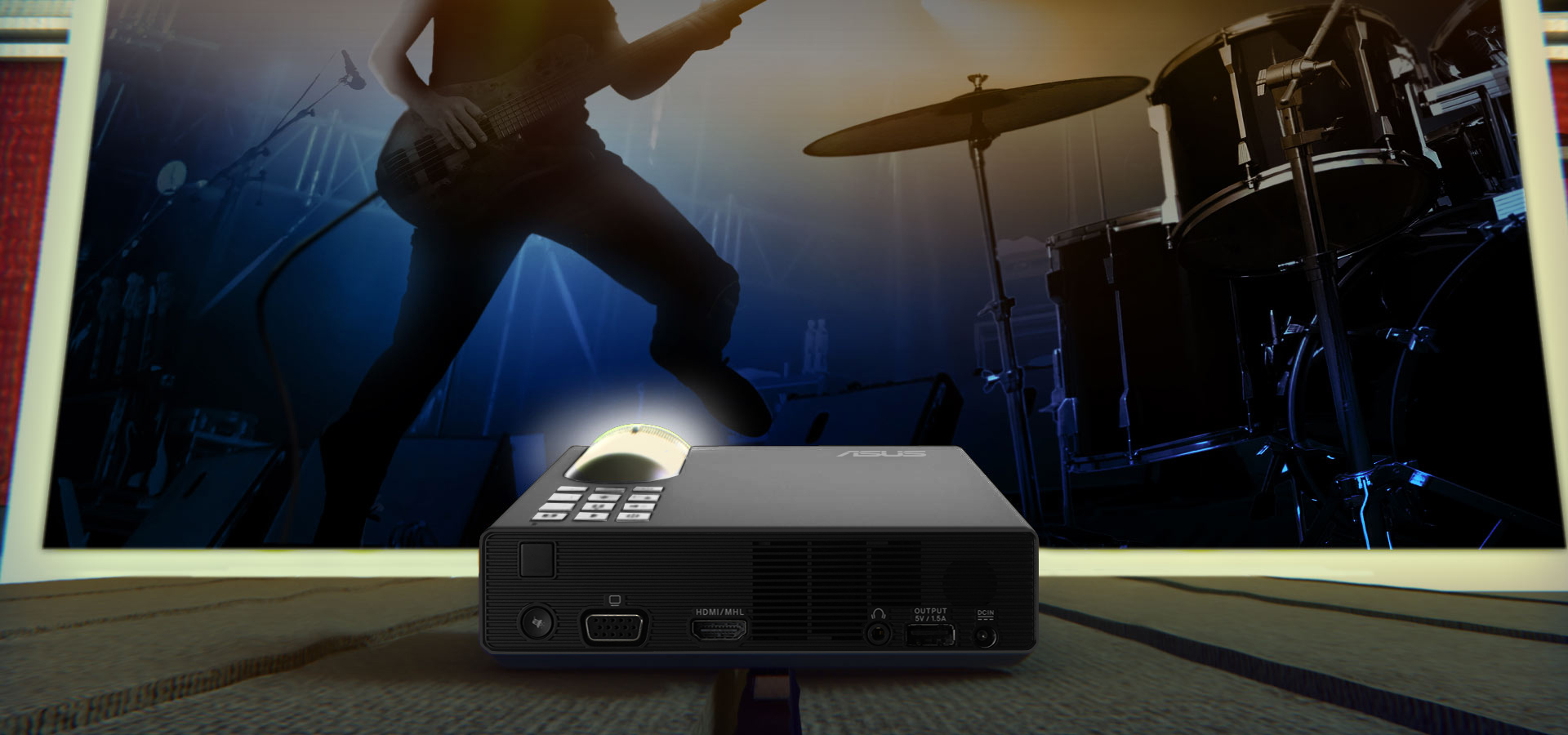 Back to top
Recommend for you
Related products
Compare (0)
Mobile / Handhelds

Wearable & Healthcare

Gaming Handhelds

Software

Laptops

Software

Technology / Innovations

Windows 11

Warranty

Displays / Desktops
Software

Warranty

Motherboards / Components

Single Board Computers

Software

Networking / IoT / Servers