Future-proofed versatility with super-fast wireless speeds
The ASUS DSL-AC68R is the super-fast ADSL/VDSL modem Wi-Fi router, with combined dual-band data rates of up to 1900Mbps. On the 5GHz band, 802.11ac gives 1300Mbps wireless data rates, while Broadcom® TurboQAM™ technology super-charges 2.4Ghz 802.11n performance from 450Mbps to 600Mbps with compatible devices. Compatible with ADSL2/2+, ADSL, VDSL2, fiber and cable services, the top specification completes future-proofing.

Three external antennas boost coverage to the next level, so you can enjoy lag-free gaming and streaming almost anywhere around the house. ASUS AiRadar with universal beamforming technology enhances the Wi-Fi stability and improves coverage up to 150%*. Most importantly, the universal beamforming not only works on 802.11ac clients, but also 802.11a/b/g/n clients.

Powered by dual dedicated CPUs for wired and wireless connections, the DSL-AC68U eliminates the performance drops that plague other routers with busy networks and maximizes both range and stability. So even on the busiest home networks, HD video streaming is always smooth, the latency low for online gaming and VoIP calls, and file downloads are never interrupted.

The easy-to-use ASUSWRT graphical user interface unlocks the power of the DSL-AC68R giving robust control to optimize your network for you. 30-second set-up and easy traffic management means even network newbies can enjoy its sophisticated features, while power users will love its IPv6 support, multiple wireless SSIDs and encrypted VPN access.
One device, two functions
With a choice of DSL or Ethernet WAN connections, DSL-AC68U can be used a DSL modem plus wireless router, or as a standalone wireless router. You can choose the mode to suit your needs, saving energy and clutter by replacing two separate power-hungry devices. Whether for a basic home setup or an advanced wireless network, DSL-AC68U has all the flexibility you need. You can also let two modes work simultaneously and manage them with ASUSWRT dual WAN function.
AiProtection Pro
Commercial-Grade Security for Family
All your family members, young or old, are exposed to the dangers of internet every single moment they're online. Disguised cyber threats can sneak in to steal your private data, or your kids may accidentally encounter inappropriate content during their ever-growing screen time. DSL-AC68U includes Advanced Parental Controls to give you total peace of mind, with AiProtection Pro - commercial grade security for your home network and comprehensive, easy control of the online experience for each family member and each device, all via the mobile app. learn more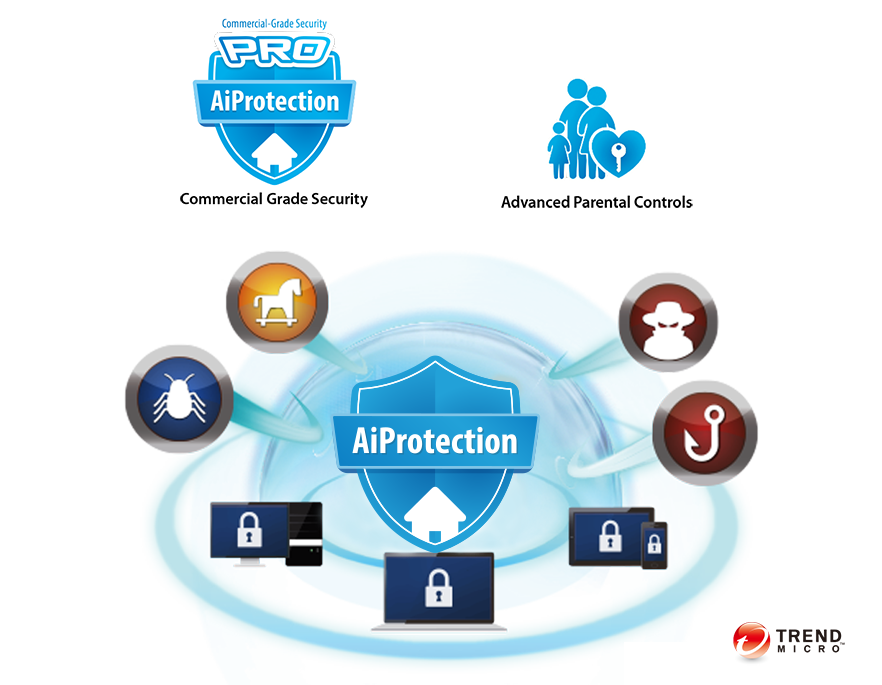 No Subscription Fee
Some routers only offer 3 years of protection, ASUS AiProtection has you covered for the life of your product

Block Access to Malicious Websites
AiProtection uses Trend Micro's official database to identify and block known malicious sites, preventing infection even before you click.
Protection Against Attacks
Intrusion Prevention System (IPS) blocks all common internet-based attacks.

Infection Detection and Blocking
Even if an already-infected device is connected to DSL-AC68U, AiProtection prevents any personal data on the device from being compromised.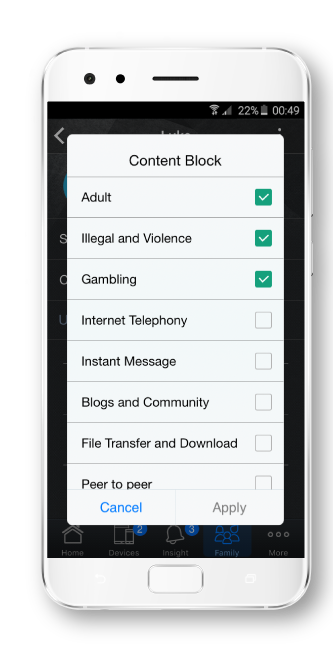 Parental Controls
Keep your kids safe when they explore the internet. The state-of-the-art parental controls in AiProtection integrate all the management functions you need in one place and the intuitive interface makes it super easy to view and apply security settings to all the devices owned by individual family members.*
| | |
| --- | --- |
| | View each family member's internet activity on a clear graphical dashboard showing the peak time and what kind of content they are viewing. You can group devices that belong to your children to view aggregated data and apply scheduled block times and content filters with just a few taps. |
| | Check the box when editing a device and profile, and the preset automatically applies filters for inappropriate content to all their devices. |
| | Reserve valuable family time or help your children develop responsible behavior by selecting scheduled time periods to block internet access on specific devices. |
| | Block specific categories of mobile apps and websites, and apply these settings to all devices belonging to individual family members. The advanced filtering integrates Trend Micro's Deep Packet Inspection (DPI) engine to filter not only by website URL, but also by the internet packets themselves, which means it filters content viewed not only in a web browser, but also within mobile apps on your devices.* |

Works with any kind of internet connection
Works with any kind of internet connection DSL-AC68U supports all common types of DSL connection, including ADSL2, ADSL2+, ADSL and VDSL2. Thanks to its Ethernet WAN option, it can also be used seamlessly with any fiber or cable-based modem with an Ethernet connection. This makes it ideal for those who intend to upgrade their ISP in the future.