ASUS Chromebook Enterprise Flip CX5 (CX5500, 11th Gen Intel)
ASUS Chromebook Enterprise Flip CX5 (CX5500, 11th Gen Intel)
ASUS Chromebook Enterprise Flip CX5
Your powerhouse business enhancer
ChromeOS with Chrome Enterprise Upgrade
Powerful performance with Intel® processors
Spacious storage
Versatile for different business scenario
High-speed connectivity
360˚ View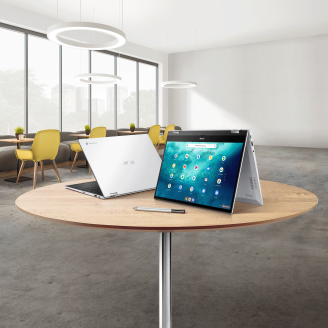 Enjoy the next era of work
The 15.6-inch ASUS Chromebook Enterprise Flip CX5 delivers powerful performance with the Intel
®
processors, and WiFi 6 for fueling everyday productivity. With the innovative 360
°
ErgoLift hinge and touchscreen, ASUS Chromebook Enterprise Flip CX5 allows you to work smoothly in almost any scenario. Do all the things you need to do on your Chromebook using apps on Google Play
1
or on the web.
Performance abundance
With a powerful up to 11th Gen Intel Core™ i7 processor and ultrafast WiFi 6 connectivity, you'll enjoy slick performance and smooth FHD streaming and blink-of-an-eye file transfers.
Everyday versatility
360° ErgoLift hinge allows the device to be elevated into tent, standing or tablet mode, ready for any scenario.
Built-in security
Equipped with security features like data encryption, sandboxing, and Google designed Titan C security chip protecting identity and system integrity, ChromeOS devices have built-in security.
Easy management
The cloud-based Google Admin console allows IT to configure more than 500 policies from anywhere, control updates, and install or manage apps from anywhere.
Your powerhouse business enhancer
Powered by up to the 11th Gen Intel Core
™
 i7 processors with Intel Iris Xe graphics and 16 GB of memory, ASUS Chromebook Enterprise Flip CX5 delivers performance and responsiveness to empower users with the ultimate device for productivity. Get fast access to your favorite productivity apps and storage with a spacious PCIe
®
SSD. Use built-in apps like Google Docs and Google Calendar or download more on Google Play
1
to access your files from anywhere and collaborate with ease. The ultra-powerful processor and large storage ensure you to breeze through whatever task awaits.
The precision-engineered 360° ErgoLift hinge means that this clever, versatile mechanism lifts and tilts the keyboard into the perfect typing position when the display is rotated into laptop mode, and allows the device to be elevated into tent mode for easy touchscreen input. The display can even be rotated completely, so ASUS Chromebook Enterprise Flip CX5 can be used as a tablet. It is perfect for wide variety of scenarios — from the rapid recording of patient details in remote wards to touchscreen interactivity in retail environments.
The WiFi 6 technology in ASUS Chromebook Enterprise Flip CX5 delivers faster-than-wired speeds of up to 2.4 Gbps
2
, letting you enjoy smooth streaming of FHD online videos and large file transfers in seconds. Its connectivity is made even better by ASUS WiFi Master Premium for ChromeOS
3
, which ensures greater speed, stability and range, helping you stay connected anywhere. Productivity and entertainment have never been this easy. With this high-speed connectivity, ASUS Chromebook Enterprise Flip CX5 is able to help retail customers check stock instantly or streamline manufacturing processed by keeping remote workshops connected to the factory, say — enabling real-time analysis, data input and performance tracking.
ASUS Chromebook Enterprise Flip CX5 provides seamless connectivity for endless versatility. Two full-function, reversible USB-C® 3.2 Gen 2 ports make it easy to charge, stream media or connect with peripherals, while an HDMI 2.0 port provides the option to hook the laptop up to an external 60 Hz 4K display. There's also a microSD card reader to enable extra storage for maximum convenience and compatibility.
Regular security updates that happen automatically in the background ensure your data is protected with the latest software
4
. Plus, sandboxing technology limits threats to a single Chrome browser tab or application keeping the rest of the OS secure.
IT personnel can centrally administer hundreds of policies across Chrome browser and ChromeOS to ensure a secure computing environment.
BeyondCorp Enterprise, Google's new zero trust offering, provides enhanced security to protect sensitive data, defend against phishing and malware, and offer insights into potential threats.
Learn more
The built-in Titan C security chip ensures devices stay secure, protects user identity, and maintains system integrity. A fingerprint sensor
5
on selected ASUS and ChromeOS Enterprise devices provides added protection.
ASUS Chromebook Enterprise Flip CX5 combines the end-user benefits of Chromebooks with the business capabilities of ChromeOS for IT to secure and power the cloud workforce. While Google sets default recommendations for all controls, IT is able to enforce 500+ policies, control updates, and install or manage apps from anywhere with the cloud-based Google Admin console.
Zero-touch enrollment features devices arrive already enrolled and set up so an employee can immediately sign in without IT configuration, and business owners can deploy devices directly to employees.
Learn more
Streamlined workflow
ASUS Chromebook Enterprise Flip CX5 offers access to preferred productivity suites and video conferencing apps, delivering user experiences optimized for modern work.
Apps for every worker
A complete ecosystem of well-known leading apps in Google Play
1
allows users to easily access the productivity, collaboration and communication tools they need to streamline workflows.
Work made simple
For simplifying workflows, ASUS and ChromeOS Enterprise devices offer high performance, boot up quickly and don't slow down over time. Also, up to 11 hours of battery life
6
supports all-day use, and cloud profiles let you log in to any device and easily pick up where you left off.
Smart investment
ASUS Chromebook Enterprise Flip CX5 is the smart investment for businesses to reduce device acquisition, deployment, upgrade, maintenance and training costs. With US military-grade toughness, it delivers unparalleled reliability and longer replacement cycles. The advanced security saves critical IT resources, such as the time and cost of deployment, maintenance and troubleshooting, and IT administrators can receive direct software support from Google anytime
8
and without additional cost. Additionally, ASUS provides a three-year hardware warranty
9
for guaranteed comprehensive protection. It is the smart choice for empowering your enterprise with maximum savings and return on investment.
Calculate your savings
©2020 CNES/Astrium, DigitalGlobe
©2021 Digital Globe
Internet connection required. Google, Google Play, Chrome, Chromebook and other marks are trademarks of Google LLC.
Unless otherwise stated, WiFi speeds are based on theoretical performance. Actual performance may vary.
ASUS Chromebook Enterprise Flip CX5 is certified with ASUS WiFi Master Premium for ChromeOS. Device certified with WiFi Master Premium for ChromeOS feature WiFi 6 and offer enhanced WiFi stability when USB 3.2 Gen 2 interference is present, allowing users to stream smoothly when they are over 225 meters away or more from a router.
Auto-updates and auto-backup require an internet connection. Chromebook software updates generally arrive every 4 weeks but are occasionally delayed to ensure optimal user experience upon rollout.
Users will need to set a password the first time the device starts up.
Based on Chromium OS power Load Test. The 11-hour use on a single charge was determined by looping local video playback at higher than 80 nits and at the default display brightness level. Battery performance is based on a mix of standby, web browsing and other use. Charging time requires the battery to be at least 5% charged, with the device inactive and using the included charger. Actual battery life depends on usage, specifications, applications and environment, among other factors.
Parallels® Desktop requires an Intel® Core™ i5 or i7 processor, at least 8 GB of RAM and at least 128 GB of storage.
Please visit the Google website for information on Google 24/7 IT Admin Support.
Terms and conditions may apply; please check with your local ASUS representative.
Source "The Total Economic Impact of shared ChromeOS devices", a commissioned study conducted by Forrester Consulting on behalf of Google. Total benefit over a three-year period.
Compare (0)