ExpertBook B5 Flip OLED (B5302F, 11th Gen Intel)
ExpertBook B5 Flip OLED (B5302F, 11th Gen Intel)

Power to turn your business world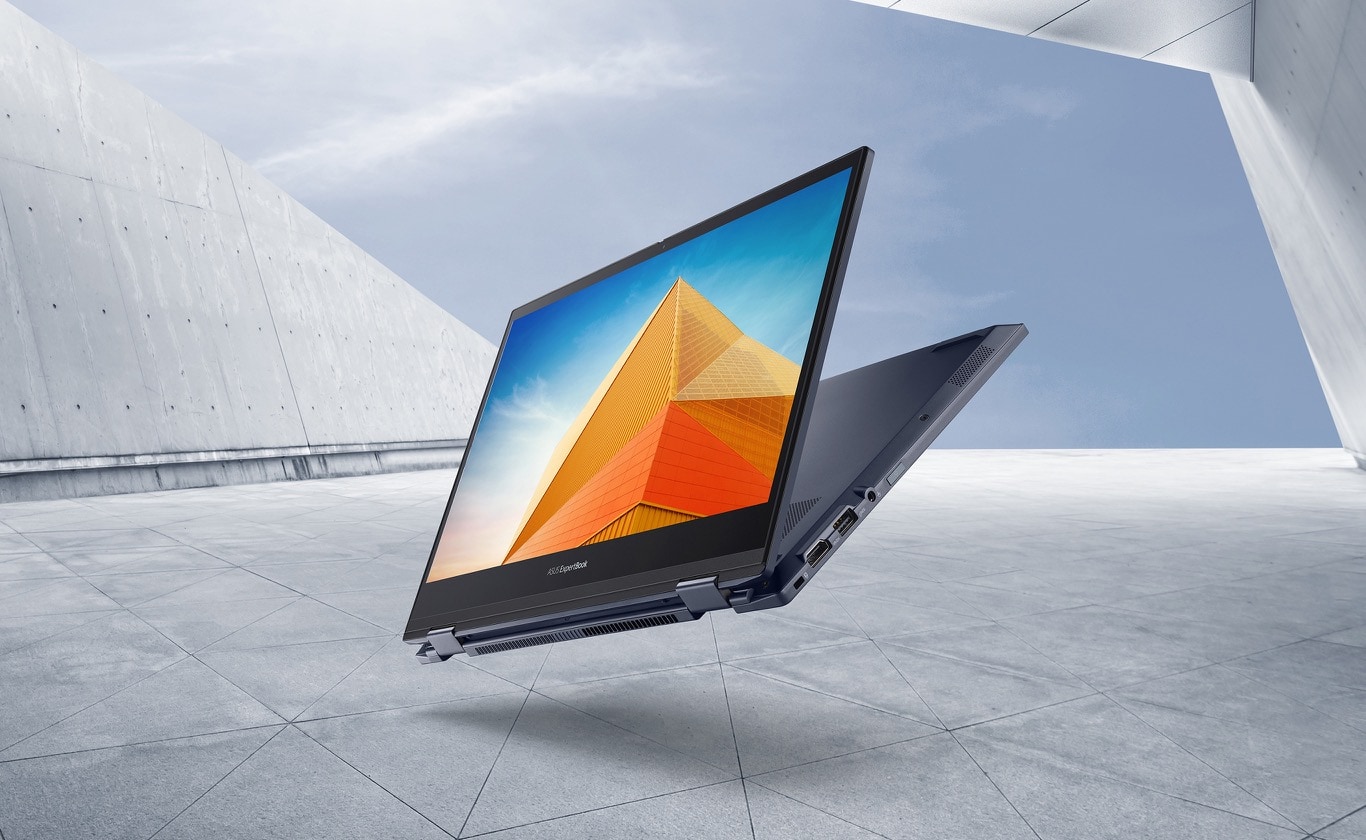 ASUS ExpertBook B5 Flip OLED is built for business success in style, with a precision-crafted and minimalist chassis that pushes the limits of lightness — plus a 360° flippable design and stunning OLED panel for ultimate flexibility. It's also set for serious travel with an amazing 12-hour battery life, and is engineered with many cutting-edge technologies to improve your on-the-go work efficiency. These include a 11th Gen Intel® Core™ processor, AI noise cancellation and dual-SSD RAID support, ASUS NumberPad 2.0. It's also packed with features to protect your privacy and business data, including a built-in fingerprint sensor and TPM 2.0 chip. With Intel Evo certification, ExpertBook B5 Flip OLED is your perfect portable, powerful partner for the corporate world.
Thin and Light
Lighter, stronger and more portable
Both the top and bottom cover of ExpertBook B5 Flip OLED are crafted from pure aluminum, while the area around the keyboard area is magnesium-aluminum alloy — keeping the weight down to a featherlight 1.3 kg.
1
Slip ExpertBook B5 Flip OLED into a briefcase so itʹs with you all the time, ready for productivity in or out of the office.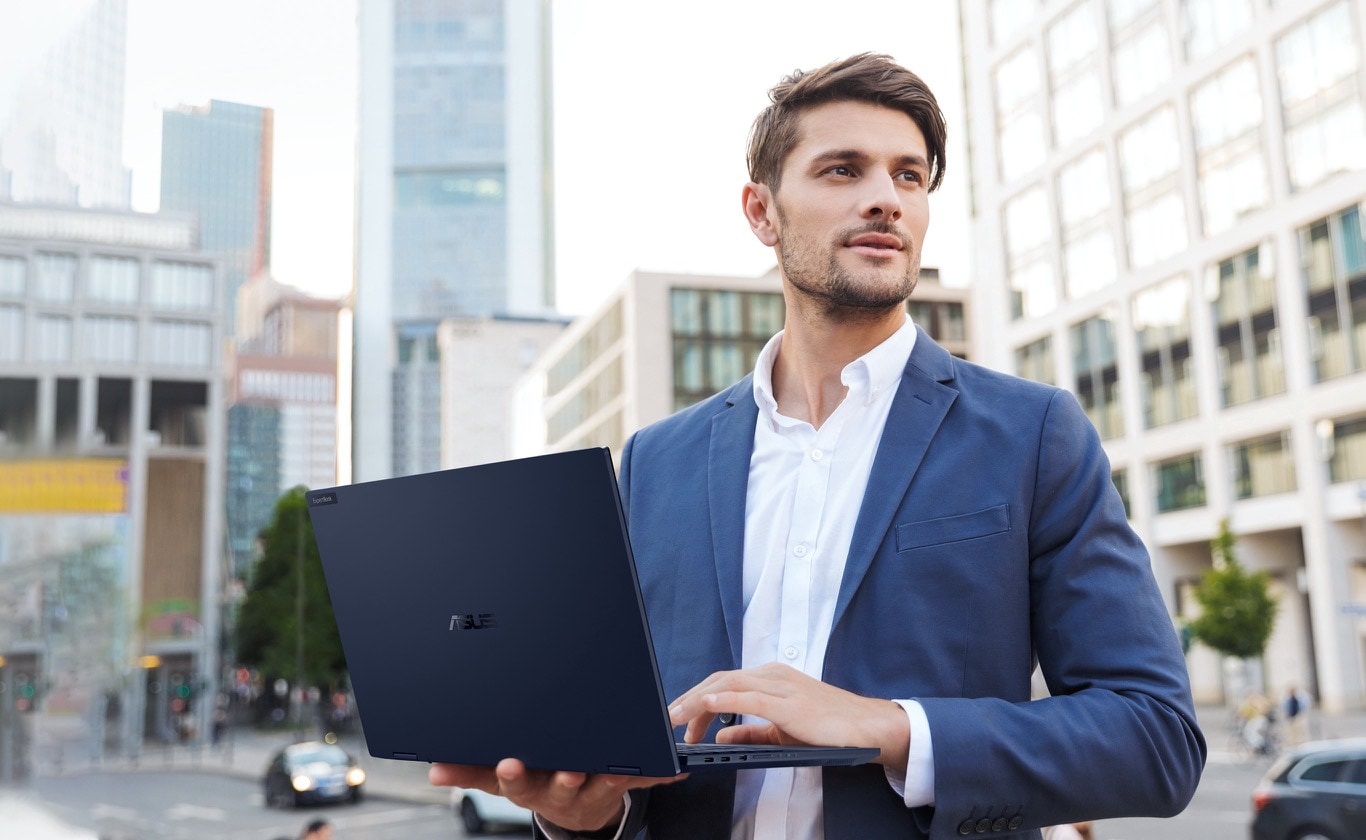 Performance
Get the job done, effortlessly
To make light work of all your business tasks, ExpertBook B5 Flip OLED is powered by an up to 11th Gen Intel Core i7 processor with Iris X
e
graphics and superfast intel WiFi 6, providing quick and responsive computing, network and graphical performance with enterprise-grade manageability. It also features two SSDs to provide huge up to dual 1 TB capacity and faster speed, and supports RAID technology
2
for improved data reliability or faster operation. ExpertBook B5 Flip OLED is also a verified Intel Evo laptop, so you can be assured it offers the very best in performance, efficiency and connectivity.
Learn more about WiFi 6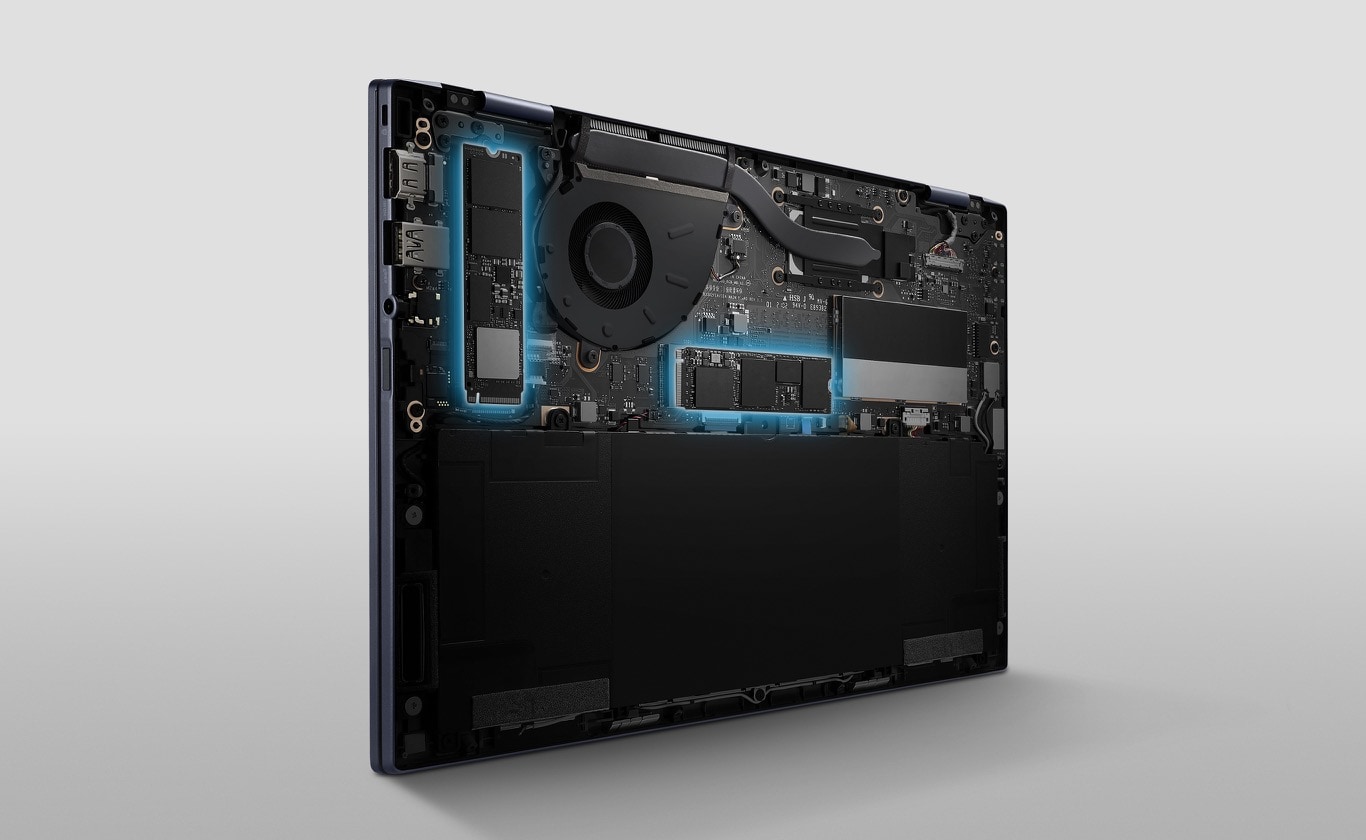 RAID technology
RAID, or Redundant Array of Independent Disks, is a storage technology that allows multiple drives to behave as one. ExpertBook B5 Flip OLED supports both RAID 0 and RAID 1 levels
2
for superior performance for improved data security. The former stripes data stored evenly across two drives for up to 2x faster operations. The latter, by contract, automatically creates an exact copy of all data on both disks — so if one should fail, it's quick and easy to recover from the other.
Display
Amazing ultravivid OLED touch display
ExpertBook B5 Flip OLED's amazing, Full HD OLED HDR display
3
delivers brilliant color and stunningly detailed and realistic visuals for content sharing or presentations, with a cinema-grade 100% DCI-P3 color gamut. This fabulous screen is touch-sensitive, and supports both finger and stylus input for intuitive input to suit any need. The OLED technology means images are clearer at lower brightness levels, and the display even has an anti-glare finish for comfortable working even under bright lighting. It's also VESA DisplayHDR
™
True Black certified for deep blacks and increased dynamic range. With TÜV Rheinland-certified eye care, too, this immersive slim-bezel display is a superb all-rounder for work or play.
Learn more about ASUS OLED displays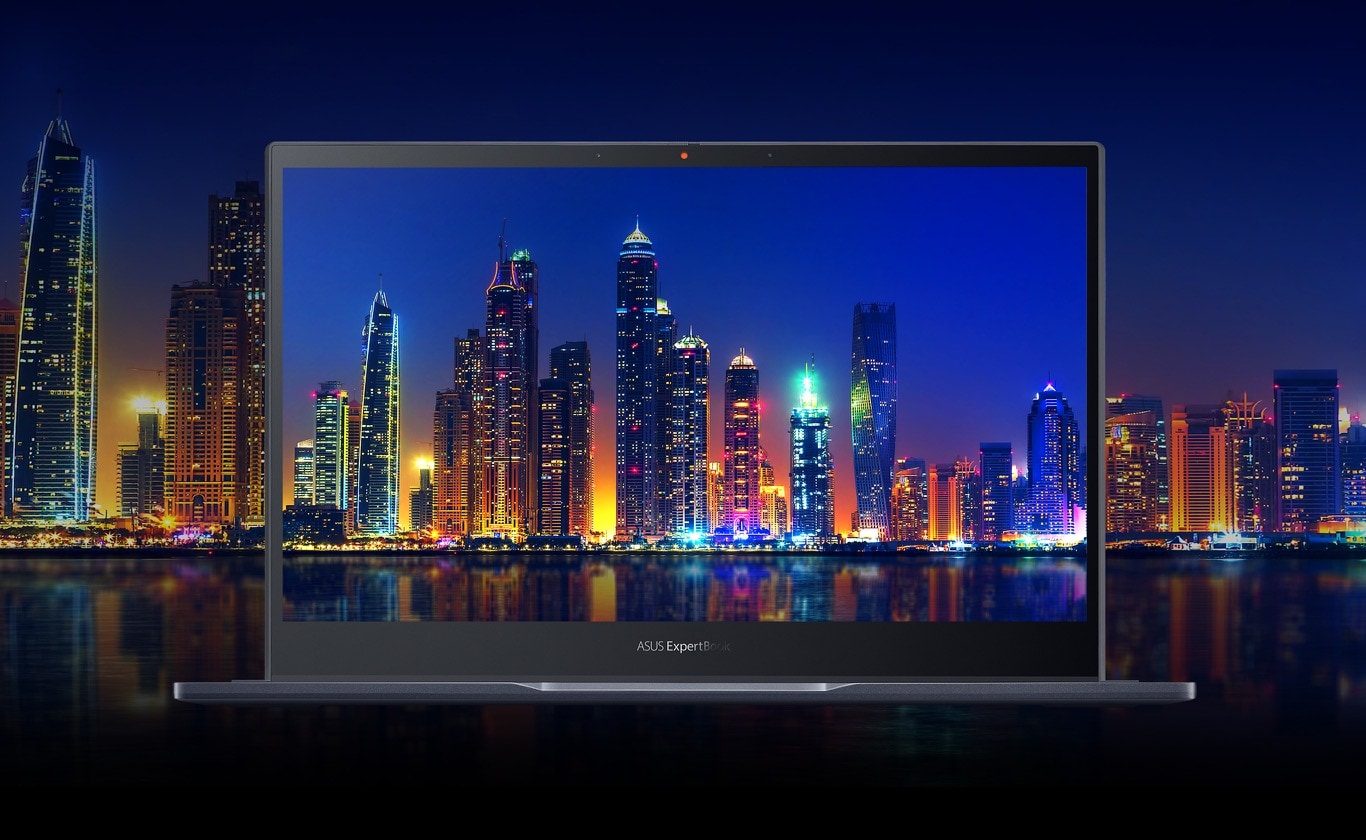 certified display
certified display
validated display
360° Hinge
Ultimate flexibility
With a 360° flippable hinge, ExpertBook B5 Flip OLED can be used into numerous different ways, including both tent and tablet modes, make it easier for instant collaboration, content-sharing or presentations.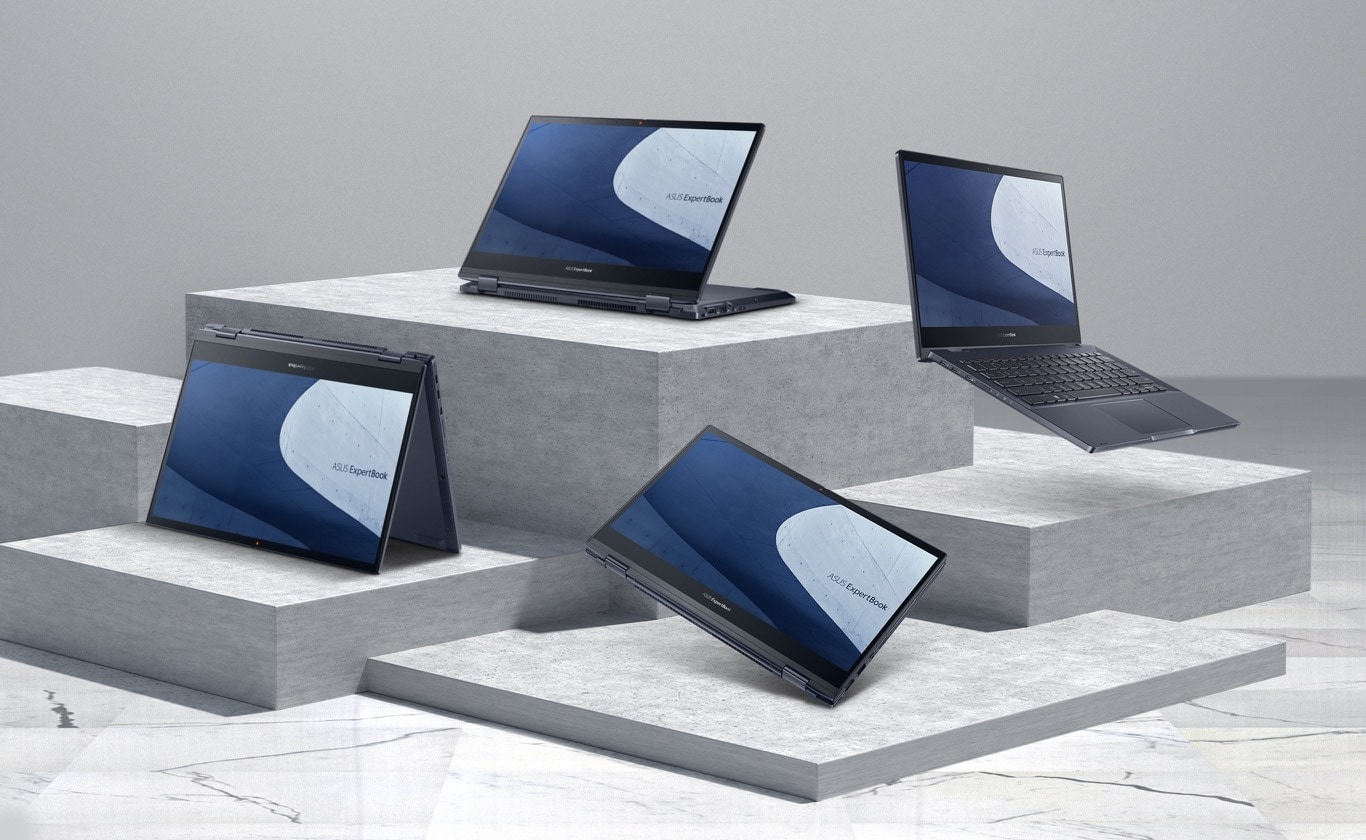 Stylus support
The smooth-as-silk touchscreen supports 4096 levels of pressure sensitivity offered by the optional ASUS Pen, providing an upgraded experience that makes ExpertBook B5 Flip OLED your perfect choice for casual creativity, note-taking and intuitive editing in any supported app.
Battery
Lasts longer, charges faster
ExpertBook B5 Flip OLED will never let you down throughout the business day or a long-haul flight. It provides all-day battery life on a single charge. On top of that, fast-charge technology lets you recharge the battery to up to 60% capacity in as little as 39 minutes
4
,
5
, so you're up and running in no time.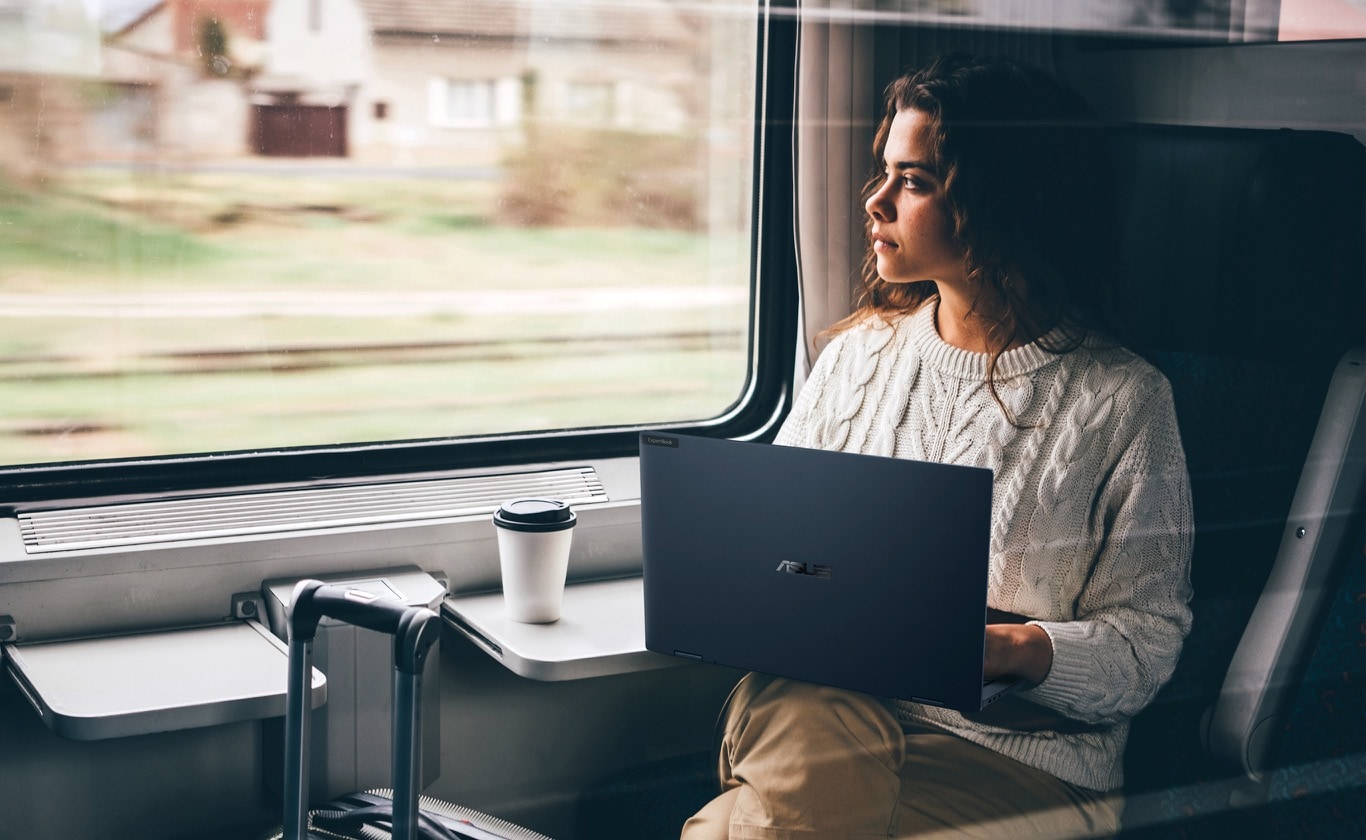 Remote working and Conferencing
Two-way AI
noise-canceling

audio technology

for business

To level up professional conferencing, ExpertBook B5 Flip OLED has two-way AI noise-canceling technology that employs sophisticated machine-learning techniques. The technology includes both an upstream function to filter noise around the speaker, and a downstream function to eliminate noise from the person at the other end of the conversation. Try the demo to experience the amazing difference that ASUS two-way AI noise-canceling technology can make.
Noise-reducing Camera
Innovative 3D noise-reduction (3DNR) technology on the ExpertBook B5 Flip OLED webcam eliminates up to23% of the random noise that naturally affects any camera
7
, especially in low-light conditions — significantly improving image quality without compromising exposure or detail levels.
Durability
Ready for action
Life on the road is tough, so ExpertBook B5 Flip OLED is designed to both meet and surpass exacting industry thresholds — including the ultra-demanding MIL-STD 810H US military standard. It's built to survive every extreme, from freezing temperatures to the searing heat of desert storms, and high-speed shocks to everyday bumps. B5 Flip OLED also undergoes stringent in-house testing, including panel-pressure, shock and drop tests for an assurance of serious durability.
Learn more about ASUS ExpertBook Quality Tests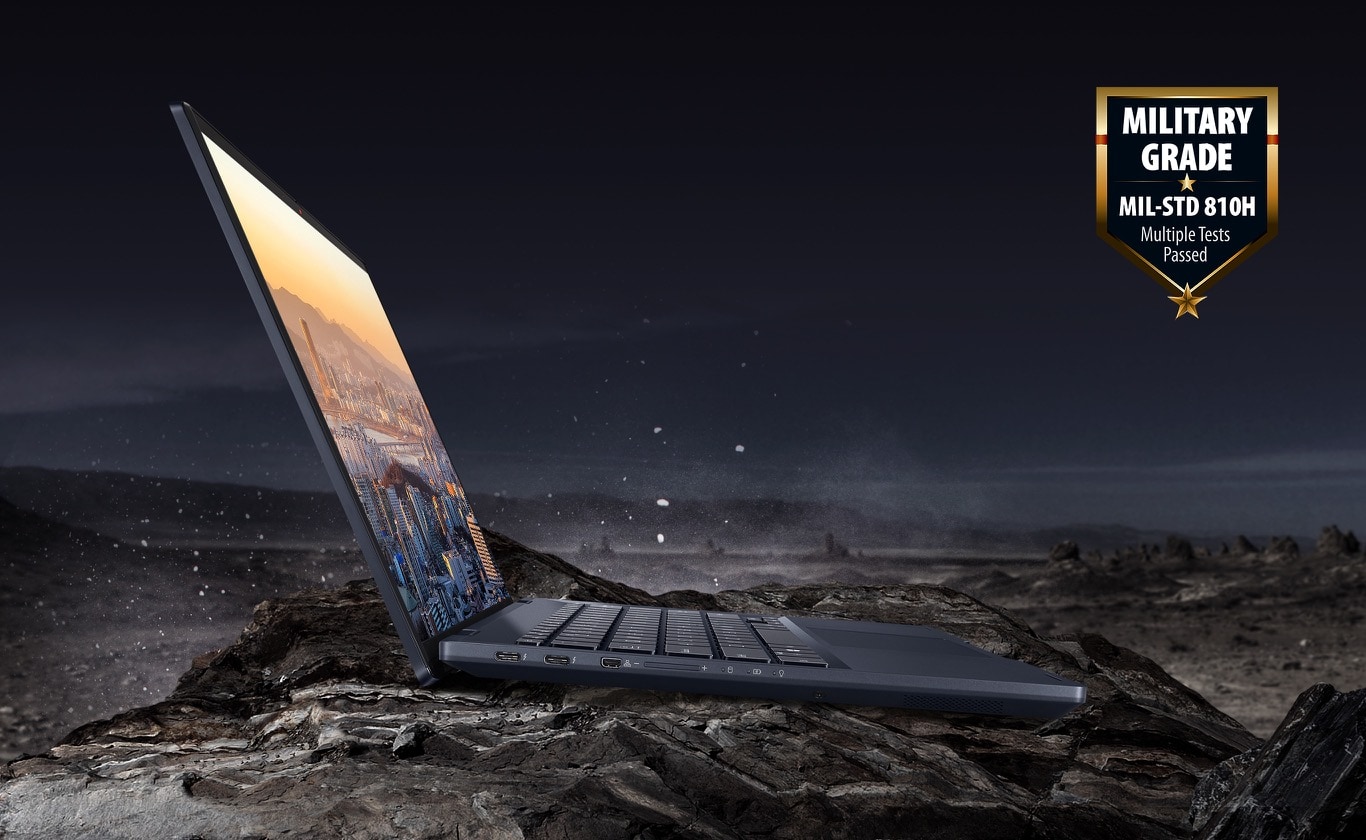 Port durability test
Up to 15,000 test cycles ensures I/O port durability
Drop test
Multi-sided, 120 cm drop while powered on
Hinge test
Subjects the laptop to 50,000 open-and-close cycles
keyboard spill-resistant test8
Cope with liquid spills of up to 66 cc without harm.
I/O Ports
Comprehensive connectivity with no compromise
Despite its thin profile, ExpertBook B5 Flip OLED is loaded with I/O ports. These include cutting-edge Thunderbolt™ 4, the next generation of the universal cable connectivity solution that offers support for the next-level USB4 interface, 40 Gbps data transfer speeds, 4K display output and fast charging. The laptop also offers USB Type-A and an HDMI output, plus wired network connectivity with a unique MAC address for easy device management.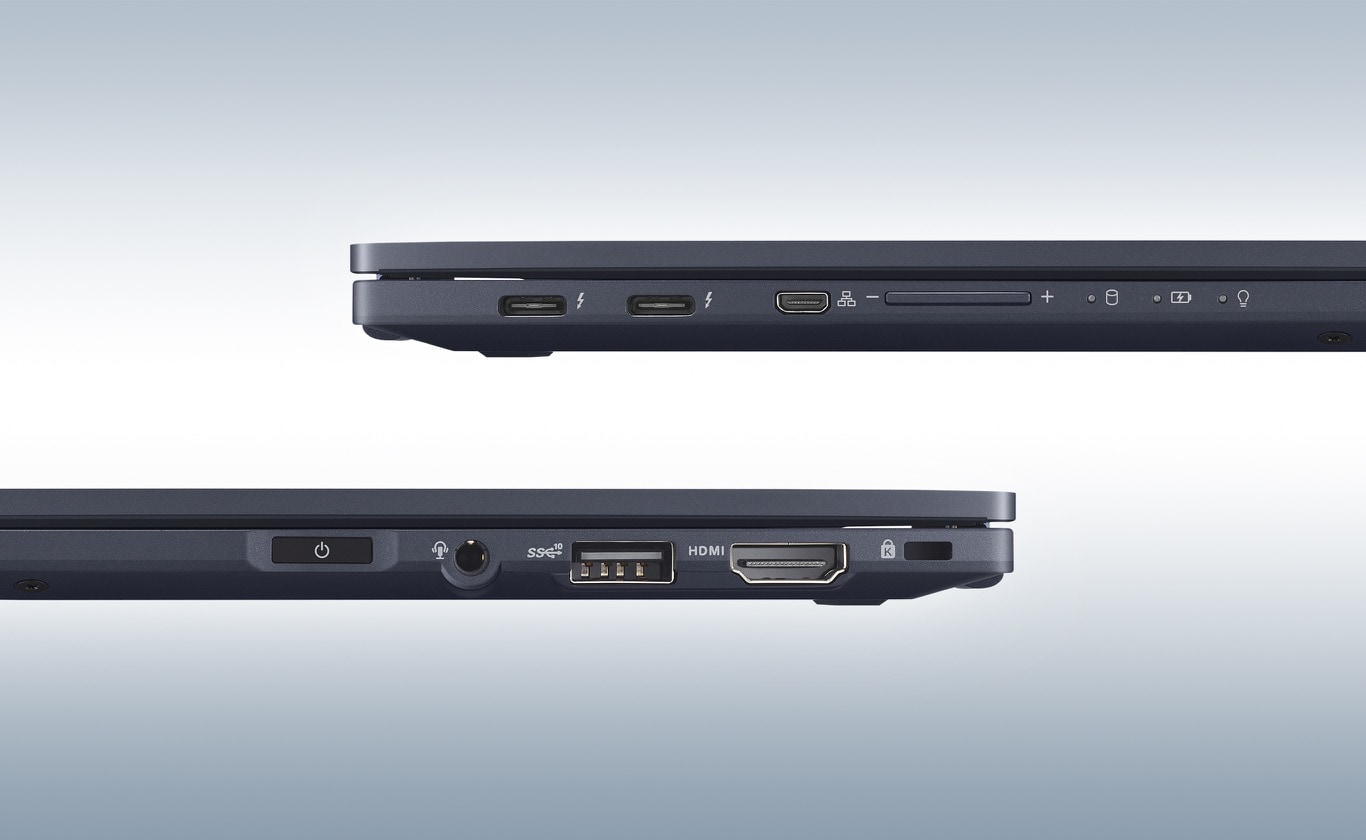 Thunderbolt™ 4 USB-C®
USB 3.2 Gen 2
HDMI 2.0
Kensington lock slot
RJ45 via micro HDMI
audio jack
Multi-tasking
Triple 4K displays
ASUS ExpertBook B5 Flip OLED helps you minimize the hassles and inconveniences of remote work. With two Thunderbolt 4 and one HDMI 2.0 ports available, you're free to connect up to three external 4K UHD displays. So, for example, you could host a video conference on B5 Flip OLED's own display while using three screens to keep in view information that's important to your call.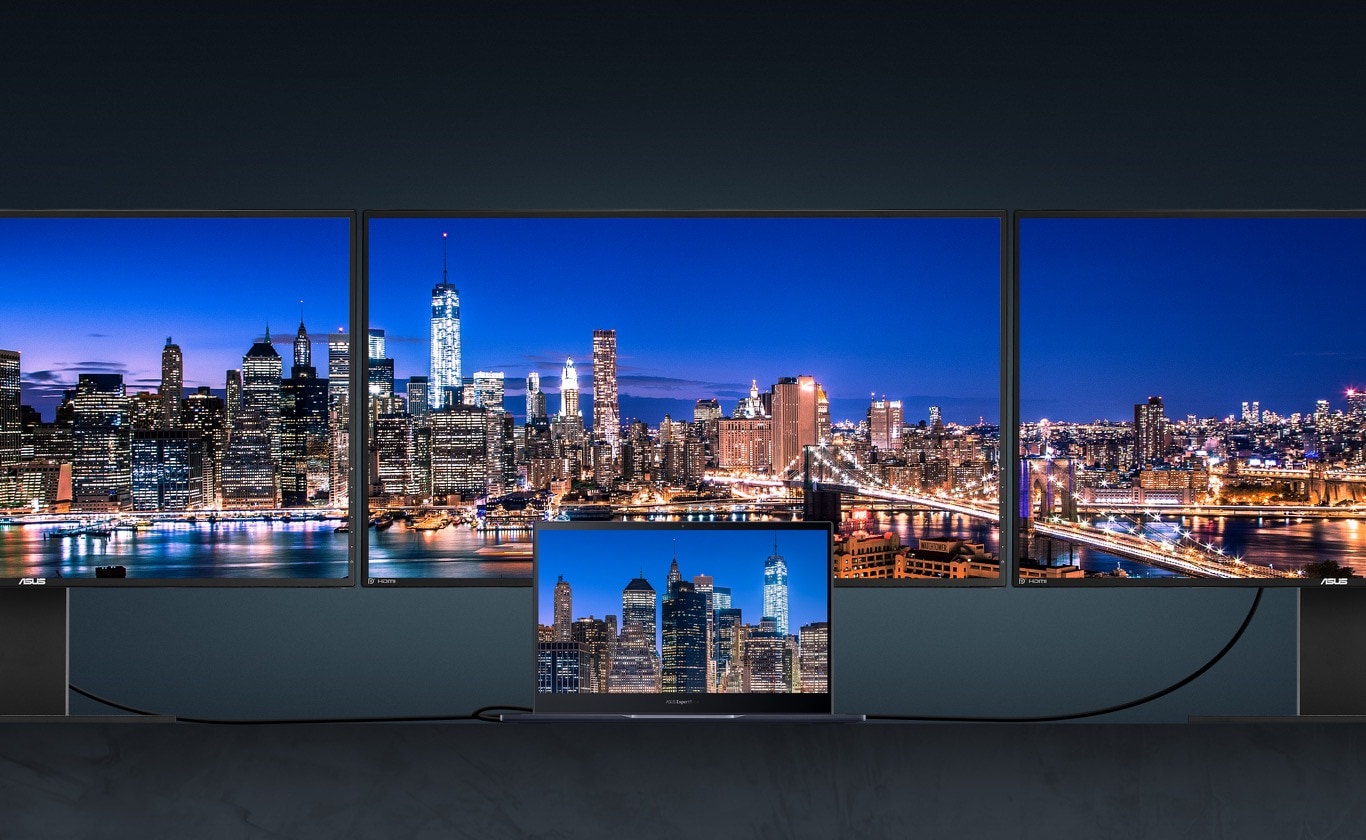 Security
Strong data protection and privacy
ExpertBook B5 Flip OLED comes with a robust security system in place to ensure confidential and private data does not leak out. These include an integrated fingerprint sensor and physical webcam shield, plus TPM 2.0 to ensure attackers don't get a behind the scenes to look at your private life. There's even an integrated Kensington lock slot, making it quick and easy to secure your ExpertBook B5 Flip OLED.
Fingerprint-reading power button
ExpertBook B5 Flip OLED has built-in biometric security, with a fingerprint sensor that's integrated into the power button. So, just tap the button to switch on and log in — no difficult-to-remember passwords or PIN required!
Webcam privacy shield
A physical cover obscures ExpertBook B5 Flip OLED's webcam for an assurance of instant privacy when it's not in use. Just slide it open to make video calls or recordings, and back across when you're done.
TPM 2.0
A dTPM
9
chip securely stores authentication information used by software, such as passwords or encryption keys, to protect important data and transactions. Your details remain encrypted, virtually eliminating the risk of leaks through hacking.
User Experience
Ultimate input experience
From keyboard to touchpad, typing and pointer control on ExpertBook B5 Flip OLED is a pleasant experience, with a host of features and improvements that enhance both productivity and comfort.
NumberPad 2.0
ASUS NumberPad 2.0
10
,
11
is an LED-illuminated numeric keypad that's perfect for crunching numbers. Tap the NumberPad 2.0 icon on the top right of the touchpad to turn it on, and tap the icon on the left to toggle between two brightness settings. Clever software lets you control the cursor, even when NumberPad 2.0 is activated.
Backlit keyboard
The backlit keyboard lets you type effortlessly in dark environments, from twilight café tables to aircraft cabins.
User-status indicator
A small, bright LED light on the top cover of ExpertBook B5 Flip OLED offers an at-a-glance indication of your status — automatically glowing when you're busy in a conference call. So, if you're headlong into a Skype or Teams meeting, your colleagues will know instantly to not bother you at that moment!
ErgoLift hinge
ExpertBook B5 Flip OLED is engineered to make the typing experience more comfortable and more accurate. The ASUS ErgoLift hinge automatically tilts the keyboard to the most comfortable typing position. It also has widely spaced, long-travel keys that provide responsive tactile feedback for more accurate typing.
Function-key shortcuts
For added convenience, you can capture screen grabs, activate the webcam, mute the microphone, enable AI noise cancelation or access the MyASUS app via function-key shortcuts — instantly.
Manageability
Simplifying business processes
Management is made easier with ASUS Business PCs. ASUS management solutions help streamline routine tasks, allowing IT staff to remotely control and manage company assets, saving your organization time and money.
The optional ASUS Control Center is a centralized IT-management software suite that enables remote management via a web-based interface.
MyASUS
MyASUS is the easy way to access handy ASUS apps that help you get more out of your laptop or desktop PC. With ExpertBook B5 Flip OLED it allows you to easily manage fan profiles for different usage scenarios, activate and adjust the AI noise-cancelation features or contact after-sales service and support — all with just a few clicks. There's also a huge range of popular app downloads and exclusive offers just for you!
Service
Maximum support, minimal effort
The ASUS Service Package offers a wider range of solutions that go beyond the standard warranty to meet the needs of business-critical IT environments. The extended offerings protect your business — not just the hardware — allowing you to customize a service solution that best meets your needs.
Comprehensive 24x7 Support
Hassle-free access to hardware and software experts.13
MyASUS App
Contact customer service, view repair status, read product guides and more.
Pick Up & Return/Onsite Service
Enjoy a door-to-door service for effortless maintenance.13
Warranty Extension
Extend service coverage to match the expected length.14