ASUS TUF Gaming GeForce RTX™ 3050 8GB GDDR6
ASUS TUF Gaming GeForce RTX™ 3050 8GB GDDR6
ASUS TUF Gaming GeForce RTX™ 3050 8GB GDDR6 is a supreme stalwart of cooling and durability
NVIDIA Ampere Streaming Multiprocessors: The all-new Ampere SM brings 2X the FP32 throughput and improved power efficiency.
2nd Generation RT Cores: Experience 2X the throughput of 1st gen RT Cores, plus concurrent RT and shading for a whole new level of ray-tracing performance.
3rd Generation Tensor Cores: Get up to 2X the throughput with structural sparsity and advanced AI algorithms such as DLSS. These cores deliver a massive boost in game performance and all-new AI capabilities.
Axial-tech fan design features a smaller fan hub that facilitates longer blades and a slimmed down barrier ring that provides better airflow through the cooling array.
Dual ball fan bearings can last up to twice as long as sleeve bearing designs.
An all-aluminum shroud and metal backplate enhance durability.
GPU Tweak II provides intuitive performance tweaking, thermal controls, and system monitoring.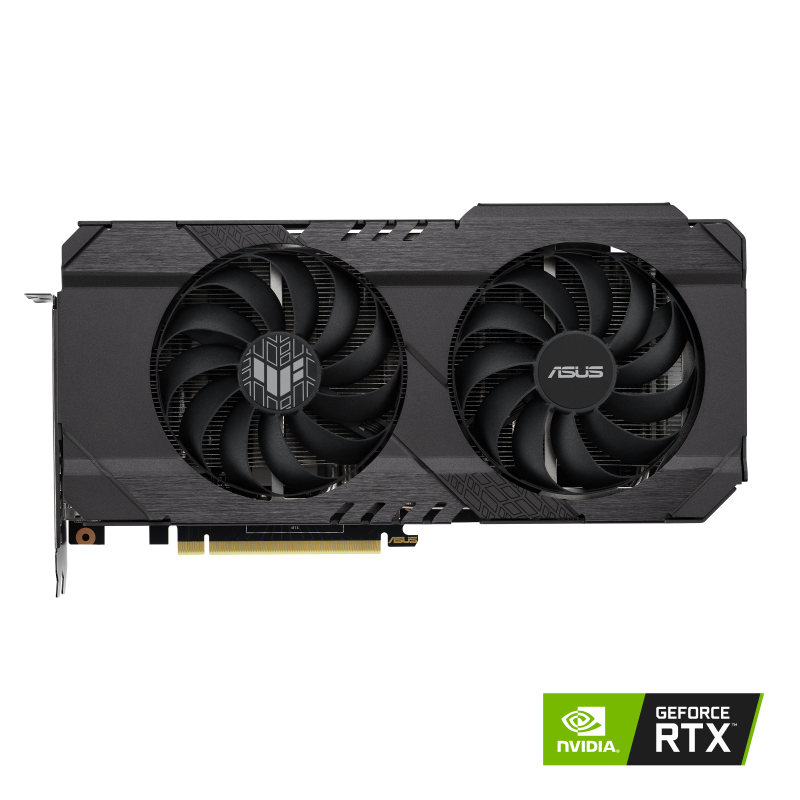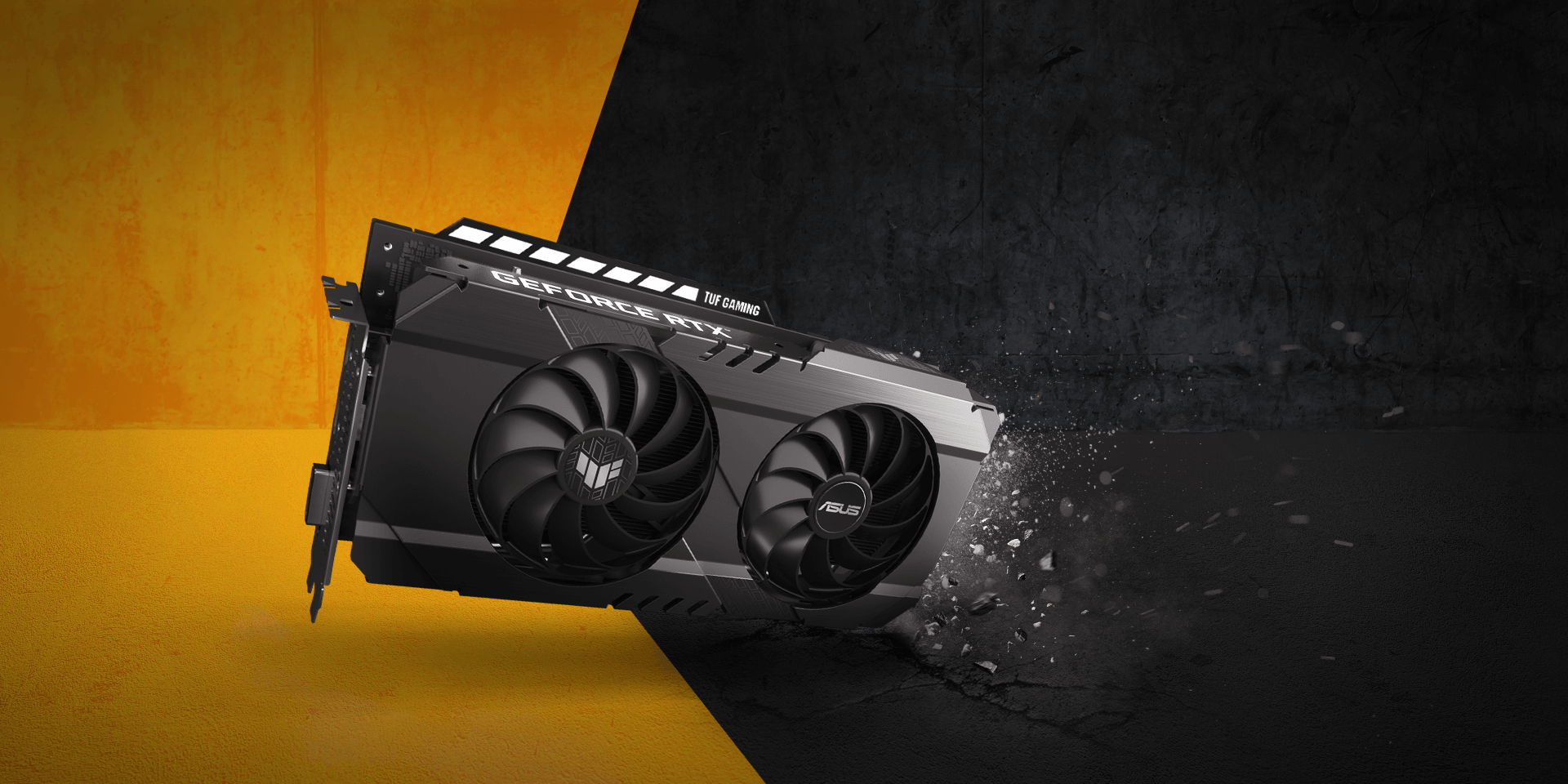 TUF Gaming
GEFORCE RTX™ 3050
TUF Gaming
GEFORCE RTX™ 3050
Built TUF
The TUF Gaming GeForce RTX™ 3050 has been stripped down and built back up to provide more robust power and cooling. An all-metal shroud houses two powerful axial-tech fans with dual ball fan bearings. Beneath, a thick heatsink keeps thermals under tight control. Additional features, including TUF components, Auto-Extreme Technology, and a backplate vent make the TUF a proper powerhouse. For builders looking for a new "old faithful", this card has your back.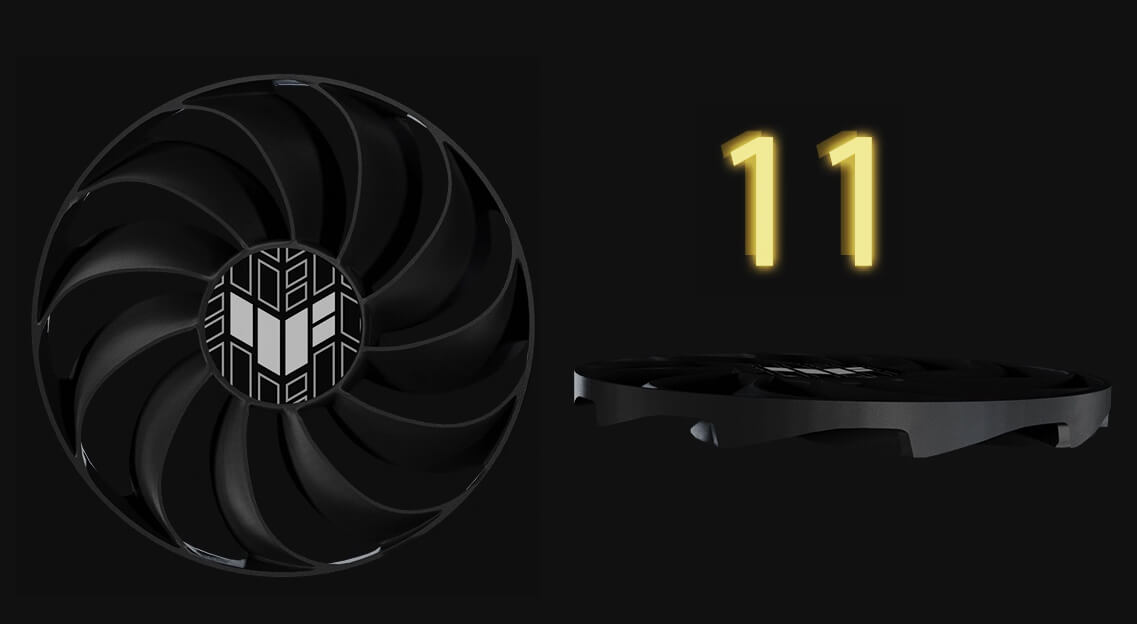 Fans
Axial-tech Fan Design​
Two tried-and-true Axial-tech fans feature a smaller hub that facilitates longer blades and a slimmed down barrier ring to provide better airflow through the cooling array.​
Fans
Quiet Cunning​
Fans will only start spinning when the GPU temperature hits 55 Celsius and shut off when temps drop below 38 Celsius, helping to reduce noise when the system is idling or under light load.


Increased Height
Heatsink
2.8-slot Design
The heat spreader draws heat up into heatpipes that carry it through a fin stack that fills most of the card's large, 2.8-slot footprint.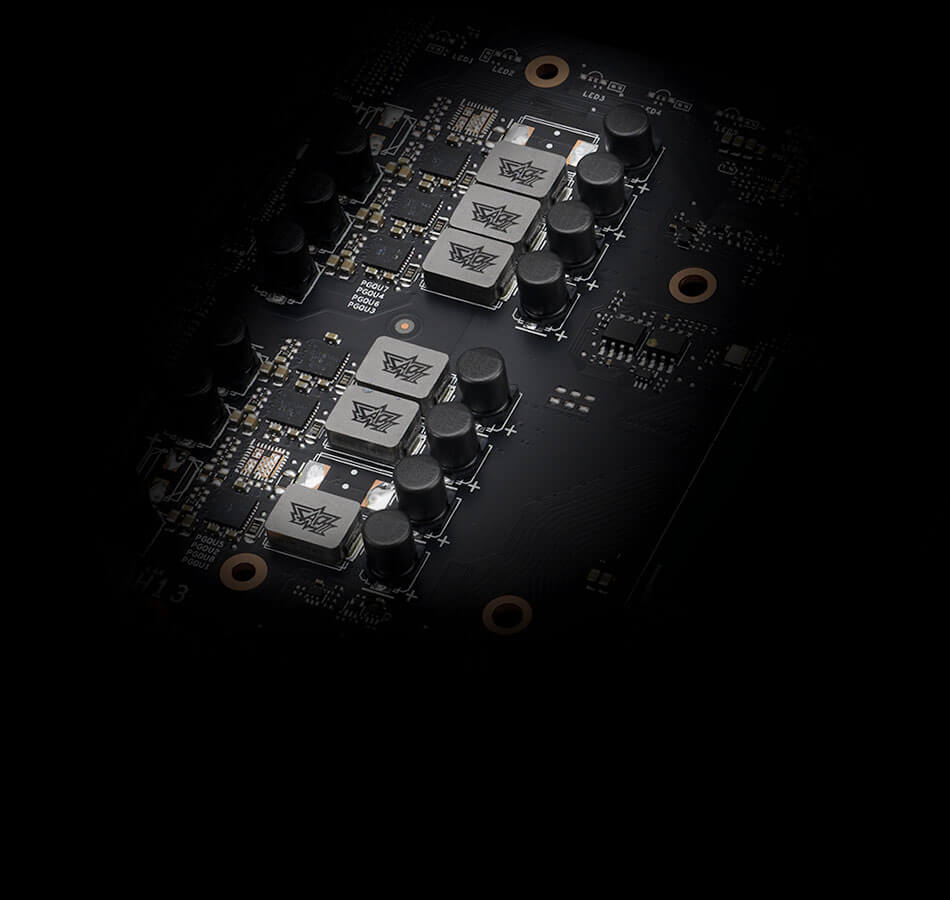 PCB
TUF Components
Robust military-grade capacitors were selected for the card's power design. They and other components are soldered to the PCB using our Auto-Extreme automated manufacturing process. Precise joints and the elimination of human error ensures each graphics card meets our rigorous specifications. To ensure flawless performance when it counts, the cards are subjected to a grueling 144-hour validation trial.
* For illustration only.
Design
METAL COAT
A machined all-aluminum shroud creates a robust outer shell and a no-nonsense industrial design and grayscale colorway fits into any build with ease.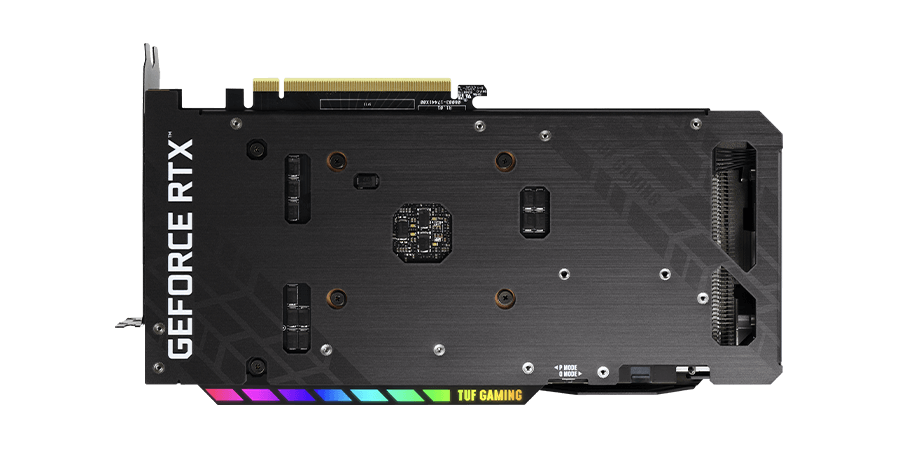 Design
ARMORED UNDERSIDE
The underside of the card reveals a host of improvements. Most of the rear is swathed in a protective metal backplate that prominently features a wide vent. The vent allows hot air to escape towards chassis exhaust fans instead of being recycled back into the cooler. Stainless steel is used for the I/O bracket to protect ports and provide a more secure mount. And a conveniently placed Dual Bios switch allows customization of the card's default performance profile without software.

Design
Functional Front
An ARGB element can be customized to display a range of aesthetic and functional effects, and also synced with other ASUS components to enable uniform lighting. An 8-pin connector fulfills the power demands of the GeForce RTX 3050, and onboard LEDs light up if the power connectors are not plugged in correctly.
Choose Color
By GPU
Temperature
Low point : ℃

High point : ℃
Select
Mode
Static

Breathing

Strobing

Rainbow

Color cycle

Starry night

Smart

Dark

Adaptive Color

Matches color to a selected region on your screen​

Music

Pulses to the beat of your music
software
GPU Tweak II
The ASUS GPU Tweak II utility takes graphics card tuning to the next level. It allows you to tweak critical parameters including GPU core clocks, memory frequency, and voltage settings, with the option to monitor everything in real-time through a customizable on-screen display. Advanced fan control is also included along with many more features to help you get the most out of your graphics card.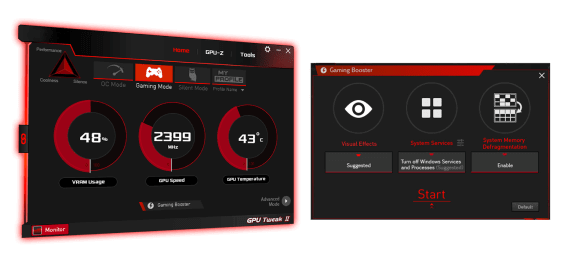 QuantumCloud is a safe and easy-to-use application that lets you effortlessly earn extra money by sharing your graphics card's computing power. Earnings are accessible through your PayPal or WeChat account, and QuantumCloud also supports multiple exchange methods, including Steam. In addition, QuantumCloud doesn't collect any personal data, so your privacy stays protected. ​Get started right away with just one click!
Learn more about QuantumCloud


Pair with a PSU
Check out our PSU landing page to learn more about how we're pushing the industry forward and use our wattage calculator to estimate how much power you'll need to fuel your next rig.
Learn more >
Free 1 Month of Adobe Creative Cloud
Get complimentary membership with the purchase of selected ASUS products.* 

20+ Adobe apps

Industry-leading apps including Photoshop, Illustrator, InDesign, Spark and XD.

Adobe Fonts

Access thousands of fonts right within your Creative Cloud apps.

Behance

Find inspiration in the world's largest creative community.

Creative Cloud Libraries

Your team can share assets across their apps and devices, so everyone's in sync.

1TB of cloud storage per user

Extra storage makes it easier for your team to share and manage creative assets.
GEFORCE RTX 30 SERIES
THE ULTIMATE PLAY
GeForce RTX™ 30 Series GPUs deliver the ultimate performance for gamers and creators. They're powered by Ampere—NVIDIA's 2nd gen RTX architecture—with new RT Cores, Tensor Cores, and streaming multiprocessors for the most realistic ray-traced graphics and cutting-edge AI features.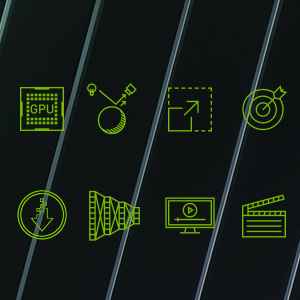 ONLY ON GEFORCE RTX
THE WORLD'S FASTEST GPUs NVIDIA Ampere Architecture
MOST REALISTIC & IMMERSIVE GRAPHICS 2nd Gen Ray Tracing
AI-ACCELERATED PERFORMANCE NVIDIA DLSS
LOWEST SYSTEM LATENCY NVIDIA Reflex
THE BEST EXPERIENCE FOR EVERY GAME Game Ready Drivers
BUILT FOR LIVE STREAMING NVIDIA Encoder
AI-ENHANCED VOICE & VIDEO NVIDIA Broadcast App
FAST-TRACK YOUR CREATIVITY NVIDIA Studio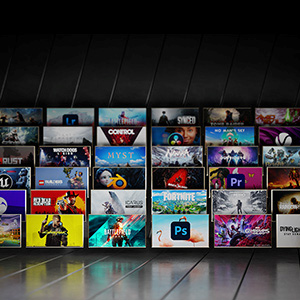 RTX. IT'S ON.
ULTIMATE RAY TRACING AND AI
NVIDIA RTX is the most advanced platform for ray tracing and AI technologies that are revolutionizing the ways we play and create. Over 150 top games and applications use RTX to deliver realistic graphics with incredibly fast performance or cutting-edge new AI features like NVIDIA DLSS and NVIDIA Broadcast. RTX is the new standard.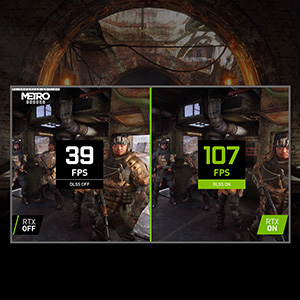 GET FASTER PERFORMANCE WITH NVIDIA DLSS
MAX FPS. MAX QUALITY. POWERED BY AI.
Get a performance boost with NVIDIA DLSS (Deep Learning Super Sampling). AI-specialized Tensor Cores on GeForce RTX GPUs give your games a speed boost with uncompromised image quality. This lets you crank up the settings and resolution for an even better visual experience.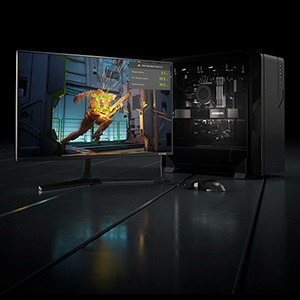 VICTORY MEASURED IN MILLISECONDS
NVIDIA Reflex delivers the ultimate competitive advantage. The lowest latency. The best responsiveness. Powered by GeForce RTX 30 Series GPUs and NVIDIA® G-SYNC® Displays with Reflex. Acquire targets faster, react quicker, and increase aim precision through a revolutionary suite of technologies built to reduce and measure system latency for competitive games.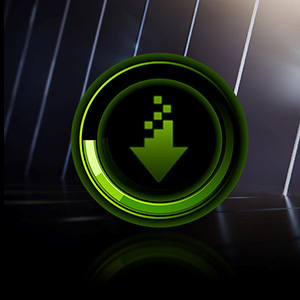 GAME READY DRIVERS
THE BEST EXPERIENCE FOR EVERY GAME
GeForce Game Ready Drivers deliver the best experience for your favorite games. They're finely tuned in collaboration with developers and extensively tested across thousands of hardware configurations for maximum performance and reliability. Game Ready Drivers also allow you to optimize game settings with a single click and empower you with the latest NVIDIA technologies. That's what we call Game Ready.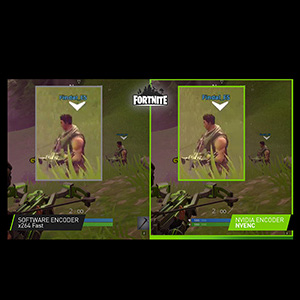 BUILT FOR LIVE STREAMING
Steal the show with incredible graphics and smooth, stutter-free live streaming. GeForce RTX GPUs feature advanced streaming capabilities thanks to the NVIDIA Encoder (NVENC), engineered to deliver show-stopping performance and image quality. Plus, exclusive optimizations to all your favorite streaming apps unlock the ability to give your audience your very best—every time.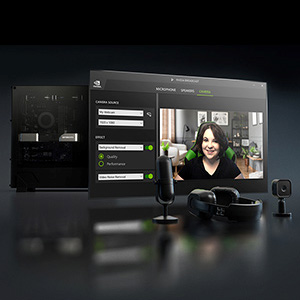 YOUR AI-POWERED HOME STUDIO
The NVIDIA Broadcast app transforms any room into a home studio—taking your livestreams, voice chats and video conference calls to the next level with powerful AI effects like noise removal, virtual background, and more.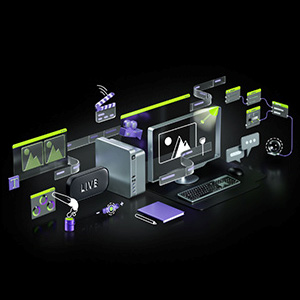 UP YOUR CREATIVE GAME
Take your creative projects to a new level with GeForce RTX 30 Series GPUs. Experience AI-acceleration in top creative apps and enhance your workflows with the NVIDIA Studio platform of dedicated drivers and exclusive tools. Whether you're rendering complex 3D scenes, editing high resolution video, or seamlessly connecting and collaborating with NVIDIA Omniverse™, GeForce RTX GPUs give you the performance to create your best.