10-Port Unmanaged Switch Featuring Two 10G Ports
Hyper-Fast 10Gbps Networking - The two next-gen 10G ports deliver incredible speeds of up to 10Gbps, perfect for ultra-busy networks and bandwidth-intensive tasks in any office or studio.
Easy to Use, No Setup Needed - Simply plug it in, connect your devices, and that's it! No software or setup is needed, and there are 10G signal quality LEDs to confirm your cables are working correctly.
Slim and Stylish Design- The tough all-metal design, iconic spun-metal finish and slim dimensions make it a stylish addition to any premises.
Awards
Video reviews
Media reviews
Hyper-Fast 10Gbps Networking
Each of the two 10G ports delivers up to 10Gbps speeds via standard RJ-45 cables. This gives your office or studio network the bandwidth to cope easily with even the most data-intensive tasks, such as backing up to a NAS or transferring huge files. There are also 8 Gigabit Ethernet ports for the ultimate versatility.

Easy to Use, No Setup Needed
Enjoy true plug-and-play convenience, with absolutely no setup required! Each port automatically configures itself depending on the type of device you connect, and the 10G ports include a handy three-color signal quality indicator LED that tells you what speed the cable supports.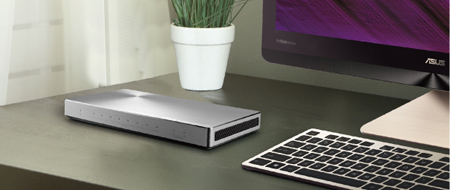 Slim and Stylish Design
With its attractive design, spun-metal finish and tough metal construction, there's no need to keep XG-U2008 hidden out of sight! Its slim and compact shape makes it easy to situate anywhere in the office, studio or home.