To provide you more detailed instruction, you can also click ASUS Youtube video link below to know more about How to upload the configuration files of ASUS wireless router
ttps://www.youtube.com/watch?v=7bQyuFNuFZY
What is Save/Upload Setting?
You can save the settings on your ASUS router as a setting file, and then use the upload function to reload the setting file if needed.
The settings steps for the Save/Upload file are as follows:
Step1: Enter the router's GUI (ASUSWRT)
1-1 Take router [RT-AC66U B1] as examples.
To set up your wireless router via wired connection:
a. Insert your wireless router's AC adapter to the DC-IN port and plug it to a power outlet.
b. Using the bundled network cable, connect your computer to your wireless router's LAN port.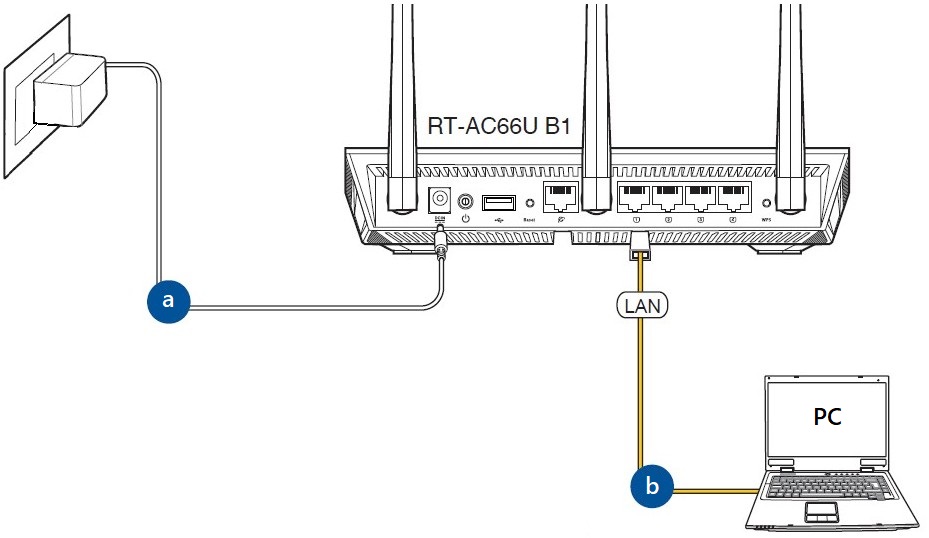 1-2 Launch a web browser and enter http://router.asus.com

1-3 Enter your login user name and password on the login page and then click [Sign In].
Note: If you forgot the user name and/or password, please restore the router to the factory default status.
Please refer to [Wireless Router] How to enter the router's GUI (ASUSWRT) to learn more.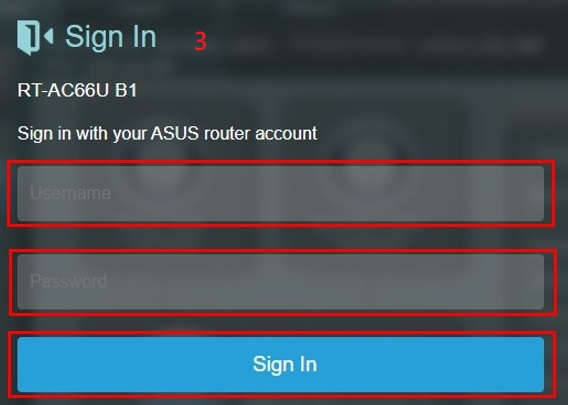 Step2: Export router settings
2-1 Click > [Administration] > [Restore/Save/Upload Setting] tab.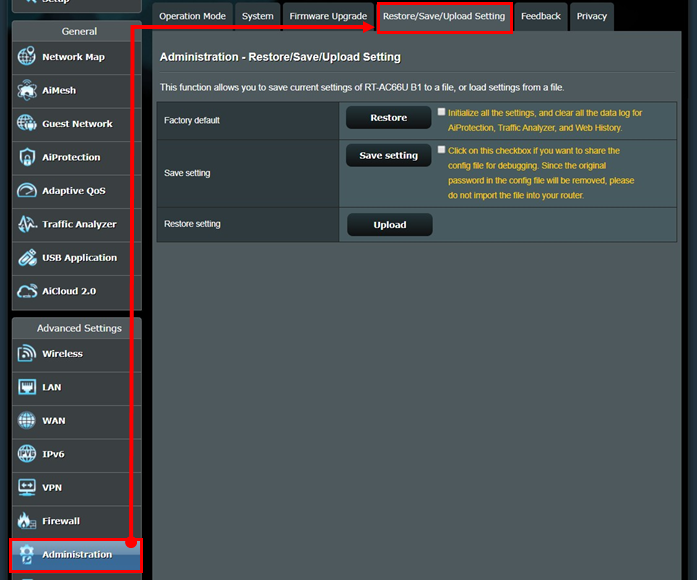 2-2 To save the current system settings, click [Save] to save your configuration.
2-3 Navigate to the folder where you intend to save the file and click [Save].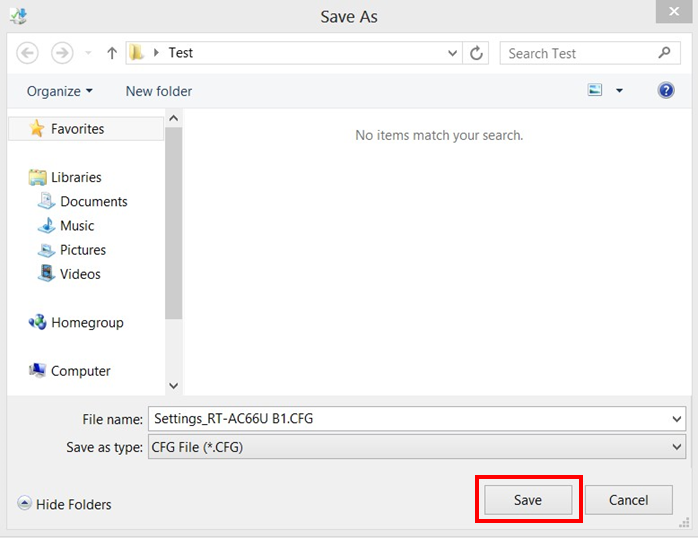 2-4 The file downloaded has completed.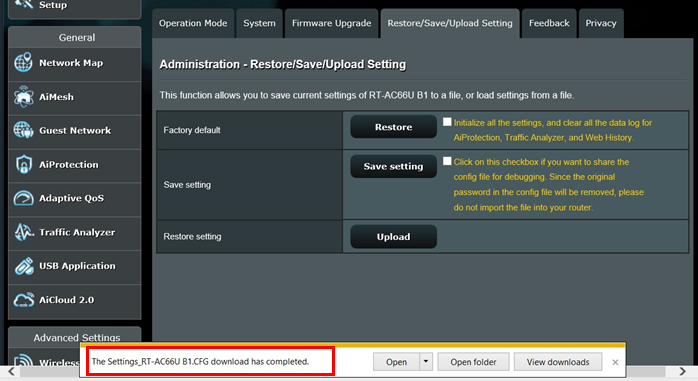 Step3: Upload the router's settings
3-1 To restore from a saved settings file, click [Upload].

3-2. Click Browse to locate your file [settings_RT-AC66U B1.CFG], then click Open.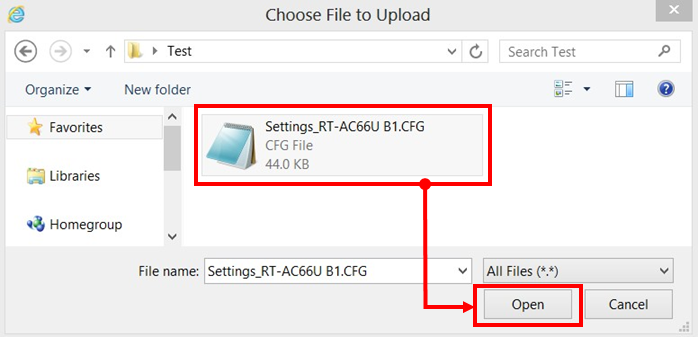 3-3. Please wait 60 seconds until the router reboots. Do not power down or shut down the router during the Upload.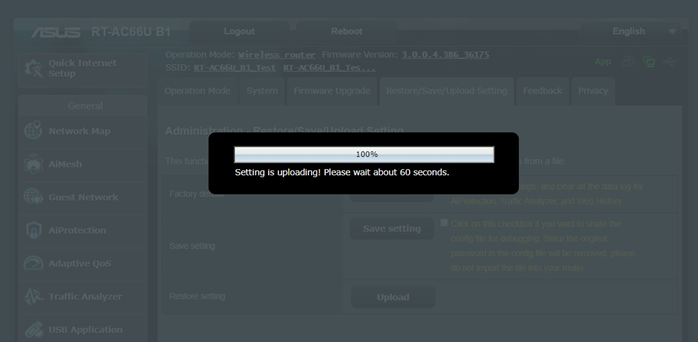 3-4 After the file upload setting file is completed, you will need to enter the router account/password to log back in.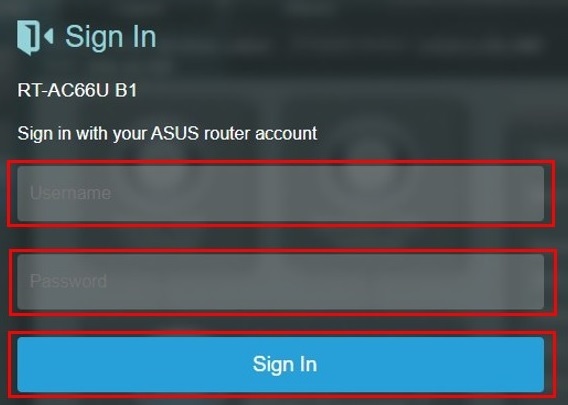 FAQ
1. What if my uploading a setting file fails?
Please try to upgrade the latest firmware version and configure new settings. Do not restore the router to its default settings.
2. What if I can't enter the web UI to restore my router after uploading a setting file?
You can push the RESET button on your router. (See image below)

Then press and hold the reset button for 5-10 seconds until your power LED light starts to flash.
None of the LED lights should not be on at this time. It is normal due to the router restarting.
Wait for the LED lights to turn on again and try to login to the Web UI.
If there still have issue, it is recommended that you try a hard factory reset. Please refer to [Wireless Router] ASUS router Hard Factory Reset for more details.
How to get the (Utility / Firmware)?
You can download the latest drivers, software, firmware and user manuals in the ASUS Download Center.
If you need more information about the ASUS Download Center, please refer this link.