Concept to Creation
Precision to the Finest Detail
Envision bigger with 2560 x 1440 WQHD, packing four times the pixel density of 720p! New premium 16:9 wide-format VX24AH LED displays with 178° wide viewing angle panel for better productivity, opening extra multitasking space to fit more windows and projects on-screen. ASUS exclusive SplendidPlus Video Intelligence Technology, QuickFit Virtual Scale, and 100% sRGB fidelity ensure reality-defining colour and image accuracy, giving you true "what you imagine is what you create" power. Dual HDMI support WQHD natively, accentuated by room-dominating audio via twin 2W speakers.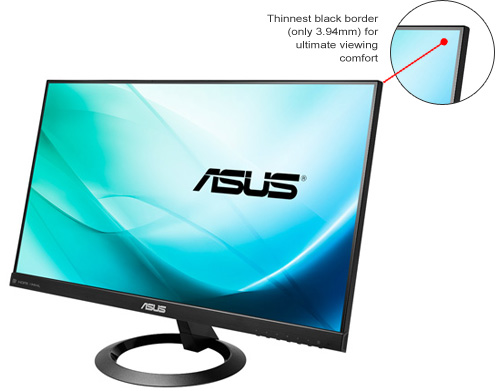 Frameless design- the ultimate viewing pleasure
With just 3.94mm thin black screen border, VX24A provides you the world's thinnest WQHD display border

True-to-life Visuals
See Better and Wider
The VX24AH WQHD monitor high quality 2560 x 1440 visuals – equaling four times the resolution of standard 720p sets. It allows users to view greater image detail and do more with an onscreen footprint larger than that of standard displays.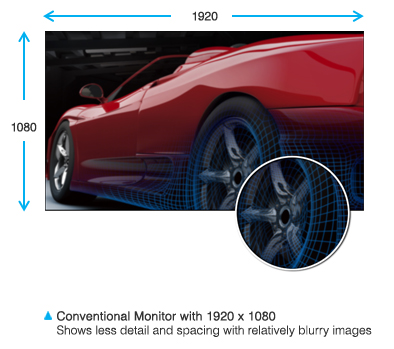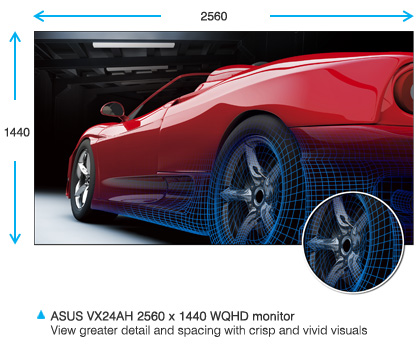 Made for Work and Play
The ASUS VX24AH provides an ultra-wide 178° viewing angle on both horizontal and vertical planes, thereby minimising onscreen colour shift even when viewed from extreme angles. With its WQHD display, you enjoy 77% more desktop space than a full HD screen to spread out your windows and palettes. It is also about 25% sharper than a generic 24" full HD display, delivering ultra-smooth visuals thanks to 5ms (GTG) response time. This ensures you get lag-free experiences in movies and gaming, with the latter looking more vivid, with all in-game details shown in true colour.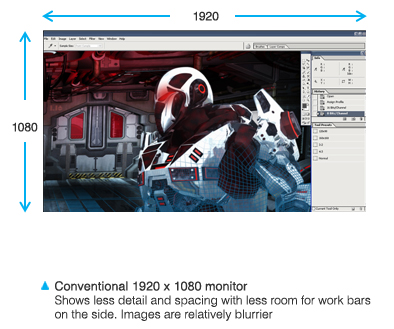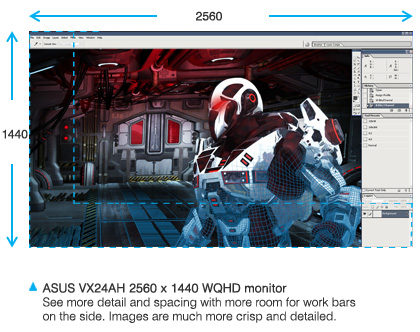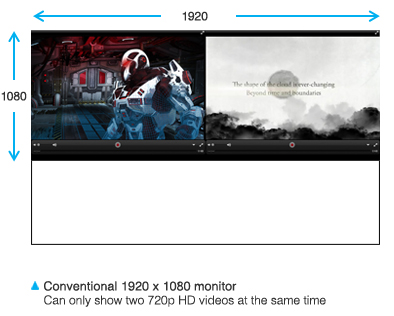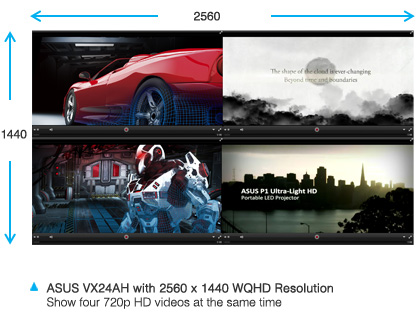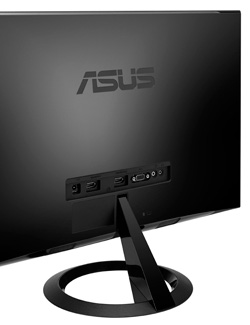 Extensive Connectivity
Native WQHD Content Support
The VX24AH features a host of connectivity options that include HDMI for native WQHD, plus D-sub for full HD 1080p content transmission. The HDMI port also supports MHL which allows you to use the MHL with HDMI connection to view content from your mobile device on the VX24AH while simultaneously charging the mobile device. Twin built-in 2W speakers provide quality audio for a completely immersive home theatre experience.

QuickFit Virtual Scale for true what you see is what you get
ASUS includes its exclusive QuickFit Virtual Scale feature with the VX24AH, allowing you to preview photos and documents on-screen in their actual size prior to printing. It can be activated via a monitor hotkey, and serves as a highly useful guide to accurately view and edit photos in their native size.
Supporting Formats:
Document: A4, B5, letter
Photo: 8"x10", 5"x7", 4"x6", 3"x5", 2"x2"
Grid: Alignment

Innovations That Raise the Bar
ASUS-exclusive Technologies for Stunning Image Quality
We've raised the bar by incorporating some of our proprietary technologies into the ASUS VX24AH to give you a truly vivid visual experience. The VX24AH features the new SplendidPlus™ Video Intelligence Technology that optimises videos and images by enhancing colour brightness, contrast, and sharpness. SplendidPlus™ features two new modes – Reading and Darkroom – in addition to the Scenery, Standard, Theatre, sRGB, and Night View modes. Low-blue Light and Flicker-free technologies also reduce the strain on your eyes after long-time usage.
| | | | |
| --- | --- | --- | --- |
| Reading | Darkroom | Scenery | Theatre |
| Creating comfortable experience as if reading actual books by adjusting the monitor's colour temperature and blue light levels, simulating paperback books. | Best choice for soft ambient light environment for by reducing blue light for visual pleasure. | Increases the brightness range, introducing more contrast gradations and selectively tweaking colour saturation for more lush landscapes. | Enhances the contrast and colour saturation of the image — delivering livelier and more vivid visuals for greater immersion. |
| | | | |
| --- | --- | --- | --- |
| sRGB | Game | Night View | Standard |
| Provides the best performance for viewing graphics. | Brings out dark, hard-to-see areas while leaving well-lit portions untouched — allowing you to see opponents lurking in obscure corners. | Intelligently raises Y-luminance to highlight poorly-lit details, capturing each scene's beauty in a crisp and vibrant fashion. | Delivers clear document viewing and web browsing experiences with optimised colour and contrast. |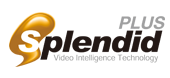 ASUS SplendidPlus™ Video Intelligence Technology is built upon a colour engine that provides 8 preset modes that allow you to adjust your display accordingly to ensure colour accuracy and image fidelity to give you colours that best suit what's showing on the screen. You can access different modes via a designated hotkey.
Protect your eyes with ASUS Eye Care technology


Ultra-low Blue Light Monitor
The TÜV Rheinland-certified ASUS Blue Light Filter protects you from harmful blue light, and you can easily access its four different filter settings via a hotkey. VX24AH has undergone stringent performance tests and has been certified by TÜV Rheinland laboratories, a global provider of technical, safety, and certification services, to be flicker-free and to emit low blue light levels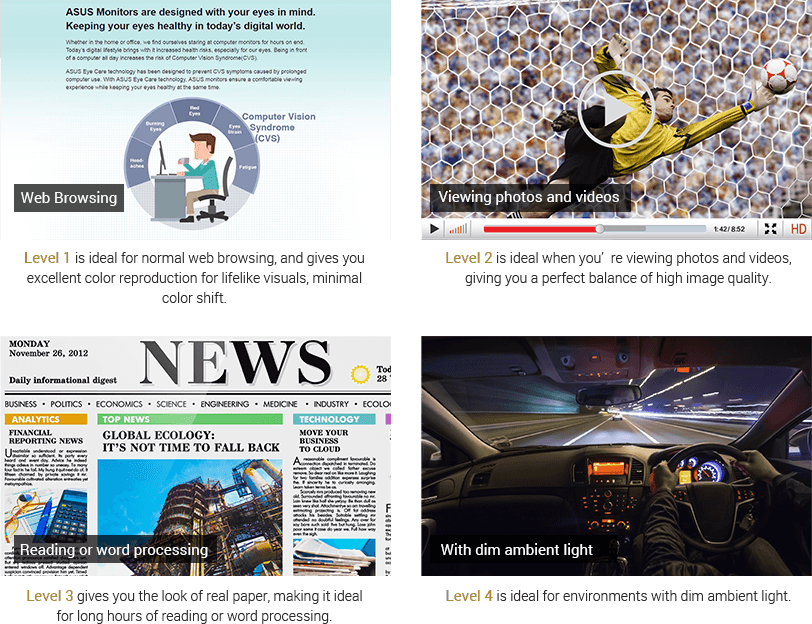 Flicker-free Technology
It's time to say goodbye to those tired, strained eyes. VX24AH features TÜV Rheinland-certified ASUS Flicker-Free technology to reduce flicker for a comfortable viewing experience. This technology helps minimise instances of eyestrain and other damaging ailments, especially when you spend long, countless hours in front of a display watching favourite videos.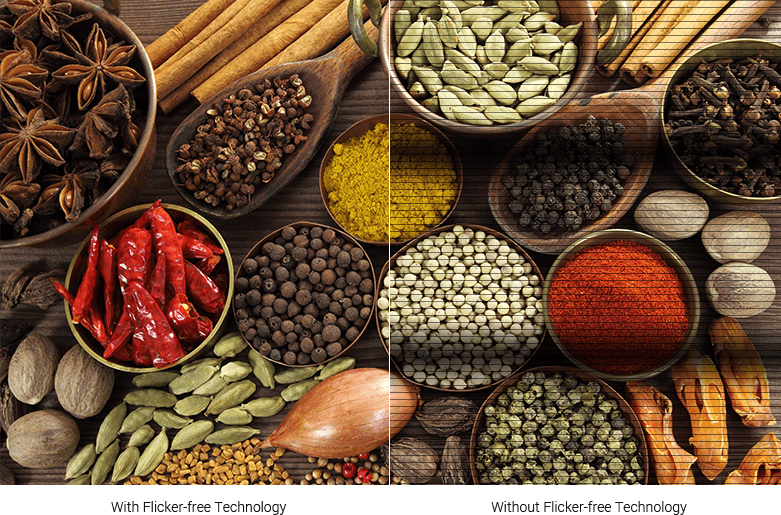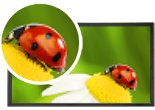 Conventional monitors without the ASUS VividPixel Technology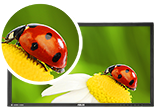 VX24AH with the ASUS VividPixel Technology

ASUS VividPixel Technology adds to the VX24AH's crystal-clear and detailed visuals by enhancing image outlines and reducing noise bars.
Compare (0)