ASUS BR1402C
Your dependable everyday ally
Windows 11 Pro - ASUS recommends Windows 11 for Education
Up to Intel® Core™ i3-N305 processor
Marvelous 14" rugged laptop
180° lay-flat hinge
Modular design for easy maintenance
MIL-STD 810H US military durability standard1
Good-to-go LED indicator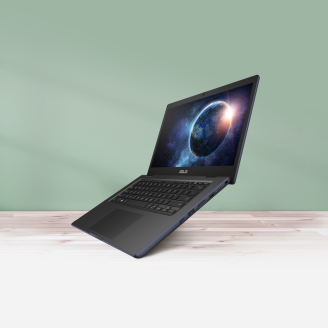 Your dependable everyday ally
ASUS BR1402C is a great tool for K-12​ education and work, featuring a rugged, modular design with replaceable internal parts for an enhanced product lifespan. It's built to shrug off accidental drops, and is tested to stringent US military-grade standards
1
as well as our own industry-leading tests for assured durability. The 180
°
lay-flat design makes it easy to share your brilliant ideas instantly.
Tough, ruggedised 14" design
ASUS BR1402C is a reliable and sturdy 14-inch partner, ready to deal with the wear and tear of everyday use — tested
1
to the US MIL-STD-810H military-grade standard for proven durability that reduces the extra cost of hardware repairs.
Fanless design
With its fanless
2
design, ASUS BR1402C runs with maximum battery life. It also minimises dust ingress, reducing the need for cleaning and the risk of damaged components.​
Engineered for easy maintenance
For easy IT servicing, ASUS BR1402C has a modular design that allows key components — such as the keyboard, battery, thermal module, and I/O ports — to be replaced in minutes with only one screw size and a simple tool.
Comprehensive connectivity
The full complement of I/O ports includes two convenient USB-C® ports — one on each side. one full-function port can be used to charge the laptop, carry audio and video to an external display, and transfer data from a USB flash drive.​
Reliably built for everyday use
The ruggedised design includes a rubber bumper for full protection around the laptop and a slip-resistant grip for easy gripping, reducing the bumps and knocks in your life. The spill-resistant
4
keyboard can cope with spills of water without harm. ASUS BR1402C also benefits from reinforced components, including both the hinge and connectivity ports — and is finished with a special surface coating to minimise fingerprints and scratching.
With a design that's intentionally easy to maintain, qualified technicians can access, service and upgrade the hardware inside ASUS BR1402C in just five steps. This minimises downtime to maximise learning opportunities and productivity.
The underside is secured attached using captive screws, eliminating worries about losing these little parts during repair.
The testing regime includes the requirements of military-grade standards, and varies depending on device. MIL-STD-810 testing is conducted on selected ASUS products only. Note that the MIL-STD-810 testing helps to ensure the quality of ASUS products but does not indicate a particular fitness for military use. The tests are performed under laboratory conditions. Any damage caused by attempts to replicate these test conditions would be considered accidental, and would not be covered by the standard ASUS warranty. Additional coverage is available with ASUS Premium Care.
Models with processor N100/N200 only.
Unless otherwise stated, all performance claims are based on theoretical performance. Actual figures may vary in real-world situations.
ASUS BR1402 keyboard is spill-resistant, not waterproof. Water damage is possible if the product is submerged or exposed to large amounts of waters for long periods of time. ASUS standard limited warranty does not cover problems resulting from accidents such as water damage. To prevent water damage resulting from large spills or other accidents, ASUS recommends turning off the notebook, then tilting the laptop to drain away the excess water, wipe off and let it dry for at least 24 hours.
Compare (0)