About ASUS Corporate Stable Model
ASUS Corporate Stable Model (CSM) is a commercial program designed to provide stable, reliable motherboards and mini PCs for businesses of all sizes. ASUS CSM offers up to 36-month product lifecycle support and a six-month end-of-life notice to allow sufficient lead times for your organization to get ready for product transitions. Additionally, each purchase of an ASUS CSM product comes with ASUS Control Center Express , server-grade IT management software — a $60 value.

For more information, please visit at ASUS Corporate Stable Model
About ASUS Control Center Express
Optimize IT endpoint management
ASUS Control Center Express (ACC Express) is a centralized platform designed to assist IT staff in monitoring and controlling devices within their corporate networks, and facilitate inventory checking in multiple locations remotely to help safeguard against potential issues. Its detailed dashboard provides real-time data to identify system failures and efficiently improve productivity, as well as perform timely asset management checking.
Automate IT maintenance
ASUS Control Center Express (ACC Express) allows IT staff to schedule automatic updates of the latest BIOS, software and utilities to specific or all devices at off-peak times, enhancing system stability and IT operational flexibility. ACC Express is designed to enhance power management by setting up power caps to optimize energy usage and reduce outage risks. ACC Express also automatically notifies IT staff in the event of unusual conditions or changes to any device, allowing for faster resolution of potential issues.
Securely manage all of your endpoints
Security is exceptionally vital in any business environment. ASUS Control Center Express (ACC Express) helps IT staff securely manage endpoint configuration, portable storage access and PC software applications by enabling them to create grouping rules on individual devices. ACC Express prevents unauthorized system access by providing remote disablement of the Registry Editor, blocking USB storage for all nodes at once and monitoring client device status, and providing automatic reboots via watchdog programs.
For more information, please visit at ASUS Control Center Express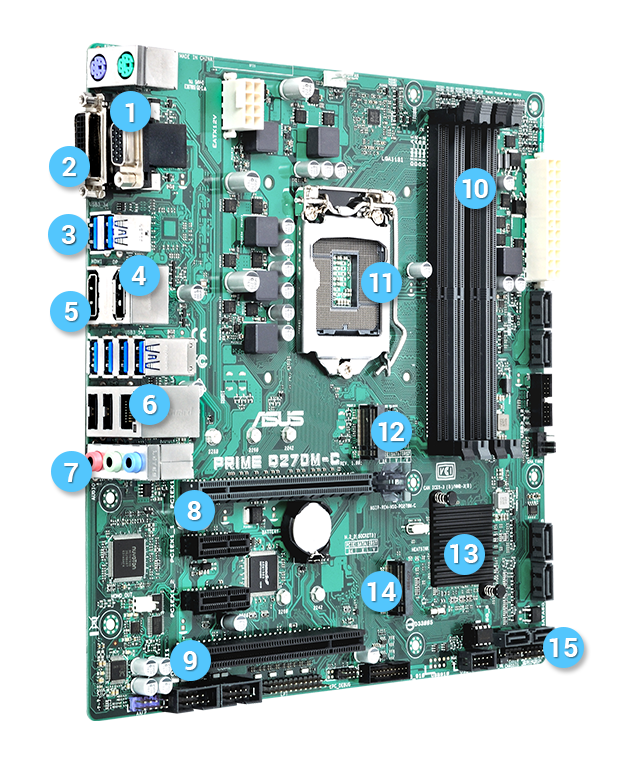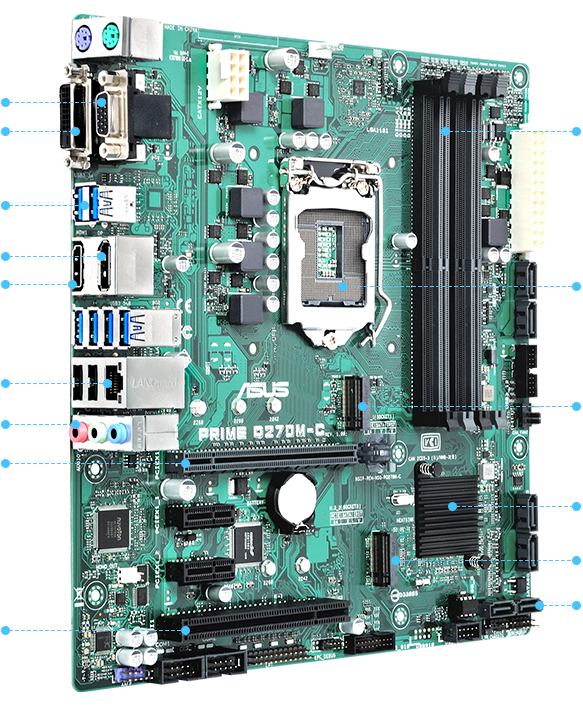 11 Support 14nm CPU Intel® LGA 1151 Socket
13 Intel® Q270 Chipset

ASUS is the world's biggest and best-known motherboard brand, renowned for our user-focused Design Thinking. We understand the business importance of stability, easy manageability and security. That's why ASUS commercial series boards include, 24/7 stability, smart BIOS tools and guaranteed long-term availability, and our world-class after-sales service effectively reduces many hidden costs of ownership — maximizing your investment over the product lifecycle.
Dependable Reliability

5X Protection III
Anti-Moisture
24/7 Dependability

Maintain the best performance and prolong system lifespan.

Efficient Management

Commercial BIOS Kit
ASUS Remote Management Tool

Customize, monitor and update your systems with automated ease.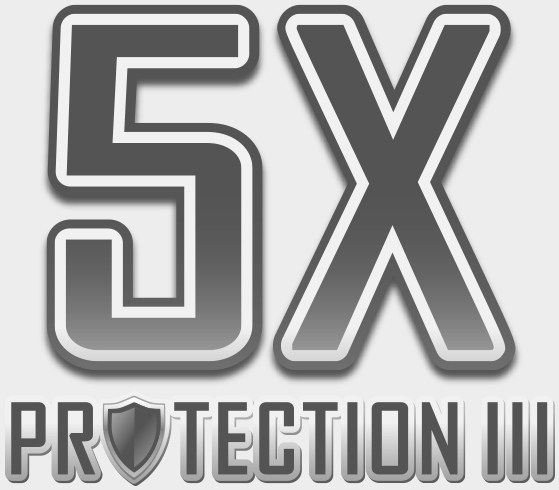 SafeSlot Core

Surge-Protected Networking

Overvoltage Protection

Stable Power Supply

Stainless-Steel Back I/O
Prime 200 motherboards are engineered with industry-leading 5X Protection III, employing the finest components, excellent circuit design, and exacting standards to guarantee the quality and long-term durability of your motherboard. That means exceptional protection and stability for your build — thanks to decades of engineering experience from the world's leading motherboard brand.
Fortified PCIe slot prevents damage
SafeSlot Core is the ASUS-exclusive PCIe slot. Featuring a fortified design that's anchored to the motherboard by a special hook, Safeslot Core provides 1.6x stronger retention and 1.3x greater shearing resistance than standard expansion slots.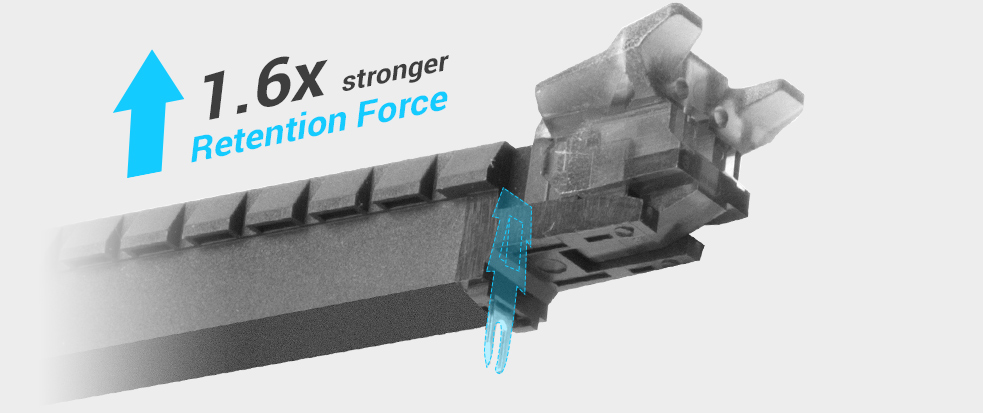 ASUS Prime motherboards have strengthened solder points around both the PCIe and DIMM pins.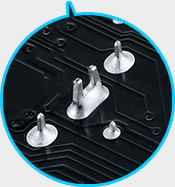 ASUS Prime motherboards have strengthened solder points around both the PCIe and DIMM pins.


Pumped-up throughput. 2.5X higher surge tolerance.
ASUS LANGuard is hardware-level networking protection that employs signal-coupling technology and premium anti-EMI surface-mounted capacitors ensuring a more reliable connection and better throughput, plus electrostatically guarded and surge-protected components for greater tolerance to static electricity and improved protection against surges.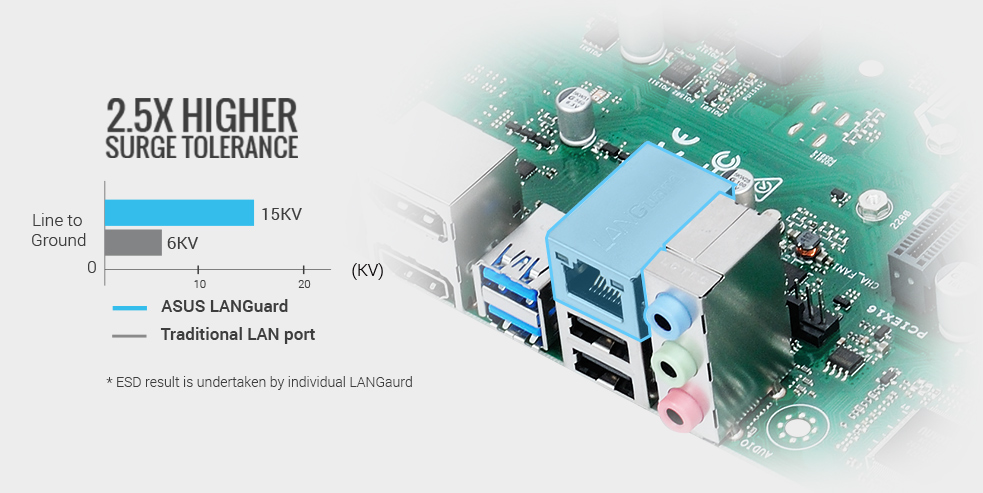 World-class circuit-protecting power design
An exclusive circuit design with built-in voltage regulators to protect your chipset, connectivity ports, and audio codecs from damage caused by unexpected high-level voltages from unstable or inferior power supplies.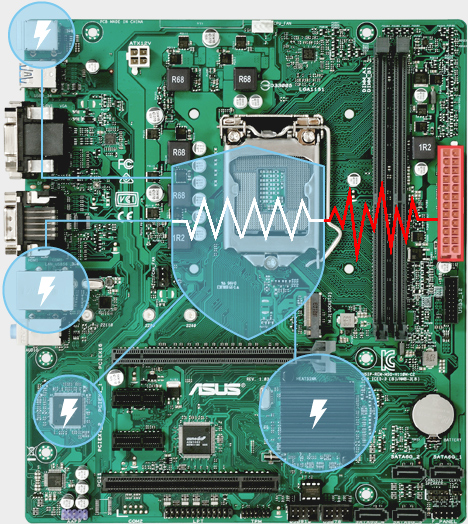 Precision control for stable power!
ASUS-exclusive DIGI+ VRM intelligently delivers power to the processor based on real-time demands, reducing energy waste and improving system stability.

3X corrosion-resistance for greater durability
Corrosion-resistant stainless steel back I/O panels bonded with chromium oxide have a lifespan that's three times longer than ordinary panels.
Electrostatic discharge protection
ASUS ESD Guards prevent damage from electrostatic discharge, up to +/- 10kV for air discharge and +/-15kV for contact discharge, arranged in an active-protective-circuit design that prolongs the life of components.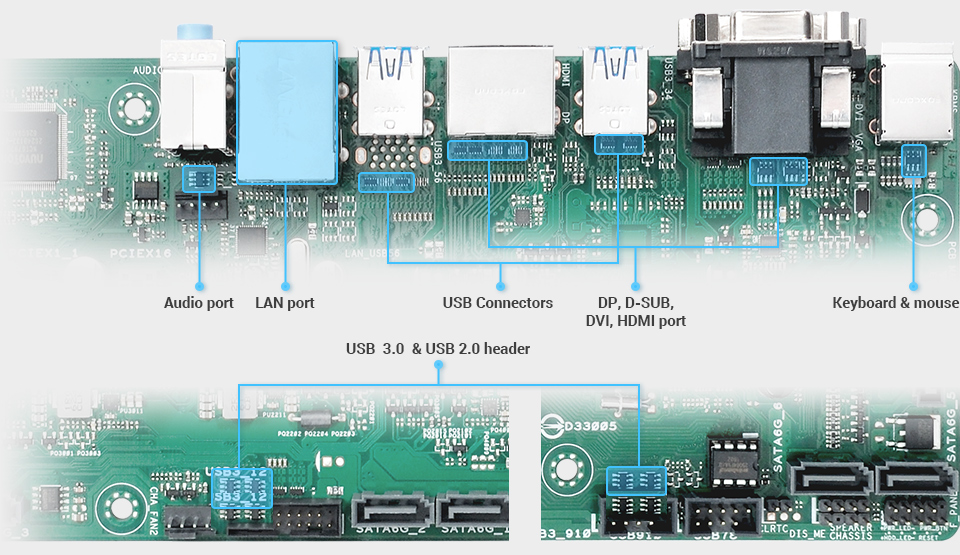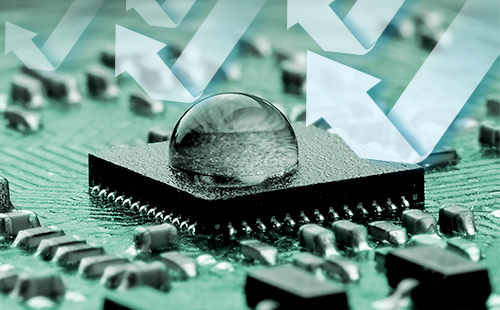 Against moisture and corrosion
Against moisture and corrosion
This innovative moisture-resistant coating provides motherboard protection, and combats the higher levels of humidity that build up in densely-populated environments, such as factories, libraries, data centers and internet cafes. It even minimizes internal corrosion by preventing the adhesion and migration of moisture — prolonging the life of your motherboard.


Optimized for twenty-four seven operations, the motherboard is tested under temperature up to 45°C and humidity up to 80% to ensure it can handle diverse temperature and humidity range of different location.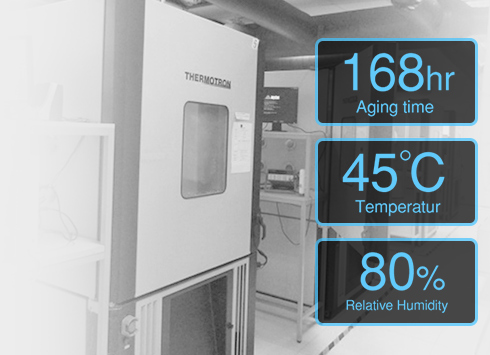 ASUS Remote Management Tool
The ASUS Remote Management Tool provides routine office PC maintenance, including easy BIOS updates and automatic simultaneous syncing across multiple devices.
Quick BIOS update

Real-time BIOS updates through USB or the hard drive

Easy BIOS setting

Easily customize CPU, fan, or system settings

System monitoring

Instantly monitor system's temperature, power, or fan status

Remote power management

Control wake up/ shut down/ reset/ hibernate modes

Customize DMI value

Retrieve DMI information, and edit DMI string in real time
ASUS understands how important a customized product impacts users' mind share, experience the brand new Commercial BIOS Kit for partial BIOS update solution!
‧BIOS Value Edit Tool - Customize the BIOS options.
‧BIOS Boot Logo Tool - Brand your builds with a customized boot logo.
‧OEM Activation (OA) Tools - Add or remove the OEM Activation key.
‧Desktop Management Interface (DMI) - Easily add customer information, such as company name, to the BIOS.
‧Intel® Management Engine (Intel® ME) Driver - Update the Management Engine without flashing the whole BIOS.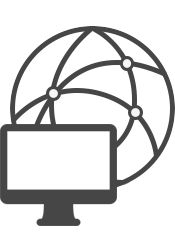 *Please refer to the BIOS tools on support site, thank you.
Box Headers
All USB 3.0 and 2.0 headers are box style, enabling fast connector installation and preventing pin damage.
Fixed-position Connectors
Connector positions on ASUS Commercial motherboards remain consistent across product generations, protecting training, manufacturing and investments in supporting hardware.
Color-coded Connectors
Color-coded connectors enable easy identification and cable-matching, speeding up the production line. investments in supporting hardware.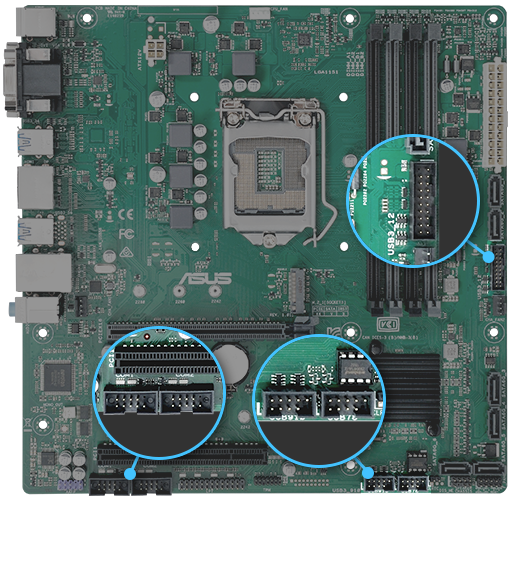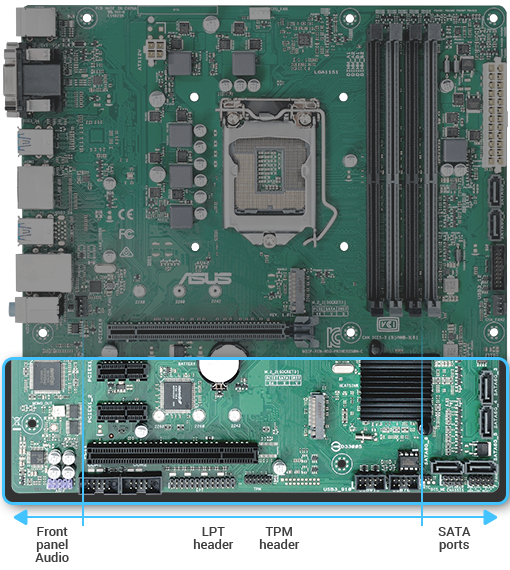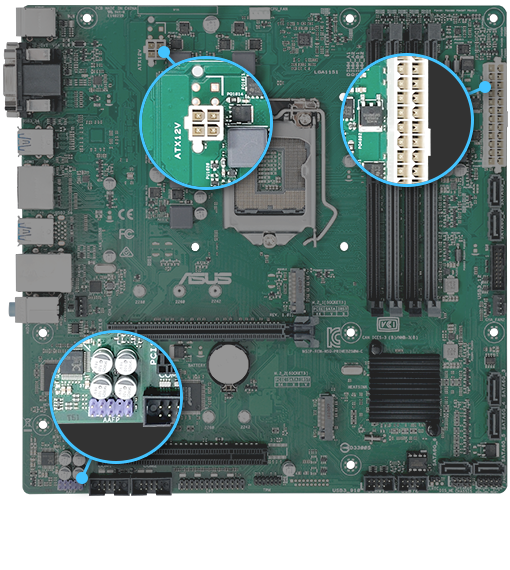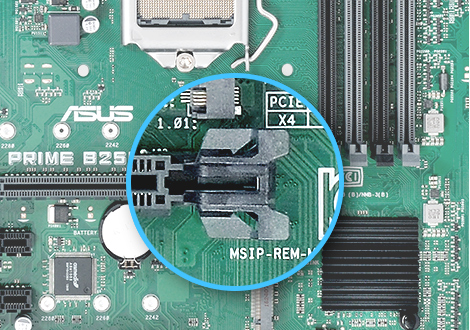 Effortless PCI Express component removal
The large winged clip is easy to reach and easy to operate. Just press the Q-Slot clip lightly, and graphics card just pop out. Installing or removing even the biggest graphics cards is no sweat!
Even if you work with a smaller case, just push down on the one-sided clip and push or pull RAM modules in or out – removing memory is that simple!
Intel CPU and chipset features

The Intel® Q270 is a single-chipset design that supports 7th & 6th-generation Intel LGA1151 Core™ i7 / Core i5 / Core i3 / Pentium® / Celeron® processors. It provides improved performance by utilizing serial point-to-point links, allowing increased bandwidth and stability. It natively supports up to six USB 3.0 ports, six SATA 6Gbit/s ports, and PCIe 3.0 lane speed support for faster data retrieval. Intel® Q270 chipset also supports iGPU functionality, so you'll enjoy the very latest Intel integrated graphics performance.



Ready for 7th Generation and 6th Generation Intel LGA1151 Core i7/Core i5/Core i3/Pentium/Celeron processors
The ASUS Q270M-C/CSM motherboard supports 7th Generation and 6th Generation Intel Core™ i7/Core i5/Core i3/Pentium®/Celeron® processors in the LGA1151 package. Integrated graphics, memory and PCI Express controllers support onboard graphics output with dedicated chipsets, two-channel (4-DIMM) DDR4 memory and 16 PCI Express 3.0/2.0 lanes for great performance.


* Specifications and features vary by model, and all images are illustrative. Please refer specification pages for full details.