Xonar AE is a PCIe gaming sound card built with high-quality components to satisfy gamers who demand exceptional sound for the best gaming and multimedia experiences. Xonar AE delivers 7.1-channel, 192kHz/24-bit Hi-Res audio output with a high 110dB signal-to-noise ratio (SNR), and comes with a built-in 150ohm headphone amplifier that provides rich, detailed sound and defined bass. An exclusive EMI back plate shields static noise for incredibly clear audio.
Immersive audio optimized for gaming
Enjoy 192kHz/24-bit Hi-Res audio in cinematic, 7.1-channel surround
With up to 7.1-channel output and support for 192kHz/24-bit Hi-Res audio, Xonar AE lets you enjoy truly cinematic sound while gaming, watching movies, and listening to music.
Swappable operational amplifiers — Level-up your audio experience
Xonar AE features a swappable operational amplifier (op-amp), allowing you to customize your listening experience easily — no soldering required!
110dB signal-to-noise ratio (SNR)
A hi-fi-grade ESS 9023P DAC delivers an exceptional, jitter-free audio signal with a 110dB signal-to-noise ratio (SNR) for 12-times greater clarity than average onboard audio chips.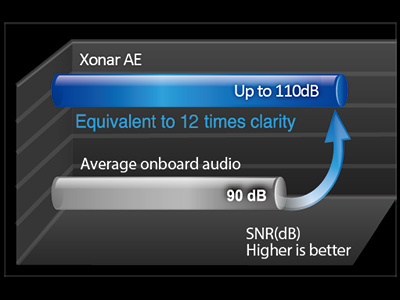 Integrated headphone amplifier reveals every sound detail
Since many gamers choose to play wearing headphones, Xonar AE features a high-quality, 150ohm headphone amplifier that delivers detailed, immersive sound with punchy, defined bass.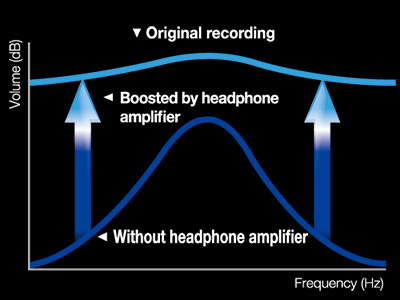 ASUS-exclusive sound-insulation technology
Hyper Grounding technology
Exclusive ASUS Hyper Grounding PCB fabrication ensures strong signal insulation to reduce distortion and interference, also known as component crosstalk.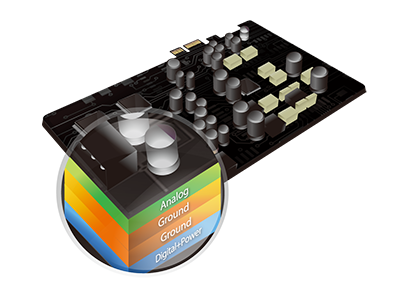 Exclusive EMI back plate
Xonar AE is built with an ASUS-exclusive EMI back plate that blocks static noise to provide you with the purest audio experiences.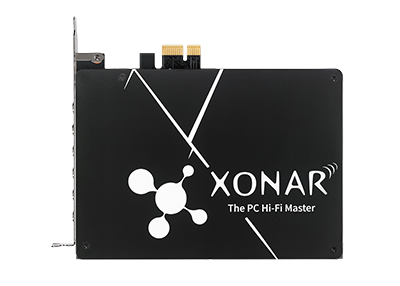 Total Audio Control
Take complete control with Sonic Studio
Xonar AE features the latest Sonic Studio software suite for full control over every sound technology, from equalization (EQ) to 7.1-speaker level-balancing. Sonic Studio has a single navigation page that puts everything in front of you, with an intuitive point-and-click interface that allows you to pre-set audio profiles to suit different audio requirements.
Perfect Voice Technology
Sonic Studio includes controls for Perfect Voice, noise-cancellation technology that eliminates noises for clear in-game communications.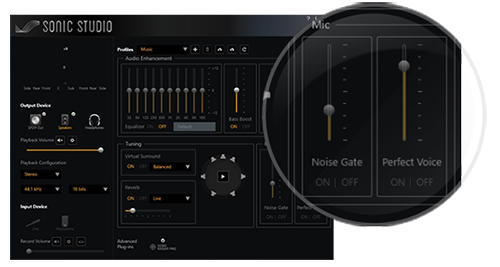 Works perfectly with Windows 10
Xonar AE is fully compatible with Windows 10 and features Windows Hardware Quality Labs (WHQL) support, ensuring a great audio experience with minimal setup hassles.