AX5700 Dual Band WiFi 6 Gaming Router, PS5 compatible, Mobile Game Mode, Enhanced Network Security with AiProtection Pro and Instant Guard Sharable Secure VPN, Upgraded Parental Controls, 2.5G Port, Gaming Port, Adaptive QoS, Port Forwarding
High-Efficiency WiFi 6 – Ultrafast WiFi 6 dual-band router boosts speed up to 5700 Mbps, with 160 MHz channels for better efficiency and throughput
Mobile Game Mode – Minimize lag and latency for mobile gaming with just a tap on the ASUS Router app
Expanded coverage – The exclusive ASUS RangeBoost Plus improves signal range and overall coverage
A Safer Browsing Experience – Block undesirable content with ASUS Safe Browsing, and protect your kids online by filtering explicit content from search results.
Enhanced Security Anywhere – Protect your home network with a free lifetime subscription to AiProtection Pro, powered by Trend Micro™. And when away from home, ASUS Instant Guard gives you a one-click sharable secure VPN.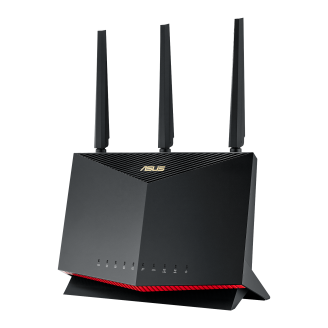 VPN Fusion
VPN Fusion lets you run both a VPN and an ordinary internet connection simultaneously. Specific devices on the network can use the VPN without interfering with the browsing experience of other users.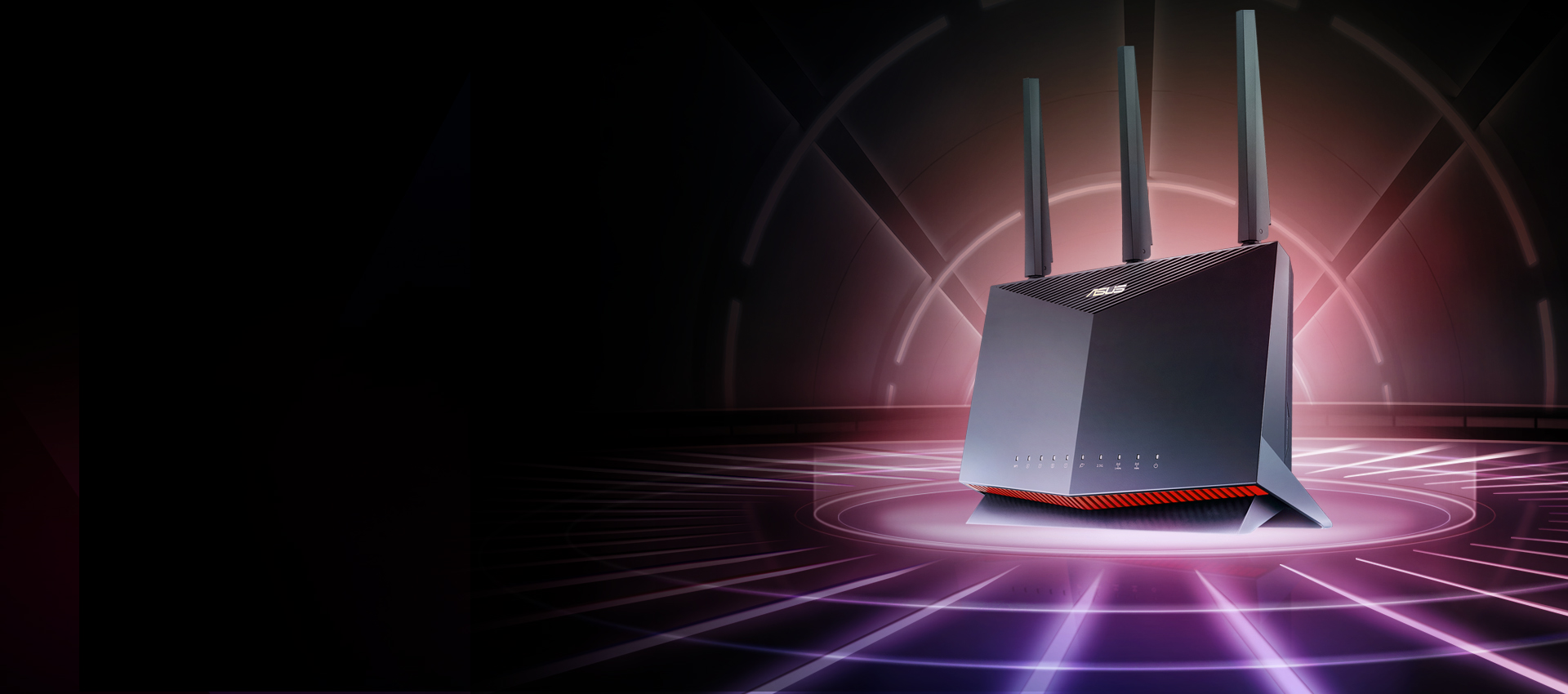 Your Winning Choice
for Mobile Gaming!
Enjoy the fastest, smoothest WiFi gaming connections ever with the ASUS RT-AX86U Pro dual-band WiFi 6 router. It delivers ultrafast WiFi speeds up to 5700 Mbps**, and is packed with advanced technology, including Mobile Game Mode for a lag-free, low-latency mobile gaming experience.
Ultrapowerful WiFi 6
Lower latency Faster speeds
Energy efficient Longer range
RT-AX86U Pro brings you all the benefits of WiFi 6 (802.11ax), and works perfectly with all your existing WiFi devices! ***
What's WiFi 6 ?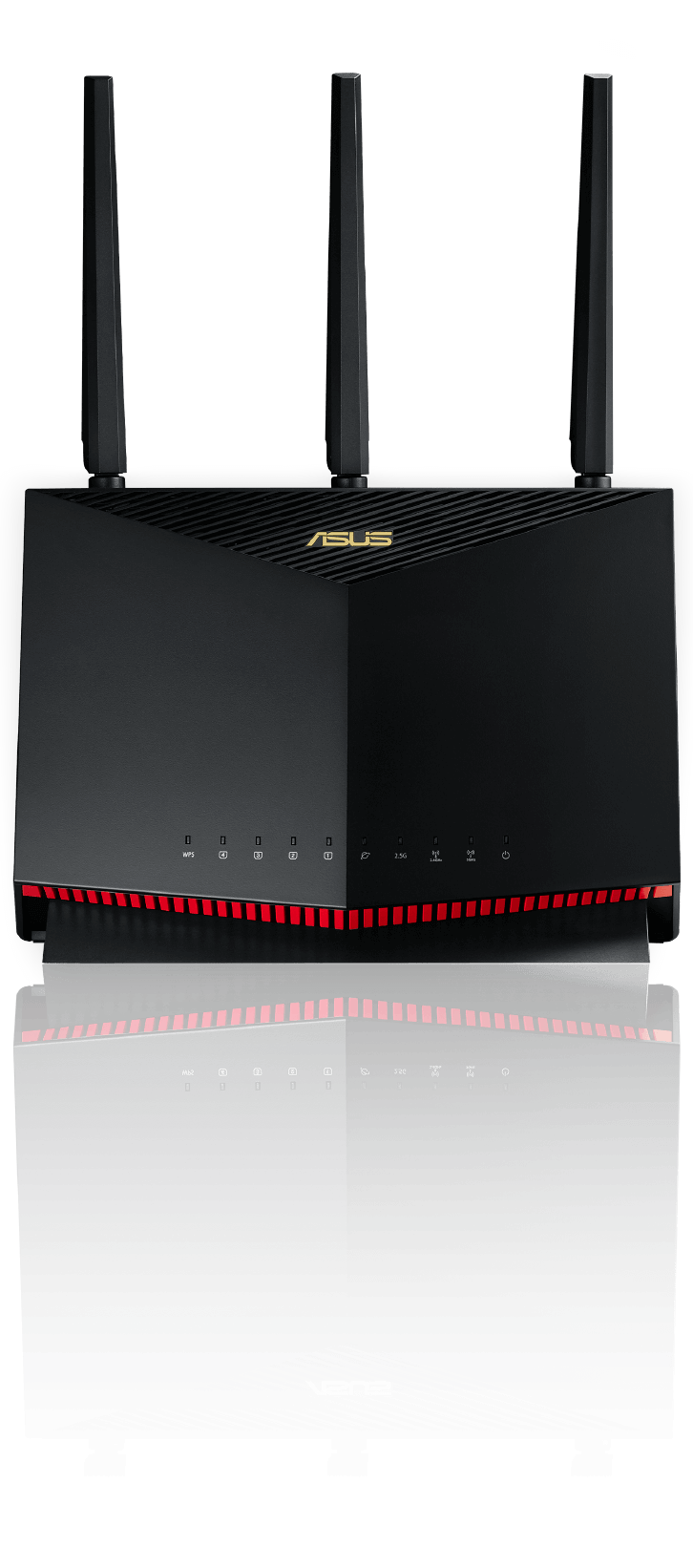 *













*
Boost Your Mobile Gaming
Minimize lag and latency for mobile gaming with just a tap on the ASUS Router app.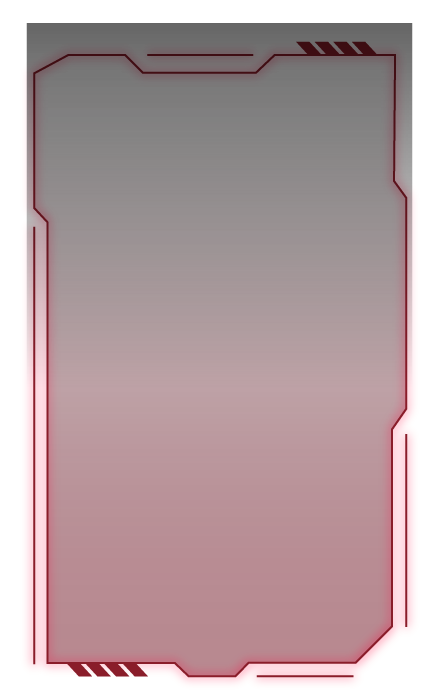 *
Gaming Without Limits
Prioritize via Gaming Port
Prioritize via Gear Accelerator
Eliminate WiFi Congestion
Prioritize via Gaming Port
Prioritize via Gear Accelerator
Eliminate WiFi Congestion
*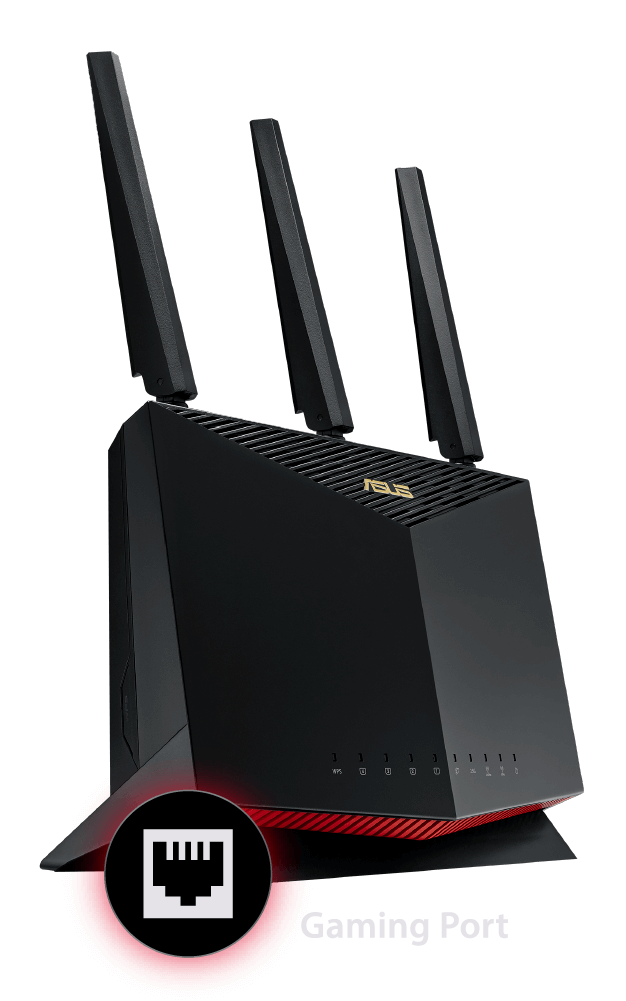 The dedicated gaming port on RT-AX86U Pro automatically prioritizes any wired device connected to it. No complex configuration is needed, just connect your gaming PC or console to the special LAN port to give you a fast, stable connection that's always at the head of the queue.


Gear Accelerator lets you prioritize devices wirelessly via RT-AX86U Pro online control panel. The simple interface lets you prioritize devices to help boost their speed and prevent them fighting over bandwidth with other devices.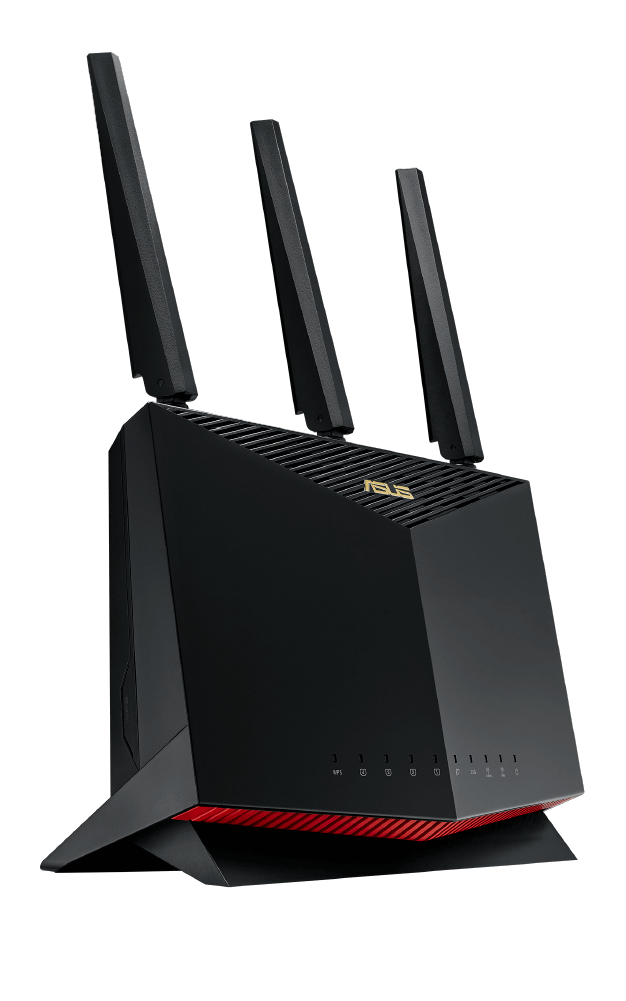 Connect your devices to the 5 GHz band and avoid the often-congested 2.4 GHz band, while enjoying up to 5.6X faster WiFi speeds. Also, optional Dynamic Frequency Selection (DFS) unlocks up to 15 of the least-congested channels on the 5GHz band to give you even more bandwidth for gaming.****
Beyond Performance
RT-AX86U Pro is powered by a 2.0 GHz quad-core 64-bit CPU, giving it the performance to handle even the most demanding gaming network. It delivers maximum network throughput by 18%* for lightning-fast, accelerating data transfers and optimizing your gaming experience.
*Disclaimer: Compared with former WiFi 6 platform

Lightning-Fast
2 Gbps Internet
RT-AX86U Pro is designed to break down all the barriers that can slow down your gaming. It supports up to a 2 Gbps internet connection, so you can unlock the full potential of high-speed networking for both wired and WiFi connections.
How is internet speed unlocked?


Internet Without Limits
RT-AX86U Pro can unlock up to 2 Gbps of internet bandwidth by aggregating two separate 1 Gbps internet services using the WAN port and a 1 Gbps LAN port, doubling the maximum internet connection speed to 2 Gbps! This massive internet bandwidth can then be shared via WiFi 6 or via the 2.5 Gbps wired network port*. For extra versatility, the 2.5 Gbps port* can be used for either WAN or LAN connections.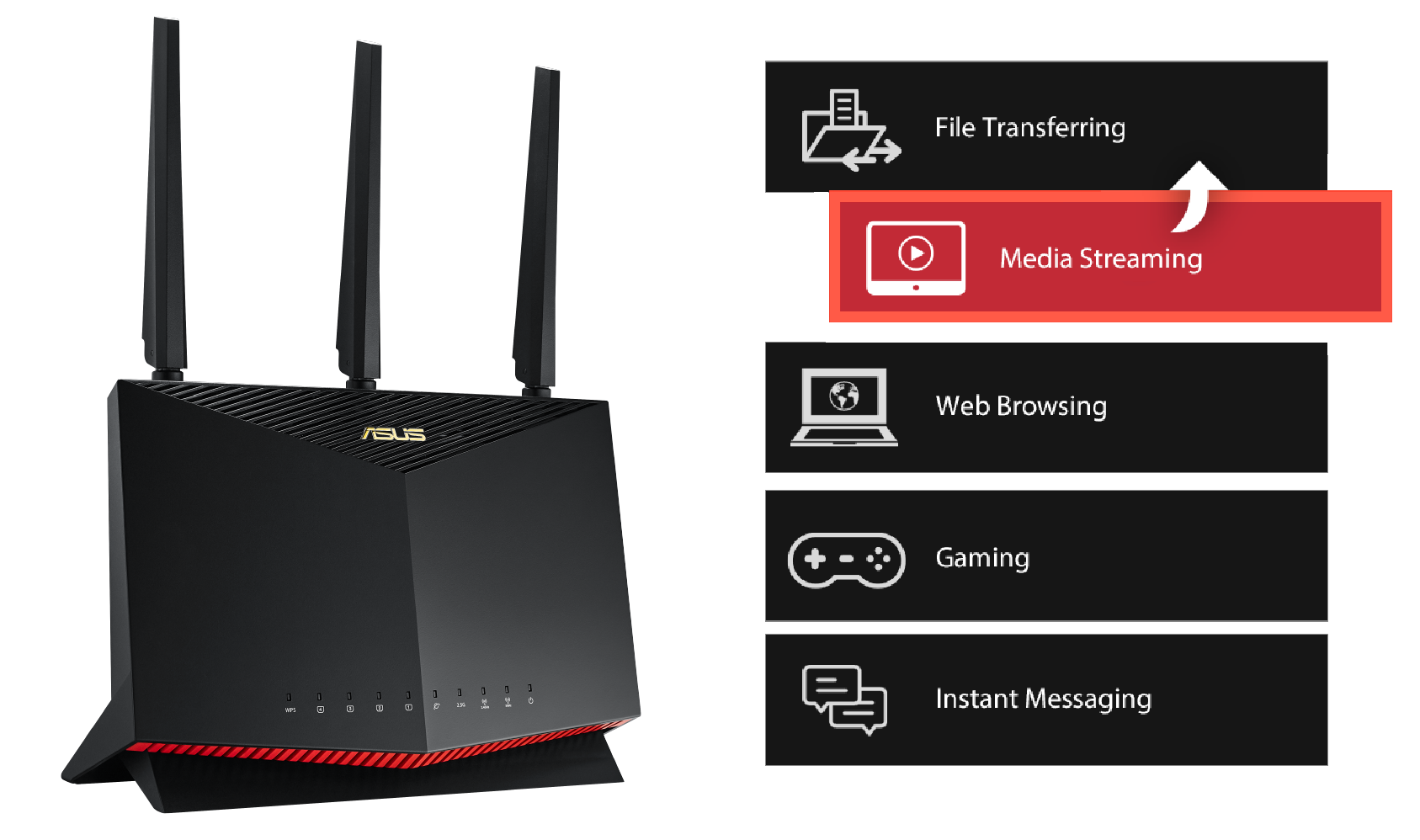 Remove Network Bottlenecks
Adaptive QoS (Quality of Service) lets you keep your network running smoothly by prioritizing network traffic. You can prioritize applications such as streaming video or web surfing, as well as gaming. It's the perfect ally for delivering low-latency WiFi anywhere in your home.

Whole-Home Gaming
Does your router leave you with WiFi dead spots? RT-AX86U Pro supports ASUS AiMesh, a unique mesh-networking technology that creates a whole-home network using multiple ASUS routers. With easy central control and seamless roaming, even non-experts can set it up with any AiMesh-capable routers you own. Say goodbye to WiFi dead zones!
A Safer Browsing Experience
The internet can contain inappropriate content, intrusive ads or other dangers and safety risks. ASUS Safe Browsing helps block undesirable content in one tap -- no extra apps required. Its lightweight DNS-based filtering* won't affect router performance. It can even filter explicit content from search engine results to protect your kids online.
*By using Safe Browsing, you acknowledge and agree that the standard for blocked and filtered content is established by a third-party DNS provider.
Malicious Websites

Inappropriate Content

Advertisement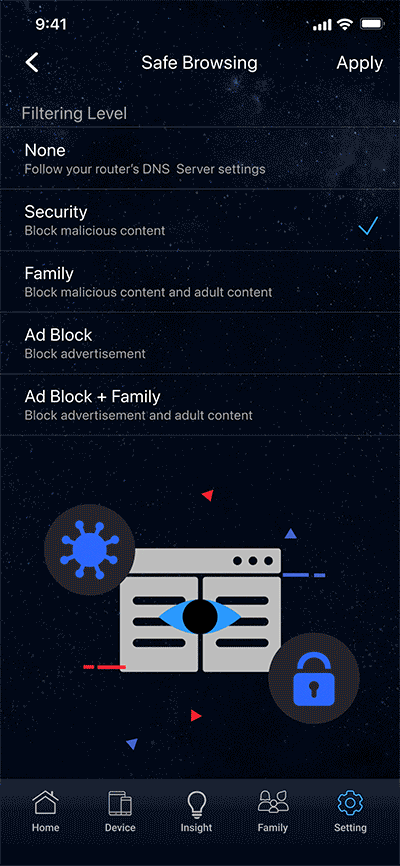 Enhanced Security Anywhere
Complete Security for Your Home Network
Alongside the latest WPA3 security protocol, the ASUS RT-AX86U Pro also features AiProtection Pro powered by Trend Micro™, with automatic, regularly updated security signatures to protect your devices and personal data from internet threats.
AiProtection Pro

WPA3
Security Protocol
Learn more about ASUS network security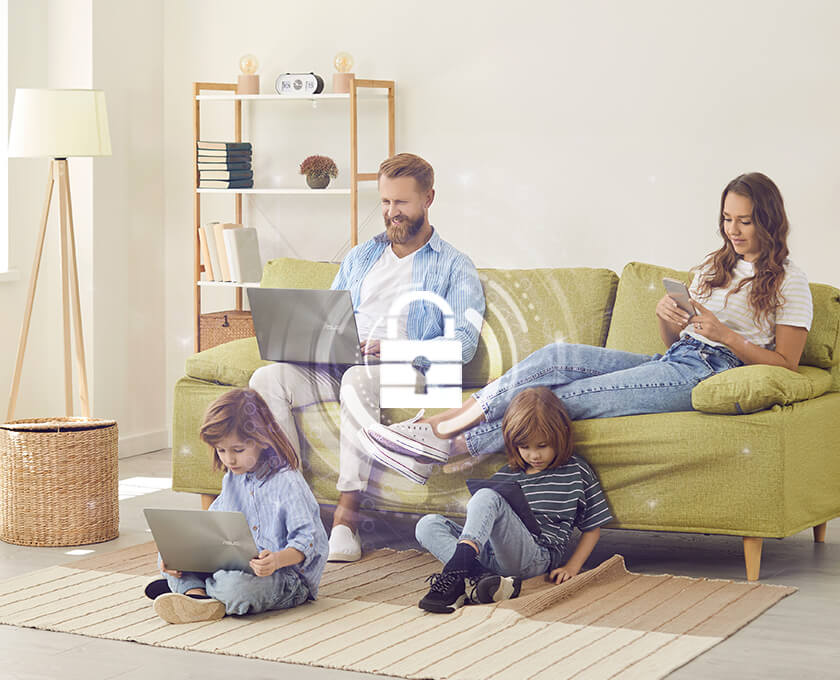 Parental Controls at Your Finger Tips
Gain insight into your kids' online activity and customize settings for different age groups with RT-AX86U Pro's robust parental controls. You can also flexibly schedule internet access with one click, or you can grant extra online time for your kids to reward their good behavior.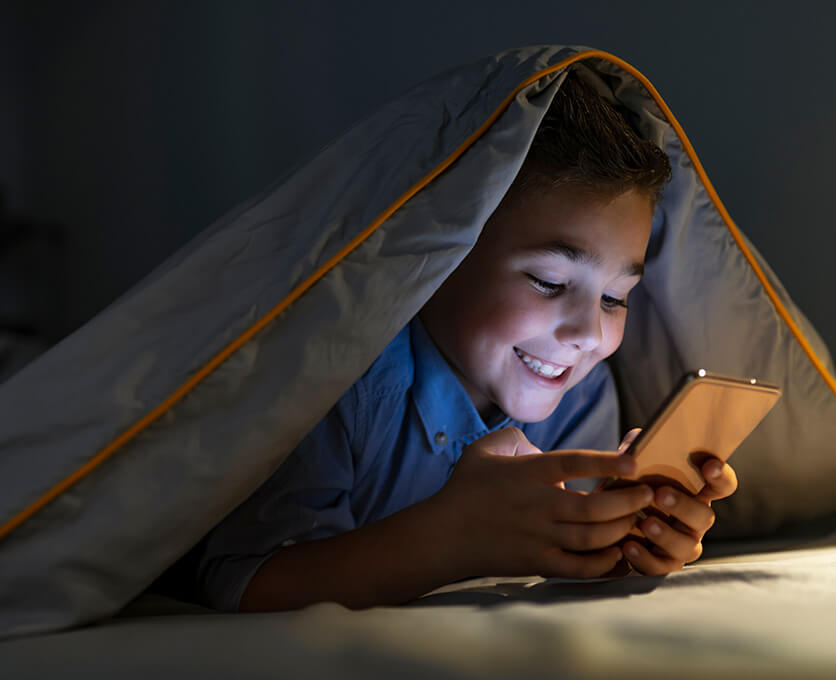 Make Free WiFi Secure with Instant Guard
When you are away from home, the ASUS Instant Guard mobile app gives you one-tap secure internet access via your RT-AX86U Pro router*, thanks to its encrypted VPN tunneling technology. Our newly upgraded app even lets you easily share this worry-free network connection with your family and friends through a URL link.
*The router must have a public WAN IP address.
Learn more about ASUS Instant Guard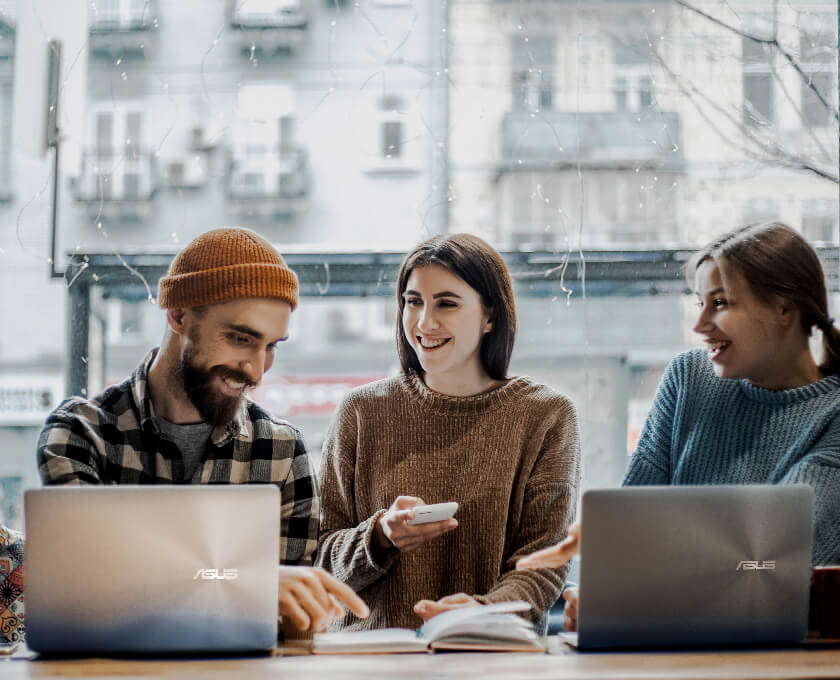 VPN Your Way
Enjoy secure and quick VPN access for streaming, gaming and other activities with the ASUS RT-AX86U Pro router. Through both the ASUS Router app and the web interface, you can easily set up and manage your VPN connections, including OpenVPN and WireGuard to meet more of your VPN scenarios.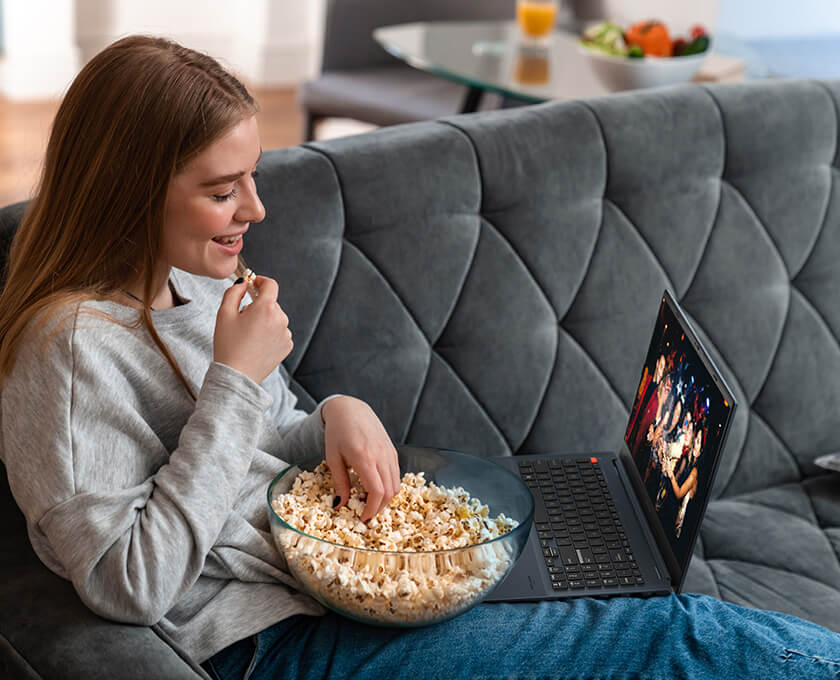 Encrypted Remote Connection
The ASUS RT-AX86U Pro router allows remote workers to securely access corporate networks without needing to install VPN software on each device. You can create different VPN connection types, including PPTP, L2TP, OpenVPN or WireGuard. With VPN Fusion, you can also assign various devices to different VPN tunnels while simultaneously keeping an ordinary internet connection for regular use.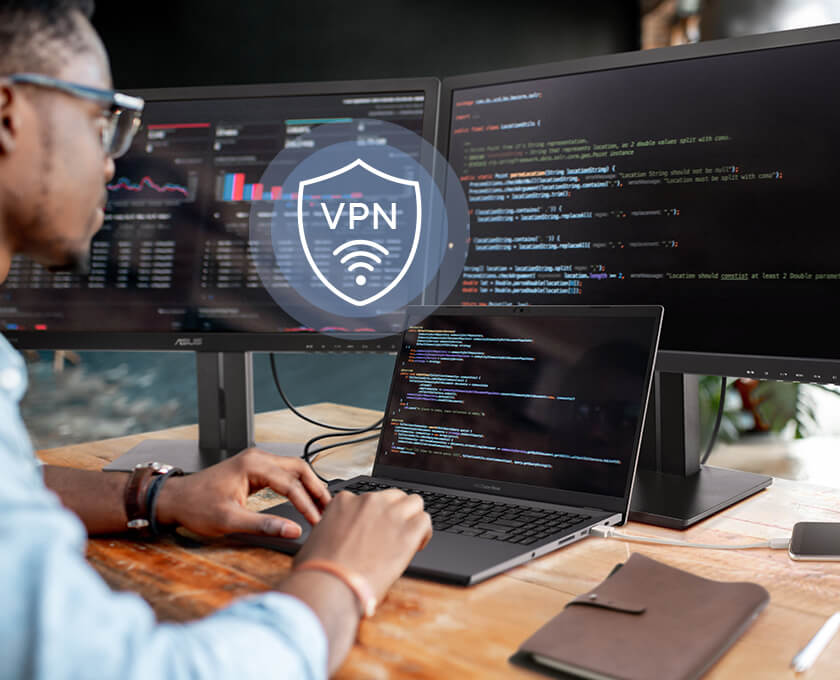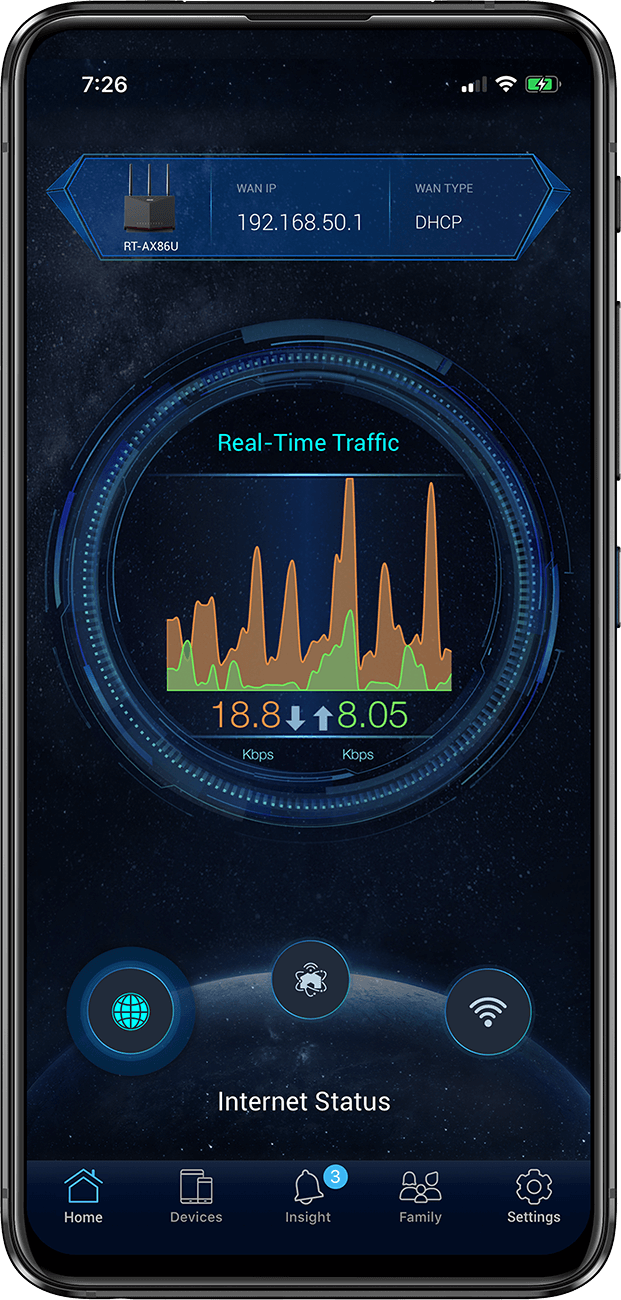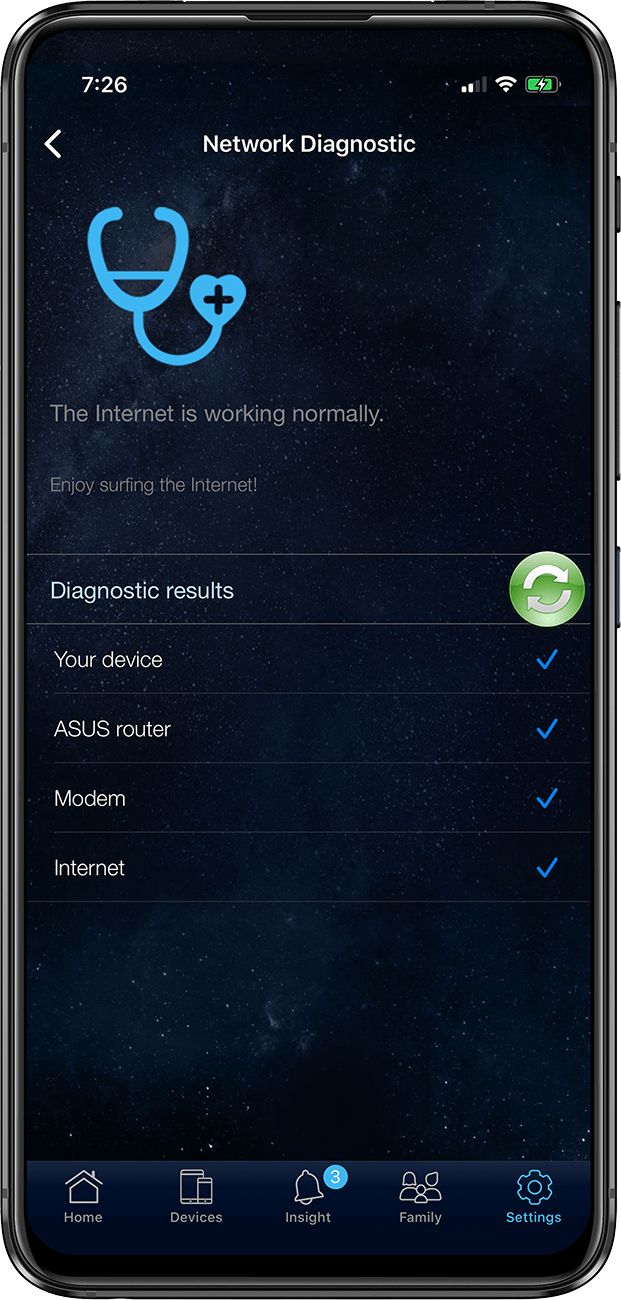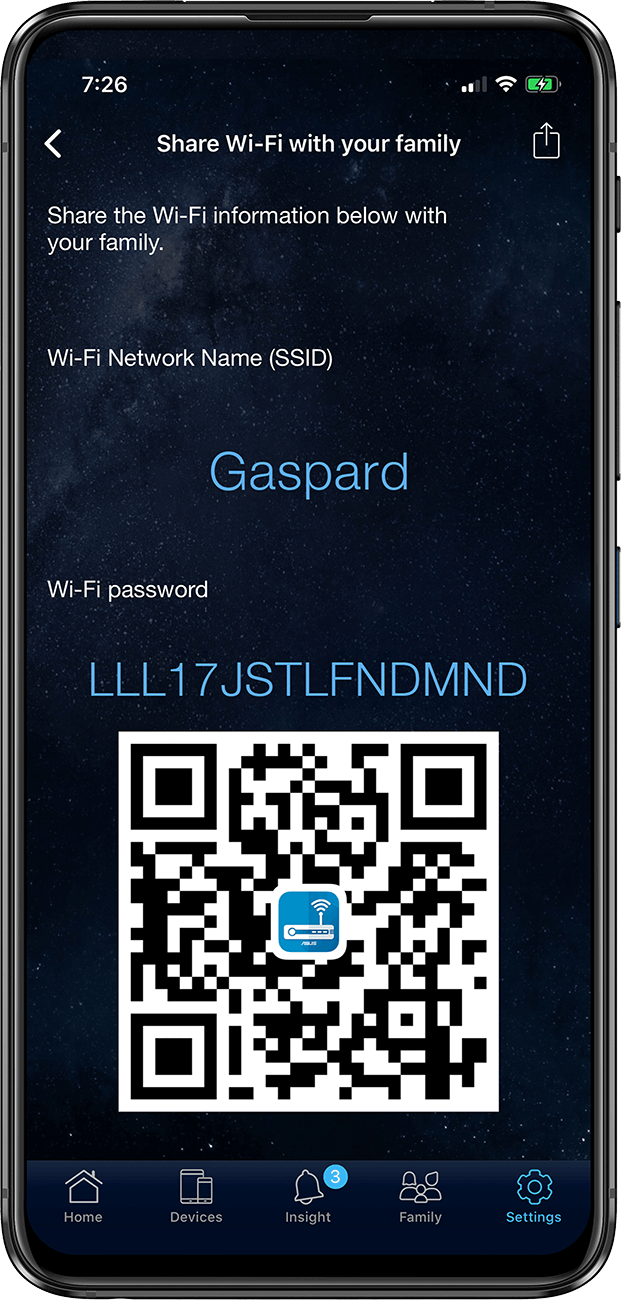 Easy Management Via Mobile App
Traffic Analyzer
Graphical monitoring of real-time traffic.
Network Diagnostics
Pinpoint your network problems with just one tap.
Guest WiFi
The easy way to share your WiFi securely without difficult passwords.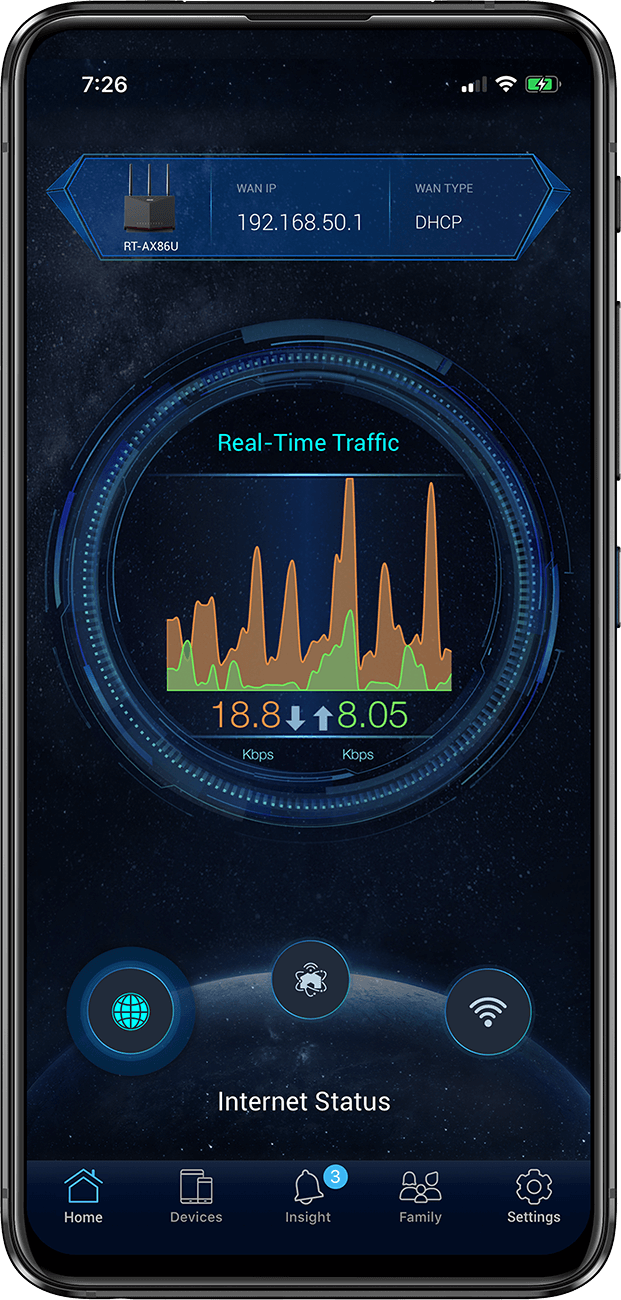 Traffic Analyzer
Graphical monitoring of real-time traffic.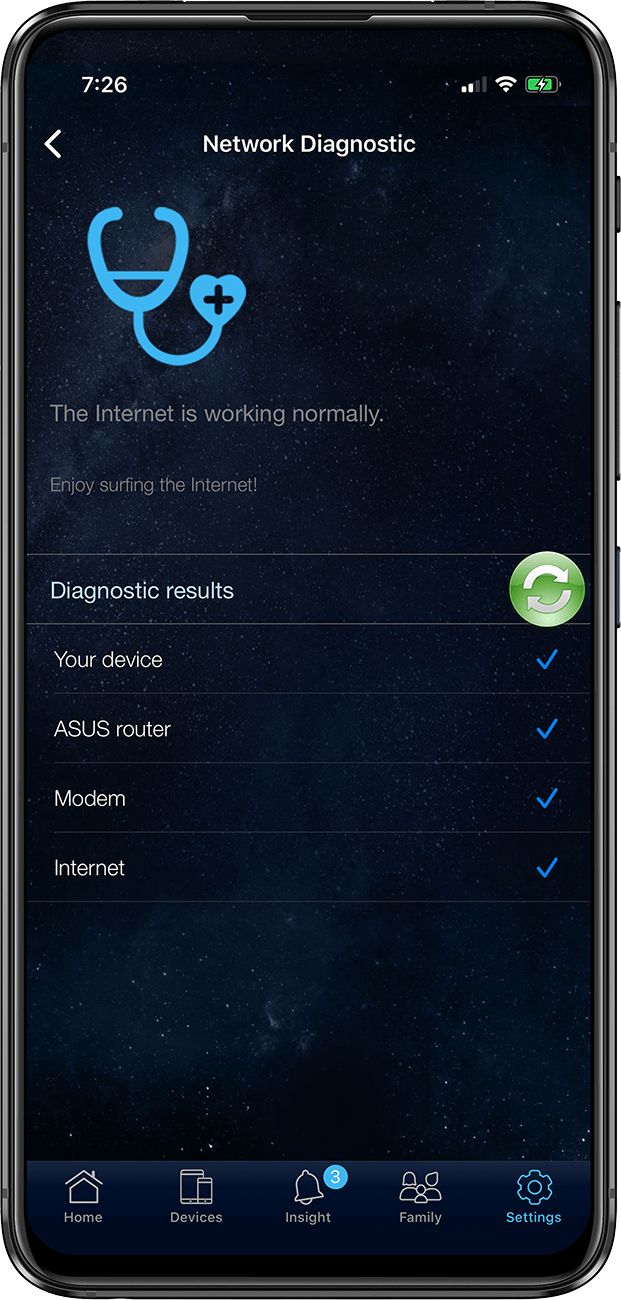 Network Diagnostics
Pinpoint your network problems with just one tap.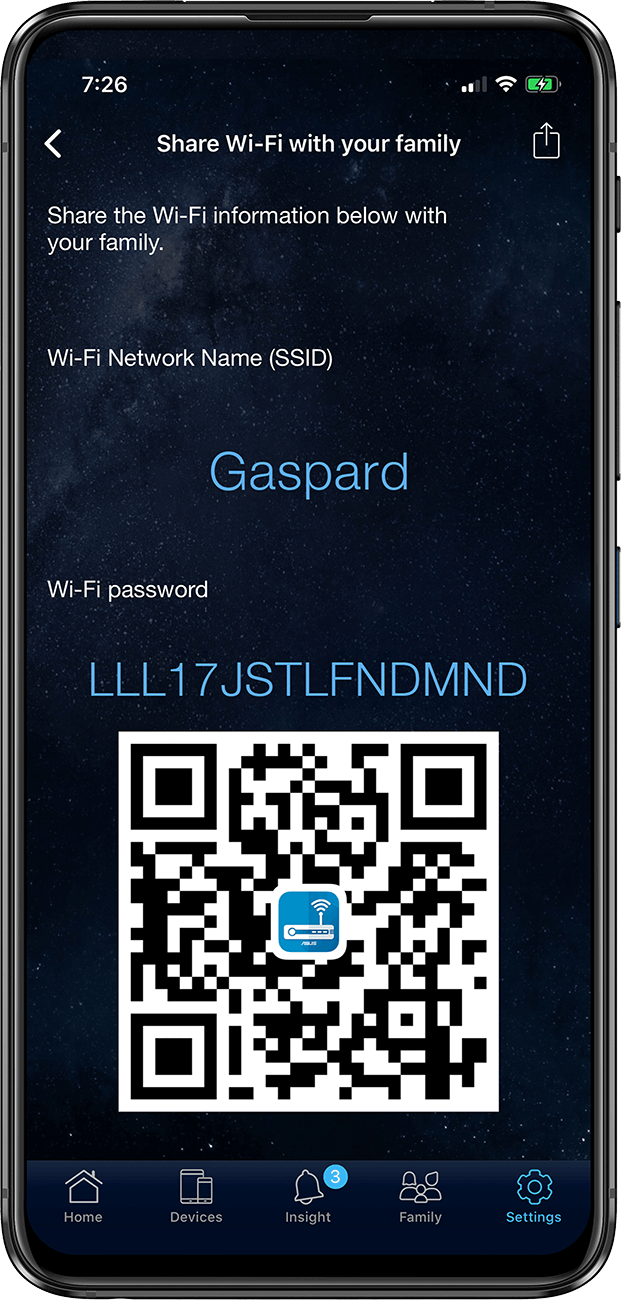 Guest WiFi
The easy way to share your WiFi securely without difficult passwords.

Disclaimer:
*This feature is only available on RT-AX86U Pro
** Actual data throughput and WiFi coverage will vary from network conditions and environmental factors, including the volume of network traffic, building material and construction, and network overhead, result in lower actual data throughput and wireless coverage.
*** To benefit from WiFi 6 features, the WiFi client needs to be WiFi 6 capable.
**** The speed is calculated based on the combination of data rate over both 2.4GHz and 5GHz band.In this case, it is 861 Mbps and 4804 Mbps respectively.Note that some DFS channels may not be available in some countries due to local regulation.