ASUS ProArt Display PA34VC Curved Professional Monitor - 34.1-inch, UWQHD, 1900R Curvature, HDR-10, 100% sRGB, Color Accuracy ΔE < 2, Hardware Calibration, Thunderbolt™ 3, 100Hz, Adaptive-Sync, Ergonomic Design​
34.1-inch UWQHD 1900R IPS display with frameless design
100% of sRGB color gamut, pre-calibrated for excellent color accuracy
Up to 100Hz refresh rate and Adaptive-Sync technology (40~100Hz) to animated content with fast action and eliminate screen tearing
HDR-10 compatible makes it possible to create more dynamic and realistic images
Thunderbolt™ 3 USB-C supports video signals, data transfers at up to 40Gbps, and Power Delivery provides up to 60W of power to external devices
ASUS ProArt™ Calibration technology features a 14-bit look-up table (LUT), uniformity compensation and the ability to save color profiles on the monitor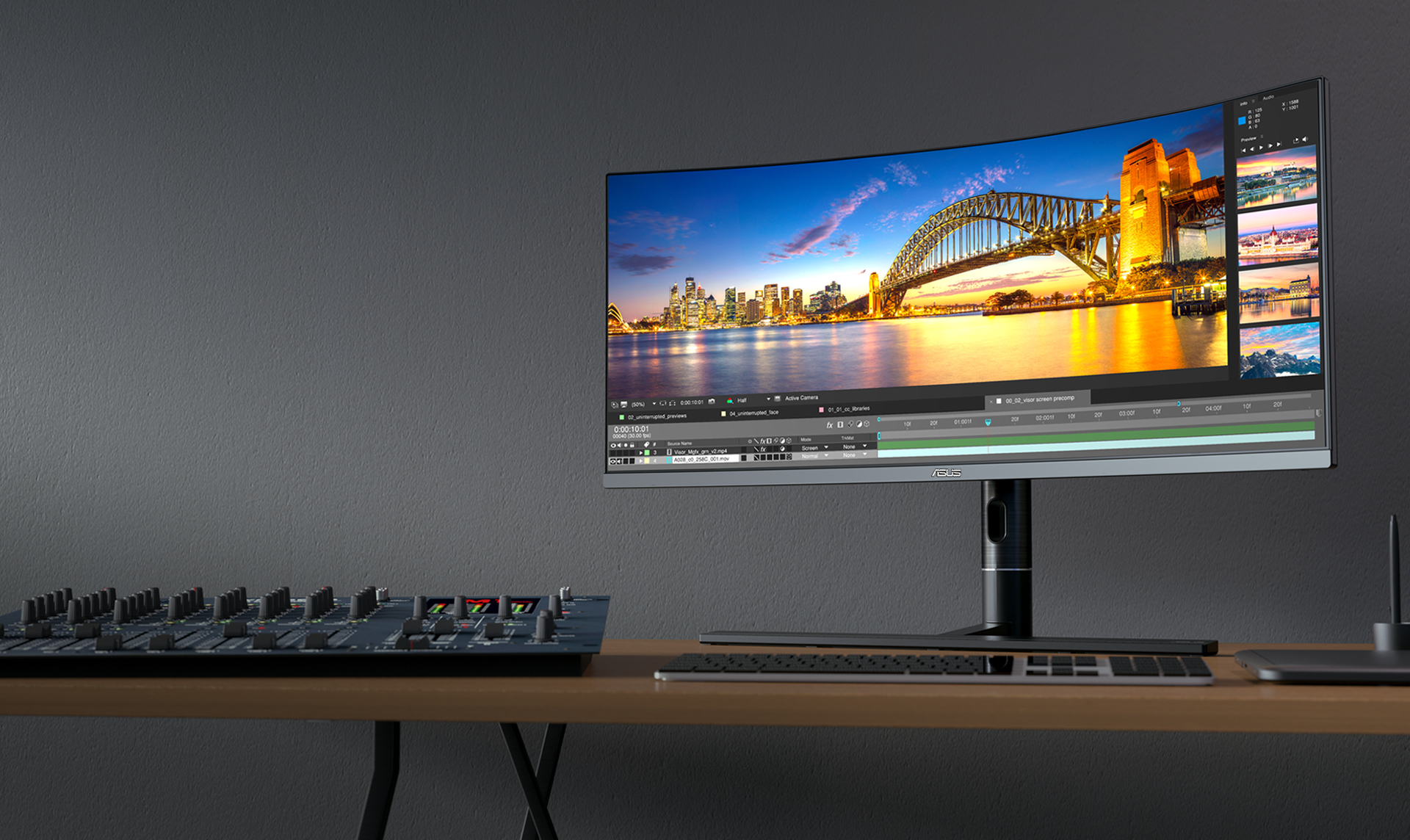 See the whole picture in vibrant detail
ProArt PA34VC is a 34.1-inch UWQHD (3440 x 1440) professional-grade monitor ideal for graphic designers and video producers, featuring a curved IPS display capable of reproducing 100% of the sRGB color gamut for more immersive visuals. Factory pre-calibration provides leading color accuracy (∆E < 2), and ASUS ProArt calibration technology ensures accurate color when working with multiple devices or operating systems.
ProArt PA34VC features versatile dual Thunderbolt™ 3 ports for video connectivity, data-transfers at speeds of up to 40 Gbps and Power Delivery for providing up to 60W of power to external devices. It also features built-in Picture-in-Picture (PiP) and Picture-by-Picture (PbP), enabling multiple content sources and color settings to be displayed simultaneously. Certified for both Windows and Mac, ProArt PA34VC is ideal for graphic designers, photographers and professional content creators.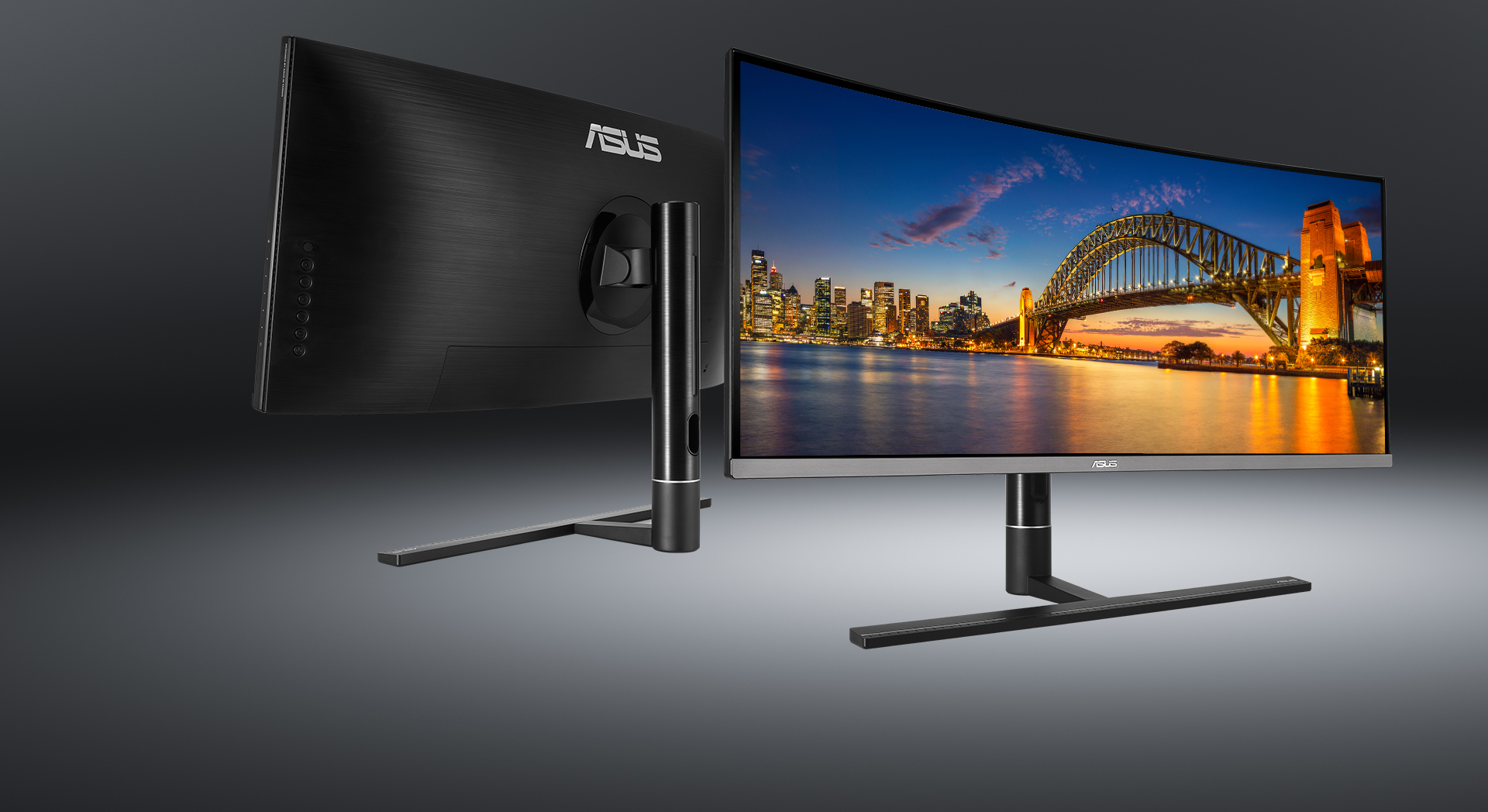 ProArt PA34VC matches its professional performance with a stylish design featuring frameless edges on three sides of the screen, clean lines and a metal base that provides a solid foundation. Recipient of the prestigious Good Design Award, ProArt PA34VC is a beautiful addition to any workspace.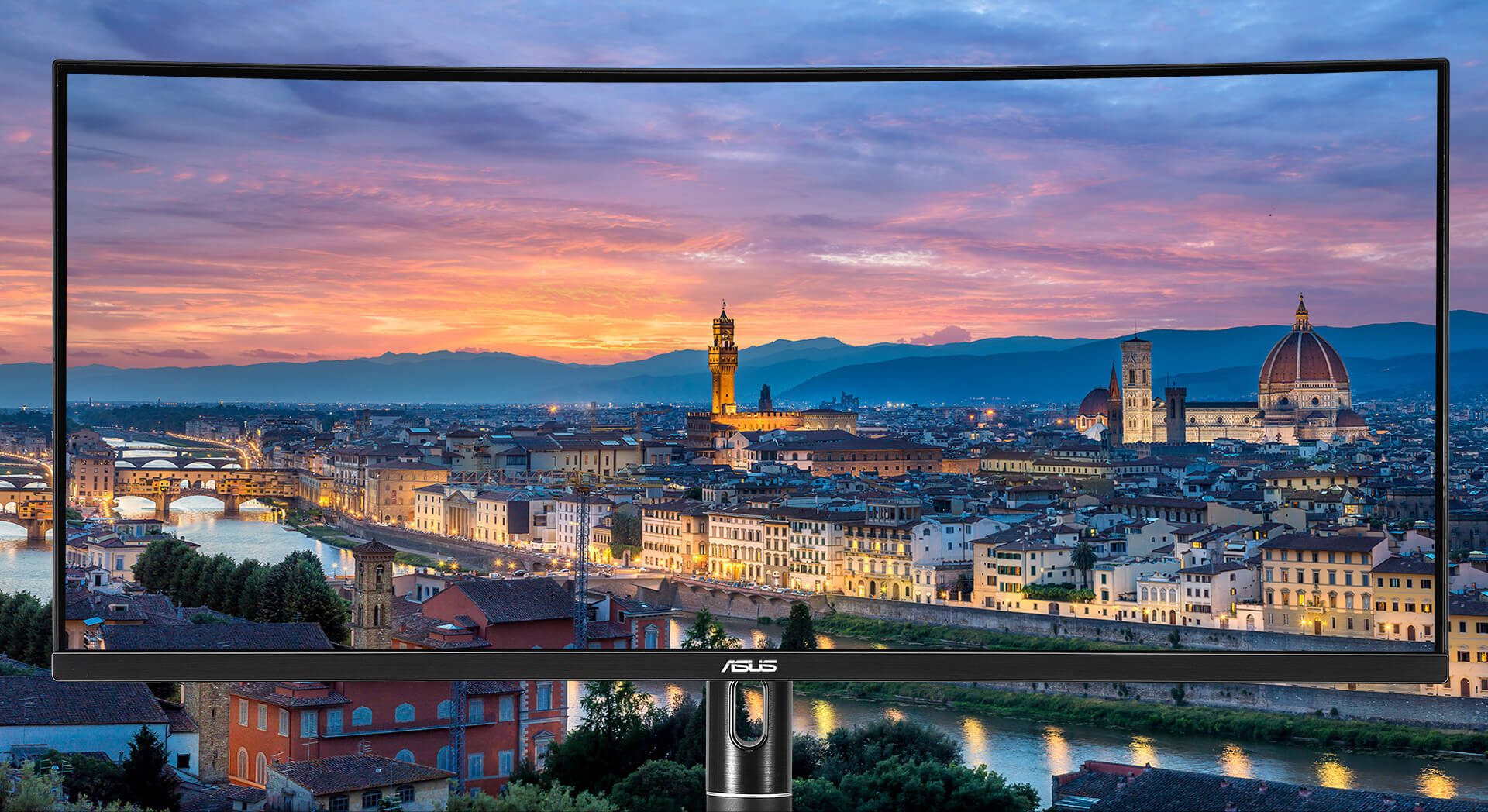 Ultra-wide QHD display for incredibly detailed images
The ultra-wide QHD panel on ProArt PA34VC features 2.4x the resolution of a Full HD display, so it provides 35% more onscreen space than other Full HD monitors of a similar size, making multitasking more enjoyable and efficient.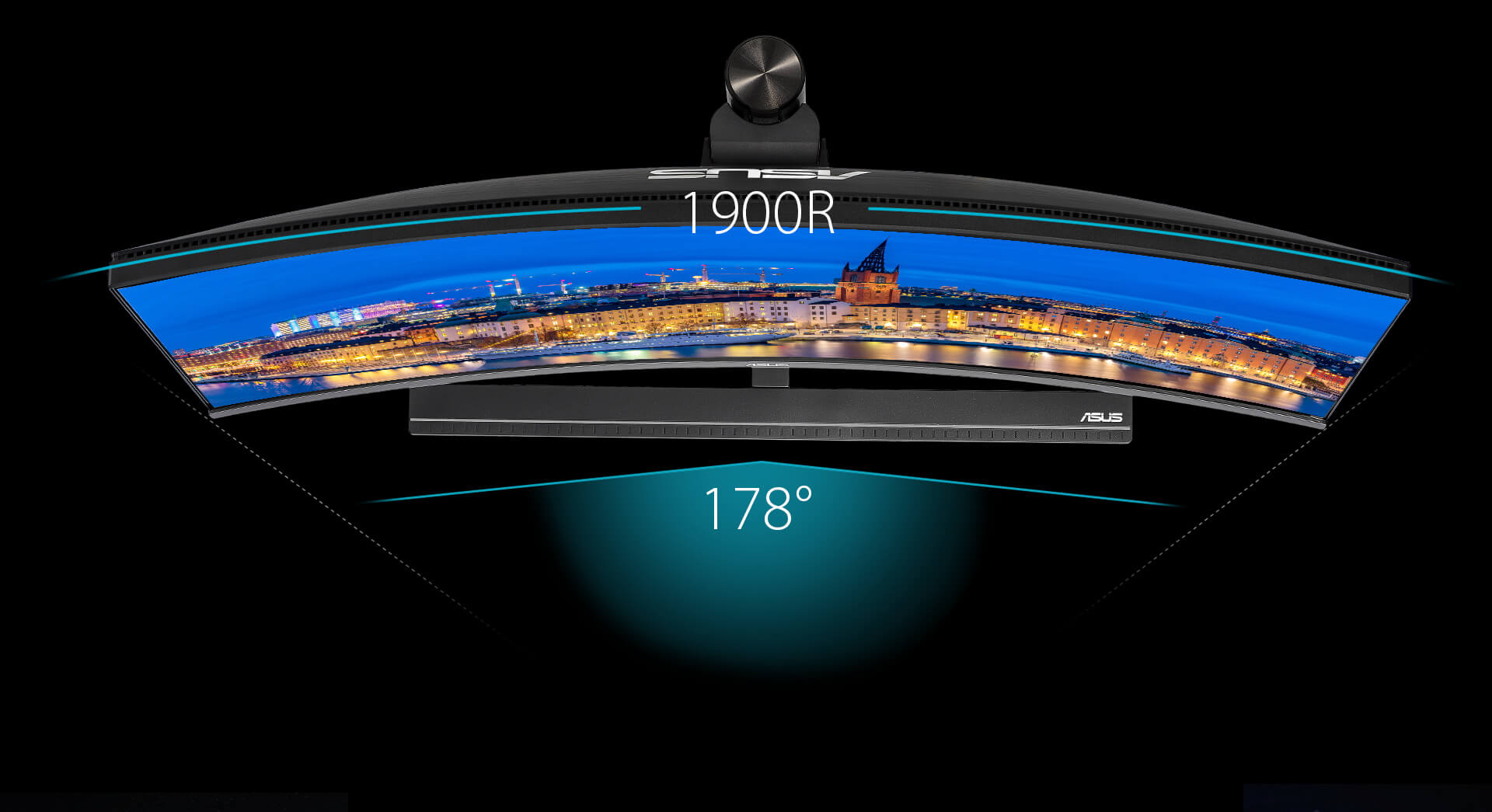 Perfectly curved for immersive visuals
Increased screen curvature improves your viewing experience by reducing reflections and creating near-uniform visual focus. With its ultra-wide 34.1-inch panel with a 21:9 aspect ratio and 1900R curvature, ProArt PA34VC provides an expanded field of view while reducing your eye movement across the screen, so you can work comfortably for longer. ProArt PA34VC also features an IPS panel with a wide 178° viewing angle across its horizontal and vertical planes, so you can enjoy beautiful visuals from any viewpoint.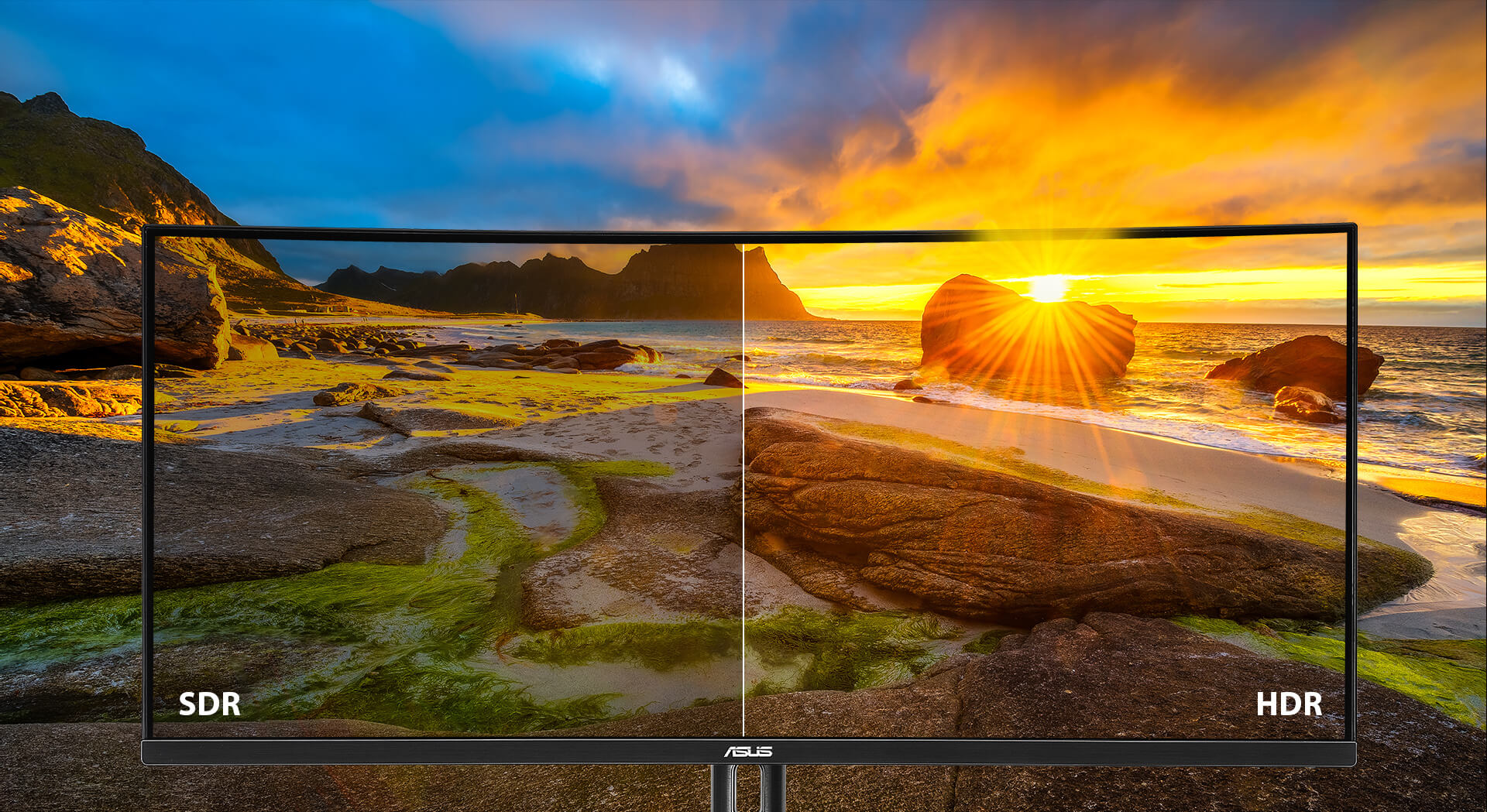 A brighter, more lifelike viewing experience
ProArt PA34VC is compatible with HDR-10 format for brighter whites and darker blacks, resulting in a rich and lifelike viewing experience that helps you fully realize your creative vision.
Bring out the true beauty of your pictures
Achieving 100% coverage of the sRGB color gamut, ProArt PA34VC reproduces richer and more vivid colors, so your photos look more lifelike. It's a great solution for photographers, graphic designers or anyone looking for highly accurate color.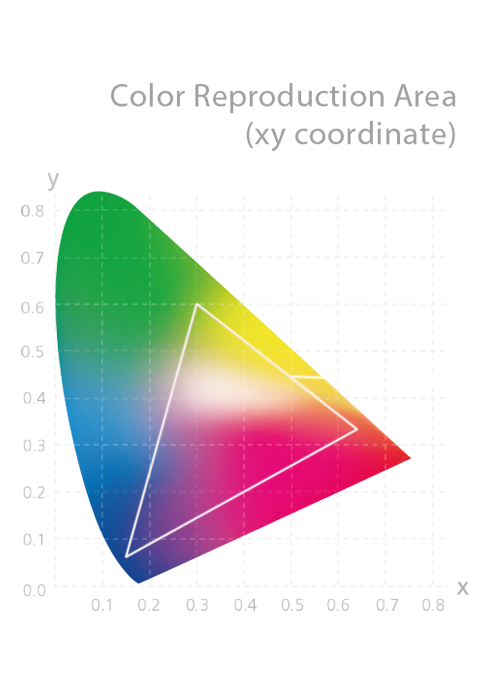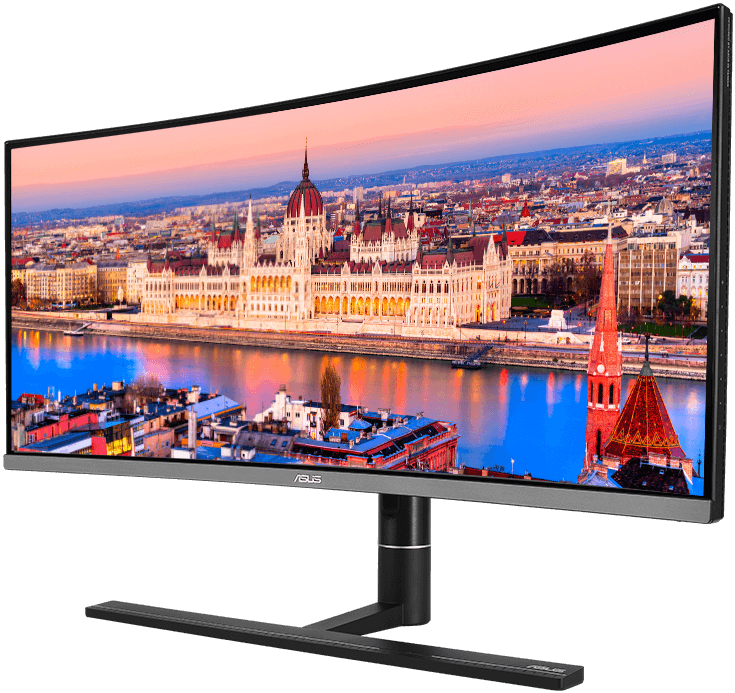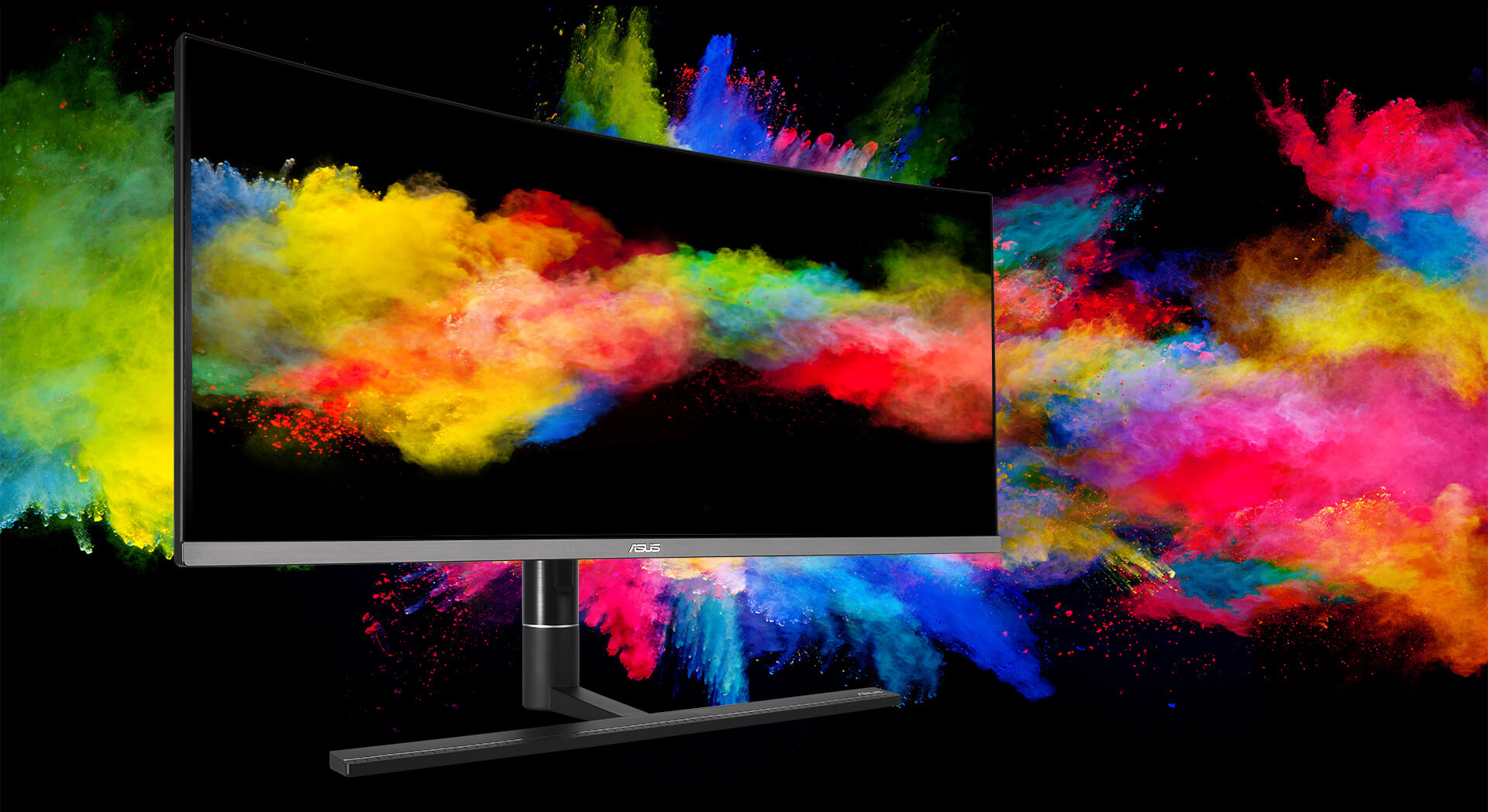 High color fidelity for truly expressive hues
Revel in pure, expressive hues thanks to accurate, true-to-life color reproduction. Each ProArt PA34VC monitor is pre-calibrated to guarantee industry-leading color accuracy (∆E < 2), and features ASUS advanced gray-scale tracking technology that provides a report of calibration levels 63, 127 and 255. This ensures your images are accurately reproduced onscreen, allowing you to see exactly how your work is going to look when it's finished. PA34VC also comes with 95% uniformity compensation to guard against brightness and chroma (color) fluctuations on different parts of the screen.
ASUS ProArt Calibration Technology
WWhether you're using a desktop and laptop - ProArt Creator Hub : ASUS ProArt Calibration Technology offers color accuracy tuning and uniformity compensation to make things easy when it's time to recalibrate your display's brightness and color consistency. (calibrator is not included in the package)
ProArt Creator Hub Download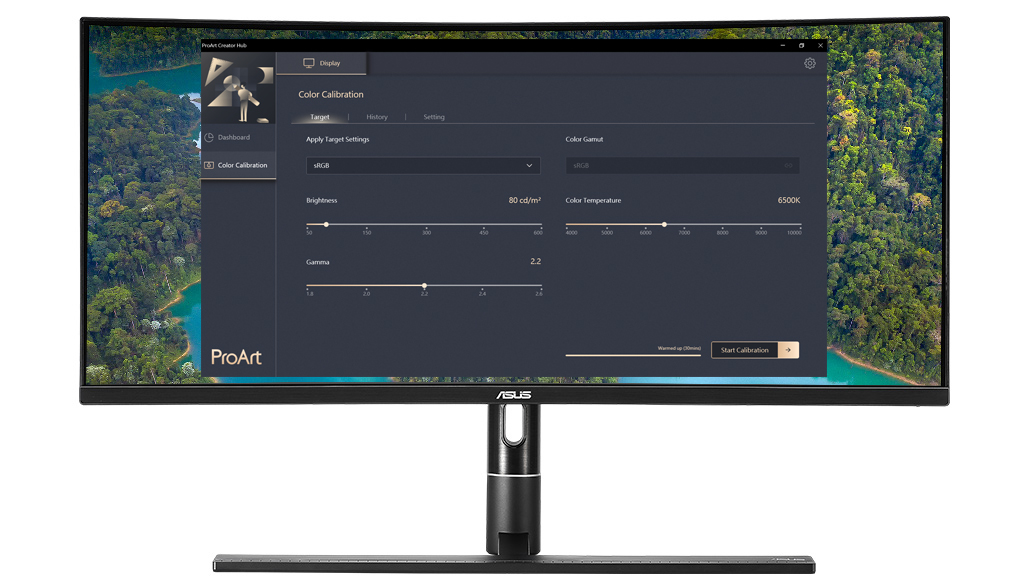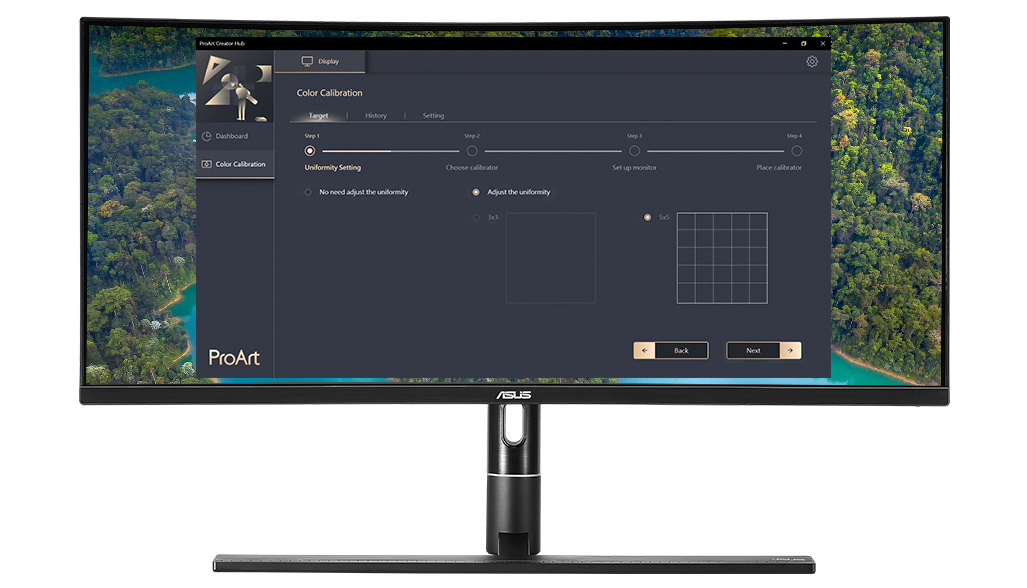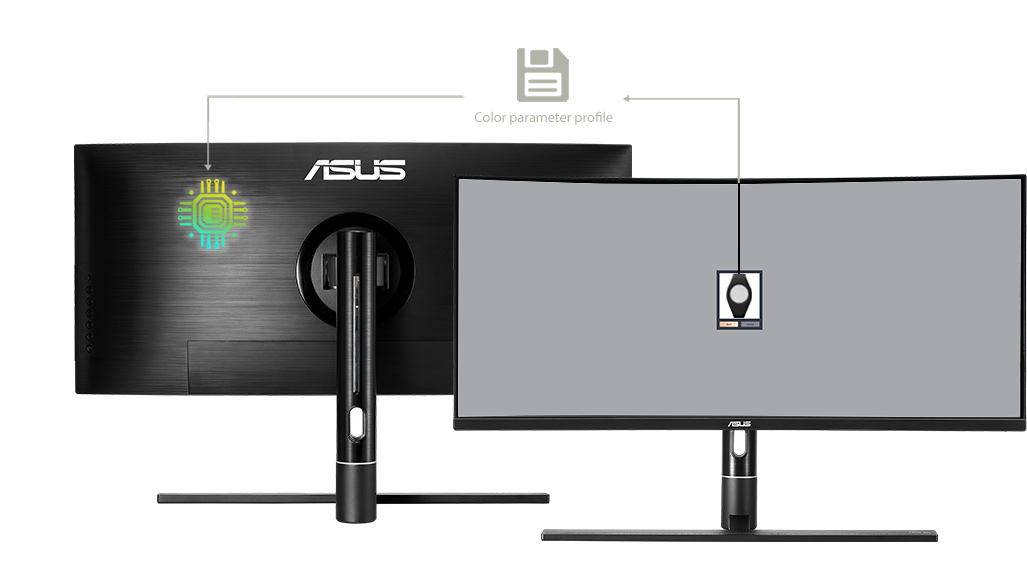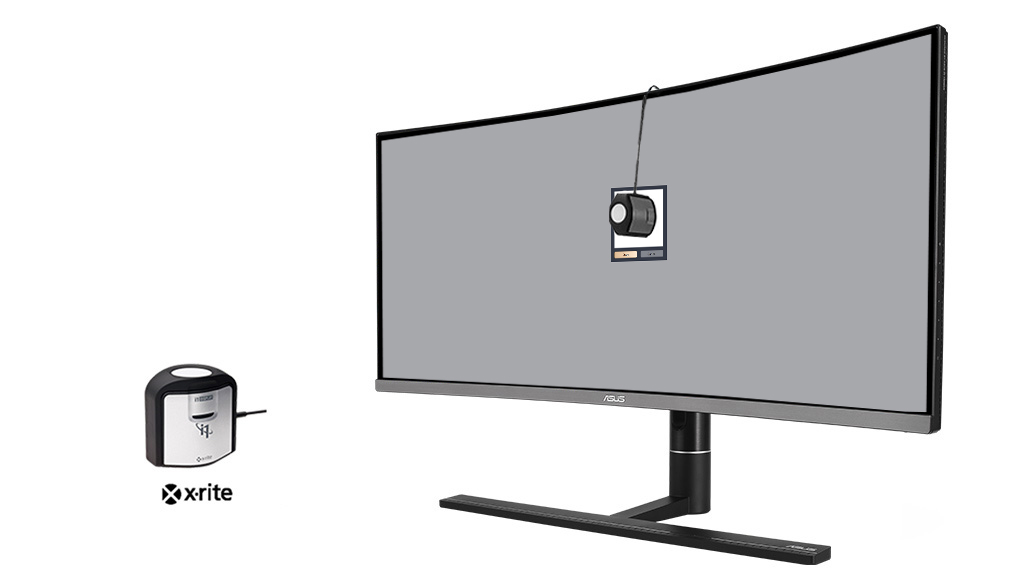 Optimum setting in different contents requires different color spaces, It offers adjustable brightness, color gamut, color temperature and other parameters to ensure consistent and precise colors.
With two matrix levels of Uniformity compensation, designers can ensure consistency brightness level of the screen by ProArt Calibration algorithm generating compensated brightness data, reducing color shift while moving graphics on anywhere of screen.
ASUS ProArt Calibration technology saves all color parameter profiles on the ProArt monitor's internal scaler IC chip, instead of on the PC. The monitor can be calibrated and the look-up table subsequently rewritten, allowing users to connect it to devices with different operating systems or applications without needing to adjust settings. Signal distortion between the IC and the LCD optical spectrum is also reduced.
The ASUS ProArt Calibration Technology is also compatible with X-rite i1DisplayPro and i1DisplayProPlus.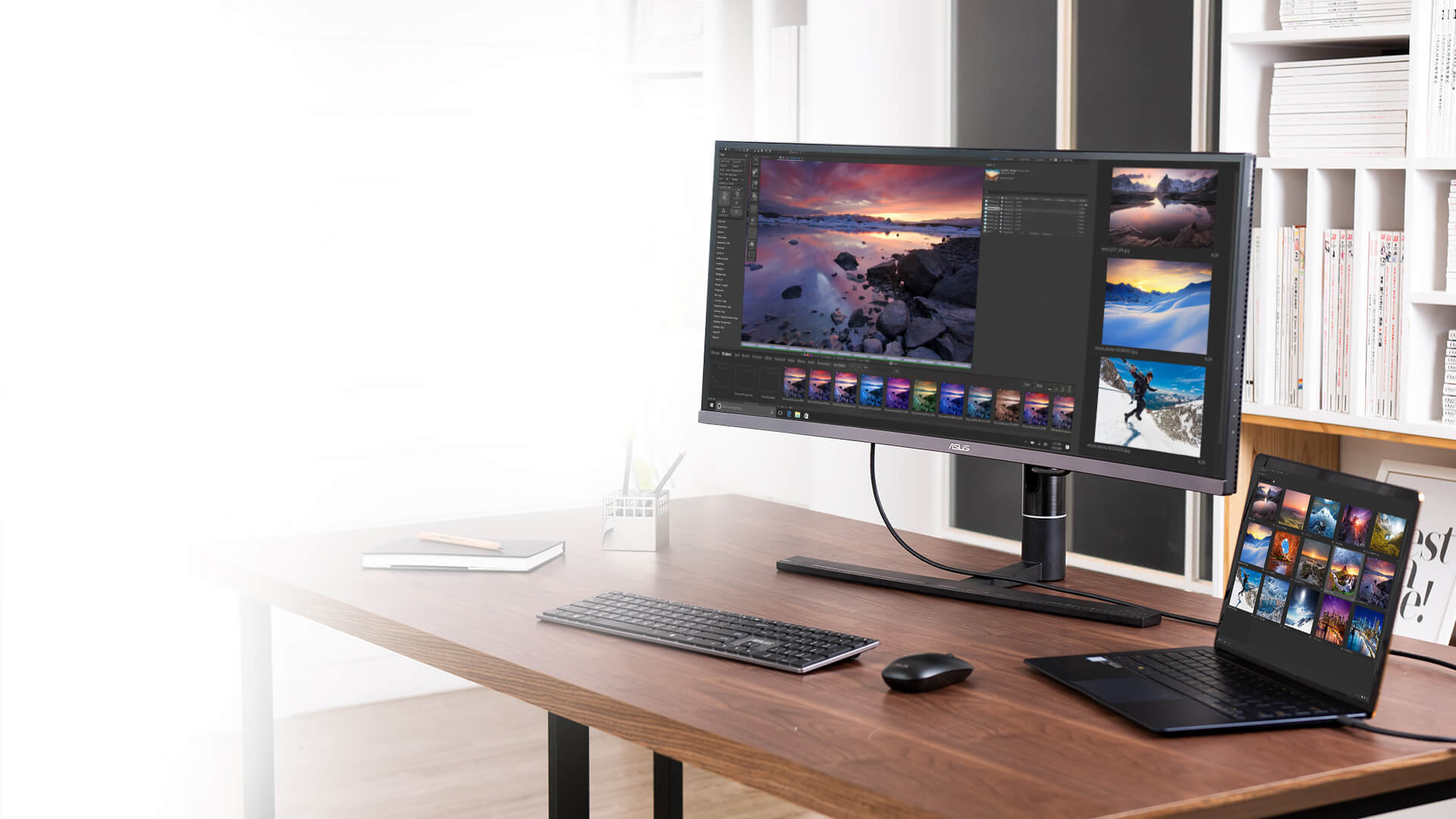 The port that does it all
For unrivaled expandability and versatile, ultrafast connections, USB -C devices compatible, ProArt PA34VC includes two USB-C ports that support Thunderbolt™ 3 for data transfer speeds of up to 40 Gbps, DisplayPort and USB 3.1 with Power Delivery for providing up to 60W of power to external devices. In addition, you can daisy-chain several displays through a single port without the need for a hub or a switch.

Picture-in-Picture & Picture-by-Picture
Built-in Picture-in-Picture (PiP) and Picture-by-Picture (PbP) let you view content from multiple sources simultaneously and switch between them easily. You can even select which audio source to play.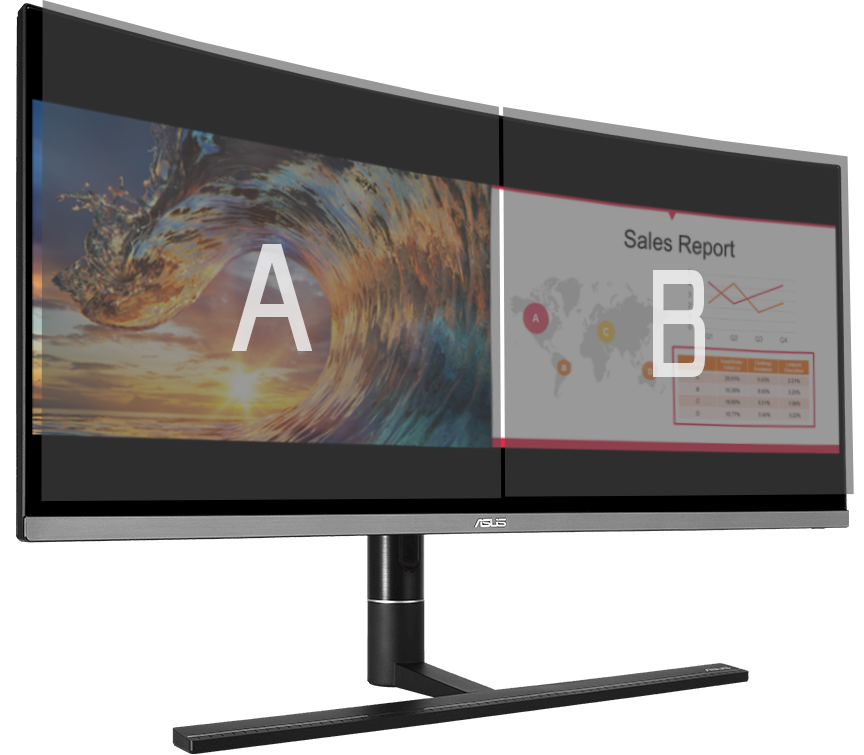 Place multiple input sources side by side onscreen and configure each individual window's color settings with sRGB, User Mode 1, and User Mode 2 to see the difference between them.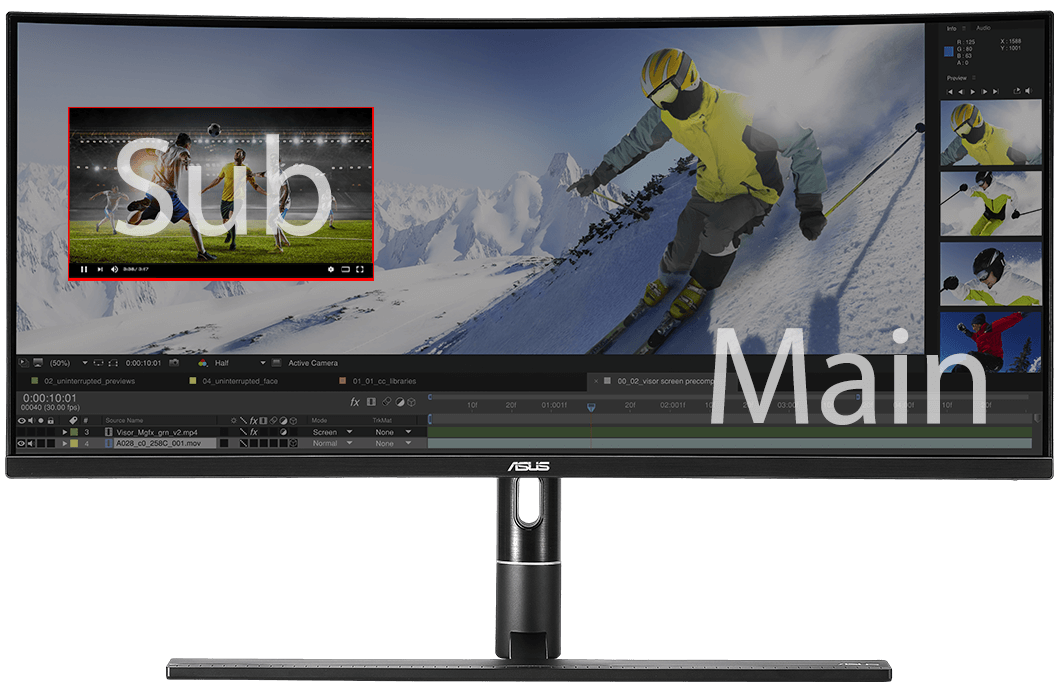 Place your second input source in a window in one corner of the display.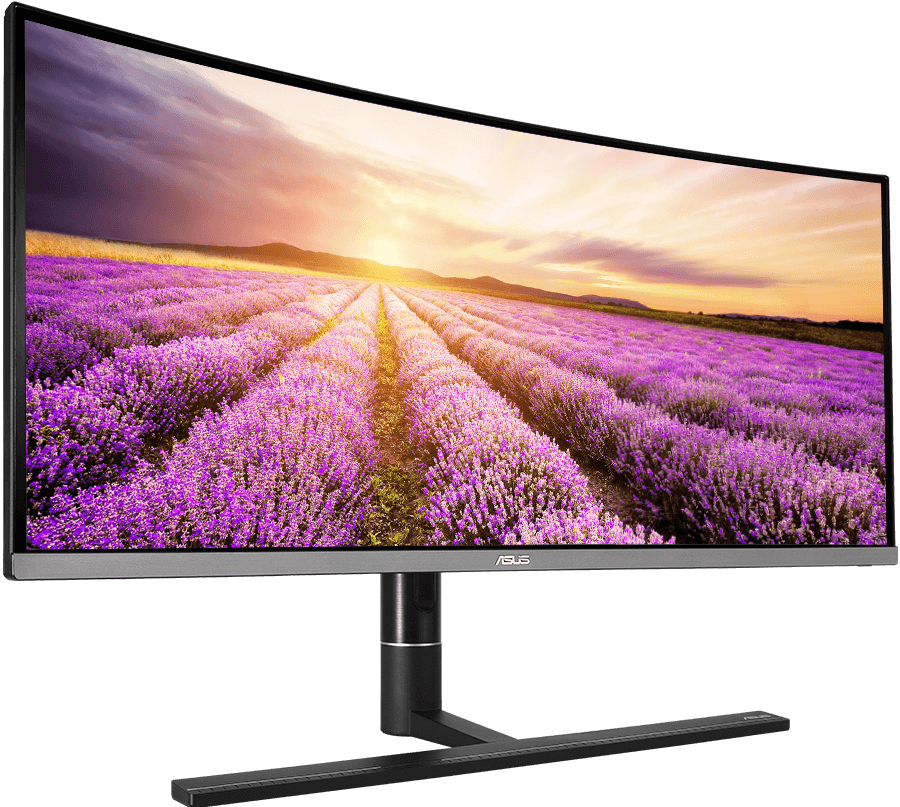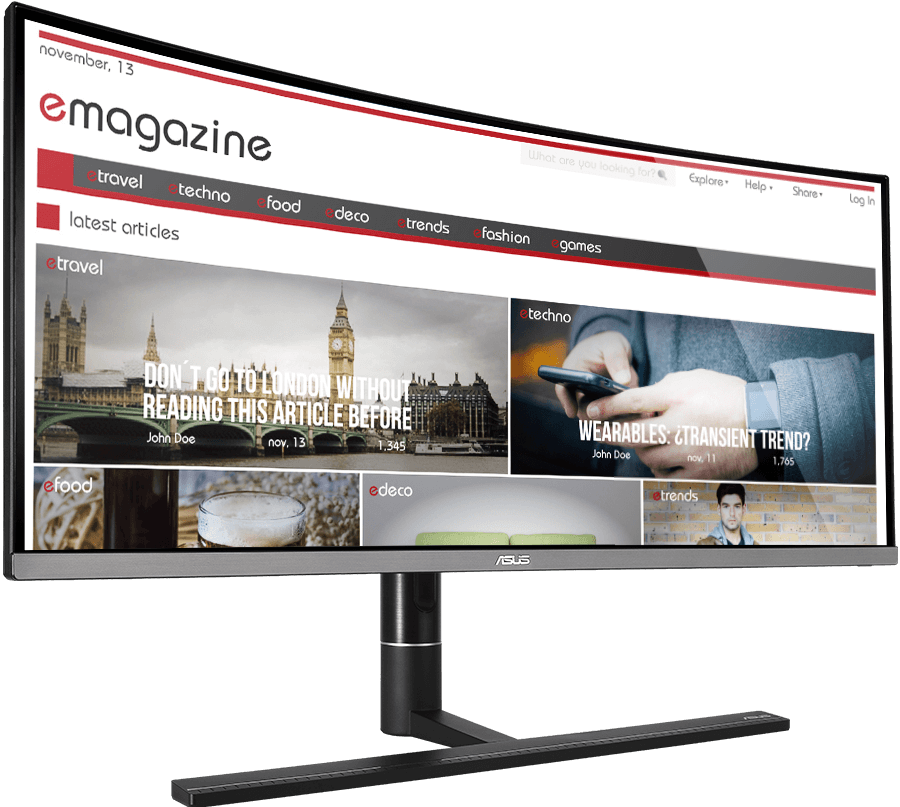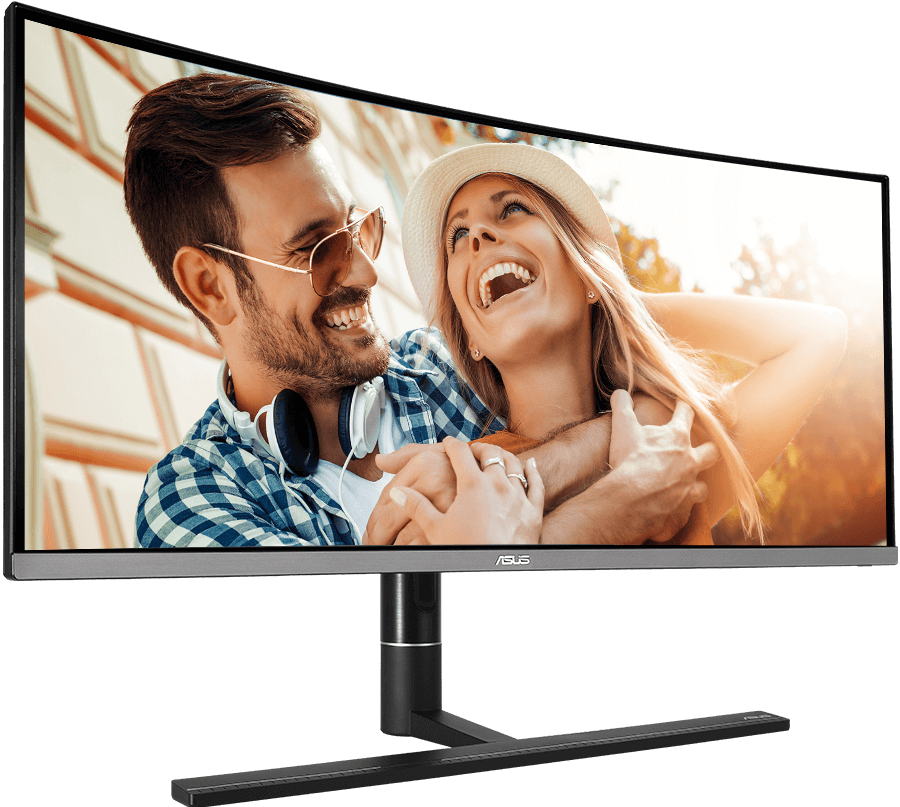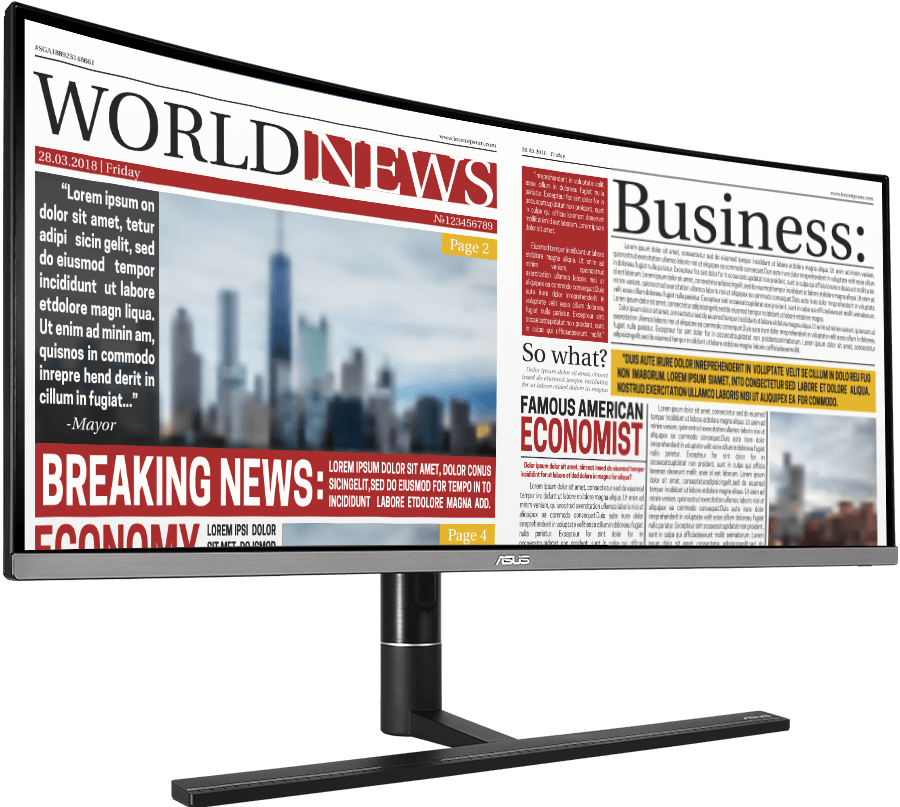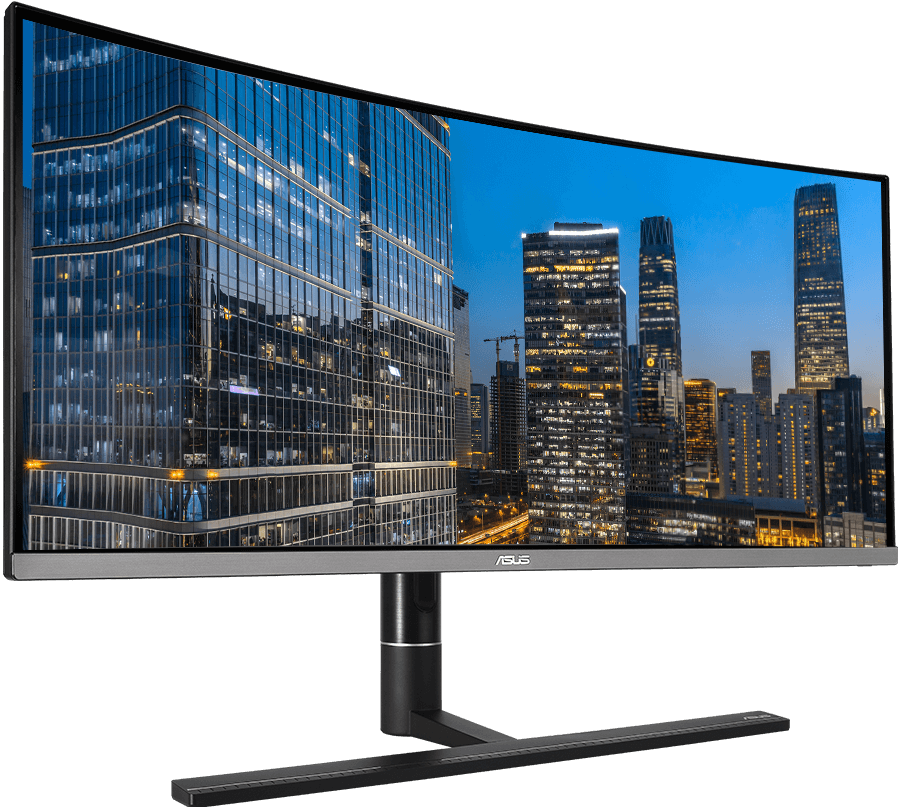 Protect your eyes with ASUS Eye Care technology
ASUS Ultra-Low Blue Light technology is designed to protect viewers from harmful exposure to blue light. Certified by TÜV Rheinland, the blue-light filter offers four settings that are easily accessible through the onscreen display menu via a hotkey.

ASUS Flicker-Free technology
ASUS Flicker-Free technology provides a more comfortable viewing experience and work environment by reducing onscreen flicker to minimize eye strain, headaches and eye fatigue when you spend long hours in front of the display.



With Flicker-free Technology




Without Flicker-free Technology
ProArt PA34VC ensures a comfortable viewing position and ergonomically designed stand with tilt, swivel, and height adjustments.
Swivel
-30°~+30°

Tilt
-5°~+23°

Height Adjustment
0~120 mm
Anbefalt til dig

ASUS ProArt Display PA27AC HDR Professional Monitor - 27-inch, WQHD, HDR-10, 100% of sRGB, color accuracy ΔE < 2, Thunderbolt™ 3, Hardware Calibration​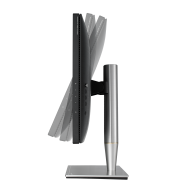 ASUS ProArt Display PA24AC HDR Professional Monitor - 24 inch, WUXGA, HDR-10, 100% sRGB, Hardware Calibration, USB-C™, VESA DisplayHDR 400​
Relaterede produkter

Free Upgrade to Windows 11¹ (when available, see below); Barebone and Non-OS SKUs are excluded,
Professional mini PC for content creators featuring 9th Gen Intel® Core™ processors, NVIDIA® Quadro® graphics, Thunderbolt™ 3, DDR4 RAM, M.2 SSD and 2.5-inch HDD
Windows 10 Pro til arbejdsstationer
NVIDIA® Quadro® RTX 5000
9th gen Intel® Xeon® E-2276M Processor
64 GB memory
1 TB SSD storage
ScreenPad 2.0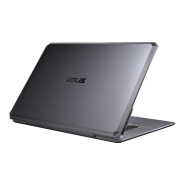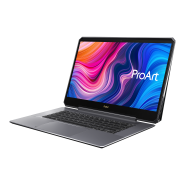 Windows 10 Pro
NVIDIA® Quadro® RTX 6000 GPU
Intel®Core™ i9 processor
15.6-inch 4K UHD display
Compare (0)