ASUS Dual Radeon™ RX 6600
ASUS Dual Radeon™ RX 6600
ASUS Dual Radeon™ RX 6600 8GB GDDR6 is armed to dish out frames and keep vitals in check.
Axial-tech fan design features a smaller fan hub that facilitates longer blades and a barrier ring that increases downward air pressure.
Dual ball fan bearings can last up to twice as long as sleeve bearing designs.
Auto-Extreme Technology uses automation to enhance reliability.
A protective backplate prevents PCB flex and trace damage.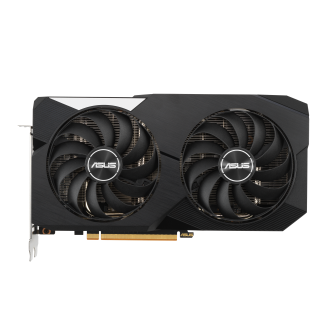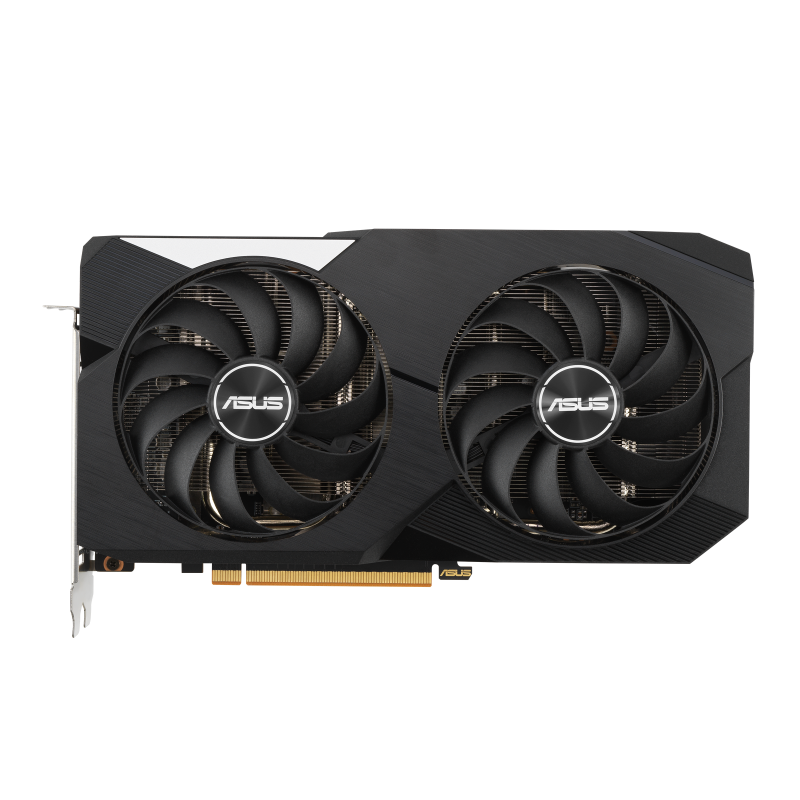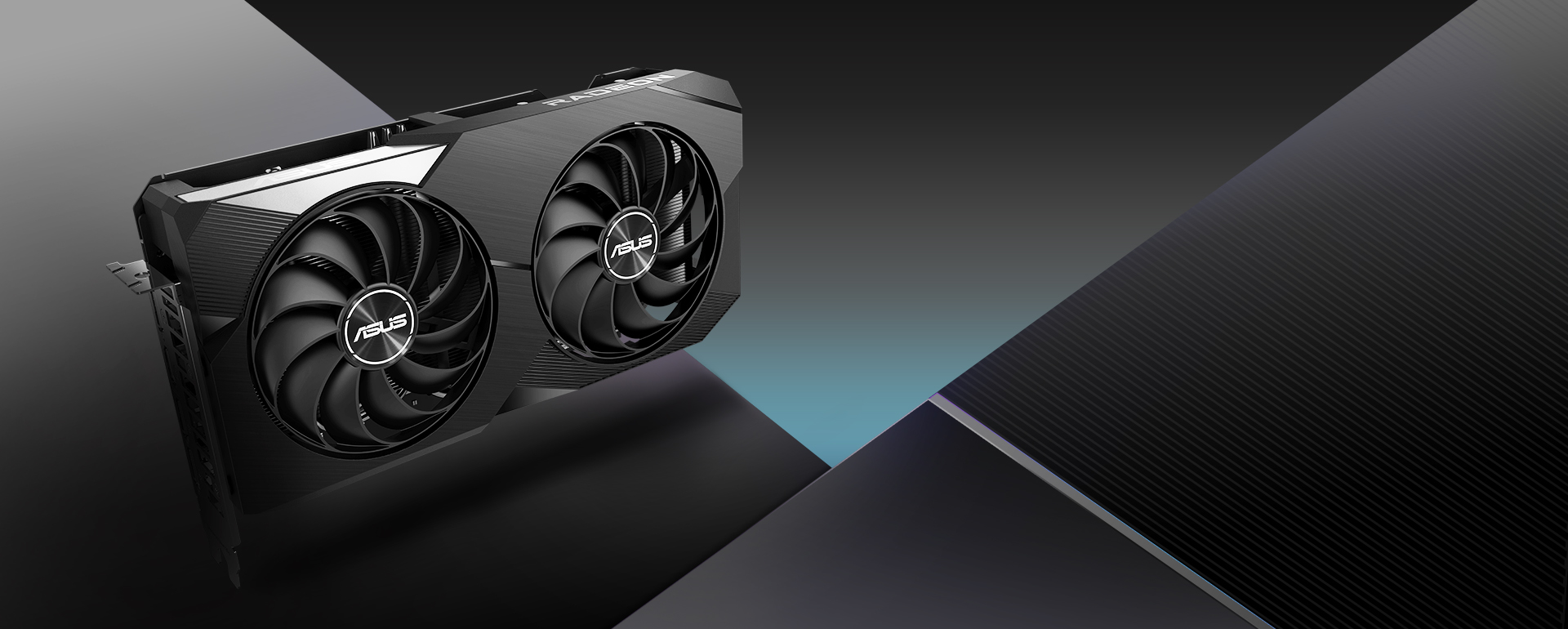 2x Fans. 2x Fun.
Delivering the latest AMD RDNA™ 2 architecture experience in its purest form, the ASUS Dual Radeon™ RX 6600 melds performance and simplicity like no other. Leveraging advanced cooling technologies derived from flagship graphics cards, the Dual opts for substance over style, the perfect choice for a well-balanced build. Buckle up and engage cutting-edge gaming prowess.
COOLING
Axial-tech Fan Design
Better, faster, stronger
Two tried-and-true Axial-tech fans feature a smaller hub that facilitates longer blades and a barrier ring to increase downward air pressure.
0dB Technology
Quiet intelligence
An advanced onboard controller brings fans to a standstill when the GPU core temperature is below 52 Celsius, letting you enjoy light gaming in relative silence. As temps rise past the threshold, the fans automatically start up again.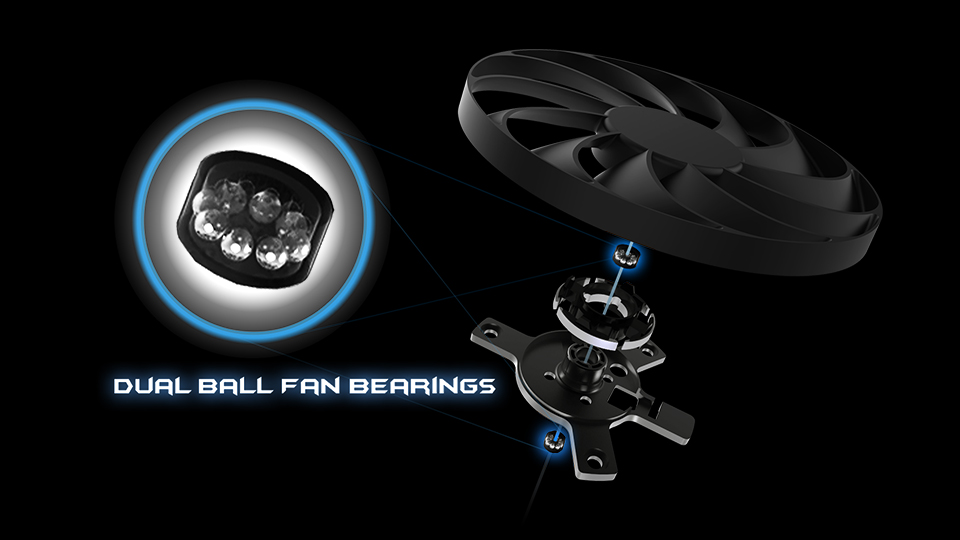 Dual Ball Fan Bearings
2x longer lifespan
Different bearing types have unique pros and cons. Ball bearings excel at durability and can last up to twice as long as sleeve bearing designs.
ENGINEERING
Auto-Extreme Technology
Precision automated manufacturing
Auto-Extreme Technology is an automated manufacturing process that sets new standards in the industry by allowing all soldering to be completed in a single pass. This reduces thermal strain on components and avoids the use of harsh cleaning chemicals, resulting in less environmental impact, lower manufacturing power consumption, and a more reliable product overall.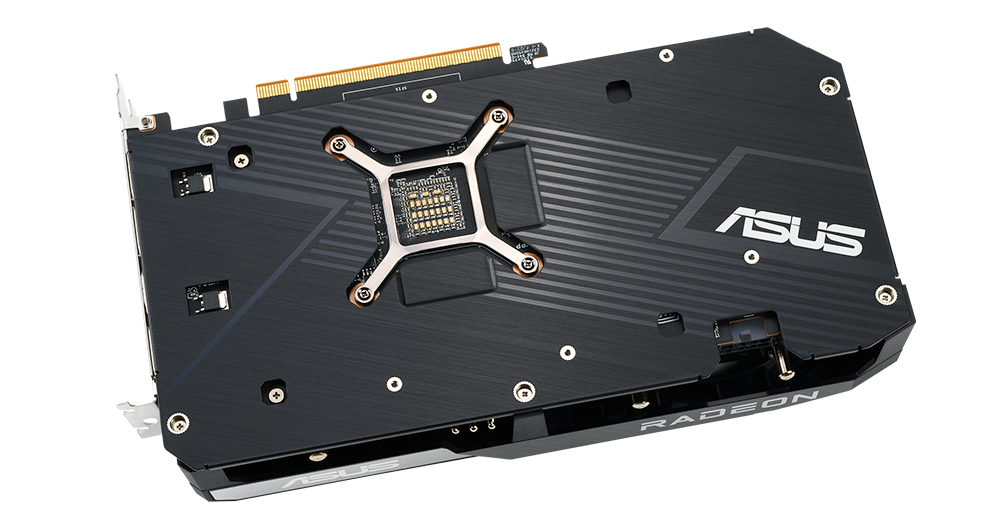 Protective Backplate
That's so metal!
The PCB is reinforced by an aluminum backplate that adds structural rigidity, helping to prevent flex and protect components and trace pathways from damage.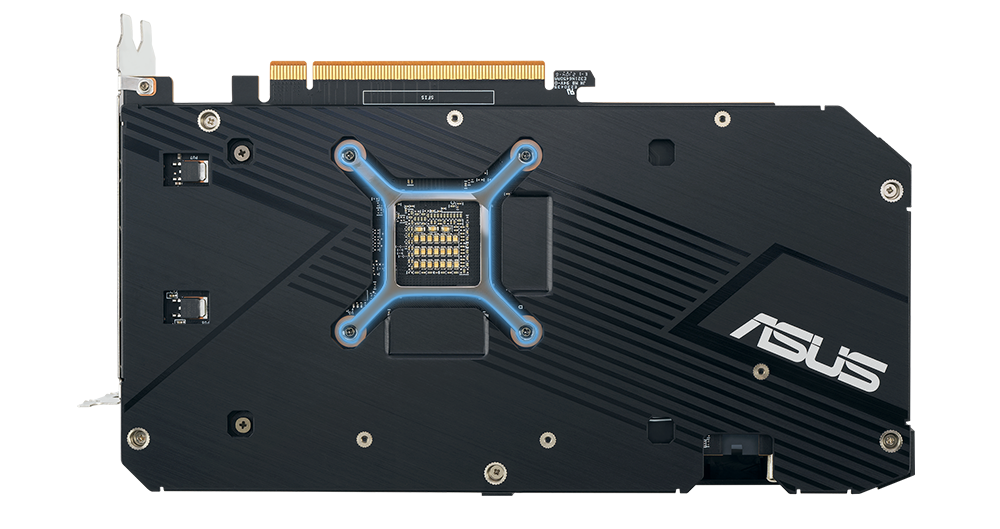 GPU Bracket
Locked and loaded
A GPU bracket provides uniform mounting pressure and extra stability to the critical connection between die and heat spreader.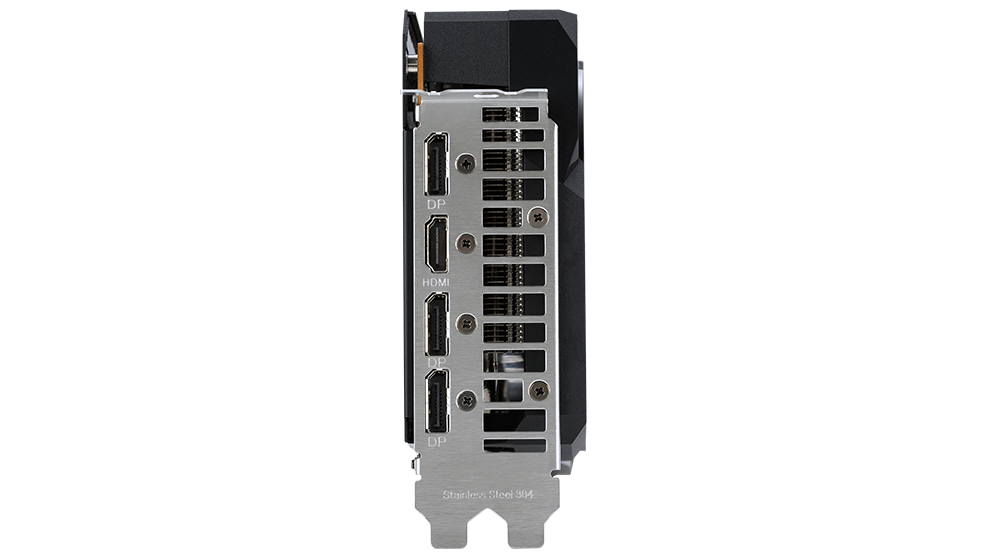 Stainless Steel Bracket
Steel yourself
The mounting bracket of the Dual has been beefed up with 304 Stainless Steel that is harder and more resistant to corrosion.
SOFTWARE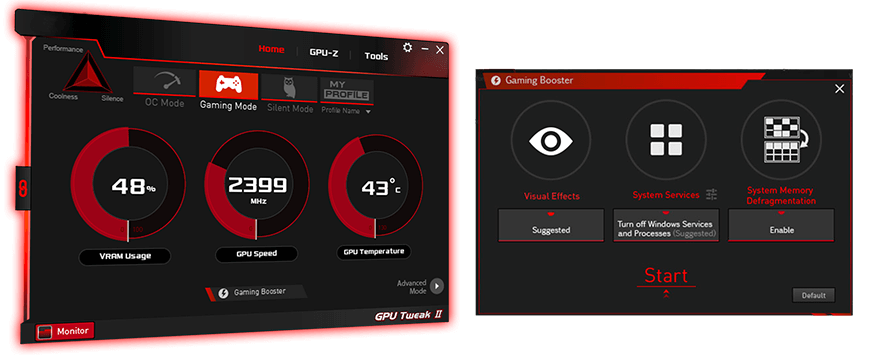 GPU Tweak II
Monitor, tweak, and tune
The ASUS GPU Tweak II utility takes graphics card tuning to the next level. It allows you to tweak critical parameters including GPU core clocks, memory frequency, and voltage settings, with the option to monitor everything in real-time through a customizable on-screen display. Advanced fan control is also included along with many more features to help you get the most out of your graphics card.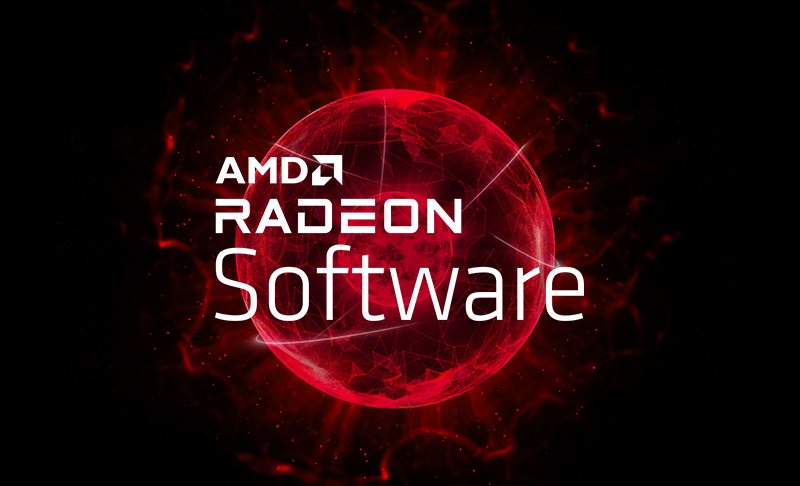 AMD Radeon™ Software
Change the way you game
The latest Radeon™ Software unleashes the full potential of your GPU with day-0 drivers optimized for new game releases and a highly customizable gaming experience.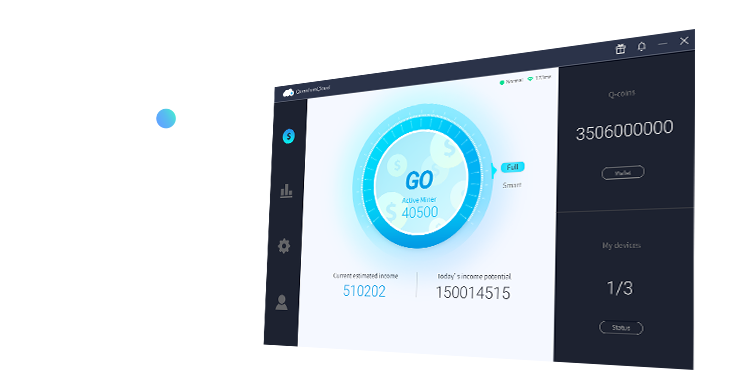 QuantumCloud
Profit from GPU power
QuantumCloud is a safe and easy-to-use application that lets you effortlessly earn extra money by sharing your graphics card's computing power. Earnings are accessible through your PayPal or WeChat account, and QuantumCloud also supports multiple exchange methods, including Steam. In addition, QuantumCloud doesn't collect any personal data, so your privacy stays protected. Get started right away with just one click!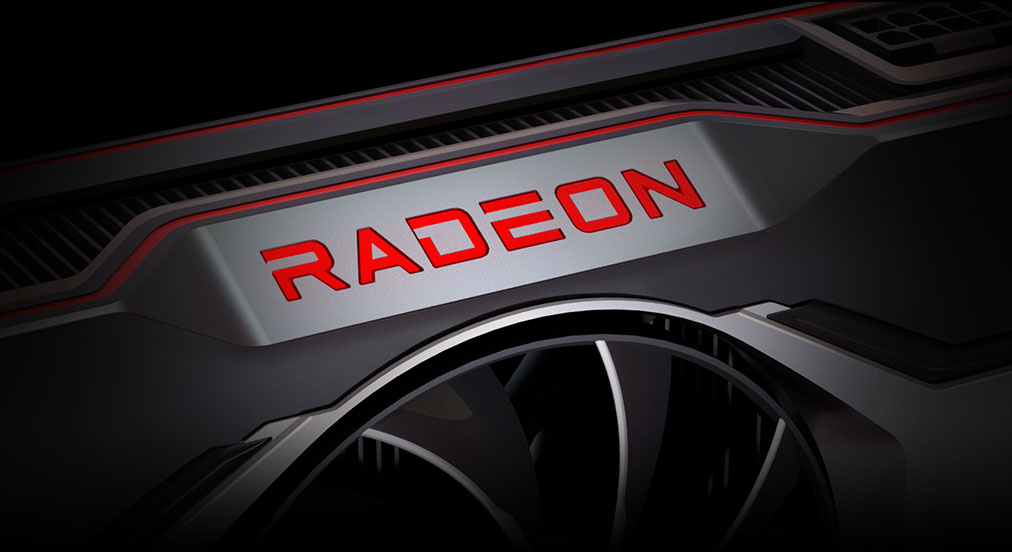 Powerhouse Performance​
AMD Radeon™ RX 6600 Series graphics cards deliver serious 1080p gaming and ultra-high frame rates. Get up to 32 high-performance compute units, groundbreaking AMD Infinity Cache, and up to 8GB of dedicated GDDR6 memory. Experience the next gen of gaming performance with AMD Smart Access Memory technology1 when you pair an AMD Radeon™ RX 6600 Series graphics card with an AMD Ryzen™ 5000 Series desktop processor.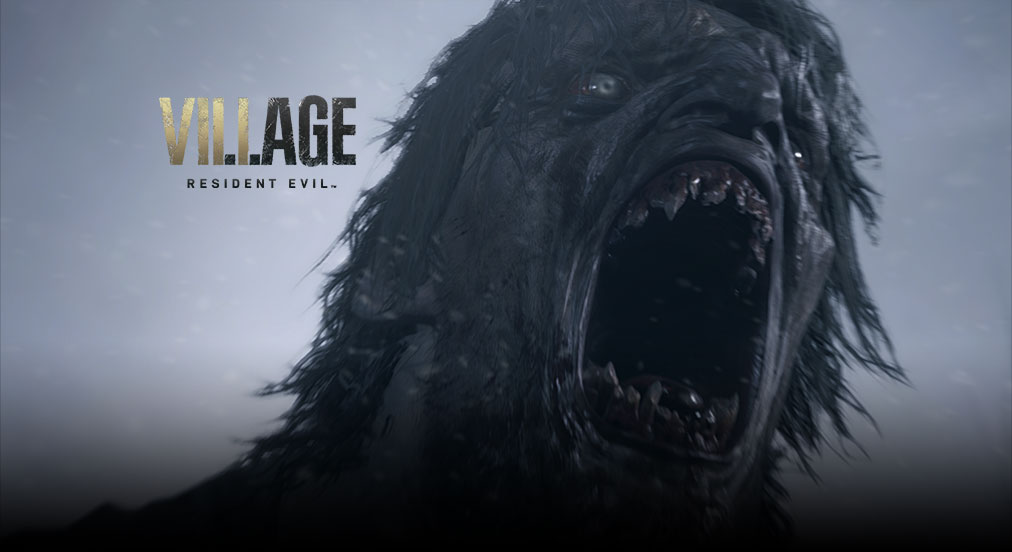 ​Vivid Visuals
With immersive gaming technologies and support for DirectX® 12 Ultimate, AMD Radeon™ RX 6600 Series graphics cards draw you into the action. Experience gaming with realistic lighting, shadows, and reflections along with rich detail, thanks to DirectX® Raytracing (DXR), variable rate shading (VRS), and AMD FidelityFX features, optimized for AMD RDNA™ 2 architecture.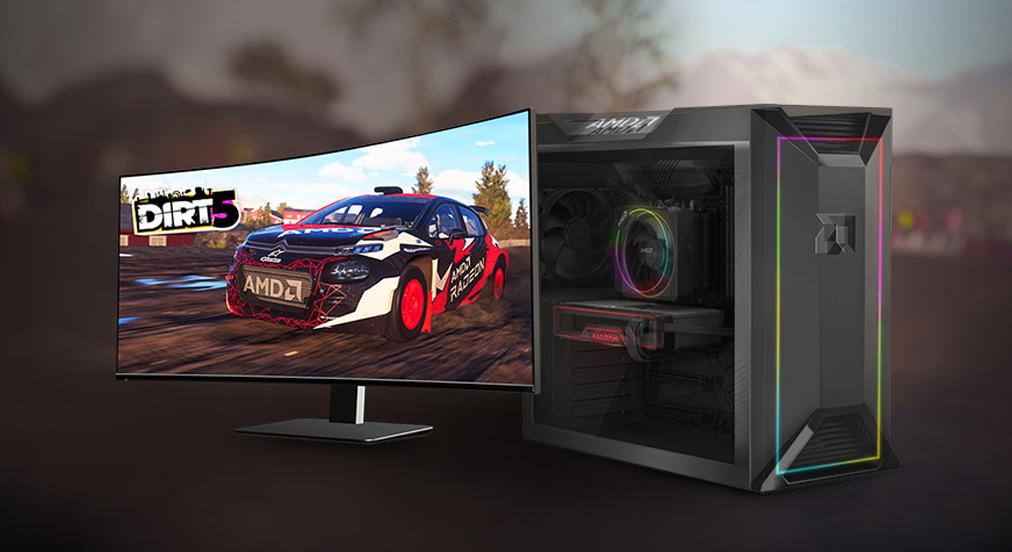 ​AMD Smart Access Memory Technology All AMD Performance. Built To Game.​
Combine an AMD Ryzen 5000 Series processor or a select AMD Ryzen 3000 Series processor with an AMD Radeon RX 6600 Series graphics card to boost your system's performance, thanks to AMD Smart Access Memory technology1. AMD Smart Access Memory enables AMD Ryzen processors to harness the full potential of the graphics card memory. Enjoy increased performance with all-AMD in your system for the ultimate gaming advantage.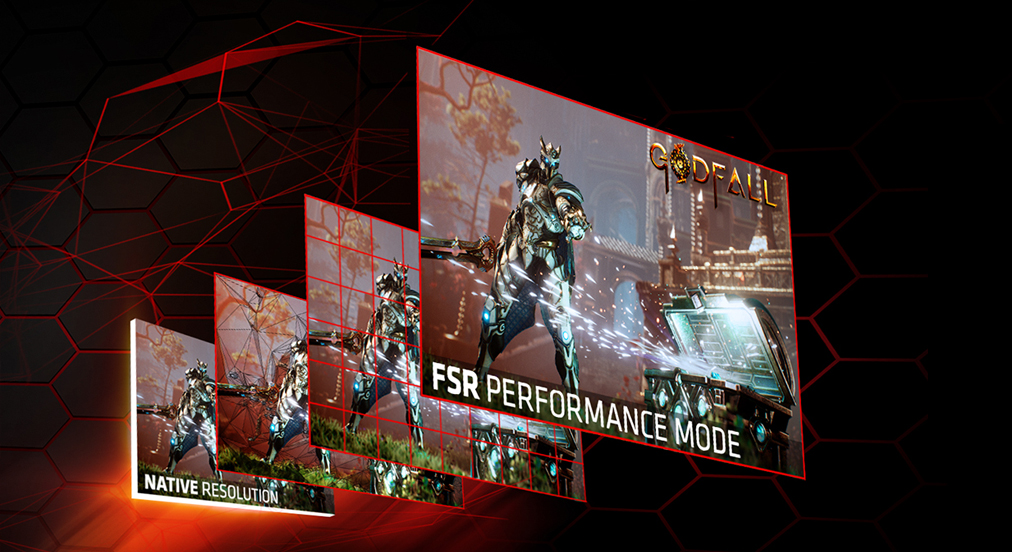 ​Get a Boost in Frames for Your Games​
AMD FidelityFX Super Resolution2 (FSR) boosts your frame rates 2.4x on average in FSR supported games3 with high-quality, high-resolution gaming experiences delivered by AMD Radeon RX 6000 Series graphics cards. Optimize your gaming experience between four presets, ranging from best visual fidelity to maximum performance.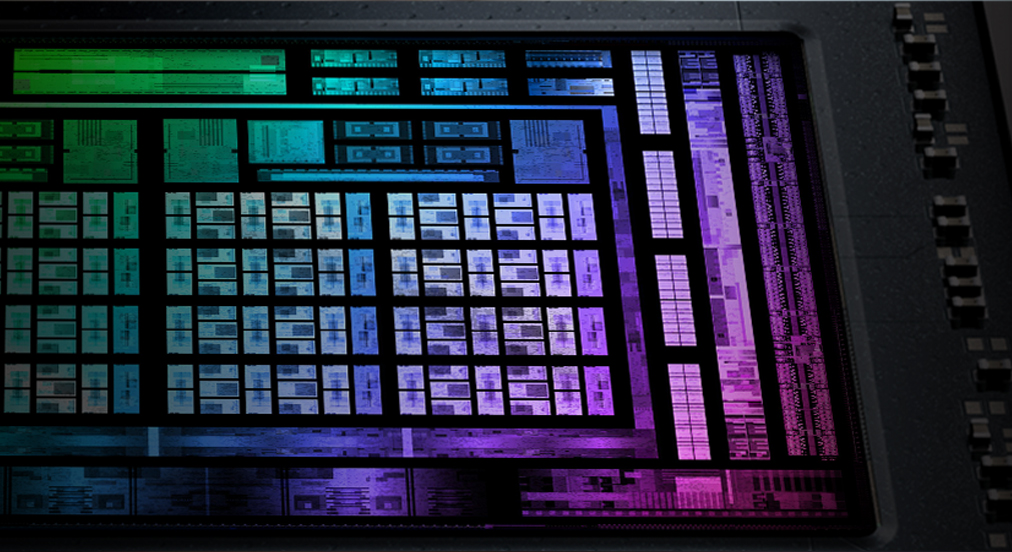 One Gaming DNA for PCs and Consoles
AMD RDNA™ 2 architecture is the foundation of next-generation gaming PCs and consoles. It is the bedrock of the revolution in PC gaming graphics and cloud gaming. AMD RDNA™ 2 elevates and unifies visual effects and gameplay across multi-gaming platforms, like no other graphics architecture before.
​AMD RADEON PC GAMING IS WINDOWS 11 READY
Windows® 11 is created for the ultimate PC gaming, featuring superior graphics, amazing speed, and an incredible selection of games. Windows 11 includes gaming features like DirectX® 12 Ultimate, DirectStorage, and Auto HDR.
Smart Access Memory technology enablement requires an AMD Radeon 6000 series GPU, Ryzen 5000 or 3000 series GPU (excluding the Ryzen 5 3400G and Ryzen 3 3200G) and a 500 series motherboard with the latest BIOS update. For additional information and system requirements, see https://www.amd.com/en/technologies/smart-access-memory. GD-178
AMD FidelityFX Super Resolution is available on select games and requires developer integration. See https://www.amd.com/en/technologies/radeon-software-fidelityfx-super-resolution for a list of supported games. AMD FidelityFX Super Resolution is "game dependent" and is supported on the following AMD products: AMD Radeon™ RX 6000, RX 5000, RX 500, RX Vega Series graphics cards & all AMD Ryzen™ Processors with Radeon™ Graphics, as long as the minimum requirements of the game are met. AMD does not provide technical or warranty support for AMD FidelityFX Super Resolution enablement on other vendor's graphics cards. GD-187.
Testing by AMD Performance Labs as of June 11, 2021, on the AMD Radeon™ 6900 XT, AMD Radeon™ 6800 XT, and AMD Radeon™ 6700 XT graphics cards with pre-release AMD Radeon™ Software 21.6.1 RC Prime 9 (21.20-210518a-367616E) driver with AMD Smart Access Memory enabled, on a test system comprising of an AMD Ryzen™ 9 5900X, 16GB DDR4-3200 RAM, ASRock X570 Taichi motherboard with BIOS version P3.61 at default settings, and Windows® 10 Pro May 2020 Update (19041.508). Benchmark tests: Anno 1800, DX12, 3840 x 2160, Ultra Hight preset, no raytracing. Evil Genius 2, Vulkan, 3840 x 2160, Ultra preset, no raytracing. Godfall, DX12, 3840 x 2160, Epic preset, Raytracing ON. Kingshunt, DX12, 3840 x 2160, Ultra preset, no raytracing. The Riftbreaker, DX12, 3840 x 2160, Ultra preset, Raytracing ON. Terminator: Resistance, DX11, 3840 x 2160, Epic preset, no raytracing. Game 7, DX12, 3840 x 2160, High preset, no raytracing. Performance may vary and is dependent on the FSR Quality Mode selected. FSR requires developer integration and is available in select games only. RS-365.
© 2021 Advanced Micro Devices, Inc. All rights reserved. AMD, the AMD Arrow logo, FreeSync, Radeon, RDNA, Ryzen, and combinations thereof are trademarks of Advanced Micro Devices, Inc. DirectX, Microsoft, and Windows are registered trademarks of Microsoft Corporation in the US and/or other countries. Other product names used herein are for identification purposes only and may be trademarks of their respective companies.
GODFALL™ Published and distributed by Gearbox Publishing. Gearbox and the Gearbox Software logo are registered trademarks, and the Gearbox Publishing logo is a trademark, of Gearbox Enterprises, LLC. ©2021 Counterplay Games Inc. All rights reserved.
© 2021 Advanced Micro Devices, Inc. All rights reserved. AMD, the AMD Arrow logo, FreeSync, Radeon, RDNA, Ryzen, and combinations thereof are trademarks of Advanced Micro Devices, Inc. DirectX is either a registered trademark or trademark of Microsoft Corporation in the US and/or other countries. Other product names used herein are for identification purposes only and may be trademarks of their respective companies.
TM & © 2021 PARAMOUNT PICTURES. All rights reserved.
© 2021 The Codemasters Software Company Limited ("Codemasters"). All rights reserved. "Codemasters"®, the Codemasters logo and "DiRT"® are registered trademarks owned by Codemasters. "DIRT 5"™ and "RaceNet"™ are trademarks of Codemasters. All rights reserved. All other copyrights or trademarks are the property of their respective owners and are being used under license. Developed by Codemasters.
© CAPCOM U.S.A., INC. ALL RIGHTS RESERVED