ASUS Vivobook S 15 OLED BAPE Edition (K5504)
ASUS Vivobook S 15 OLED BAPE Edition (K5504)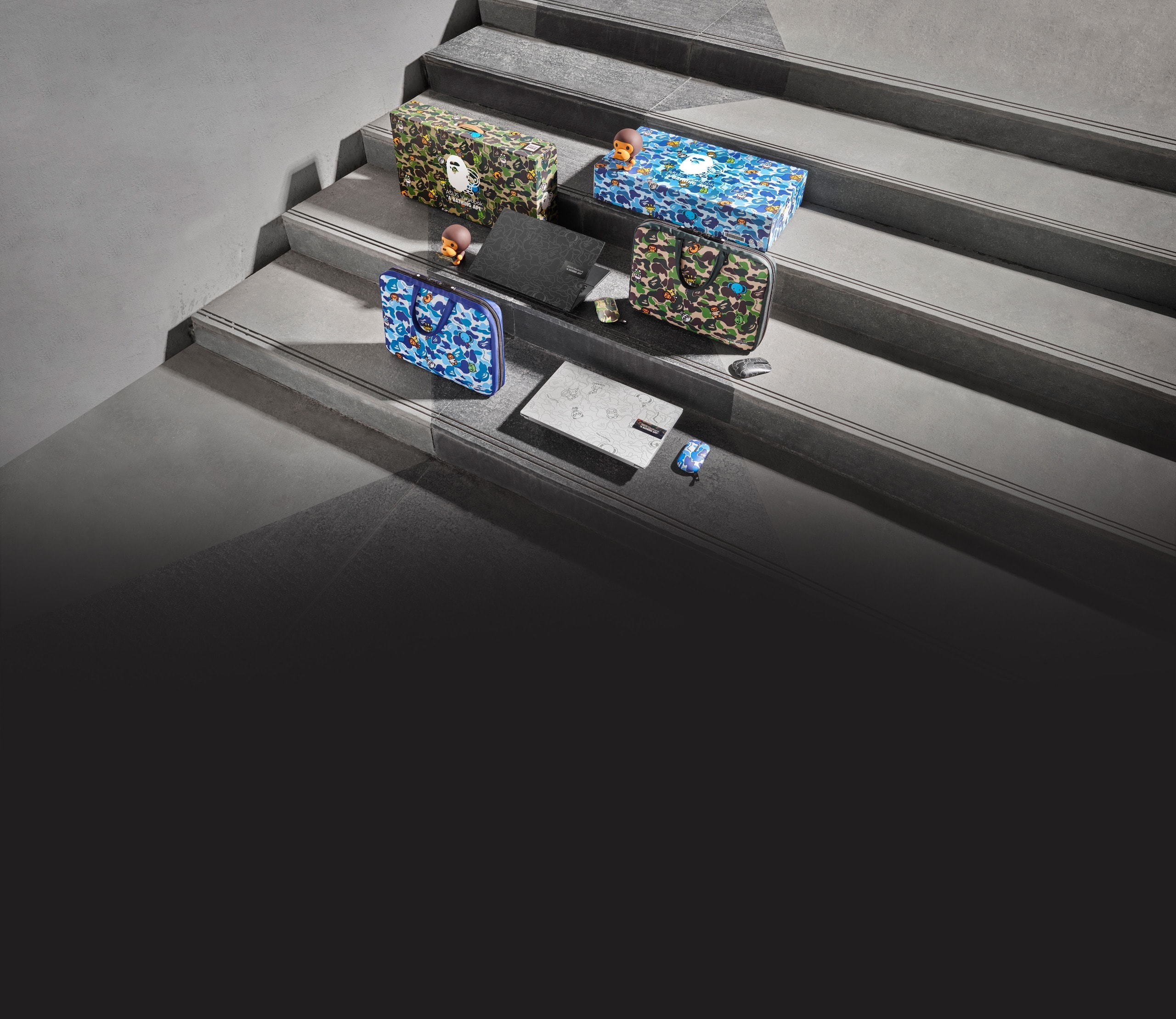 ASUS Vivobook S 15 OLED BAPE Edition
Nikmati kolaborasi terbaik antara street fashion dan teknologi dengan Vivobook S 15 OLED BAPE Edition, kolaborasi inovatif kami dengan brand streetwear ternama, A BATHING APE® (BAPE®). Motif kamuflase dan BABY MILO® yang khas dan ikonik, yang dibuat secara eksklusif untuk kolaborasi ini, kini ditampilkan tidak hanya di laptop tetapi juga di aksesori menarik lainnya seperti mouse, tas laptop, dan figurine. Dengan gaya Vivobook yang dinamis dan trendi melengkapi desain BAPE® yang hidup dan mempesona, kolaborasi baru ini pasti akan membuat WOW THE WORLD!
Download Product Guide
ASUS No.1 OLED: GFK and NPD combined retail data in 2021 Q4~2022 Q4, worldwide market.
Rp 17,299,000
Midnight Black
Cool Silver
Intel® Evo™ Platform Powered by Intel® Core™ i5-13500H
Intel® Iris® Xe
RAM 16GB LPDDR5
SSD NVMe 512GB
OLED 2.8K 120Hz
Windows 11 Home
Rp 20,299,000
Midnight Black
Cool Silver
Intel® Evo™ Platform Powered by Intel® Core™ i9-13900H
Intel® Iris® Xe
RAM 16GB LPDDR5
SSD NVMe 1TB
OLED 2.8K 120Hz
Windows 11 Home
World's leading 15.6" 2.8K 120 Hz OLED display
2880 by 1620 resolution, Three-sided NanoEdge 86% screen-to-body ratio, 0.2 ms response time, 100% DCI-P3 color gamut, PANTONE
®
Validated, average Delta-E < 2
1
, 600 nits peak brightness
Core™ i9-13900H
13th Gen Intel® CPU
Dolby Atmos®
for spatial audio experience
for the best typing experience
About the Collaborator
Lahir di daerah Harajuku, Jepang pada tahun 1993, BAPE® telah menjadi simbol street fashion Jepang selama lebih dari 30 tahun. Berjuang untuk memperkenalkan budaya fashion Jepang kepada dunia, BAPE® telah menciptakan serangkaian motif ikonik, pola original, dan karakter seperti APE HEAD, BAPE® CAMO, BABY MILO®, dan banyak lagi.
Design
Small details. Huge applause.
Laptop tipis dan ringan ini adalah mahakarya desain yang rumit, dengan detail yang dibuat dengan mulus untuk kesempurnaan. Tutup metalik menonjolkan desain kamuflase linier yang telah diukir dengan cahaya foto secara tepat dan dihiasi dengan label logo baja tahan karat yang diproses PVD. Kami juga telah menggunakan teknik canggih lainnya seperti back printing, sablon, dan digital printing pada laptop dan asesorisnya. Tapi ini bukan hanya tentang penampilan. Keyboard ASUS ErgoSense kami menawarkan pengalaman mengetik yang nyaman, sedangkan engsel 180° yang dapat direbahkan memberikan fleksibilitas untuk segala situasi. Kami telah mempertimbangkan setiap detail untuk memberikan pengalaman terbaik bagi Anda.
Performance
Hit the road. Non-stop.
Laptop ASUS Vivobook S 15 OLED BAPE Edition ditenagai oleh prosesor Intel® Core™ Generasi ke-13 dan RAM 16 GB, memberikan performa luar biasa untuk streaming, bekerja, dan menikmati hiburan tanpa hambatan. Dengan laptop ini, Anda dapat yakin bahwa Anda memiliki semua performa yang Anda butuhkan di ujung jari Anda.
Dengan verifikasi Intel® Evo™
5
, laptop ini memiliki semua yang Anda perlukan untuk memudahkan tugas sehari-hari, mulai dari pengisian daya cepat, masa pakai baterai tahan lama, konektivitas kecepatan tinggi, menyala dengan siap, dan performa luar biasa, semuanya dalam desain yang ringkas untuk produktivitas dimana saja.
Intel® Core™ i9-13900H
13th Gen Intel® CPU
DISPLAY
Conquer entertainment like beast
Laptop ASUS Vivobook S 15 OLED BAPE Edition menjadi pilihan utama bagi yang suka streaming di Netflix, YouTube, atau browsing media sosial. Menampilkan layar 16:9 2.8K 120 Hz
7
OLED NanoEdge, monitor ini memberikan pengalaman menonton yang imersif dengan layar lebar 600-nit, rasio bodi dengan layar 86%, dan gamut warna DCI-P3 100%. Apakah Anda membutuhkannya untuk bekerja atau bermain, laptop ini memiliki semuanya.
Accessories
Gear on. Game on.
Tingkatkan gaya jalanan Anda dengan perlengkapan teknologi yang dibuat untuk menggabungkan mode dan fungsi, dengan mulus.
Iconic BABY MILO® Figurine
Compact Carry Bag
Customizable Mouse
Durable Sticker and Keyboard Sticker