ASUS Chromebook CX1 (CX1400)
ASUS Chromebook CX1 (CX1400)
Simplify Your Everyday Computing Experience
Enhance Efficiency in Work, Learning, and Collaboration!
Unlock the full potential of Google with the cutting-edge ChromeOS. The ASUS Chromebook CX1 offers a seamless gateway to the finest Google services, catering to your learning, work, and leisure needs. Experience the convenience of accessing all your favourite productivity, entertainment, and creative apps from Google Play with ChromeOS' integrated support for Android apps. Elevate your productivity with the power of Google Workspace apps, seamlessly integrated with cloud services. Furthermore, rest assured of top-tier security with the Titan C dedicated hardware chip securing your device.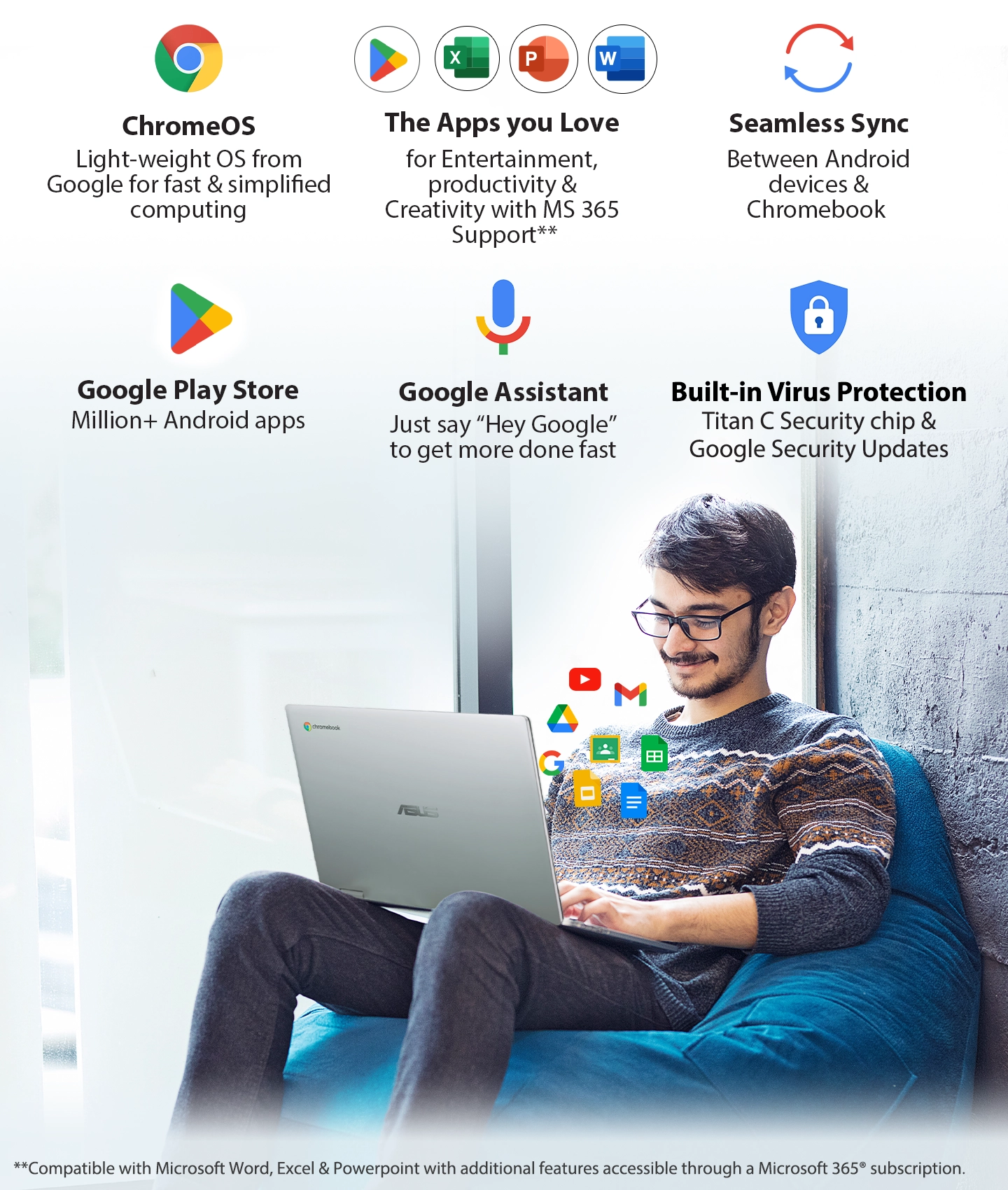 A Class Above Performance
Elevate Productivity with Unsurpassed Performance!
Experience unparalleled performance with the ASUS Chromebook CX1, featuring the fast and efficient Intel® Celeron® N4500 processor, combined with up to 8 GB of fast LPDDR4X memory and 128 GB of storage. This empowers the CX1 to deliver exceptional performance, significantly enhancing your productivity. The innovative fan-less design technology ensures efficient cooling, resulting in a remarkably noiseless yet powerful performance. Whether you're immersed in a movie or engrossed in a project document, the Chromebook maintains a tranquil profile, providing an undisturbed and focused work or learning environment.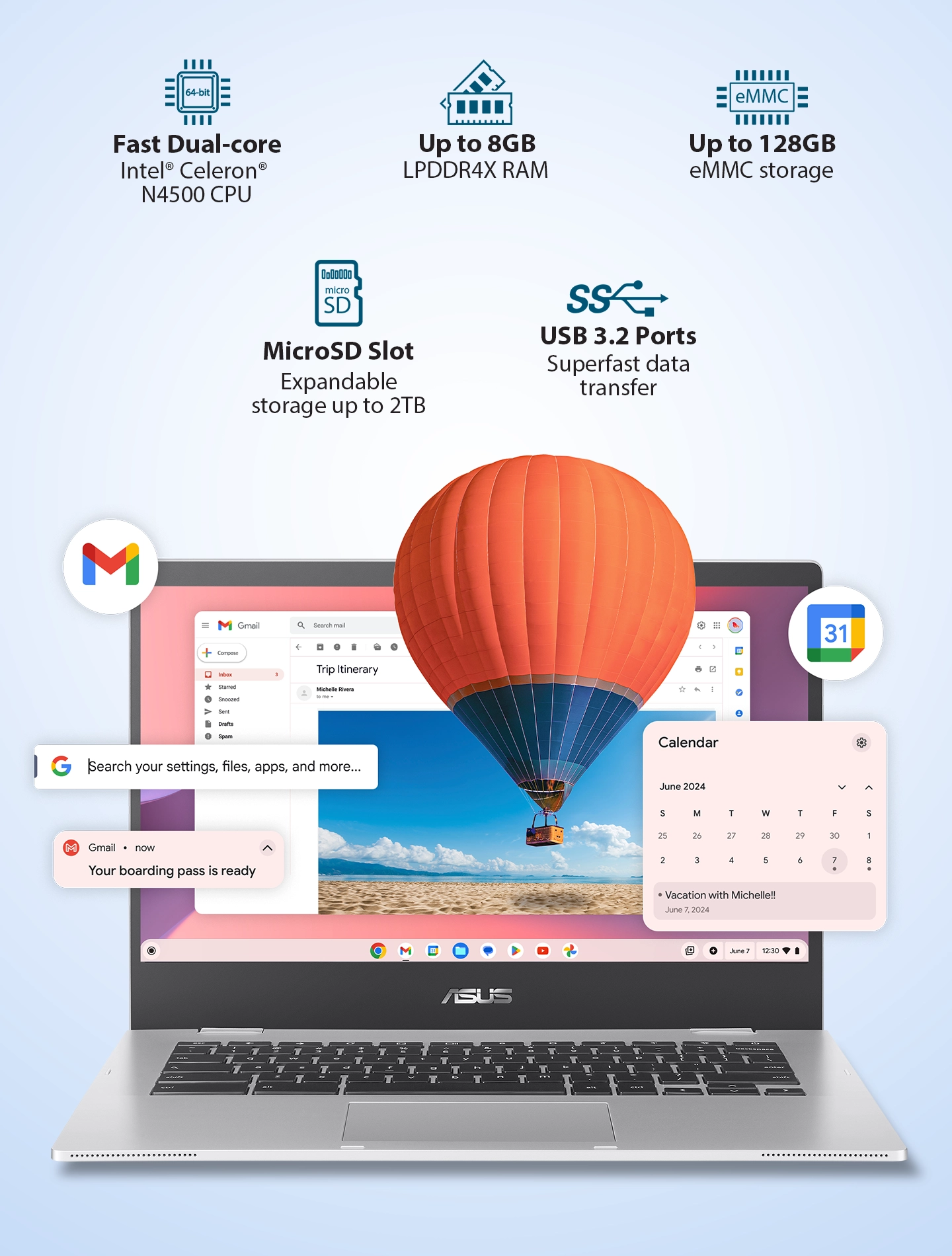 Elegantly Immersive Display
Ideal for Study, Work & Entertainment!
The ASUS Chromebook CX1 features an immersive 35.56cm (14) display that lays flat at 180°, elevating your viewing experience. With a 77% screen-to-body ratio and an anti-glare Full HD display featuring up to V-IPS wide-view technology, the CX1 offers expansive viewing angles.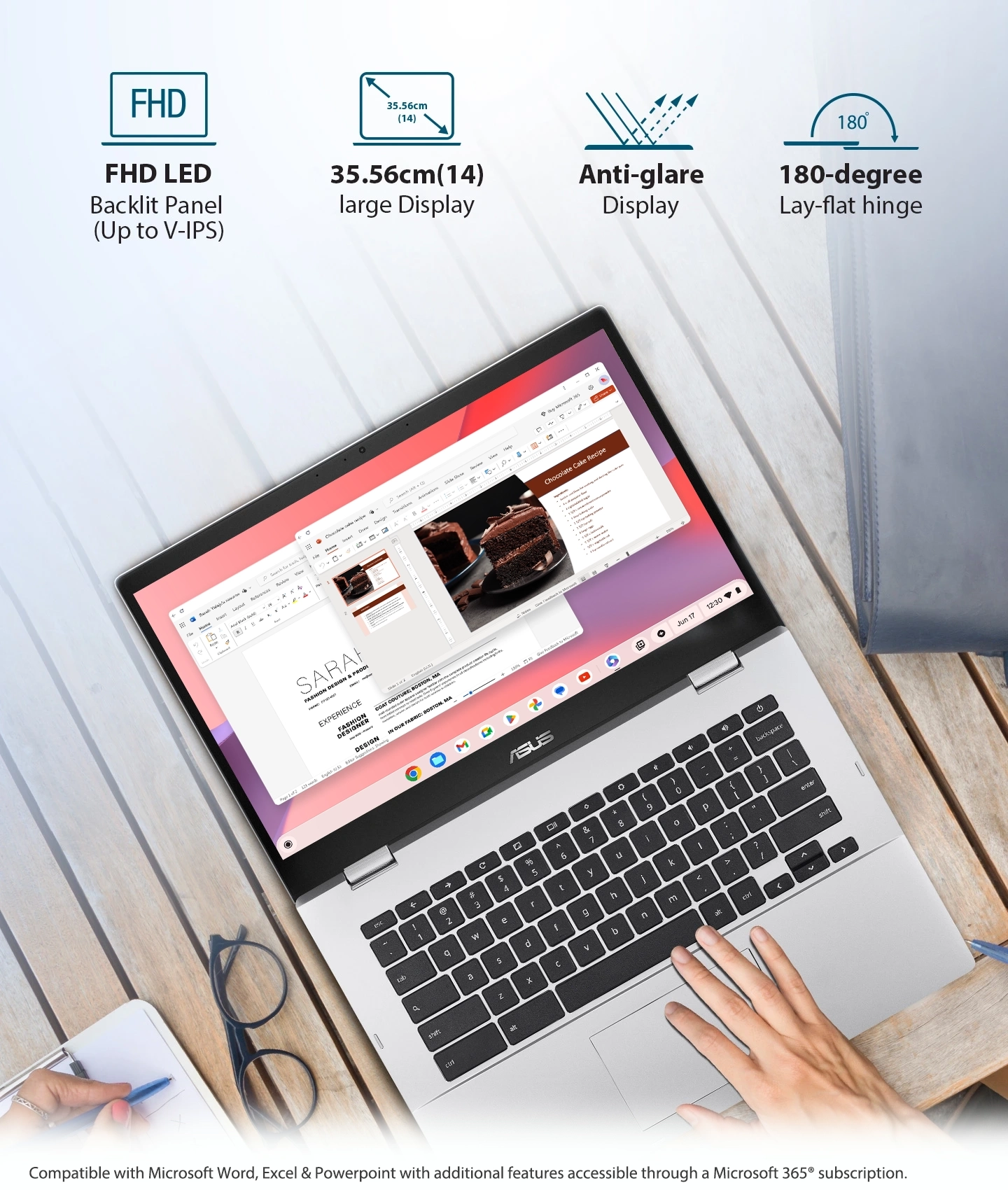 Extended Battery Endurance
Lasts Longer, Charges Faster
Experience the freedom of up to 11 hours of uninterrupted productivity with the ASUS Chromebook CX1 on a single charge owing to the 50Wh Li-Po battery pack & the 45W USB-C fast charging cable technology. Now, you can stay untethered from the wall and remain on the go throughout your bustling day, be it attending consecutive classes, embarking on a long-haul flight, or indulging in an extended binge-watching session.
Enduring Resilience
Fortified with Military-Grade Durability!
Experience unparalleled sturdiness with the ASUS Chromebook CX1, meticulously engineered with strategic structural reinforcements to enhance its chassis strength, rendering it an ideal choice for a mobile lifestyle. Going above and beyond, it surpasses the exacting US MIL-STD 810H durability standards, renowned for their heightened rigor and demanding nature. Additionally, the Chromebook undergoes rigorous internal tests conducted by ASUS, including panel-pressure, port durability, and twist tests, ensuring unwavering durability against everyday impacts and jolts.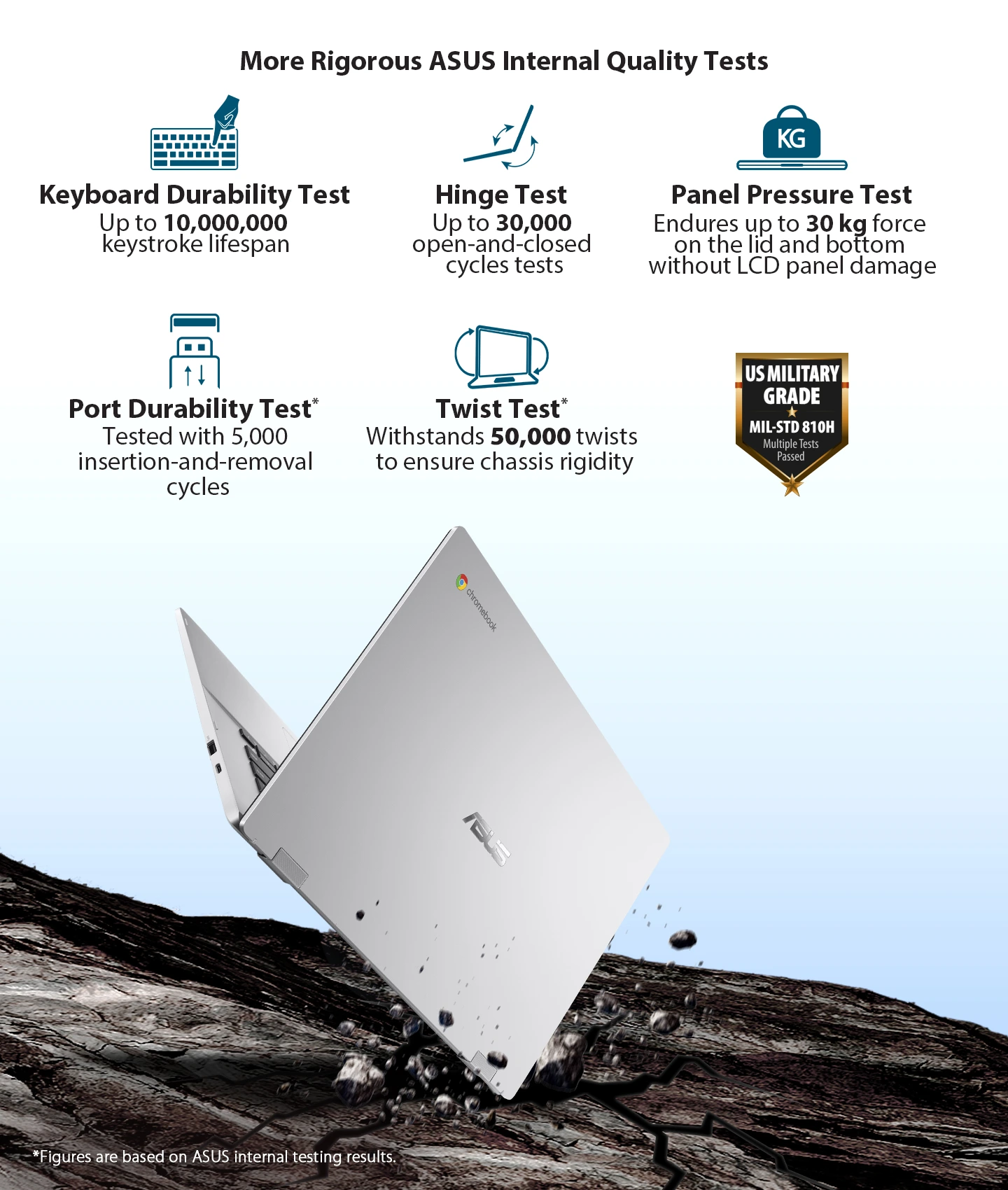 Seamless Mobility and Enhanced Productivity
Portable, Efficient, and Productivity-Driven!
Experience the epitome of effortless mobility and productivity with the ASUS Chromebook CX1. Its lightweight and portable design caters to your on-the-go lifestyle, while its full-size, ergonomic keyboard with up to 1.5 mm key travel ensures that typing is supremely comfortable. Moreover, the Chromebook boasts a multi-gesture trackpad that enhances productivity, ensuring smooth and efficient navigation.
Seamless and High-speed Connectivity
Uncompromised Connectivity!
Discover the convenience of the ASUS Chromebook CX1, equipped with an effective array of I/O ports that seamlessly connect you to a wide range of peripherals, enhancing your study, work, or entertainment experience. Additionally, it also features dual-band Wi-Fi 6 (802.11ax) along with Bluetooth v5.2, allowing you to browse online content in the blink of an eye and connect to new generation Bluetooth devices. The wireless connectivity is further enhanced with the ASUS Wi-Fi Master for ChromeOS, which ensures greater speed, stability, and range to help you stay always connected.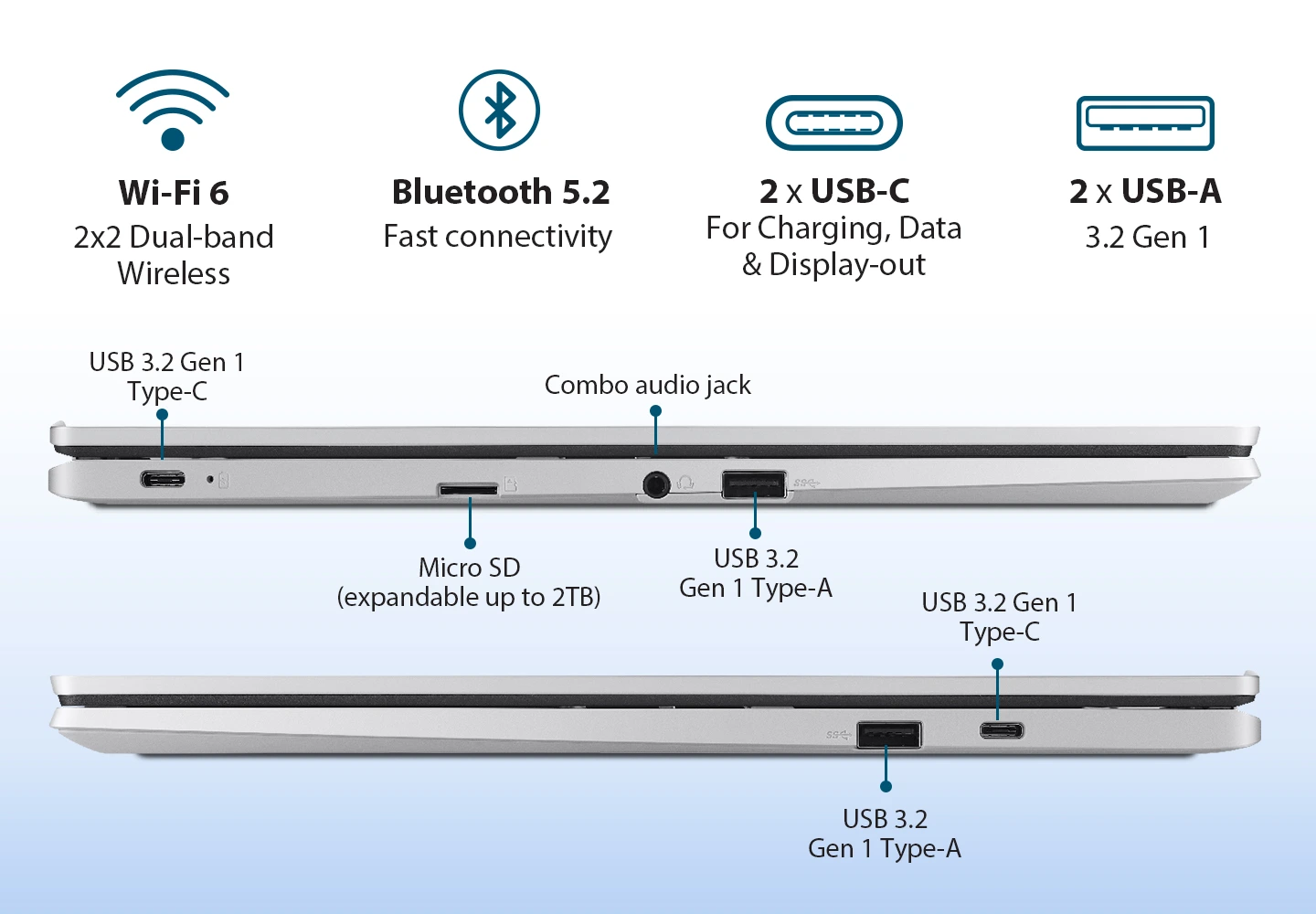 Maximum Support, Minimal Effort
A Comprehensive coverage that protects more than just your hardware and allows you to customize a service solution that best meets your needs.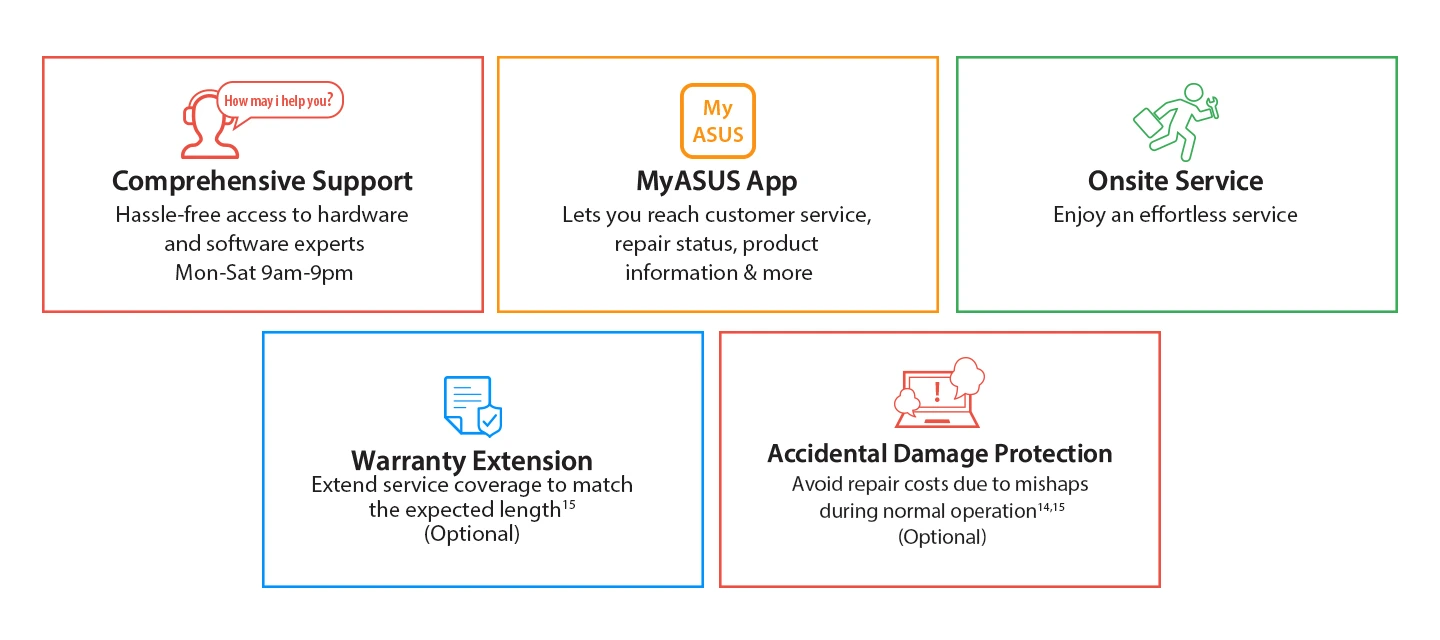 Compare (0)