ASUS Vivobook S 16 Flip OLED (TP3604)
ASUS Vivobook S 16 Flip OLED (TP3604)
ASUS Vivobook S 16 Flip OLED
Wherever versatility takes you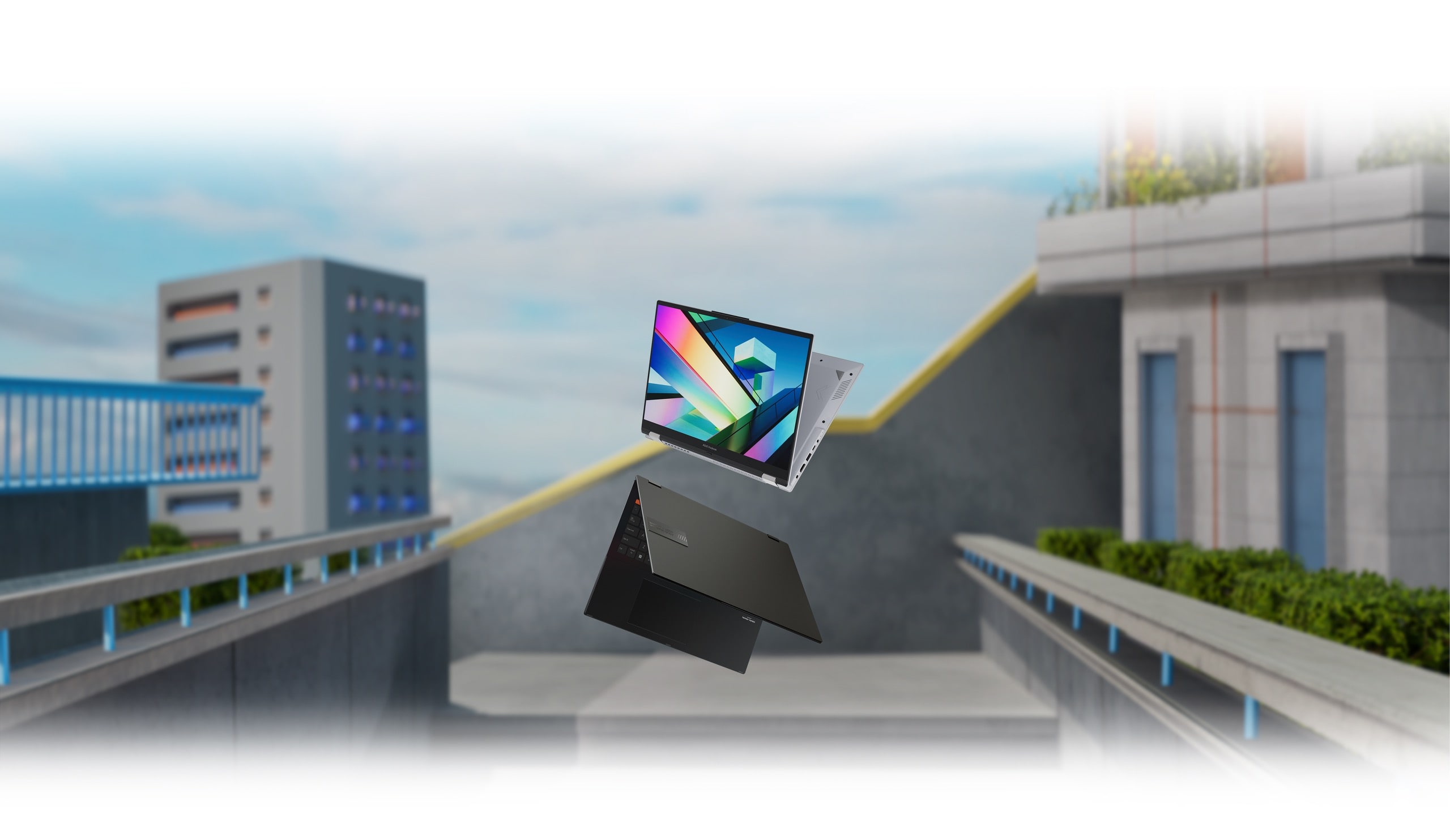 Explore all the possibilities with Vivobook S 16 Flip OLED, the convertible laptop that gives you 360
°
of freedom. Feel the formidable power of its 13th Gen Intel
®
Core
™
H-series processor. Treat your eyes to the gorgeous visuals on its 3.2K 120 Hz
1
OLED NanoEdge touchscreen and Corning
®
Gorilla
®
Glass NBT
™
scratch-resistant covering. Capture all your greatest ideas using the 4096 pressure-level stylus. Take it to the limit and let the good times roll with Vivobook S 16 Flip OLED!
ASUS No.1 OLED: GFK and NPD combined retail data in 2021 Q4~2022 Q3, worldwide market.
World-leading 16" 3.2K 120 Hz OLED display
16:10 aspect ratio, 3200 by 2000 resolution, Three-sided NanoEdge 85.6% screen-to-body ratio, 0.2 ms response time, 100% DCI-P3, PANTONE
®
Validated, average Delta-E < 2
2
, 550 nits peak brightness
Corning® Gorilla®
Glass NBT™
for scratch resistance,
anti-fingerprint coating
ASUS ErgoSense keyboard
for the best typing experience
ASUS AI noise cancelation
noise-free video conferencing
for distortion-free sound
Dolby Atmos®
for a multi-dimensional audio experience
4096 pressure levels, USB-C charge
PERFORMANCE
Master of multitasking
Vivobook S 16 Flip OLED breezes through even the most demanding tasks, with its up to 13th Gen Intel Core i9-13900H processor, 16 GB of ultrafast RAM
4
(there's an upgrade slot, too!) and Intel Iris
®
X
e
integrated graphics. With its big, fast 1 TB SSD
11
and speedy WiFi 6E
12
connection, Vivobook S 16 Flip OLED makes your work effortless, and your leisure more enjoyable.
CPU
Boost to the max
Powered by up to a 13th Gen Intel® Core™ i9-13900H processor, Vivobook S 16 Flip OLED is a master of multitasking. It's easy to stream, browse, edit, video chat, and take care of business at home — or all of the above. For the fastest performance, Vivobook S 16 Flip OLED can boost its CPU power up to an incredible thermal design power (TDP) of 45 watts: it's a match for any challenge!
THERMAL
Cooler, quieter and faster!
ASUS IceCool thermal technology uses up to 8 mm and 6 mm heat pipes
17
, and an IceBlade fan to efficiently dissipate heat and stay cool in all situations. The 80-blade fan is lighter and thinner than ordinary fans, and it also uses a fluid-dynamics bearing that's much quieter and has less vibration than an ordinary bearing.
< 38 dBA
noise under Standard mode
DISPLAY
A vision of greatness
Expand your visual enjoyment with the gorgeous 16:10 3.2K 120 Hz
1
OLED NanoEdge touchscreen, which is covered with Corning Gorilla Glass NBT for enhanced resistance to scratches and fingerprints. It will bring your ideas to life with its vibrant 100% DCI-P3 color gamut and expansive 85.6% screen-to-body ratio. Its PANTONE
®
Validated and VESA DisplayHDR
™
True Black 500 certification means that it delivers accurate colors and shows the deepest possible blacks. And with eye-care certification from both SGS and TÜV Rheinland, your eyes are well-protected with the low blue-light emissions.
Exhilarating OLED displays
Bring scenes to life with professional-grade colors.
Leading 120 Hz motion clarity
More frames per second, so fast-moving visuals are smoother and clearer than ever.
Make it personal, ASUS Splendid
Fully customizable color with sRGB, DCI-P3, Display-P3, and Native options.
Corning® Gorilla® Glass
A display surface that's six times more durable than ordinary laptop glass.
DESIGN HIGHLIGHT
Match your style
Vivobook S 16 Flip OLED really stands out with its unique raised logo tab design, along with the stripe-accents on the
Enter
key and orange color-blocked
ESC
key. You'll also find the new 'stacked block' design of the I/O ports. For colors, you can choose from charming Midnight Black or distinguished Cool Silver — whichever says 'that's me!' Vivobook S 16 Flip OLED is slim enough to pop unobtrusively into any backpack, and light enough for easy one-handed carrying.
Cool Silver
Match the untiring enthusiasm of your generation, and always encourage yourself to explore every possibility.
Midnight Black
Follow your instincts and let the calm of the night guide you into a wide world of creativity.
USER EXPERIENCE
Thoughtful design
We go the extra mile to give you a more effortless and joyful experience, at work or play.
Your hygiene, our priority
ASUS Antimicrobial Technology is proven to inhibit bacterial growth by 99%
21
with at least three years of protection.
Perfect brightness and color tone!
The ambient light color sensor auto-adjusts for changes in the environment brightness and color temperature.
ErgoSense keyboard, comfortable typing experience
The ASUS ErgoSense keyboard has an incredibly satisfying feel, with the optimum key bounce and travel, calculated with fine-tuned precision.
Dedicated function keys
Pressing F9 toggles the mic on or off, and the F10 key controls the webcam shield.
One touch login
The fingerprint sensor
22
integrated into the power button allows easy and secure one-touch login.
Pencil drawing, on a laptop
With the sensitivity of 4096 pressure levels, ASUS Pen 2.0
23
allows you to accurately reproduce the finest line and shading.
BATTERY
Boundless energy
To keep you going longer, Vivobook S 16 Flip OLED has a long-lasting up to 70 Wh battery
4
that can easily match your pace. And when it's time to charge, the fast-charge technology will top it up to 60% capacity in as little as 49 minutes. Stress less, achieve more!
SMART CONFERENCING
AI camera and audio system
Take back control of your meetings with our innovative camera system and ASUS AI noise-canceling audio technology, with new algorithms to make your conference calls even more productive.
Best online meeting experience
ASUS AiSense camera makes sure that you always look your best during virtual conferences.
Hear and be heard clearly
Two-Way AI Noise Cancelation leverages a massive deep-learning database to reduce background noise for microphone and audio.
CONNECTIVITY
Empowering connections
Vivobook S 16 Flip OLED is packed with a comprehensive set I/O ports to cover all your daily needs. There's a USB 3.2 Gen 2 Type-C® port that supports up to 10 Gbps data transfers and allows easy charging with a wide range of standard 5-20V USB-C® chargers, an HDMI® 2.1 port with support for 4K 60 Hz displays, a USB 2.0 port, a 10 Gbps USB 3.2 Gen 2 Type-A port, and a convenient audio combo jack — so it's easy to connect all your existing peripherals, displays and projectors.
USB 3.2 Gen 2 Type-C
®
Support fast data transfer
HDMI
®
2.1
Support 4K 60Hz display
AUDIO
Break the sound barrier
For unrivaled audio quality, Vivobook S 16 Flip OLED has a stereo sound system certified by the audio experts at Harman Kardon. It delivers powerful, immersive sound that's crystal-clear. The immersive Dolby Atmos® technology indulges you in your favorite entertainment with sound that moves all around you, adding breathtaking realism to music, movies and TV.
Always in the best listening spot
Dive into a multi-dimensional cinematic sound experience with Dolby Atmos.
Maximum possible volume
Using a Smart Amplifier and ASUS Audio Booster technology, the audio volume is boosted by up to 5.25x.
MILITARY-GRADE
World's most strictly tested US military-grade laptop durability24
ASUS laptops
7
are engineered with extraordinary toughness meet the exacting US MIL-STD-810H military-grade standard, undergoing 12 rigorous test methods and 26 punishing test procedures — exceeding industry standards. The upshot is a range of products that are renowned for reliability and durability. These factors also inherently benefit longevity and thus sustainability, so you can work, travel or relax with the confidence that your ASUS laptop is ready for the real world — today, and long into the future.
Learn more about each laptop quality test results
12
military-grade test methods
26
military-grade test procedures
-51~71°C​
extreme temperature endurance
95%
humidity tolerance for 10 days
Operational, Unpackage, 40 g, 11 ms, 18 shocks
2.
Transportation shock – on road
Non-operational, Package, 5.1-7.6 g, 11 ms, 3-42 shocks
Non-operational, Unpackage, 30-50 g, 18 shocks
Non-operational, Unpackage, 75 g, 6 ms, 12 shocks
Operational, Unpackage, 100 mm
Unpackage
Non-operational vibration: 5-500 Hz
Duration: 32 minutes
Unpackage
Non-operational vibration:5-500 Hz
Duration: 40 minutes
Unpackage
Operational vibration: 5-500 Hz
Duration: 60 minutes
9.
Basic hot storage and transit
Non-operational, 30~63°C, 168 hours, 5~44% humidity
10.
Basic hot operational
Operational, 30~43°C, 72 hours, 14~44% humidity
11.
Hot dry storage and transit
Non-operational, 33~71°C, 168 hours
Operational, 32~49°C, 72 hours
13.
Basic climatic storage and transit
Non-operational, -25~-33°C, 168 hours
14.
Basic climatic operational
Operational, -21~-32°C, 72 hours
15.
Cold climatic storage and transit
Non-operational, -37~-46°C, 168 hours
16.
Cold climatic operational
Operational, -37~-46°C, 72 hours
Operational
Particle density: 10 +/- 7 g/m3
Air velocity: 300~1750 ft/min
Temperature: 60°C
Operational
Particle density: 1.2 g/m3
Air velocity: 28 m/s
Temperature: 60°C
Non-operational, 40,000 feet, -20°C, 12 hours
Operational, 15,000 feet, 5°C/40°C, 12 hours
Humidity: 95% RH
Temperature: 30°C/-10°C
Duration: 1 hour, 3 cycles
Non-operational
Humidity: 95% RH
Duration: 10 days
Non-operational
Temperature: -51~71°C
Duration: 1 hour, 3 cycles
Non-operational
Spectral irradiance: 1120 W/m2, 49°C
Duration: 24 hours, 3 cycles
Mechanical Vibration Test
Operational
Frequency: 4-33 Hz
Duration: 2 hours
Explosive Atmosphere Test
Operational
Altitude: 15,000~3300 feet
Explosive air: 95% n-Hexane
SOFTWARE
Truly personalized workflow
MyASUS hosts a collection of handy ASUS apps and tools that help you get more out of your laptop. GlideX is a powerful cross-device screen-sharing solution. ScreenXpert helps you to manage app windows across displays connected to your ASUS PC, giving you full control of your workflow!
Learn more about MyASUS
MyASUS
MyASUS provides easy access to ASUS apps that are designed to help you maintain your system, update your software, optimize your PC's performance, and contact ASUS for after-sales support.
Learn more about MyASUS
GlideX
GlideX is a cross-device screen-sharing solution, with Mirror and Extend features that give you a bigger and better space for work and play. The Unify Control feature lets you use a single mouse and keyboard set to control different devices from one PC, across different OSes, so you don't need to switch between devices. GlideX optimizes your workflow in the blink of an eye!
Learn more about GlideX
Register your PC to get a coupon for a 365-day free trial of GlideX Pro
ScreenXpert for ASUS PCs
ScreenXpert for ASUS PCs — which you can download from Microsoft Store or find in your PC's Start menu — helps you to manage app windows across displays connected to your ASUS PC and puts you in full control of your workflow!
Learn more about ScreenXpert for ASUS PCs
The characteristics of an OLED display can eventually change over long periods of use, leading to visible changes. This is completely normal, and can cause behavior such as image burn-in or persistence: this means that a faint ghost of an image remains visible even when it's replaced by a new image. These effects are more likely to occur if a non-moving (static) high-contrast image is displayed for an excessively long time. ASUS laptops with an OLED display minimize this risk by setting Windows Dark mode as default, as well as shortening the idle time before the screen is turned off — both on mains (AC) and battery (DC) power. This dual approach minimizes the potential for burn-in to maximize the lifespan of your OLED display lifespan, and also reduces unnecessary power draw for optimal battery life. We also recommended adjusting the brightness of your OLED display to complement the ambient lighting in your environment, rather than keeping the screen at maximum brightness at all times. You should also ensure that you have an animated, dark-background screensaver enabled in the Windows Settings tool.
The devices referred to on this web page are the most highly-specified models available. Some models and configurations may not have an OLED display option. Please check the product specifications to ensure that the correct type of display is configured before purchasing in-store or online.
By default, all models are set to a 60 Hz refresh rate. Users can increase this to the display's maximum refresh rate manually via the display settings. For more information, please read the guidelines: https://www.asus.com/ch-en/support/FAQ/1013049/#Win11_A3.
Average test results: Delta E < 1.5, +/- 0.5. Over time, the Delta E value of the display may change. It is recommended to recalibrate the color to ensure color accuracy.
The figures are based on theoretical performance. Actual performance may vary in real-world situations.
Battery durability will vary depending on usage.
Fast Charging Technology is tested while the device is powered off with the default adapter included with the device. Charging time may vary +/- 10% due to system tolerance.
Maximum RAM capacity may vary according to device configuration.
The testing regime includes the requirements of both military-grade standards and ASUS quality tests, and varies depending on device. MIL-STD-810 testing is conducted on selected ASUS products only. Note that the MIL-STD-810 testing helps to ensure the quality of ASUS products but does not indicate a particular fitness for military use. The test is performed under laboratory conditions. Any damage caused by attempts to replicate these test conditions would be considered accidental, and would not be covered by the standard ASUS warranty. Additional coverage is available with ASUS Premium Care.
Product weight may vary according to device configuration.
The color-temperature-adjustment feature is available with OLED models only.
Clinical testing using ISO 22196 standard protocol proved that bacterial growth were inhibited by 99% over a 24-hour period. A 99% reduction in potentially harmful microorganisms is defined as the number of bacteria on the surface dropping from 1,000,000 cfu/ml to 100 cfu/ml.
Maximum SSD capacity may vary according to device configuration.
WiFi 6E availability may vary by country and their specific regulations. Feature only supported by Windows 11 or later.
802.11ax 2x2 160 MHz enables 2402 Mbps maximum theoretical data rate, ~3x faster than standard 802.11ac 2x2 80 MHz (867 Mbps) and nearly 6x faster than baseline 1x1ac (433 Mbps) Wi-Fi as documented in IEEE 802.11 wireless standard specifications, and require the use of similarly configured 802.11ax wireless network routers.
This amendment defines standardized modifications to both the IEEE 802.11 physical layers (PHY) and the IEEE 802.11 Medium Access Control layer (MAC) that enable at least one mode of operation capable of supporting at least four times improvement in the average throughput per station (measured at the MAC data service access point) in a dense deployment scenario, while maintaining or improving the power efficiency per station. For additional details visit: https://mentor.ieee.org/802.11/dcn/14/11-14-0165-01-0hew-802-11-hew-sg-proposed-par.docx
"Up to 75% lower latency" is based on Intel simulation data of 802.11ax with and without OFDMA using 9 clients. Average latency without OFDM is 36 ms, with OFDMA average latency is reduced to 7.6 ms. Latency improvement requires that the AP and all clients support OFDMA.
Performance claim is based on the Cinebench R23 Multi Core benchmark, comparing the score of Vivobook 16 X1605VA tested by ASUS in Nov 2022 (configured with an Intel Core i9-13900H CPU, 16 GB DDR4, and a 1TB PCIe 3.0 SSD) to Vivobook 16 X1605VA tested by ASUS in Nov 2022 (with an Intel Core i7-13700H CPU, 12 GB DDR4, and a 512GB PCIe 3.0 SSD), and Vivobook 16 X1605ZA (with an Intel Core i7-1255U CPU, 16 GB DDR4, and a 1 TB PCIe 3.0 SDD). Test settings: select Performance mode under Fan profile in MyASUS, and idle the laptop for 10mins prior to running the benchmark under AC mode.
The component placement is for reference only, and may vary by model and configuration.
Compared to average LCD displays in the market, measuring energy emission of blue light in between 415-455 nm wavelength.
Compared to average LCD laptop panel. Average LCD display has 10 ms response time.
Testing done on discrete parts, using soda-lime glass as comparative reference. Figures and tests provided by Corning.
Fingerprint sensor on power button is optional.
ASUS Pen 2.0 is optional. The availability and warranty for the stylus vary according to country and territory. Please check with your local ASUS retailer for details.
ASUS Antimicrobial Guard is applied to the laptop areas that users touch most frequently, including keyboard, the palm rest area, the power button/fingerprint sensor and touchpad. A sticker on the laptop will help to identify the device is covered by Antimicrobial Guard due to different spec configuration.
Selected products are tested using enhanced military-grade MIL-STD-810H durability standards, with 12 test methods and 26 test procedures, to ensure extraordinary toughness. Based on ASUS internal market research using available information and testing reports from main laptop brand websites on Oct 28, 2022, ASUS consumer laptops use a regime consisting of 26 test procedures, which is the consumer laptop industry's strictest and most extensive test regime for the MIL-STD-810H standard.
EPEAT registered where applicable. EPEAT registration varies by country. See www.epeat.net for registration status by country.
Percentage varies according to device configuration.