Note down every creative idea
4096-level pressure sensitivty to create the finest lines and broadest brush strokes
Convenient USB-C® charging for a quick 30-minute full charge providing over 140 hours of use
Four interchangeable pen tips — 2H, H, HB, B
One-click Bluetooth® pairing with multiple shortcuts
Functional buttons: One top button for shortcuts and two side buttons for mouse click and erase
Rp 1,099,000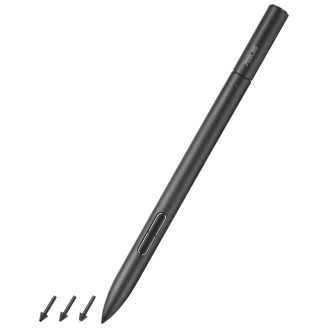 High Precision
Note down every creative idea
ASUS Pen 2.0 yang baru adalah pasangan yang sempurna untuk perangkat layar sentuh ASUS yang kompatibel, memberi Anda kemampuan untuk menulis, menggambar, atau memberi tanda di aplikasi apa pun yang didukung. Teknologi Microsoft Pen Protocol (MPP) 2.0 bawaan menawarkan latensi sangat rendah dan respons cepat, memungkinkan ASUS Pen 2.0 untuk mereproduksi garis halus dan goresan kuas terluas secara akurat dan mudah. Sensitivitas tekanan 4096-level dan ujung pena dengan gaya tekan 5-350 gram
1
memungkinkan Anda membuat catatan atau gambar mendetail yang menangkap pemikiran Anda secara akurat.
4 Pen Tips
A natural writing feel
ASUS Pen 2.0 dikalibrasi dengan tepat untuk mendeteksi semua variasi halus dan nuansa tulisan dan gambar. Muncul dengan empat ujung pena yang dapat dipertukarkan — 2H, H, HB, dan B — untuk sifat gesekan dan kekerasan yang berbeda agar sesuai dengan gaya menggambar atau menulis apa pun. Menggunakan ASUS Pen 2.0 terasa sealami meletakkan pena di atas kertas.
Design
Exquisitely crafted
ASUS Pen 2.0 yang modern dan menawan hadir dengan finishin yang halus dan desain pencegah jatuh yang memberikan cengkeraman yang memuaskan saat digunakan. Untuk menambah kenyamanan, dua tombol samping dan satu tombol atas memungkinkan beberapa pintasan ke berbagai fungsi.
1. Klik kanan mouse 2. Sasis yang mulus 3. Indikator LED 4. Ujung pena yang dapat dilepas-pasang 5. Tombol hapus 6. Desain pencegah jatuh 7. Port USB-C® 8. Tombol Fungsi
Charging & Bluetooth Pairing
More functions with a press of your thumb
ASUS Pen 2.0 menawarkan pengisian daya USB-C® yang nyaman, dengan pengisian penuh cepat selama 30 menit membuat Anda dapat menggunakan lebih dari 140 jam
2
. Indikator LED menunjukkan masa pakai baterai dan status pemasangan perangkat. Fitur Bluetooth juga memungkinkan Anda untuk menangkap tangkapan layar dengan mudah, melompat ke halaman presentasi berikutnya, atau meluncurkan Microsoft Whiteboard dengan satu klik tombol.
Bluetooth® pairing
Pasangkan ASUS Pen 2.0 dengan mudah dengan perangkat berkemampuan Bluetooth dengan menahan tombol atas.
Multi-functional
Gunakan ASUS Pen 2.0 untuk mengambil tangkapan layar, melompat ke halaman berikutnya dari presentasi Anda, meluncurkan papan tulis Microsoft, dan banyak lagi.
USB-C® charge
ASUS Pen 2.0 mengisi daya melalui koneksi USB-C® yang nyaman ke laptop, charger, atau power bank Anda.
Long battery life
Daya tahan baterai lebih dari 140 jam penggunaan saat kondisi penuh./span>
LED Indicator
Check status at a glance
ASUS Pen 2.0 memiliki indikator LED untuk menunjukkan masa pakai baterai dan status Bluetooth. Merah menunjukkan baterai lemah, oranye berarti pengisian sedang berlangsung, dan biru menunjukkan status koneksi Bluetooth.
Dengan +/- 5 g variabilitas.
Tes baterai dilakukan dengan ASUS Pen 2.0 dalam penggunaan terus menerus. Masa pakai baterai yang sebenarnya dapat bervariasi tergantung pola penggunaan dan faktor lainnya.
Compare (0)