Ultra-compact fanless mini PC with Intel® processor N100 & N200 and Intel® UHD Graphics, supports triple displays or dual 4K displays, 1x PCIe® Gen3 x4 M.2 NVMe® SSD, dual 2.5 Gb LAN, WiFi 6E
Latest processor: Powered by the latest Intel® processor N100 & N200
Extremely quite: Fanless design to reduce acoustic noise and dust
Multi-display support: Support up to 3 displays simultaneously, or dual 4K displays by integrated UHD graphics
Comprehensive connectivity: Support 7 USB ports, optional 2nd 2.5G LAN and support DP1.4/VGA/COM/HDMI/USB Type-C with DP1.2 as configurable port options
Space-saving: Compact at 127.5 x 132 x 57.6mm with under 1L volume
Easy optimization: Toolless M.2 PCIe SSD installation design, user-friendly
Simplified Management: RGB power button indicates users when encountered booting issues
Crystal-clear Communication: Features Two-Way AI Noise Cancelation to provide crystal-clear online voice communication
Extreme Reliability: Extensively 24/7 tested to ensure long-term dependability

ASUS
ExpertCenter PN42
Mini PC
Compact and Quiet
for Business Everywhere
Supports up to three displays

Extensive connectivity with seven USB ports

Silent with fanless design

Tool-free PCIe M.2 SSD installation
Overview
The ultracompact ASUS ExpertCenter PN42 mini PC is powered by an Intel® processor N100 & N200 with Intel UHD Graphics and is designed to easily handle a wide variety of home and business applications. ExpertCenter PN42 can support up to three displays, or two 4K displays, simultaneously for efficient multitasking. Plus, it can be specified with up to two 2.5 Gb Ethernet ports, and offers wide- ranging connectivity with up to seven USB ports plus an additional configurable port for either DisplayPortTM 1.4, VGA, COM, HDMI®, or USB-C® DisplayPort (DP Alt Mode) options. The diminutive size of ExpertCenter PN42 makes it well-suited for spaces where traditional PCs won't fit - from digital signage to small home-office setups.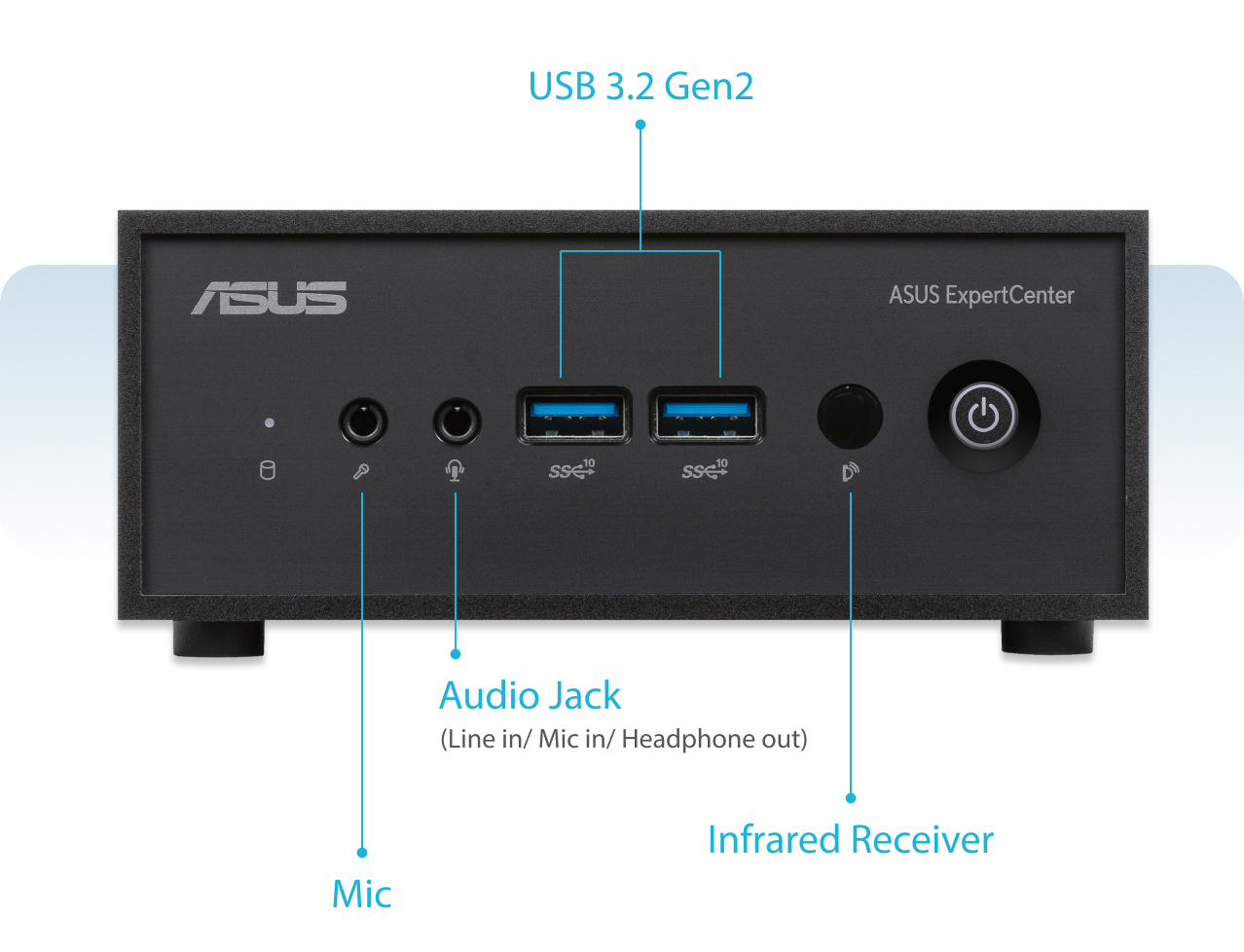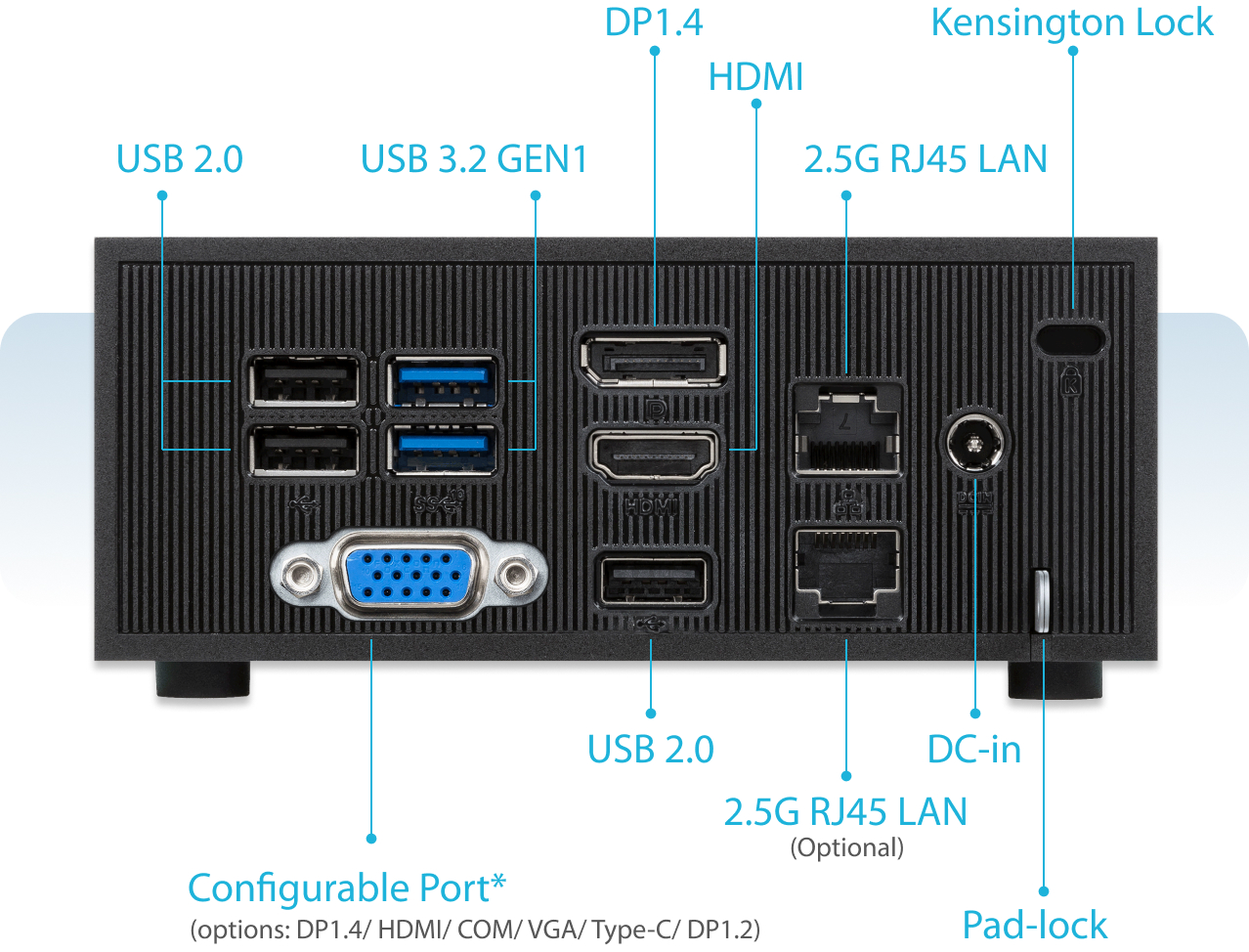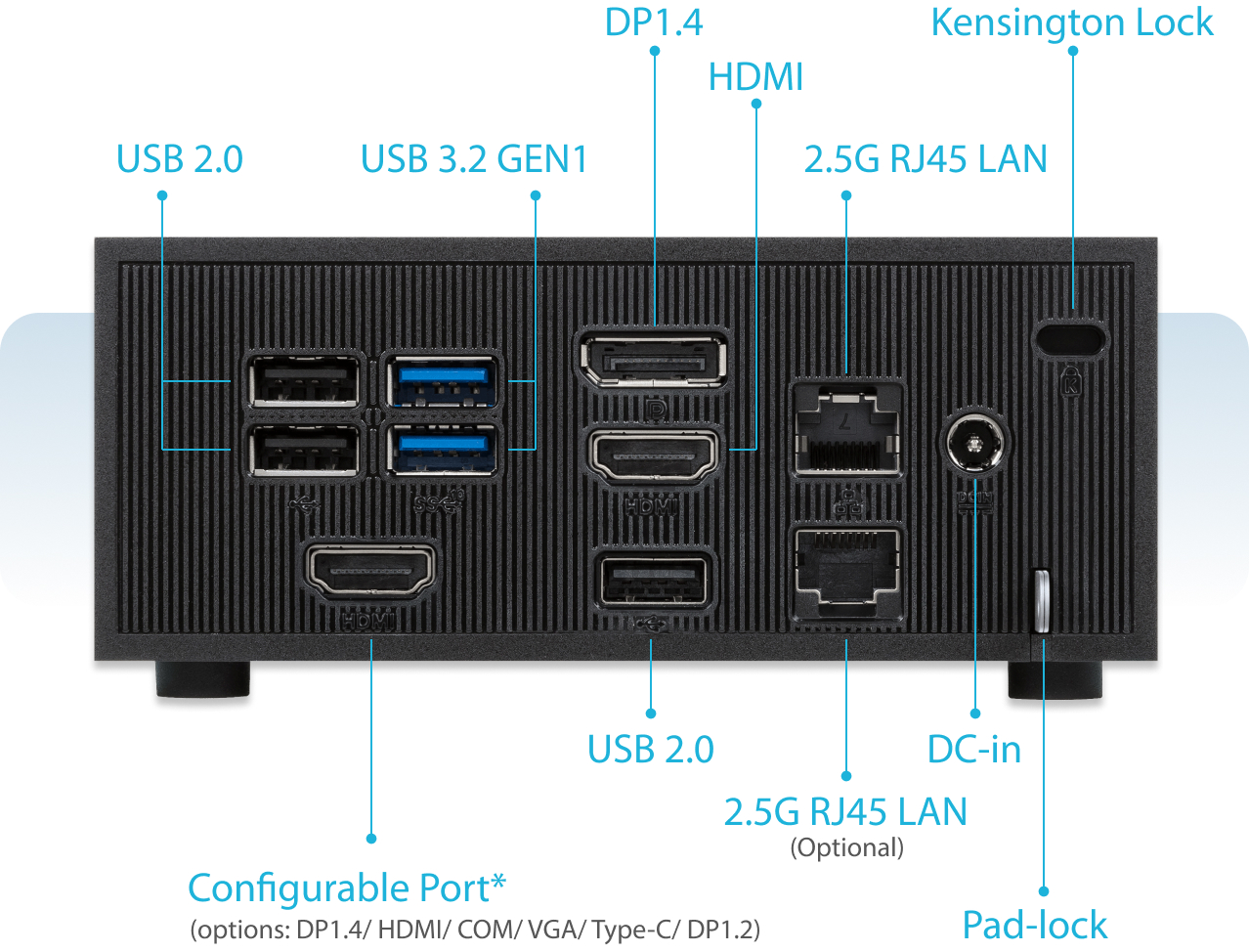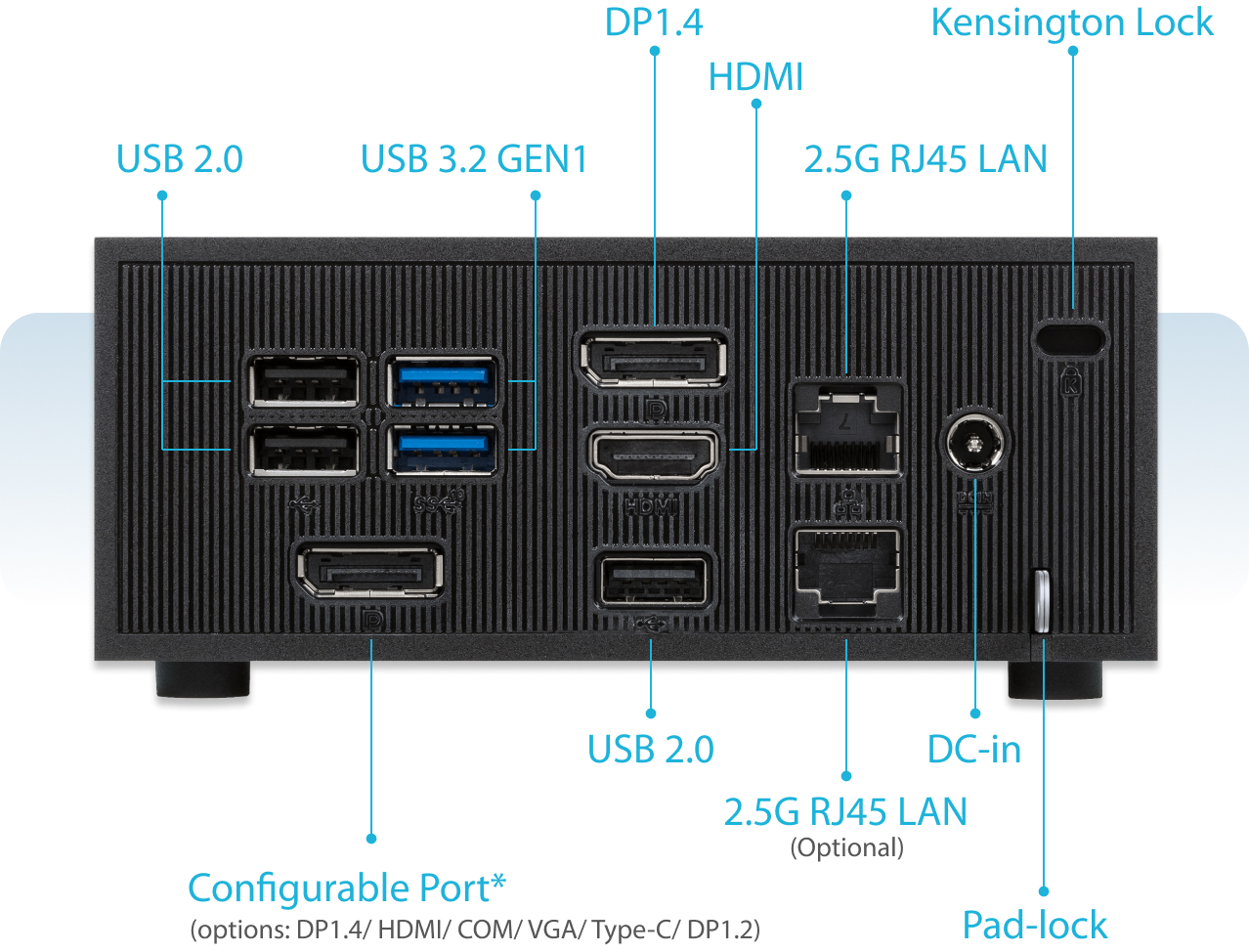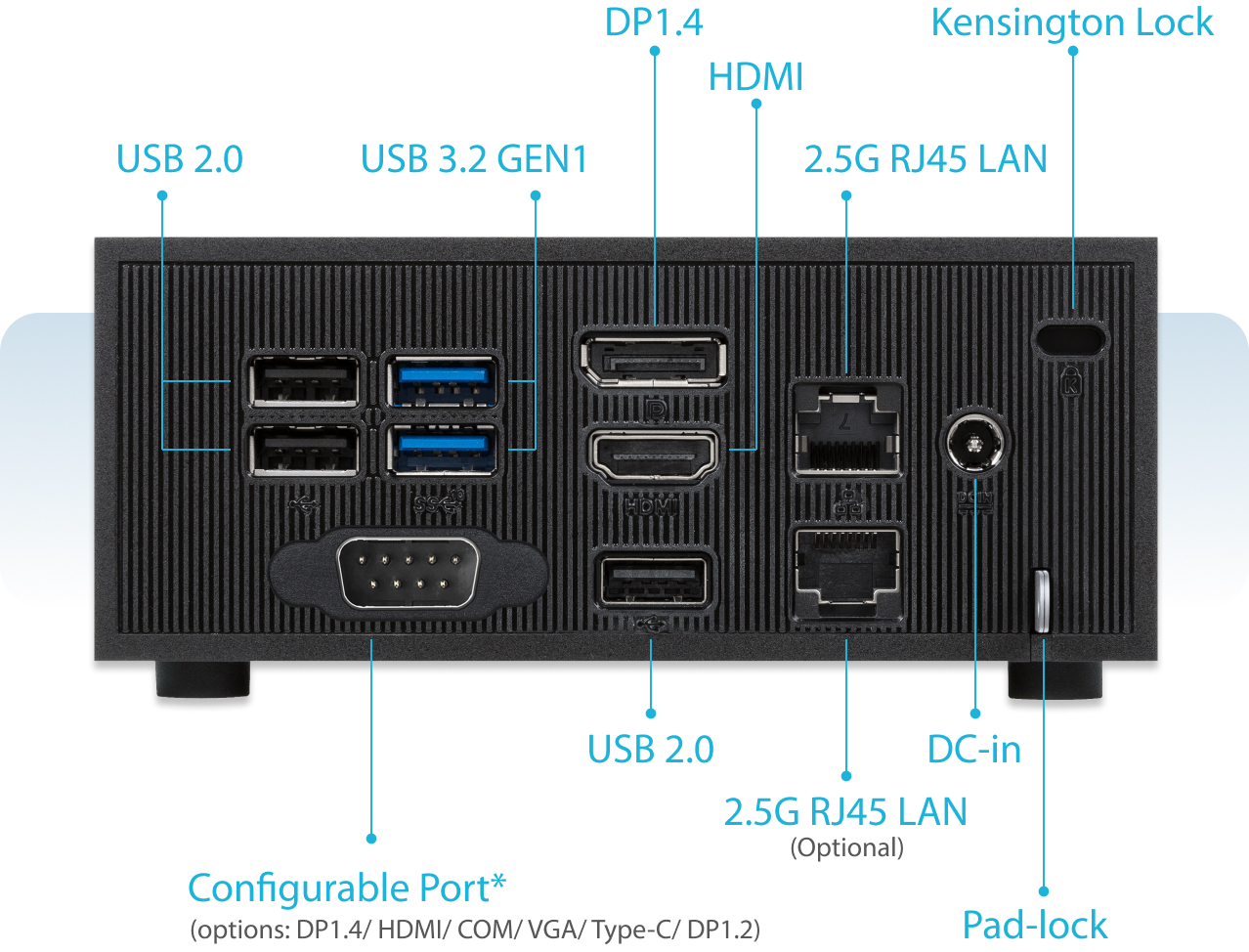 Please note that the spec and pictures shown are for illustration purpose only and actual product may vary due to design change.
*Options of configurable port may vary by SKU.
Compact Size and Aesthetic
ASUS ExpertCenter PN42 is smaller than traditional desktop, and the size of it is similar to phone.
The compact size of PN42 save your workspace which can be particularly useful in smaller workspaces or areas where space is limited. The compact size of a Mini PC also makes it easier to transport. This can be useful if you need to move it between different workspaces.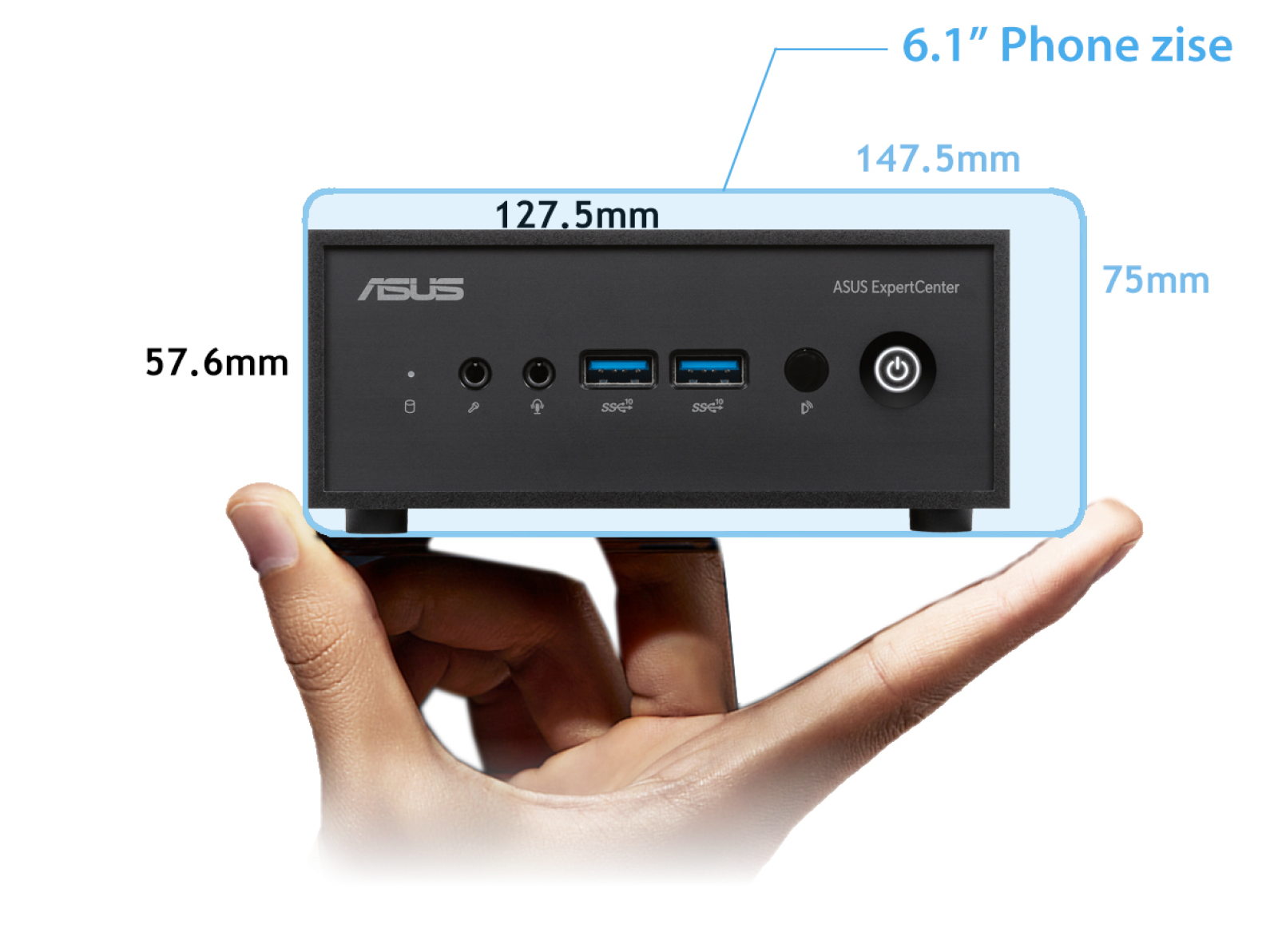 Fanless Chassis
The fanless design of ExpertCenter PN42 runs almost silently and helps reduce dust ingress into the heatsink, making it perfect for industrial use. The elegant ribbed, vented design of the chassis enhances cooling, and a dedicated heatsink helps cool the SSD and WiFi module. The robust build quality of PN42 ensures durability and reliability, making it an excellent computing platform even in the most demanding of environments.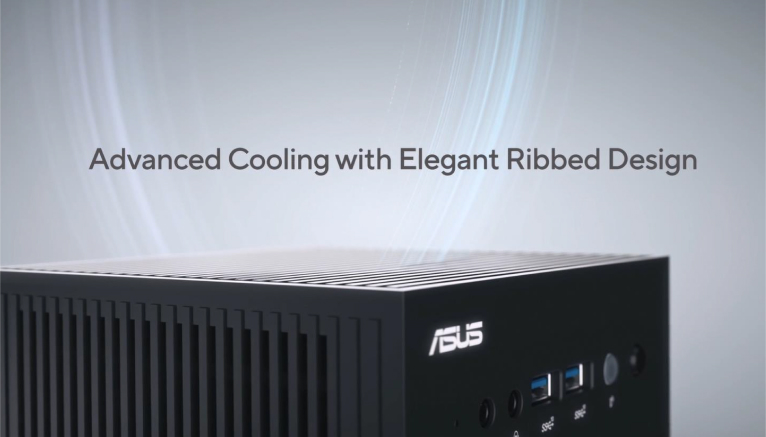 Ultrafast WiFi 6 / WiFi 6E
The WiFi 6 module in ExpertCenter PN42 facilitates seamless streaming of high-res videos, fewer connection drops, and multiple connections without impeding network speeds. WiFi 6E is an extended version of WiFi 6 that supports the 6 GHz band to allow more devices to connect simultaneously, without congestion or interference. WiFi 6E also offers improved security to guard against unauthorized access and malware attacks.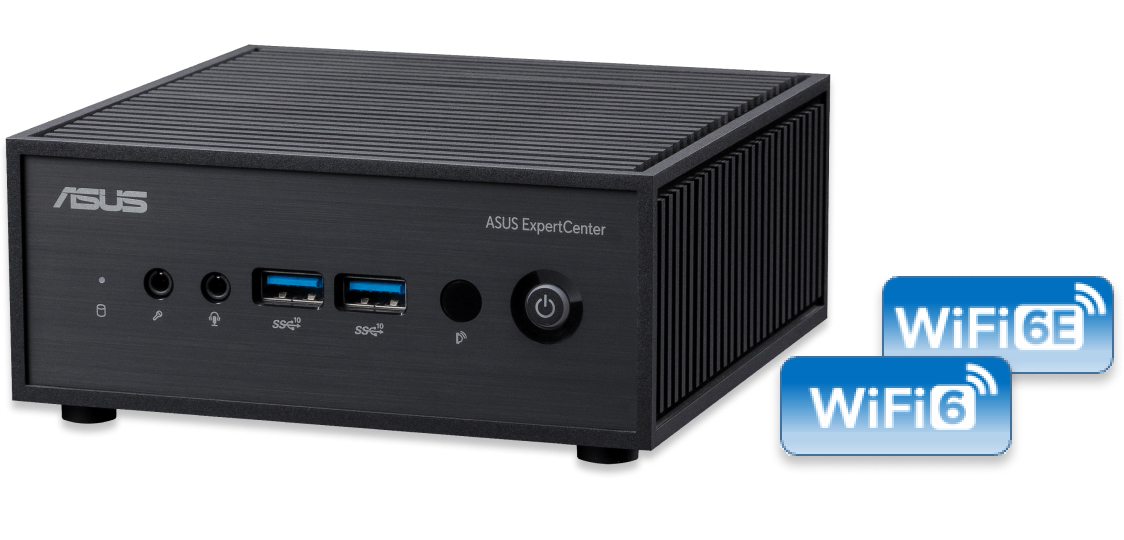 3X FASTER

than standard AC 2x2 with 80 MHz channels

4X CAPACITY

improvement in dense environment for more devices

75% LOWER LATANCY

seamless and reliable video displaying or conferencing
Crystal-Clear Communication
The AI noise-cancelation feature leverages artificial intelligence to eliminate background noise for both input and output audio to ensure crystal-clear communication, even in noisy environments. ExpertCenter PN42 supports popular communication platforms including Microsoft Teams, Skype, Slack, and Zoom.
Status 1

Status 2

RGB Power Button
The RGB power button acts as a visual indicator for system status and flashes when boot-up issues are encountered.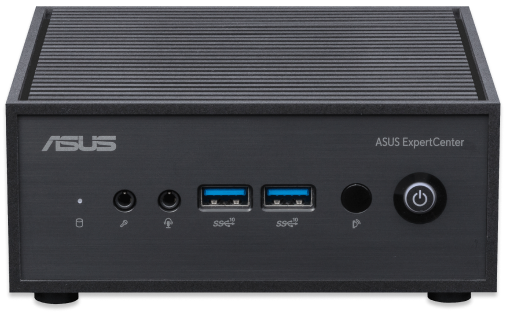 Blue Light

The power button glows blue when the system hangs during the boot-up sequence.

Cyan Light

The power button glows cyan if a CPU error is encountered during boot-up.

Green Light

A green light indicates a memory error.

Yellow Light

A yellow light indicates a display error.

Red Light

A red light indicates a boot device error.

White Light

A white power button light indicates that the system is up and running normally.
Comprehensive Connectivity
PN42 has seven USB Type-A to connect lots of device and supports dual 2.5G LAN to distinguish between two internal networks. To mention configurable port, it comes with DP, HDMI, Type-C with DP, COM, or VGA*, for monitor or legacy devices, like barcode scanners and receipt printers. PN42 Series can fit a wide-range of usages, including Signage, Point-Of-Sale system, KIOSK and intelligent vending machine.

---

*Configurable ports are confirmed SKU before configuring.
Remote Control
HDMI-CEC (HDMI Consumer Electronics Control) is a common HDMI feature found in many TVs and media devices. Its primary purpose is to enable a single remote control or device to control multiple devices in a multimedia setup.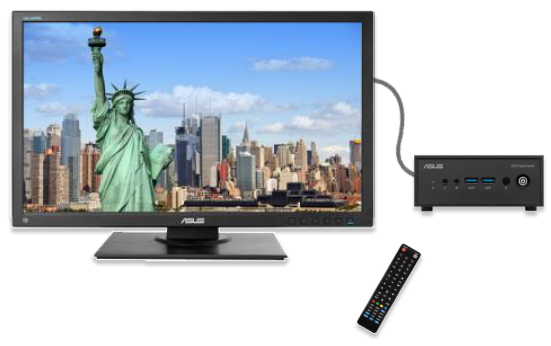 Tool-less Design
ExpertCenterPN42 offers tool-less access to make it easy to open up the chassis to access the M.2 PCIeSSD module for easy upgrades.
New Lockable VESA Mount Design
The lockable VESA mount device offers improved security when ExpertCenter PN42 is deployed in public spaces.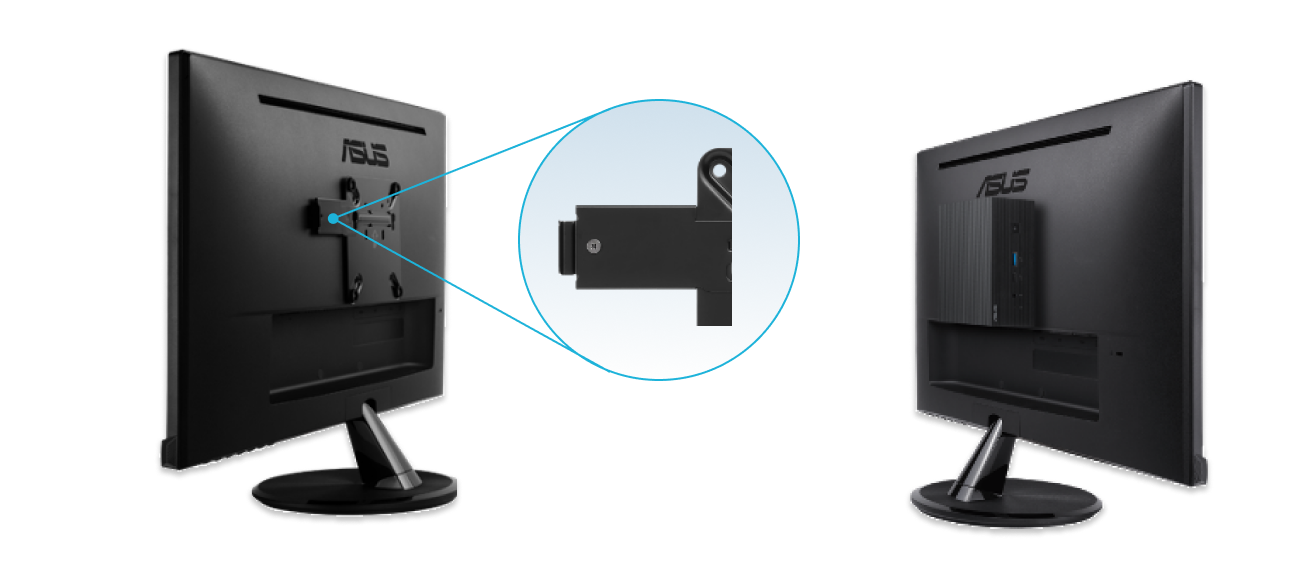 Kensington Lock and Bundled Padlock
ASUS ExpertCenter PN42 includes a metal padlock and a Kensington lock to guard against physical theft.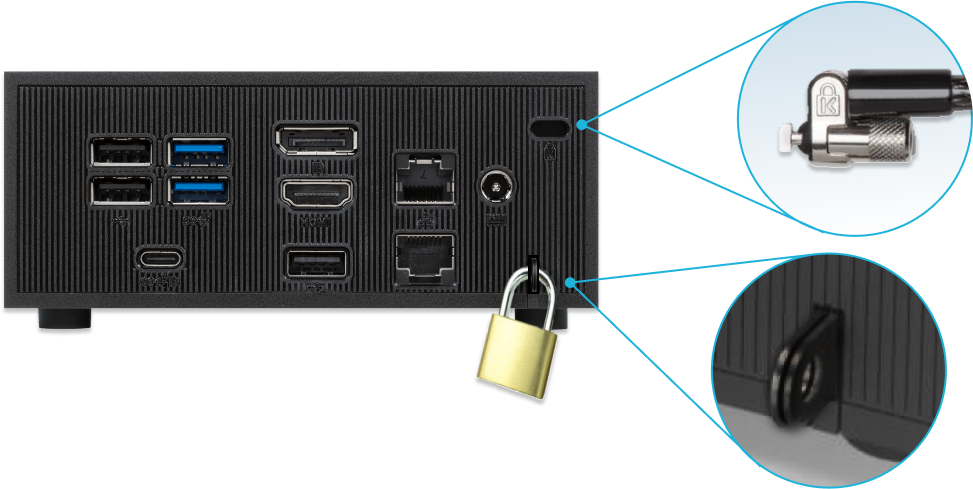 ASUS Control Center
ASUS Control Center is a centralized IT-management suite that enhances enterprise productivity with comprehensive control through a very friendly user interface. ASUS Control Center provides high visibility and the best IT-management experiences across ASUS enterprise and commercial products.
Hardware & SoftwareMonitoring

Monitor system temperature, fan, voltage and hardware status

RemoteManagement

Remote desktop, power control, BIOS settings and updates

Asset Management

Software dispatch and device-metadata management

Mobile Control

Stay in command via a smart device

Security

Enable/disable USB storage
*For more information, please visit: https://www.asus.com/microsite/csm/
ASUS Corporate Stable Model
The ASUS Corporate Stable Model (CSM) program is designed to support your organization with Mini PCs with the latest technologies, services and management software. Since its introduction over two decades ago, thousands of customers and providers have joined the ASUS CSM partner network to make it one of the most established Commercial programs in the world. Add to that premium after-sales service and support, we're more than ready to help your business plan ahead for product transitions.
*Please contact your local representative for details.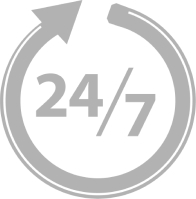 24/7 Reliability
With thorough 24/7 testing and stable supply, Mini PC is designed for modern office and business use, reducing maintenance cost and improve cost effectiveness.
*Only for models that support 16 GB memory and below, other models support 35°C operational ambient temperature
Barebone Option
There is a barebones option for PN42, which is easy to upgrade. This version does not include memory, storage, or a Wi-Fi card. The chassis can be easily separated without any cables connecting the bottom cover and top chassis. Additionally, we provide a manual that outlines the steps to upgrade it yourself.
MyASUS
MyASUS is the portal of ASUS PC software service, which provides you easy access to all the ASUS software functions, for example, to maintain or update your system, optimize your PC's performance, and quickly contact ASUS aftersales customer service.
Integrate your ASUS PC with your mobile devices, boosting your productivity and allowing easier multitasking.
File Transfer

Simply tap or drag to share files between your PC and mobile devices in the blink of an eye.

Remote File Access

Use your mobile device to remotely access files stored on your ASUS PC, and use your PC as a personal cloud replacement and gain access anywhere and anytime!
Open the Customization tab in MyASUS to adjust PC settings, including AI noise cancelation, fan modes, and network parameters.
Fan Profile

Provide flexibility to operate the fan at maximum speed when processing heavy tasks, and lower speed when in quiet environment.

AI noise cancellation

Filters noise from microphone and incoming audio to have crystal-clear communication.

Wi-Fi SmartConnect

Automatically connect to the router with the best signal in your current environment.

TaskFirst

Personalize available internet bandwidth to particular activities.
Enjoy discounts on premium apps and ASUS-exclusive deals via AppDeals.
AppDeals

AppDeals is a portal that allows ASUS users to download useful third-party apps at exclusive discounted prices. It includes customized recommendations, guiding users to apps that best fit workflow.

News

View the latest ASUS news, event campaigns, and products.