Graphics galore for everyone!
ASUS GeForce GT 1030 is the fantastic graphics card from ASUS. Engineered with a highly-efficient 0dB thermal design, it dissipates heat in complete silence — making GT 1030 the perfect choice for your slimline home-theater PC (HTPC) build. Exclusive AUTO-EXTREME Technology for premium quality and best reliability. It also has GPU Tweak II for intuitive performance tweaking.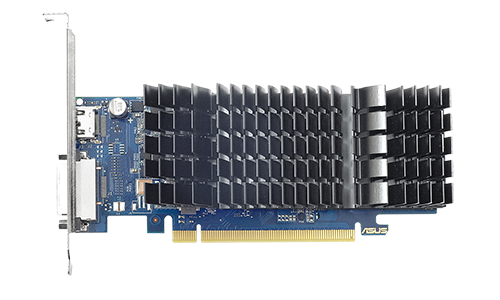 I/O Ports Highlight
1x Native D-Sub
1 x Native DVI-D
1 x Native HDMI 2.0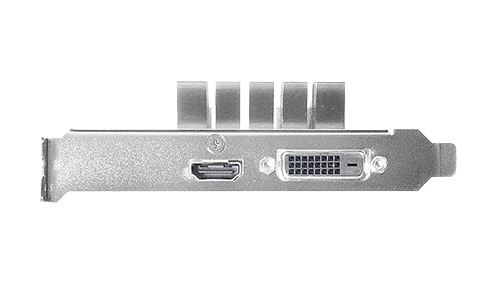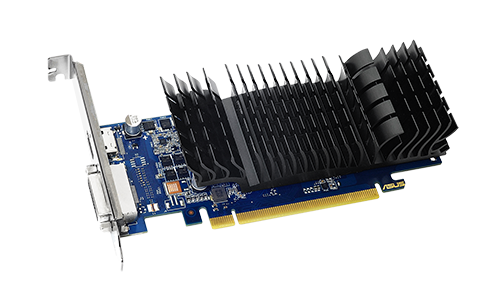 0dB Silent Cooling
Perfect for building a hushed HTPC
Exclusive ASUS-designed heatsinks with large surface areas effectively cool graphics cards passively so absolutely no sound is produced while running - perfect for high definition and silent home theater PCs and multimedia centers.
AUTO-EXTREME Technology
Premium quality and best reliability
All ASUS graphics cards are now produced using AUTO-EXTREME Technology, an industry-first, 100% automated production process that incorporates premium materials to set a new standard of quality. AUTO-EXTREME Technology ensures consistent graphics card quality as well as improved performance and longevity. This new manufacturing process is also environmentally friendly, eliminating harsh chemicals and reducing power consumption by 50%.
*The image is for illustration only, it may not reflect the exact board design.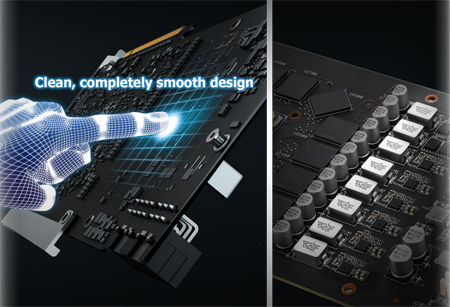 GPU Tweak II
Tweak Till Your Heart's Content
Redesigned with an intuitive, all-new UI, GPU Tweak II makes overclocking easier and more visual than ever, while still retaining advanced options for seasoned overclockers. With one click, the new Gaming Booster function maximizes system performance by removing redundant processes and allocating all available resources automatically.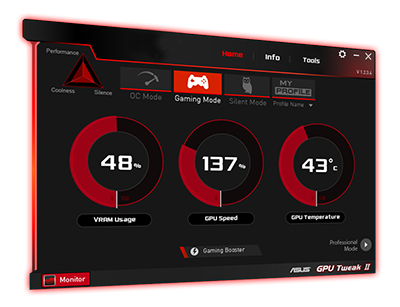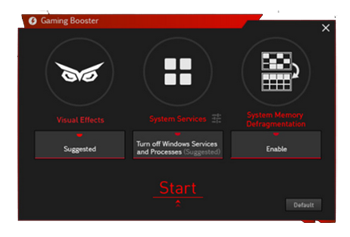 Gaming Booster
One-click Performance Up
Visual effects: Boost your performance by turning off windows visual effects.
System Services: Automatically or manually turn off windows services or process.
Memory Defragmentation: Re-arrange & free your system memory without closing any processes.

GeForce GT 1030

NVIDIA® Adaptive V-Sync
Get more than just faster frame rates. Get ultra-smooth gaming every time with NVIDIA® gaming innovation Adaptive Vertical Sync. This technology dynamically adjusts vsync to current frame rates for maximum playability.

NVIDIA® PhysX™ Ready
Play games with advanced effects such as blazing explosions and lifelike characters with 10X faster switching between graphics and physics processing, enabling more complex effects to be rendered in real time.

DirectX® 12
DirectX® 12 GPU-accelerated tessellation allows more detailed geometry to be packed into a scene, allowing characters to be rendered with cinema-quality detail.

Microsoft Windows 10 compatible
Gives you access to advanced computing experiences with the latest operating system so you get more done with your PC
Compare (0)