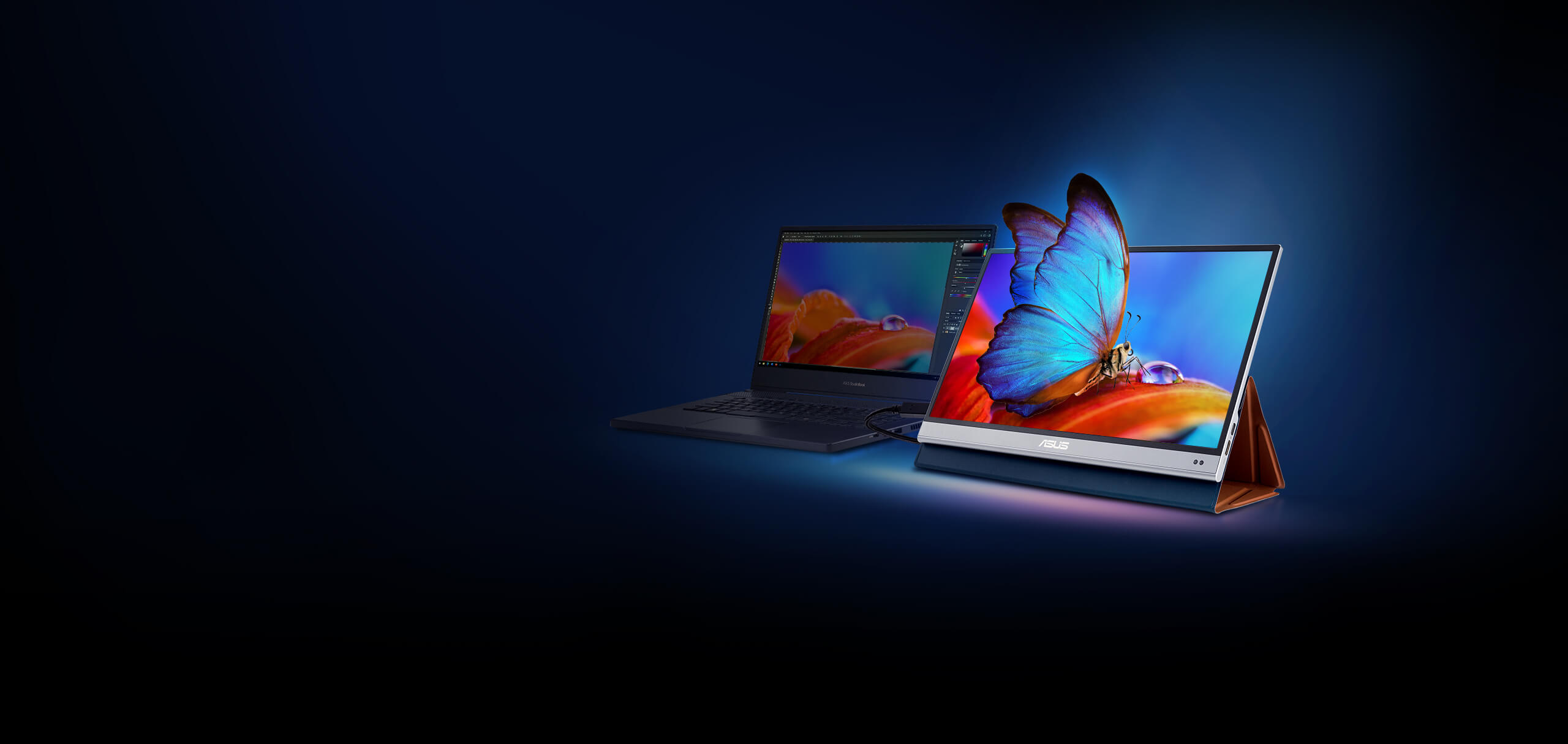 ASUS

MQ13AH
Portable Monitor
Colors that pop.
Crafted to carry.
ultra light weight

USB Type-C
ASUS ZenScreen™ OLED MQ13AH is a 13.3-inch portable OLED monitor that delivers exceptional color performance, with a wide 100% DCI-P3 gamut and a 100,000:1 contrast ratio to ensure darker blacks and brighter whites. With a 1-millisecond response time, ZenScreen OLED MQ13AH displays blur-free animated and fast-action content. An ultralight, super-slim design and rich connectivity make this groundbreaking OLED portable monitor your perfect on-the-go companion.
The ideal portable solution
With its super-slim design, ultralight chassis, superb connectivity, and exceptional OLED visuals, ZenScreen OLED MQ13AH is the perfect companion for any mobile device. You can work more efficiently on the go with an extended display, or simply kick back and enjoy your favorite movies and videos wherever you are.
WORK

CREATE

ENTERTAIN

*Tripod is not included with ZenScreen OLED MQ13AH
Astonishing
true-to-life color
ZenScreen OLED MQ13AH provides amazing viewing experiences, with its brilliant OLED panel and HDR technology that can display over 1 billion colors. Its cinema-grade 100% DCI-P3 color gamut and Delta E < 2 color accuracy make it a superbly versatile all-rounder for anyone ― including professional creators.
OLED HDR

vivid colors

Delta-E < 2

color accuracy

100%

DCI-P3 color gamut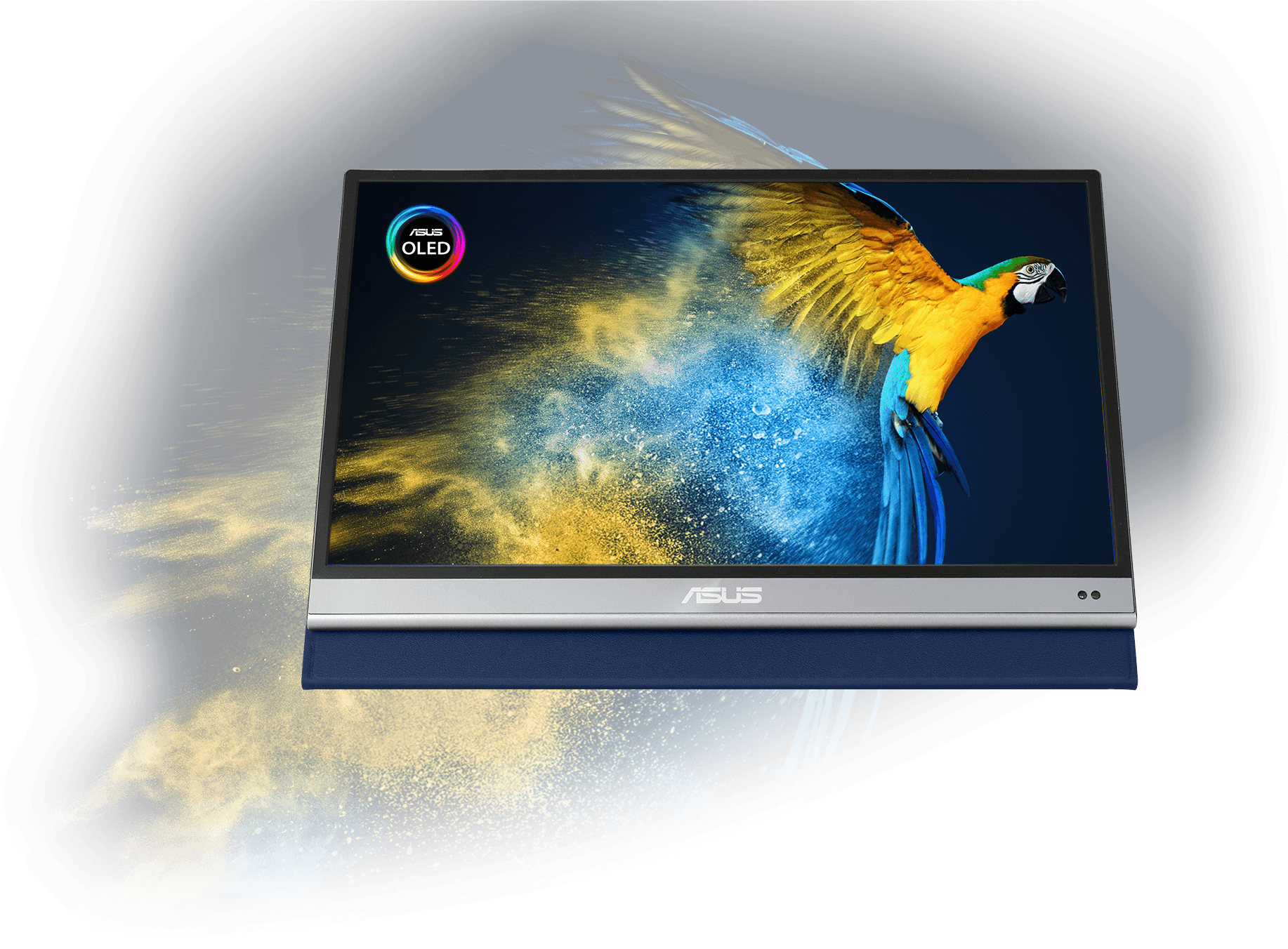 Extreme blacks and
high perceptual brightness
The OLED technology in ZenScreen OLED MQ13AH produces the deepest blacks and ensures vivid colors at any brightness level. It also delivers extremely crisp and clear details, even in the darkest scenes.



100,000 : 1

contrast ratio
Fast response time for smooth visuals
With a rapid response time — as low as 1 ms — ZenScreen OLED MQ13AH displays smooth fast-paced action scenes and ensures low-latency gameplay. You'll also enjoy subtle benefits such as blur-free text scrolling.

Super-slim, lightweight and portable
ZenScreen OLED MQ13AH is ideal for life on the road. It weighs just 490 grams* and measures only 5 millimeters at its thinnest part, so it fits easily in any travel bag and is ready for productivity, anytime and anywhere.
*Without Smart Case
5mm

490g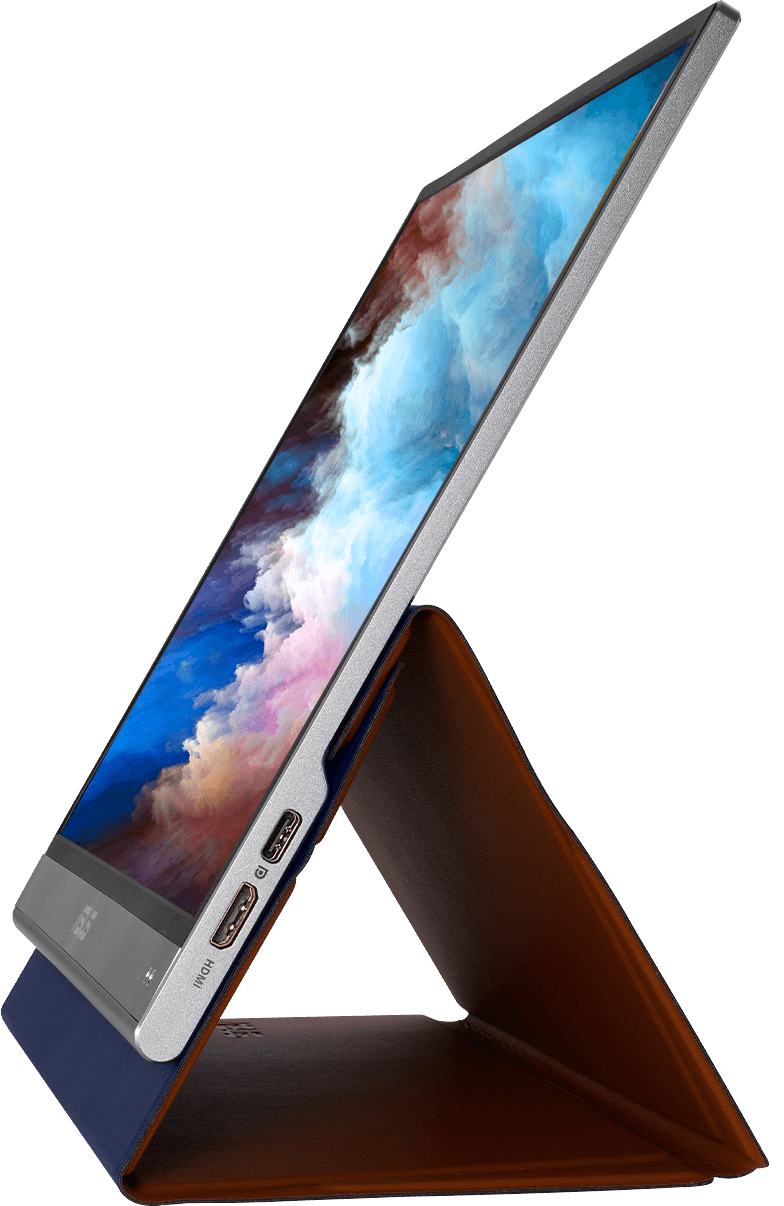 Flexible viewing positions
An innovative Smart Case protects ZenScreen OLED MQ13AH from dust and scratches, and the case can be folded into a stand to prop the monitor up in different positions. There's also a tripod socket built into the rear of the monitor.
Ergo Smart Case

Auto Rotate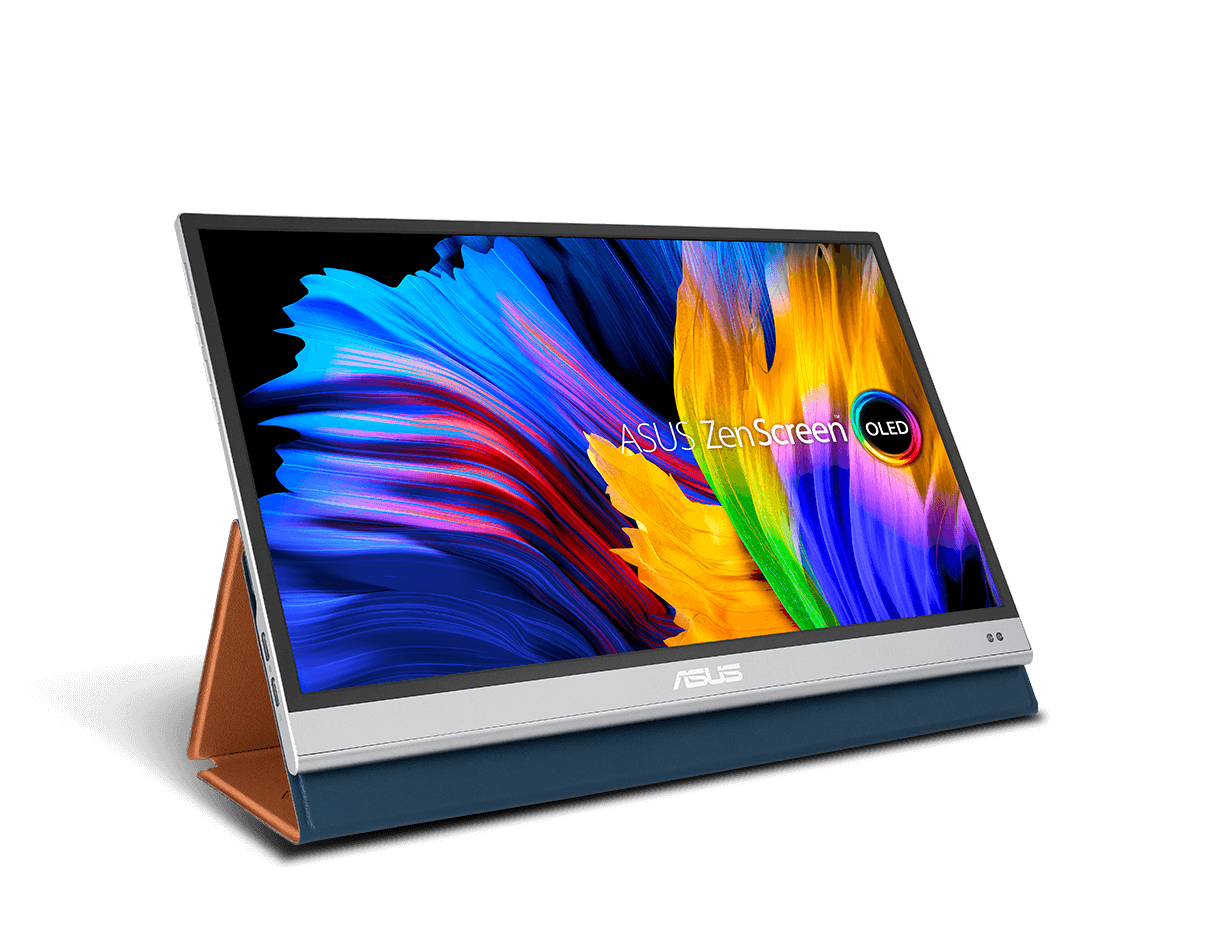 Don't throw away the box!
We've pulled out all the stops to create unique no-waste packaging for ZenScreen OLED MQ13AH. With just a few folds and tucks, you can turn the box into a super monitor hood* that reduces glare and distraction, and also improves perceived color accuracy. Even the protective foam inserts can be recycled for use as a handy stand for your monitor! Click here to see video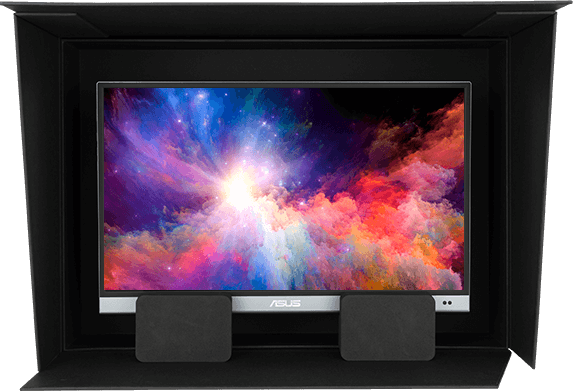 *Packaging is made of recycled paperboard. Do note that the condition of this material will naturally deteriorate over time and is not covered by the warranty. Please check the packaging regularly and when it is no longer suitable to be used as a hood, dispose of it responsibly.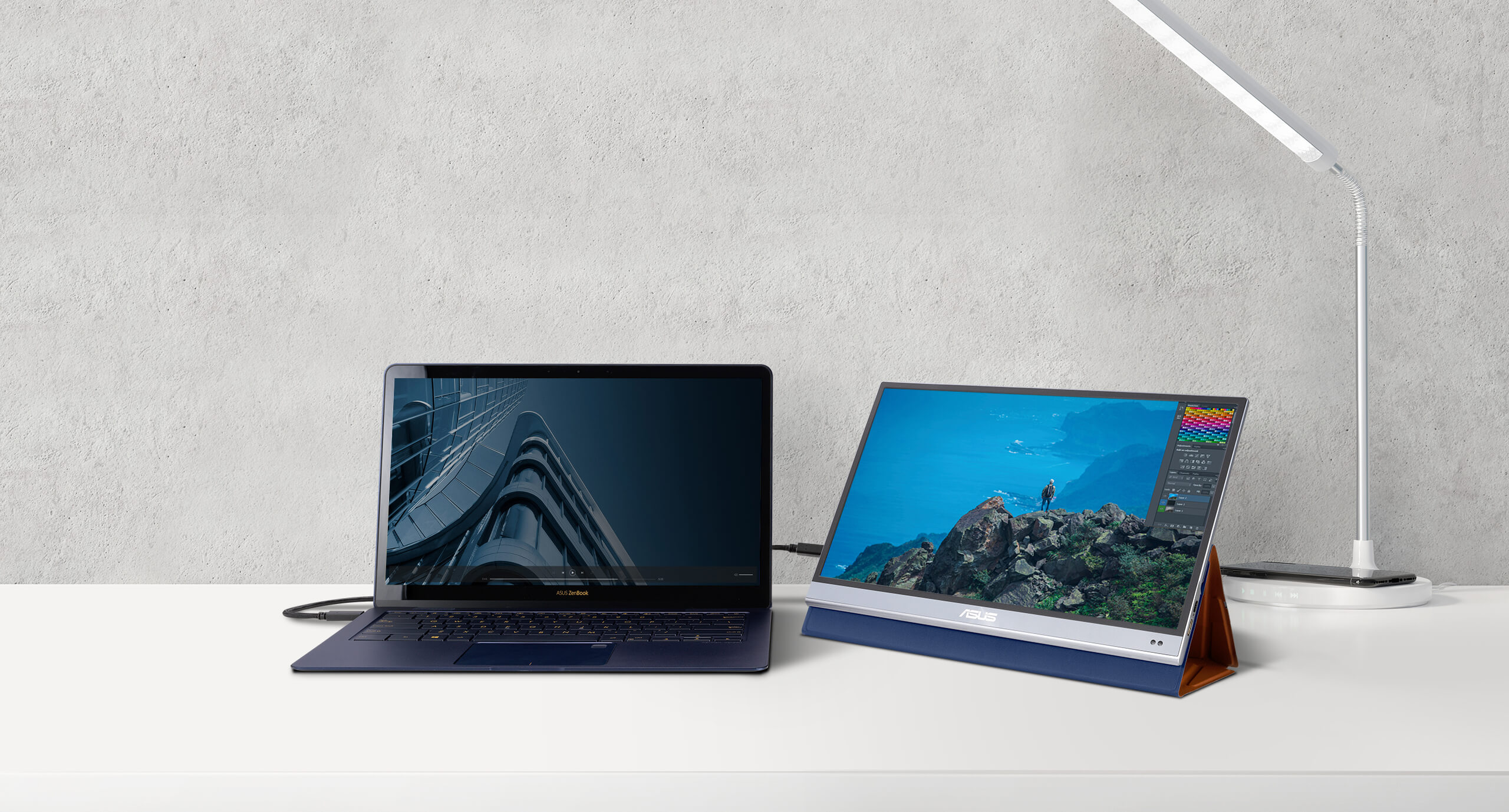 Proximity sensor
An embedded proximity sensor provides added convenience, saving energy and preventing image burn-in when ZenScreen OLED MQ13AH is not in use. The sensor switches the monitor to a power-saving mode when it detects you've moved away, and then resumes normal operation when you return.
Proximity sensor
Smart connectivity
ZenScreen OLED MQ13AH includes a mini HDMI® port and three USB-C® ports — two of which support DisplayPort™ Alt Mode and used for power input, with the remaining USB-C port solely reserved for the power adaptor. The I/O ports are side mounted, making cable management easy and offering greater setup flexibility.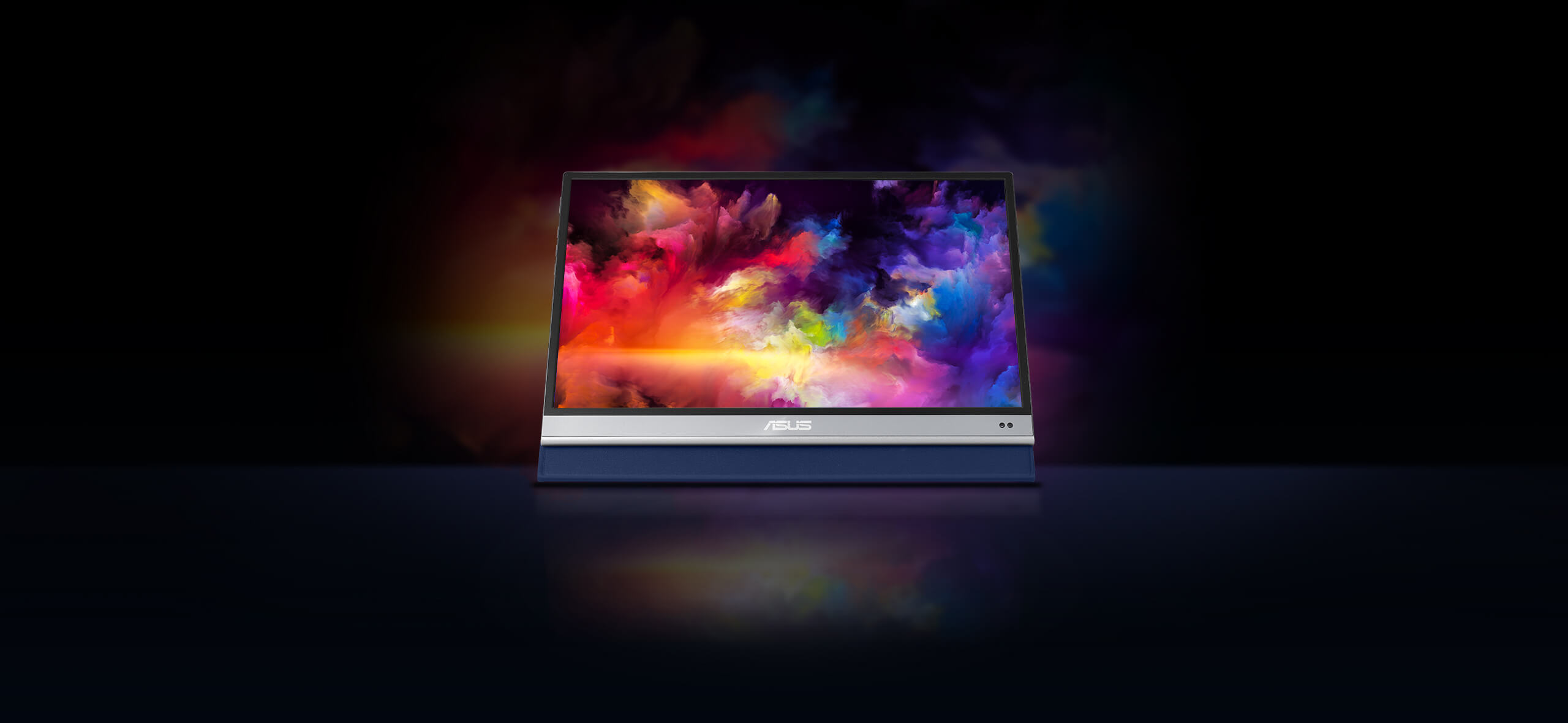 Protect your eyes with ASUS Eye Care technology
Low Blue Light
Flicker Free Technology
Low Blue Light
The new hardware-based ASUS Low Blue Light technology reduces potentially harmful high-energy blue-light emissions while offering color performance that's better than monitors with software-only filtering solutions.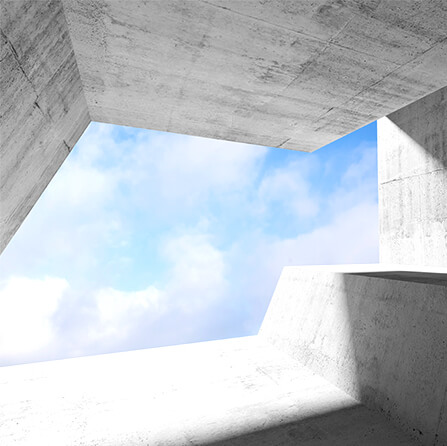 Flicker Free
TÜV Rheinland-certified ASUS Flicker Free technology eliminates flicker, ensuring comfortable viewing experiences. This technology helps minimize eyestrain and other ailments typically associated with extended hours of viewing.